Classic Iceland Circle Group Tour
8 Day Tour, from £1945 per person
Itinerary Dates: 02 Jun 2017 - 09 Jun 2017, 09 Jun 2017 - 16 Jun 2017, 16 Jun 2017 - 23 Jun 2017, 23 Jun 2017 - 30 Jun 2017, 30 Jun 2017 - 07 Jul 2017, 07 Jul 2017 - 14 Jul 2017, 14 Jul 2017 - 21 Jul 2017, 21 Jul 2017 - 28 Jul 2017, 28 Jul 2017 - 04 Aug 2017, 04 Aug 2017 - 11 Aug 2017, 11 Aug 2017 - 18 Aug 2017, 18 Aug 2017 - 25 Aug 2017, 25 Aug 2017 - 01 Sep 2017, 01 Sep 2017 - 08 Sep 2017, 08 Sep 2017 - 15 Sep 2017, 15 Sep 2017 - 22 Sep 2017, 22 Sep 2017 - 29 Sep 2017, 29 Sep 2017 - 06 Oct 2017, 03 Oct 2017 - 10 Oct 2017, 06 Oct 2017 - 13 Oct 2017, 10 Oct 2017 - 17 Oct 2017, 13 Oct 2017 - 20 Oct 2017, 17 Oct 2017 - 24 Oct 2017, 20 Oct 2017 - 27 Oct 2017, 24 Oct 2017 - 31 Oct 2017, 27 Oct 2017 - 03 Nov 2017, 31 Oct 2017 - 07 Nov 2017, 03 Nov 2017 - 10 Nov 2017, 07 Nov 2017 - 14 Nov 2017, 10 Nov 2017 - 17 Nov 2017, 14 Nov 2017 - 21 Nov 2017, 17 Nov 2017 - 24 Nov 2017, 21 Nov 2017 - 28 Nov 2017, 24 Nov 2017 - 01 Dec 2017, 28 Nov 2017 - 05 Dec 2017, 01 Dec 2017 - 08 Dec 2017, 05 Dec 2017 - 12 Dec 2017, 08 Dec 2017 - 15 Dec 2017, 12 Dec 2017 - 19 Dec 2017, 15 Dec 2017 - 22 Dec 2017, 02 Jan 2018 - 09 Jan 2018, 05 Jan 2018 - 12 Jan 2018, 09 Jan 2018 - 16 Jan 2018, 12 Jan 2018 - 19 Jan 2018, 16 Jan 2018 - 23 Jan 2018, 19 Jan 2018 - 26 Jan 2018, 23 Jan 2018 - 30 Jan 2018, 26 Jan 2018 - 02 Feb 2018, 30 Jan 2018 - 06 Feb 2018, 02 Feb 2018 - 09 Feb 2018, 06 Feb 2018 - 13 Feb 2018, 09 Feb 2018 - 16 Feb 2018, 13 Feb 2018 - 20 Feb 2018, 16 Feb 2018 - 23 Feb 2018, 20 Feb 2018 - 27 Feb 2018, 23 Feb 2018 - 02 Mar 2018, 27 Feb 2018 - 06 Mar 2018, 02 Mar 2018 - 09 Mar 2018, 06 Mar 2018 - 13 Mar 2018, 09 Mar 2018 - 16 Mar 2018, 13 Mar 2018 - 20 Mar 2018, 16 Mar 2018 - 23 Mar 2018, 20 Mar 2018 - 27 Mar 2018, 23 Mar 2018 - 30 Mar 2018, 27 Mar 2018 - 03 Apr 2018, 30 Mar 2018 - 06 Apr 2018, 03 Apr 2018 - 10 Apr 2018, 06 Apr 2018 - 13 Apr 2018, 10 Apr 2018 - 17 Apr 2018, 13 Apr 2018 - 20 Apr 2018, 17 Apr 2018 - 24 Apr 2018, 20 Apr 2018 - 27 Apr 2018, 24 Apr 2018 - 01 May 2018, 27 Apr 2018 - 04 May 2018, 01 May 2018 - 08 May 2018, 04 May 2018 - 11 May 2018, 08 May 2018 - 15 May 2018, 11 May 2018 - 18 May 2018, 15 May 2018 - 22 May 2018, 18 May 2018 - 25 May 2018, 22 May 2018 - 29 May 2018, 25 May 2018 - 01 Jun 2018, 29 May 2018 - 05 Jun 2018
*Hover over dates to show all
Unearth the island of Fire and Ice on this escorted tour around Iceland featuring weekly departures. From the quirky Icelandic capital Reykjavik travel by coach along the Iceland's ring road across the unspoiled Icelandic countryside. Visit Iceland's northernmost town Akureyri, wander through fascinating lava pillars at lake Myvatn, see floating icebergs at Jokulsarlon glacial lagoon, stroll along black sandy beaches and uncover the natural beauties of the famous Golden Circle.
Please note: Itineraries may be subject to change at short notice during severe weather conditions and certain outdoor activities and day trips may be cancelled during the winter season in Iceland. In these rare cases, where situations of force majeure apply, excursions/activities cannot be refunded but the local guides will try their best to find reasonable alternatives where and whenever possible.
Please contact us for 2017-2018 prices
Tour Itinerary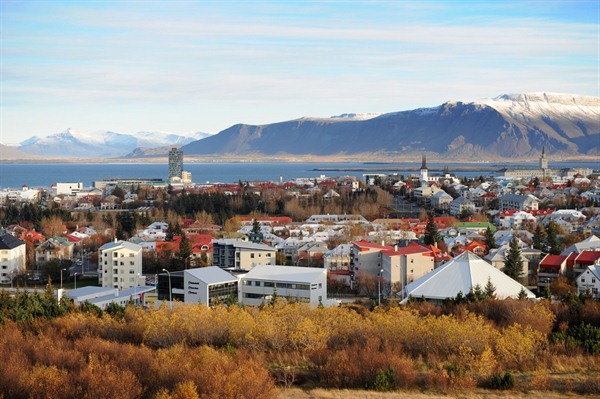 Fly to Reykjavik, transfer by Flybus shuttle to the Icelandair Hotel Natura and check-in for one night.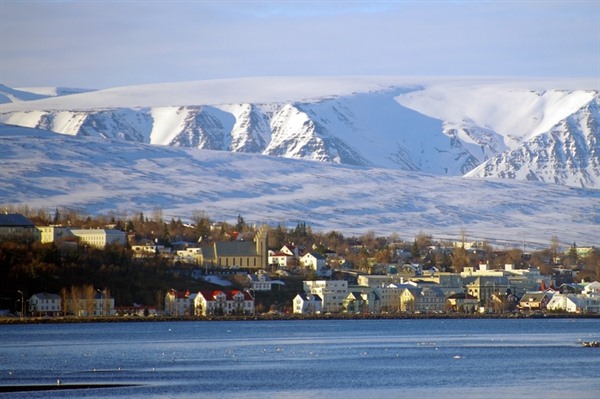 In the morning, depart the Icelandic capital Reykjavik by coach and head north-west passing the town of Borgarnes and the Grabrok volcano crater. In the afternoon, reach a small fishing village, visit its natural history & seal museum and stroll around the local harbour. En route to Akureyri, stop at a the characteristic turf church of Vidimyri - considered one of the most beautiful examples of traditional Icelandic architecture. In the evening, reach Akureyri and check-in at the Icelandair Hotel Akureyri. (B)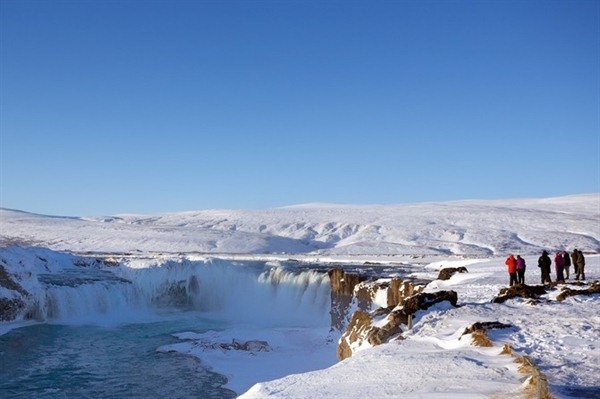 Awake in Akureyri and start uncovering this charming town of 1700 inhabitants. Visit its botanical garden and enjoy a stunning panoramic view over Eyjafjordur fjord. After lunch, continue across volcanic North Iceland stopping at Godafoss - the waterfall of the Gods - and reach lake Myvatn area. Walk through bizarre lava formations, around pseudo craters and relax in warm mineral-rich waters at the Myvatn Nature Baths. Overnight at the Hotel Reynihlid* in Lake Myvatn area. (B)
*For departures from 02/09/2016 to 26/05/2017 the accommodation will be either at Hotel Reynihlid or Sel-Hotel Myvatn.
*For departures from 01/09/2017 to 29/05/2018 the accommodation will be at Sel-Hotel Myvatn.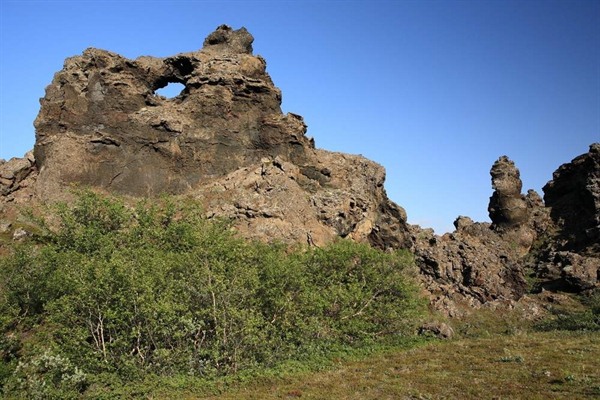 Today continue unearthing North Iceland. Travel to Dimmuborgir 'dark castles', and wander through fascinating lava labyrinth of basaltic pillars and lava sculptures. See bubbling mud pools and steaming solfataras at the hot spring area of Namaskard, before heading Eastwards through inhabited highlands and moon-like surroundings. In the evening, check-in at the Icelandair Hotel Herad for an overnight stay.* (B)
*From June to August the tour includes a detour to Dettifoss, Europe's most powerful waterfall in the northern part of Vatnajökull National Park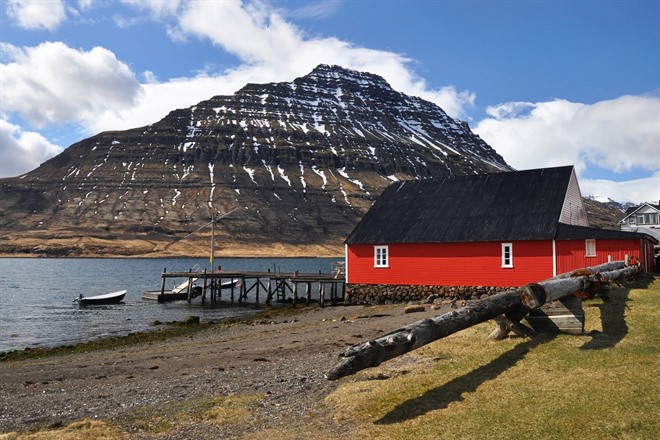 Passing by dramatic East fjords and tiny fishing villages continue driving south by coach and, on your way, stop to visit an interesting stone and mineral collection. In the afternoon, travel towards Jokulsarlon glacial lagoon - a natural wonderland where chunks of glacial ice tumble into the lake creating a visual spectacle of gigantic icebergs floating in the blue waters. Walk on its black sandy beach where large icebergs get stranded and, depending on the season, embark on an optional boat trip through the lagoon. Continue travelling along the southern part of Vatnajokull glacier - Europe's biggest glacier - reaching Vatnajokull National Park. Overnight at the Hotel Kirkjubaejarklaustur. (B)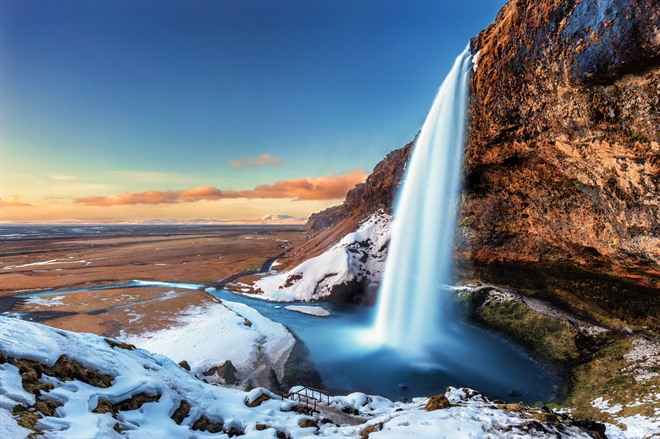 Enjoy a full-day coach tour to South Iceland, a lowland region of lush farmlands, striking waterfalls, sandy coastlines and quaint villages. Stroll along the black lava beach of Reynisfjara, near the town of Vik, and see the 60-metres-high waterfall Skogafoss - one of the most impressive waterfalls in the country. Continue driving westwards to stop at the Eyjafjallajökull Information Center and learn about living next to a glacier and an active volcano. On your way to the hotel, discover the high but narrow Seljalandsfoss waterfall and have a walk on the trail that goes behind the fall. Overnight at the Icelandair Hotel Fludir. (B)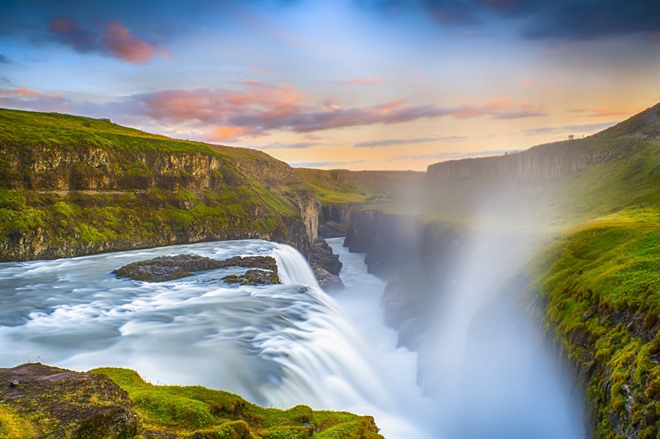 Today start visiting Fridheimar - a geothermal-powered greenhouse - and learn more about how lcelanders harvest their vegetables. Continue unearthing the classical sights of South West Iceland known as the The Golden Circle - a collection of Iceland's most popular natural wonders and geological phenomena. See Gullfoss waterfall, the queen of Iceland's waterfalls that tumbles down a deep meandering gorge, and the nearby world-famous Geysir geothermal field, where hot springs are in abundance, geysers explode and pools of mud bubble. The most active geyser, Strokkur, spouts water high into the air every 15 minutes. Finally, but no less spectacular is a visit to the Thingvellir National Park, an area of exceptional beauty and the original site of the oldest existing parliament in the world. In the late afternoon, arrive Reykjavik and take a short city tour of the world's northernmost capital. Overnight at the Icelandair Hotel Natura. (B)
After breakfast, transfer to the airport for your flight back to the UK. (B)
Pricing Information
8
day tour, from
£1945
per person
(Single person supplement + £360)
Price Includes
Return flights in economy class with Icelandair from London Heathrow
Airport taxes
Accommodation in three-star/four-star hotels
Meals as specified (B= breakfast, L= lunch, D= dinner)
All transfers and transportation*
Sightseeing with English-speaking guide
Price Excludes
Travel Insurance
Tips and gratuities
Price Notes
*Arrival and departure transfer by FLYBUS Plus shuttle
Prices:
06 Jan - 26 May from £1945
02 Jun - 25 Aug from £2530
01 Sep - 31 Dec from £2030
01 Jan 2018 - 04 May 2018 from £2095
Itinerary Dates

02 Jun 2017

-

09 Jun 2017

09 Jun 2017

-

16 Jun 2017

16 Jun 2017

-

23 Jun 2017

23 Jun 2017

-

30 Jun 2017

30 Jun 2017

-

07 Jul 2017

07 Jul 2017

-

14 Jul 2017

14 Jul 2017

-

21 Jul 2017

21 Jul 2017

-

28 Jul 2017

28 Jul 2017

-

04 Aug 2017

04 Aug 2017

-

11 Aug 2017

11 Aug 2017

-

18 Aug 2017

18 Aug 2017

-

25 Aug 2017

25 Aug 2017

-

01 Sep 2017

01 Sep 2017

-

08 Sep 2017

08 Sep 2017

-

15 Sep 2017

15 Sep 2017

-

22 Sep 2017

22 Sep 2017

-

29 Sep 2017

29 Sep 2017

-

06 Oct 2017

03 Oct 2017

-

10 Oct 2017

06 Oct 2017

-

13 Oct 2017

10 Oct 2017

-

17 Oct 2017

13 Oct 2017

-

20 Oct 2017

17 Oct 2017

-

24 Oct 2017

20 Oct 2017

-

27 Oct 2017

24 Oct 2017

-

31 Oct 2017

27 Oct 2017

-

03 Nov 2017

31 Oct 2017

-

07 Nov 2017

03 Nov 2017

-

10 Nov 2017

07 Nov 2017

-

14 Nov 2017

10 Nov 2017

-

17 Nov 2017

14 Nov 2017

-

21 Nov 2017

17 Nov 2017

-

24 Nov 2017

21 Nov 2017

-

28 Nov 2017

24 Nov 2017

-

01 Dec 2017

28 Nov 2017

-

05 Dec 2017

01 Dec 2017

-

08 Dec 2017

05 Dec 2017

-

12 Dec 2017

08 Dec 2017

-

15 Dec 2017

12 Dec 2017

-

19 Dec 2017

15 Dec 2017

-

22 Dec 2017

02 Jan 2018

-

09 Jan 2018

05 Jan 2018

-

12 Jan 2018

09 Jan 2018

-

16 Jan 2018

12 Jan 2018

-

19 Jan 2018

16 Jan 2018

-

23 Jan 2018

19 Jan 2018

-

26 Jan 2018

23 Jan 2018

-

30 Jan 2018

26 Jan 2018

-

02 Feb 2018

30 Jan 2018

-

06 Feb 2018

02 Feb 2018

-

09 Feb 2018

06 Feb 2018

-

13 Feb 2018

09 Feb 2018

-

16 Feb 2018

13 Feb 2018

-

20 Feb 2018

16 Feb 2018

-

23 Feb 2018

20 Feb 2018

-

27 Feb 2018

23 Feb 2018

-

02 Mar 2018

27 Feb 2018

-

06 Mar 2018

02 Mar 2018

-

09 Mar 2018

06 Mar 2018

-

13 Mar 2018

09 Mar 2018

-

16 Mar 2018

13 Mar 2018

-

20 Mar 2018

16 Mar 2018

-

23 Mar 2018

20 Mar 2018

-

27 Mar 2018

23 Mar 2018

-

30 Mar 2018

27 Mar 2018

-

03 Apr 2018

30 Mar 2018

-

06 Apr 2018

03 Apr 2018

-

10 Apr 2018

06 Apr 2018

-

13 Apr 2018

10 Apr 2018

-

17 Apr 2018

13 Apr 2018

-

20 Apr 2018

17 Apr 2018

-

24 Apr 2018

20 Apr 2018

-

27 Apr 2018

24 Apr 2018

-

01 May 2018

27 Apr 2018

-

04 May 2018

01 May 2018

-

08 May 2018

04 May 2018

-

11 May 2018

08 May 2018

-

15 May 2018

11 May 2018

-

18 May 2018

15 May 2018

-

22 May 2018

18 May 2018

-

25 May 2018

22 May 2018

-

29 May 2018

25 May 2018

-

01 Jun 2018

29 May 2018

-

05 Jun 2018
Tour Route Map
Iceland, Reykjavik
Iceland, Akureyri
Iceland, Lake Myvatn
Iceland, Dettifoss
Iceland, Vatnajokull Glacier
Iceland, Jokulsarlon Glacial Lagoon
Iceland, Skogafoss waterfall
Iceland, Strokkur
Iceland, Gullfoss
Iceland, Thingvellir National Park
Iceland, Reykjavik
Image Galllery
Click on images to enlarge