Starting from cosmopolitan Singapore, fly to Port Moresby and head to the Highlands region to discover the
life of a Highlander: enjoy a sing-sing and a spot of face painting at Tigibi Village and meet the famous Huli Wigmen.
Search for local wildlife including the colourful birds of paradise and take a short flight over rugged mountain
ranges to Mt Hagen and the popular Goroka district. Enjoy unique Omo Masalai and Asaro Mudmen performances,
both of which you're unlikely to forget! End in East New Britain and discover still-active Mt Tavurvur, stunning
Simpson Harbour and witness a traditional Baining Fire Dance.
Tour Itinerary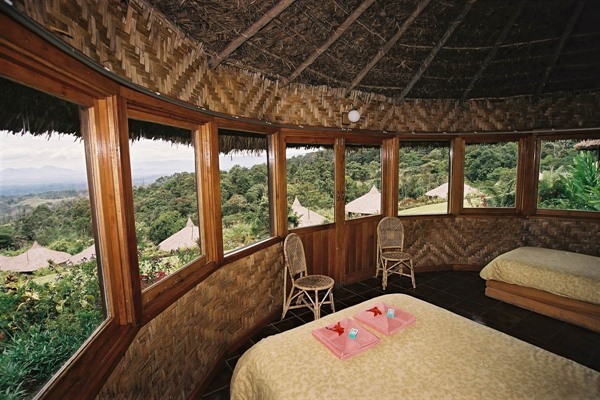 Take the flight to Port Moresby.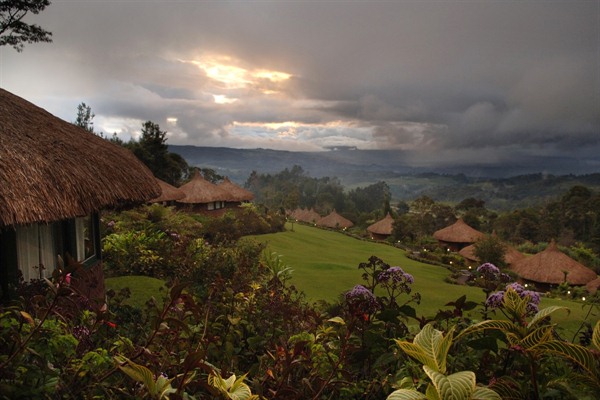 Land, transit and board the flight to Tari the provincial capital in the heart of Hela Province. Arrive in Tari and transfer to Ambua Lodge which offers fabulous views of the Tari Valley. (L/D)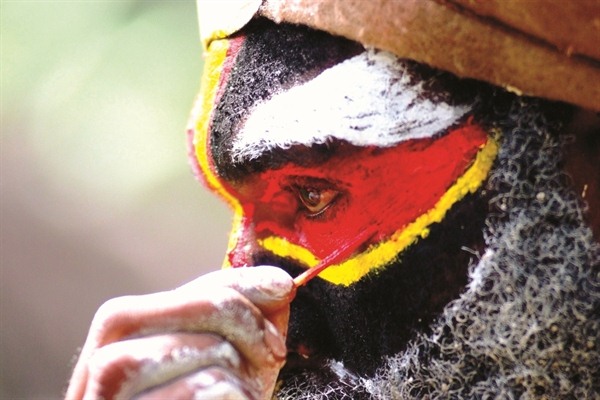 Today will be spent exploring the Tari region (as per the lodge schedules). The Tari region is home to a range of cultural and ecological activities so there are a choice of excursions to be enjoyed today including a village experiences to Tigibi Village for face painting, Horonapa for seeing the women's houses, Wapia for a spirit and sun dance and Boriba Akau village for the famous Huli Wigmen. Tari is also world renowned for bird watching so there is also the opportunity to enjoy bird watching to search for the famous bird of paradise (among others) and interesting nature walks. (B/L/D)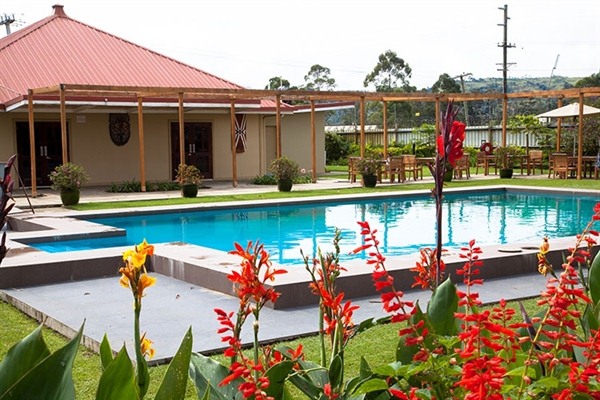 Today take the flight to Mt Hagen which passes over rugged mountain ranges. Mt Hagen is the country's third largest city and the gateway to the Highlands region, including Goroka. Check into the Highland Hotel for the evening at leisure. (B)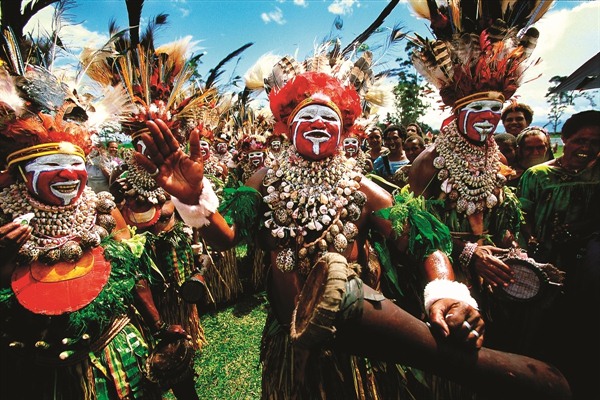 This morning depart Hagen and drive the 6-hour journey to Goroka which passes through the green and fertile Wahgi Valley passing the extensive tea plantations. Arriving in Chimbu Province stop for a village visit and to experience a unique Omo Masalai performance: tribal members paint skeleton images on their bodies and recreate a traditional dance. After the village experience travel through grassland country to the Eastern Highlands province and check into the Pacific Gardens Hotel. (B/L)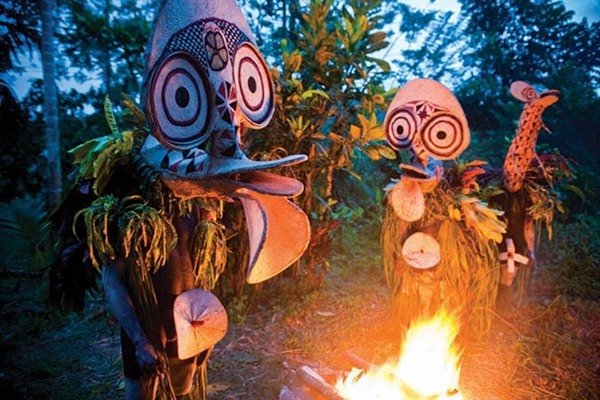 After breakfast head out to enjoy an Asaro Mudman village tour. Historically the Asaro Mudmen had a pretty bad run of luck against enemy tribes and it is said that, on one such occasion the tribe was chased into the Asaro River. Legend has it that the tribe emerged at sunset covered in a thick layer of mud which the enemy tribe thought were evil spirits and fled in fear. As a result the Asaro Mudmen have become the guardian symbol of the Asaro villages and traditional dances are performed by tribal members covered in mud and wearinglarge mud masks at events and festivals throughout the year. After a traditional mumu lunch (food cooked in an earth oven) take a walk along the sweet potato garden to a hilltop which offers great views of the surroundings. After your walk visit an ancestral cave and enjoy a ghost
dance performance. (B/L)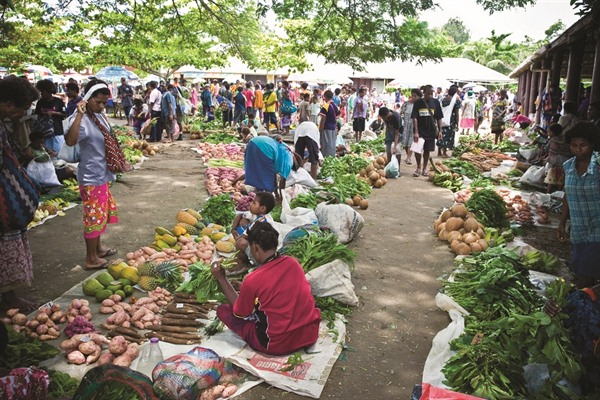 Learn about the making of traditional weapons, musical instruments, and bilum (string bags) and try your hand at one or all. The day aims to give you a first hand experience of traditional village life showcasing techniques and methods which haven't changed for many years.
This afternoon, explore Goroka town. Visit the bustling local market, a coffee factory and the informative JK McCarthy Museum.(B/L)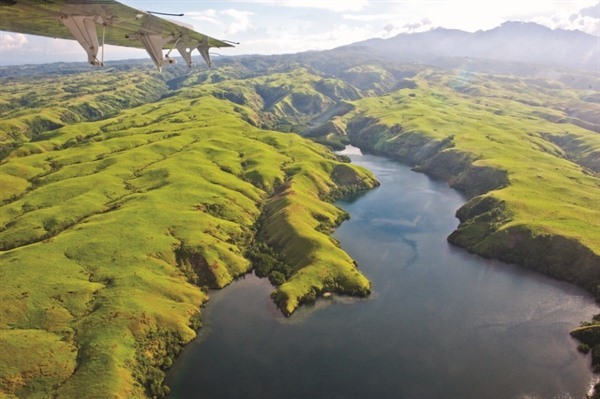 This morning board the flight across to Rabaul, East New Britain via Port Moresby. Land and transfer to the hotel in Rabaul. Enjoy the remainder of the day at leisure. East New Britain is one of the earliest civilized provinces of Papua New Guinea which has maintained a very traditional culture. It is also one of the most visually stunning parts of the country. Rabaul is probably most famous for its volcano Mt Tavurvur which erupted in 1937 and subsequently in 1994 resulting in enormous damage and which is still smoking to this day. Your time in Rabaul will be spent discovering the culture, history and natural environment of the region. (B)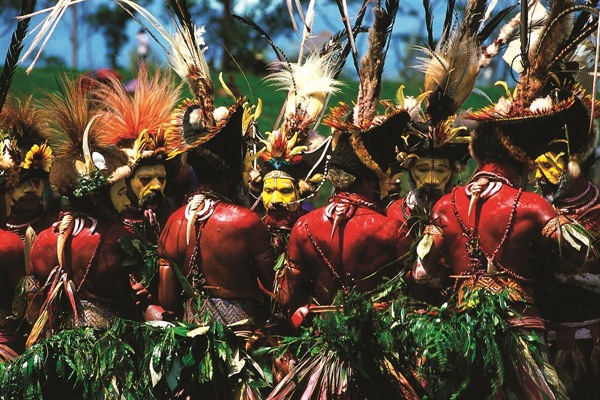 Today visit a local village to learn about village life and enjoy a local lunch of 'aigir', a tasty traditional East Britain dish of fresh vegetables cooked in coconut milk. This afternoon explore the town of Kokopo with visits to the Vunapope Church, Kokopo Museum and bustling Kokopo local market. This evening visit Baining village to watch a Baining Fire Dance. The Baining people live deep in the mountains at the base of a huge natural limestone cliff and are famous for their customary fire-dancing. Before a fire-dance the young men must begin secret preparations up to one month before we arrive. As the sunlight disappears, a large bonfire is lit and the fire-dancers begin. The band pumps out a hypnotic chant while the dancers run through the fire in a trance, kicking hot logs and showering red coals into the night. As we head to bed late at night, the ceremony will continue until the very early hours of the morning or until every burning ember is extinguished because for the Baining people, the act of fire-dancing is a sacred custom that must be followed according to tradition, not just a tourist attraction. (B/L)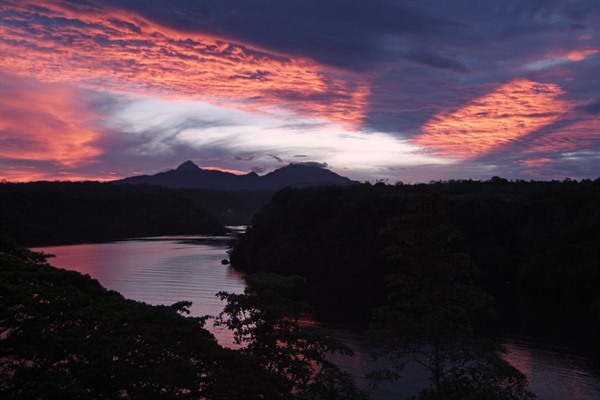 This morning take a boat out into Simpson Harbour. Visit the foot of Mt Tavurvur, the active volcano and visit the local villagers who dig the eggs of the wildfowl (turkey): the birds lay eggs in the volcanic ash which keeps the egg incubated until it hatches out. There is the chance to boil an egg using volcanic heated water to taste the naturally made boiled egg, Rabaul style! After the harbour cruise, return to Rabaul town and enjoy lunch at the Rabaul Hotel, one of the last buildings left standing after the devastating 1994 volcanic eruption. Mt Vulcan and Tavurvur erupted on the 19th Sep 1994 and the huge volume of ash destroyed Rabaul town with buildings destroyed. Now the main commercial hub can be found at Kokopo town, however local residents still love the town and eventually return to Rabaul. This afternoon, visit old Rabaul Market, the Volcanology Observatory and the U-Boat Tunnel where five landing barges were hidden by the Japanese army during WWII. (B/L)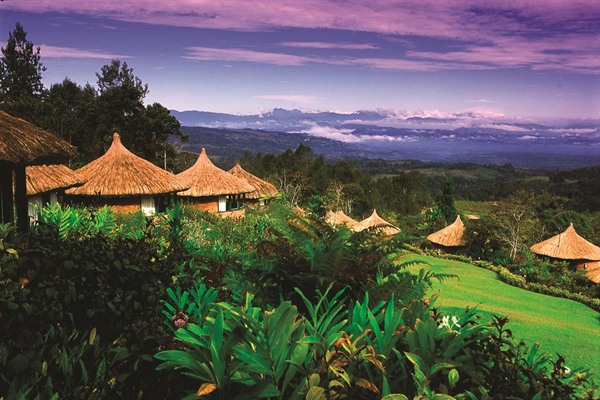 This morning take the flight back to Port Moresby. Upon arrival meet and transfer to enjoy a city tour. Visit the impressive National Parliament (Parliament Haus) built in the style of a Maprik-style haus tambaran (spirit house) and the National Museum which has a good selection of local artifacts including masks, shields, totems, war relics and some contemporary art. The afternoon is at leisure to enjoy some last minute sightseeing. (B)
Return to the airport and take the flight back to Singapore. (B)
Pricing Information
12
day tour, from
£5495
per person
(Single person supplement + £995)
Price Includes
Return flights in economy class with Air Niugini from Singapore to Port Moresby
Internal flights as stated
Meals as stated (B = Breakfast, L = Lunch, D = Dinner)
All transfers and transportation
Sightseeing with English-speaking guide/driver
All entrance fees and sightseeing as mentioned in the itinerary
Price Excludes
International flights to/from Singapore
Papua New Guinea visa (obtained on arrival, no charge)
Travel Insurance
Tips and gratuities
Meals that are not listed in the itinerary
Itinerary Dates

19 Oct 2016

-

29 Oct 2016
Image Galllery
Click on images to enlarge