North Korea November Tour
6 Day Tour, from £1330 per person
Travel to North Korea in winter 2016 and discover the main sights in one of the world's most secretive societies. Visit Pyongyang's centre piece—the Mansudae Grand Monument, stop at Sonjuk Bridge, enjoy an escorted trip to the border with South Korea and enjoy incredible views of the capital city from the top of the Juche Tower.
Tour Itinerary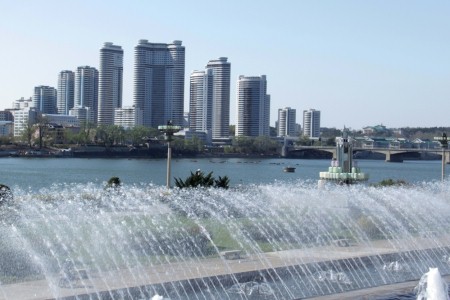 Arrive in Pyongyang and after passing through immigration and customs meet your guides and driver who will be with you for the rest of your time in Korea. From the airport transfer to the Taedonggang Microbrewery for a drink or two, giving the opportunity to meet your guides and get a quick insight into plans for the next few days. After a welcome dinner in a nearby restaurant transfer to the Yanggakdo Hotel, the 47-storey hotel where you will be based throughout whilst in Korea. (D)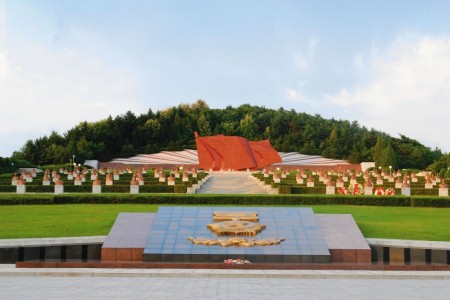 This morning visit the awesome Kumsusan Sun's Palace, near the foot of Mt. Taesong. The Palace is the Mausoleum of President Kim Il Sung and Kim Jong Il. For this site the group will be required to dress smartly. From here, visit the nearby Revolutionary Martyr's Cemetery, home to the graves of over 200 of Korea's leading resistance figures over the years of Japanese rule, including the grave of Kim Jong Suk, President Kim Il Sung's wife.
After lunch back at the hotel commence sightseeing in central Pyongyang with a walk from the exterior of the Pyongyang Grand Theatre - Kim Il Sung Square – the Mansudae Fountain Park. From here ascend to the Mansudae Grand Monument, the centre piece of which are the spectacular 20-metre tall bronze statues of Kim Il Sung and Kim Jong Il. Here, millions of Koreans visit annually to pay their respects to the leaders, and the group will be expected to lay a wreath of flowers at the foot of the statue before bowing in unison before it. From here enter the main city park, Moranbong, a lovely site to take in pleasant views over the city and to enjoy a spot of people watching. Exit the park via the Liberation Tower. This evening enjoy dinner out in a city restaurant. (B/L/D)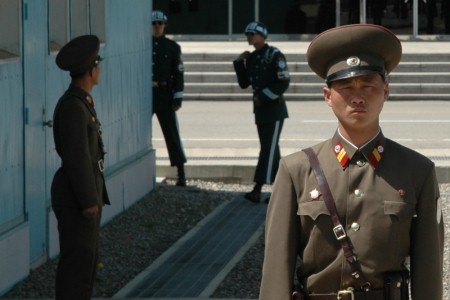 This morning visit the Juche Tower, the symbol of the "Juche Idea," (national self reliance, literally "Master of one's self") penned by Kim Il Sung. Those who wish can pay a small fee and be whisked via a lift to the top of the Tower for spectacular views over the city. Nearby also visit the Monument to the Foundation of the Workers Party of Korea. Heading out to the suburbs of Pyongyang visit the Mangyondae Native Site, where President Kim Il Sung was born in 1912. After lunch head south, spending the afternoon making your way to Kaesong. Visit the Tomb Of King Kongmin en-route before arriving in Kaesong and checking into the Janamsan Hotel for dinner and an overnight stay. (B/L/D)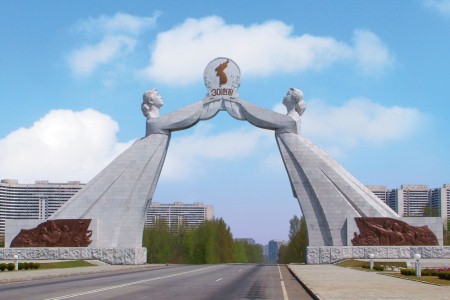 This morning visit to Sonjuk Bridge before pressing onto the Koyo History Museum and Stamp Shop. From here head south to Panmunjom - the DMZ and border with South Korea. Upon arrival at Panmunjom, which is often the highlight of any visit to North Korea, meet with an army escort who will explain the background of the history of the DMZ, before you move on to the Armistice Talks Hall and the building (and attached small museum) where the Armistice was signed. From here head right down to the border itself, where you will be (local conditions permitting) escorted, possibly under the watchful eyes of South Korean soldiers, into one of the huts which straddle the North-South Korean border. After lunch back in Kaesong drive northwards towards Kaesong, stopping en-route in the small city of Sariwon. Here visit the Sariwon Migok Co-Operative Farm. Arriving back into Pyongyang return to the Yanggakdo Hotel for dinner and a two night stay. (B/L/D)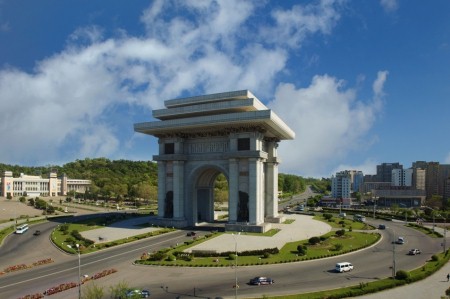 This morning visit the newly renovated Fatherland Liberation War Museum and the USS Pueblo, an 850 ton US spy boat captured in 1968 by the Koreans off the coast of Wonsan. The very large museum dedicated to this devastating war has some truly fascinating displays and exhibits, and you will glimpse just some of its highlights before you move on. Pressing on head underground for a journey on the impressive Pyongyang Metro, surfacing near the Arch Of Triumph. This afternoon visit a Secondary School / Schoolchildren's Palace, where you will likely enjoy a performance put on by the students. Time pending take in any last minute sites in the city. This evening enjoy a farewell dinner in a city restaurant. (B/L/D)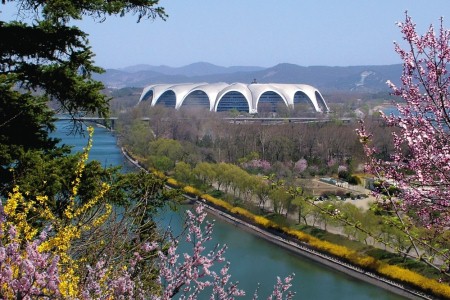 This morning transfer to the airport to depart Pyongyang for the flight to Beijing. (B)
Pricing Information
6
day tour, from
£1330
per person
(Single person supplement + £175)
Price Includes
Air Koryo flight Beijing–Pyongyang
Air Koryo flight Pyongyang – Beijing OR a train ticket Pyongyang – Beijing (train only available on certain tours)
Accommodation throughout
All meals in North Korea from lunch on the flight until breakfast on the morning of departure from Pyongyang All transfers, transport and sightseeing, with two local guides, including main entrance fees to all sites
North Korean Visa Fee and North Korean Visa*
Price Excludes
International flights from the UK to Beijing
Meals/Services in China / Korea other than specified
Chinese double entry visa (if required)
Entrance fees to certain sites in Korea, as specified
Itinerary Dates

12 Nov 2016

-

17 Nov 2016
Tour Route Map
North Korea, Pyongyang
North Korea, Kaesong
North Korea, Pyongyang