To register your interest in our 2018 Group Tour, call Carl on 020 7666 1350
It's no secret that at Regent Holidays we like to do things a little differently. When it comes to exploring the world, it's the off-the-beaten-track destinations that catch our eye. In fact, it doesn't even have to be a country. Some of our most intriguing destinations are the breakaway-states; regions that have declared independence but aren't yet formally recognised as a country. Our brand new Pioneering Abkhazia Group Tour introduces curious travellers to Abkhazia.
This 12-day tour spends eight nights exploring this breakaway Caucasus region to the west of Georgia, from its crumbling Soviet-era architecture to its remote mountainous regions and Black Sea coast. From crossing the Georgia-Abkhazia border on foot to exploring one of Stalin's Dachas, our one-of-a-kind itinerary discovers everything this unknown breakaway-state has to offer. Visit remote family homes in the lush mountains, hike through the Tsebelda Valley and speak to Carl about the unique opportunity to fly in a Czechoslovakian Aero L-39 Albatros military aircraft (extra cost - see day 4).
Departing the UK from London Gatwick, this group tour will fly to Kutaisi with Ukraine International Airlines, via Kiev. After two nights in Georgia (with a full day of sight-seeing in and around Kutaisi), the journey through Abkhazia begins on day 3 when you head to the frontier.
Tour the capital Sokhumi, the second city of Gagra as well as in the lesser-known cities of Novy Athon and Ochamchire. This varied itinerary has been crafted to give the visitor an understanding of Abkhazia's past, present and future, whilst also exploring the remote scenery, culture and cuisine of the country.
Tour Itinerary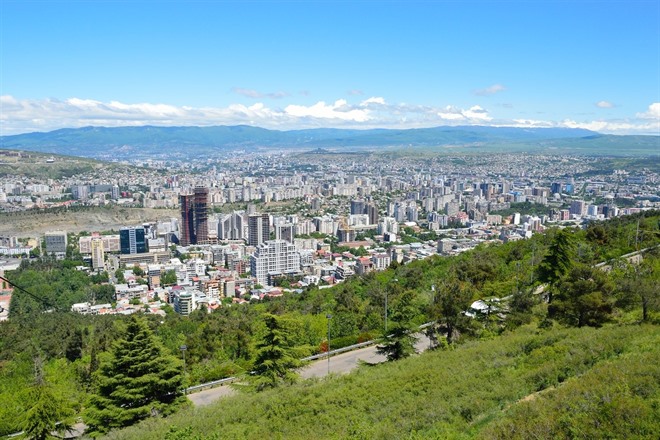 Depart London Gatwick on the Ukraine International flight to Kutaisi, Georgia, via Kiev. On arrival in Kutaisi in the late evening we will be met by our Georgian guide and driver. From the airport transfer to central Kutaisi and check into our hotel, the Bagrati 1003, or similar, for a two night stay.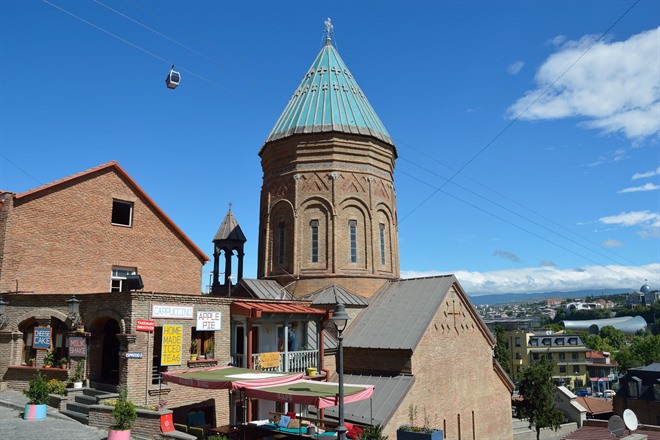 Take the morning to relax, rest and recover at leisure from your late night and meet for a welcome Georgian lunch before commencing an introductory tour of central Kutaisi. Also this afternoon visit Gelati Monastery and Bagrati Cathedral. Enjoy dinner back near the hotel. (B,L,D)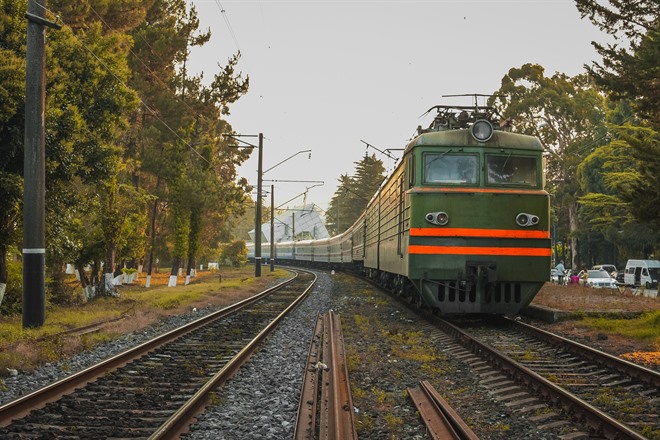 Depart Kutaisi early and head towards the Abkhazian border, reaching the Enguri Bridge. After registering at the Georgian checkpoint it is time to set off on foot over the Enguri Bridge into Abkhazia. A horse and cart may be available at a small extra fee.
After all entry formalities, meet your local guide and set off to the town of Tkvarcheli for lunch and a tour. Tkvarcheli was one of the worst affected towns of the war, with the population today around 1/4 of what it was in the 1980s. In the afternoonon, drive to the village of Mokvi to visit the 10th century Mokvi Cathedral before continuing to the Abkhazian capital of Sokhumi. Check into the hotel for four nights and enjoy a dinner traditional Abkhazian cuisine in the city. (B,L,D)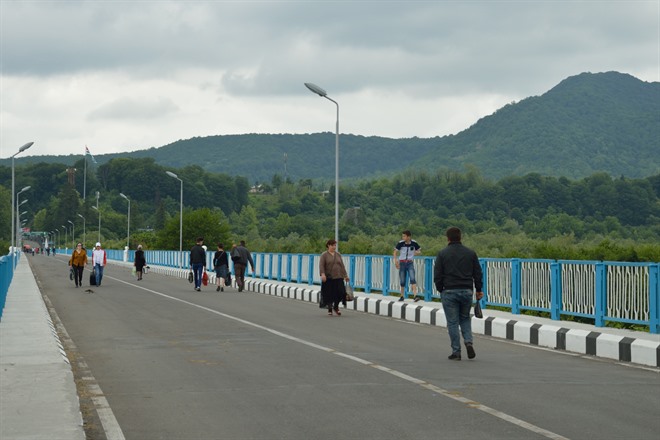 Spend today exploring Sokhumi and the surrounding areas. Visit the Halo Trust in the western suburbs - an active British organisation specialising in the removal of the debris of war, such as mine clearing. Gain an understanding of their work with a visit to a nearby vineyard; this vineyard and cottage industry situated in a former minefield, now a cleared and thriving thanks to the HALO Trust. After sampling the wine produced, return to central Sokhumi for an introductory walking tour through, passing along the waterfront and central streets and avenues. After lunch, meet with the Vice Minister of Foreign Affairs (subject to change), to learn about Abkhazia's chequered history, and about the governments' position on the Republic of Abkhazia. Enjoy the rest of the day and evening at your leisure. (B,L)
OPTIONAL ADD-ON EXPERIENCE: This afternoon there is the possibility of a completely unique excursion experience—to fly in Czechoslovakian Aero L-39 Albatros military jet trainer aircraft (stock image as pictured), operated out of Sokhumi Babushara Airport. This is subject to reconfirmation locally, and is available on a first come first served basis for a limited number of clients. Please note this experience includes a degree of hazard that you undertake at your own risk. The flying time will be approximately 45 minutes. All persons wishing to undertake this experience should be in good health. Size restrictions may apply please contact us for further details.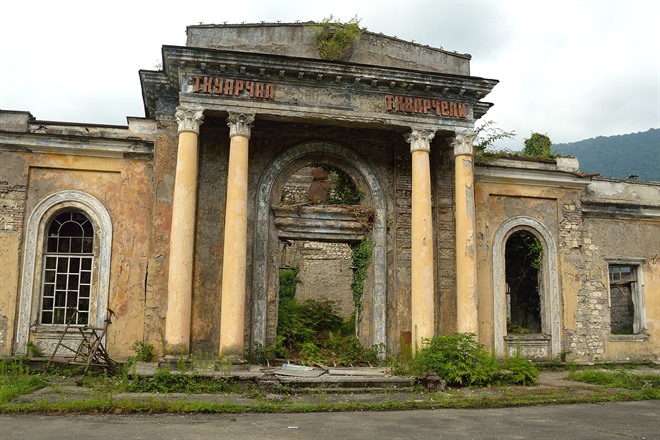 Set off for Sokhumi Babushara Airport in the morning to travel by privately chartered aircraft to the small settlement of Pskhu. This trip is as much about the journey as it is the destination - the aircraft will depend on the final size of the group, but will likely be a Soviet era AN-2 biplane. The flight takes 30 minutes and on arrival you walk through the central street of this sleepy, remote village. Home to around 150 people, when flights arrive in Pskhu it is normally an event of note in this sleepy corner of Abkhazia - locals often come out to say hello and like to chat as you walk up to the main church.
Travel to the home of Nikolai, a local resident, around 5km away, for lunch and leisure time in the beautiful scenery. Opt to travel by foot, horseback or vehicle. Return back to Pskhu mid-afternoon and fly back to Sokhumi. Return to the hotel and enjoy the evening free at your leisure. (B,L)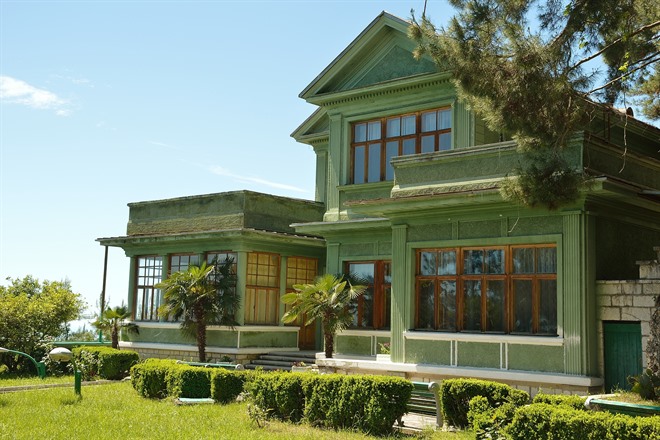 Today's day trip from Sokhumi explores the picturesque Tsebelda Valley. Walk to a trolleybus station and enjoy a short ride to Sokhumi Bazaar to explore the Bazaar with guides and shop for souvenirs. Depart Sokhumi and drive east into the Tsebelda Valley, visiting local homes en route and stopping for a picnic barbecue lunch on the banks of the Machara River. Those that wish can (with a guide) enjoy a hike of around one hour, or you can opt for a more sedentary afternoon and relax with a glass of local wine, or take a dip in the refreshing waters of the Machara River. Late this afternoon, return to Sokhumi and enjoy a final evening at leisure in the capital. (B,L)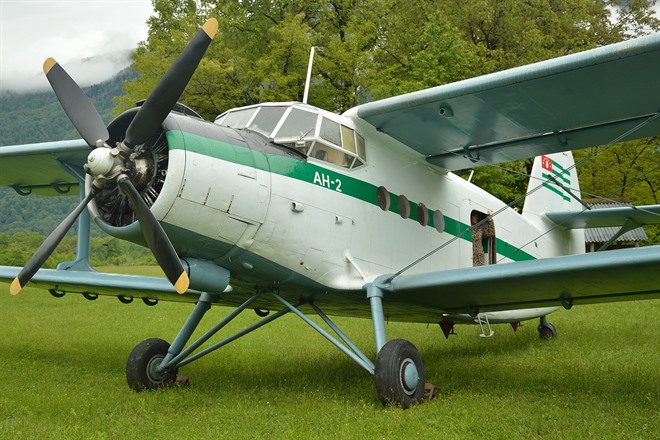 Check out and head west along the main highway, heading for the beautiful Ritsa Relict National Park. On arrival in Ritsa, enjoy lunch before visiting Stalin's Dacha. Also this afternoon, enjoy time for boating on the beautiful Lake Ritsa, and drive to a nearby vantage point for a spectacular view of the area. There will be time to relax with a drink at a local café or browse some of the souvenir/honey stalls before heading west to Gagra. This evening enjoy dinner near the hotel. (B,L,D)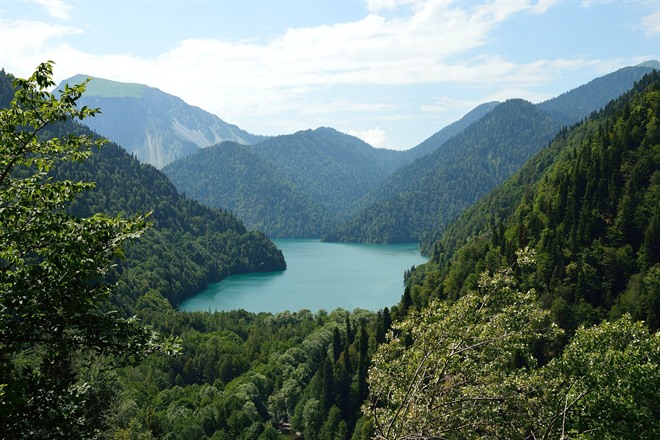 Spend the day exploring in and around Gagra. Pass through Old Gagra, before visiting another of Stalin's impressive dachas, this one well situated with an impressive view down to the Black Sea. From here drive to Pitsunda, a Soviet era beach resort that caters for a large number of Russian tourists. Pitsunda, one time favourite resort of Nikita Khrushchev, is an interesting place to explore - it is all very walkable and the centre of the resort seems largely unchanged from its Soviet heyday. After lunch in a Soviet era hotel (likely on the penthouse terrace for good views over the bay), have free time to explore or bathe in the Black Sea. Return to Gagra and enjoy the rest of the afternoon and all evening free at leisure. (B,L)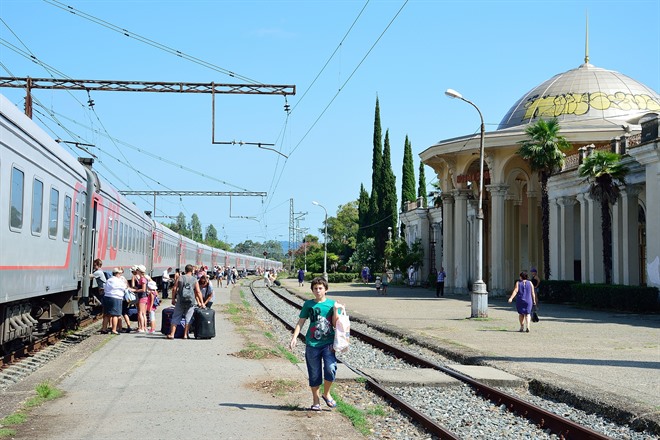 Depart Gagra on a train to Novy Afon (New Athens) for brunch before commencing a tour of the town and its sights, with visits to Novy Afon Cave, Novy Afon Monastery and the Novy Afon Seaside Park. This afternoon those who wish can take an optional walk to Anacopia Fortress, an ancient citadel high above the town. Those who would prefer a more leisurely afternoon can relax at leisure - possibly opting for another dip in the Black Sea or exploring Novy Afon at leisure. This evening enjoy dinner and wine tasting at the Guada restaurant. (Brunch/D)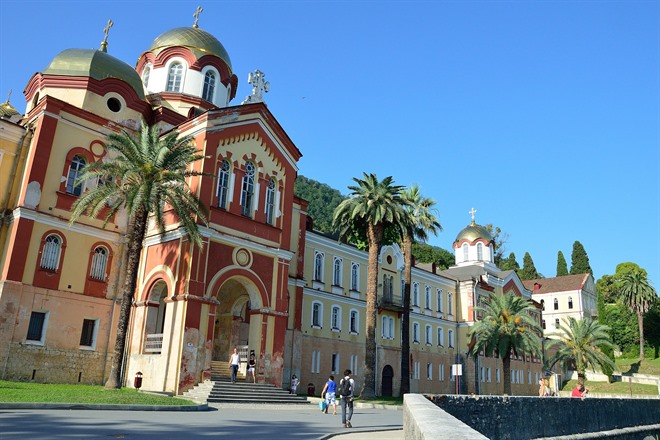 Our last full day in Abkhazia takes us east to Ochamchire. Drive east for 90 minutes, passing through Sokhumi to the hot springs/natural mud baths of Kindgi. Here you will enjoy time at leisure to soak up the atmosphere, or indeed take a soak in the mud baths or hot pools. Continue to the medieval Bedia Cathedral; finding a suitable spot nearby to enjoy a picnic lunch. From Bedia, reach the small city of Ochamchire. This afternoon, for those who wish, enjoy an optional excursion to a Hydroelectric Power Station on the Enguri River. Should you prefer you may of course explore Ochamchire at leisure. This evening enjoy your final Abkhazian dinner. (B/L/D)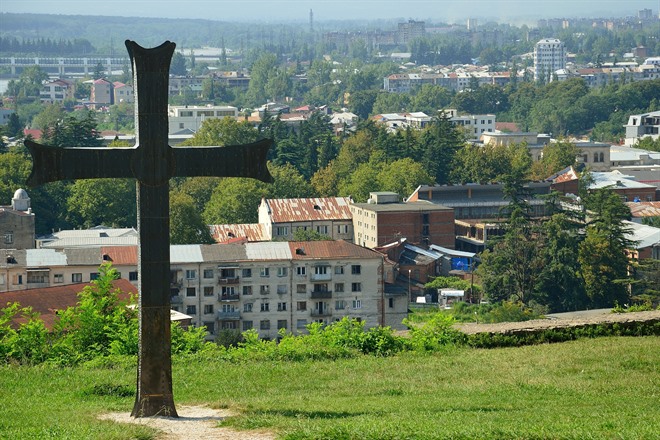 Departing the hotel, drive to the border before making the crossing back into Georgia. Part with your local guides before going through all the exit formalities and walking back to Georgia. Meet with your Georgian guide and transfer to Zugdidi to enjoy lunch. Visit the Dadiani Palace before a brief walking tour of central Zugdidi. From Zugdidi, drive to Kutaisi and return to the hotel, arriving in the late afternoon. There will be some free time to relax at leisure in Kutaisi before you head out for a farewell dinner. (B/L/D)
This morning we will be transferred in the early hours to Kutaisi airport for our flight back to London Gatwick, via Kiev. On arrival back into the UK no further arrangements.
Pricing Information
12
day tour, from
£2750
per person
(Single person supplement + £440)
Price Includes
Ukraine International Airlines flight London Gatwick—Kutaisi—London Gatwick (Economy Class, via Kiev)
Accommodation throughout
Meals as specified (B=Breakfast, L=Lunch, D=Dinner)
Regent Holidays escort for the duration of the tour
All transfers, transport and sightseeing, with local guides (local guides will change at border)
Domestic charter flight in Abkhazia
Main entrance fees to sites
Abkhazian Letter of Invitation (arranged in advance) & Abkhazian Visa (obtained locally)
Price Excludes
Meals / beverages with Ukraine International (these may be purchased on board)
Meals / services other than specified
Porterage
Gratuities
Image Gallery
Click on images to enlarge