3-star + Russian River Cruise | St Petersburg to Moscow
11 Day Tour, from £1785 per person
Itinerary Dates
2017
2018

26 Aug - 05 Sep




02 Sep - 12 Sep




16 Sep - 26 Sep




23 Sep - 03 Oct




12 May - 22 May




19 May - 29 May




02 Jun - 12 Jun




09 Jun - 19 Jun




23 Jun - 03 Jul




30 Jun - 10 Jul




14 Jul - 24 Jul




21 Jul - 31 Jul




04 Aug - 14 Aug




11 Aug - 21 Aug




25 Aug - 04 Sep




01 Sep - 11 Sep




15 Sep - 25 Sep




22 Sep - 02 Oct



Take the "river less travelled" and sail from St Petersburg to Moscow on this 11-day Russian River Cruise. Journey through the beautiful, pastoral countryside of Russia along canals, waterways and lakes, gazing at a land of ancient monasteries and shimmering forests of silver birch. Various boat options are available for this journey. Listed here are the dates for the M/S Chernishevsky and M/S Shashkov, but alternative dates are possible on board the M/S Fedin or Kronshtadt.
Price based on Main Deck cabins. For upgrades to the Middle Deck and the Boat Deck, please speak to one of our Travel Specialists. This journey also operates from Moscow to St Petersburg. Please click here for an itinerary for this route or contact one of our Russia Travel Specialists for more information.
Tour Itinerary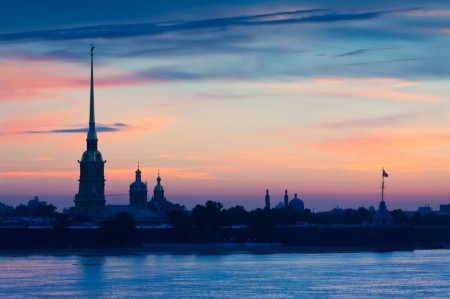 Arrive St Petersburg. Tansfer to the boat and enjoy a welcome dinner. (D)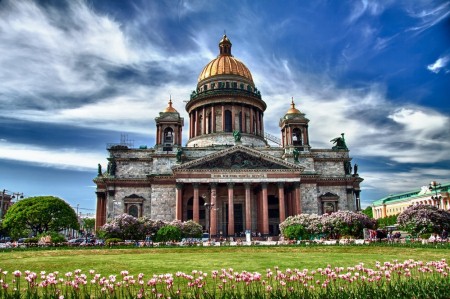 Morning sightseeing tour of St Petersburg to include photo stops of Admiralty Building, Winter Palace and St Isaac's Cathedral. Also visit Peter and Paul's Fortress. (B,L,D)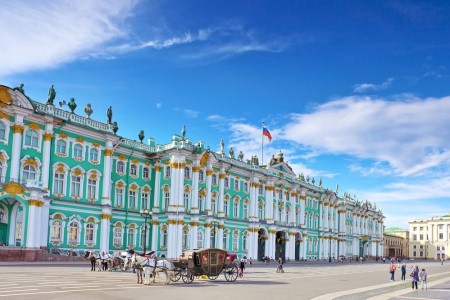 Morning visit to the Hermitage, St Petersburg's rival to the Louvre in Paris. The collection contains over three million exhibits. (B,L,D)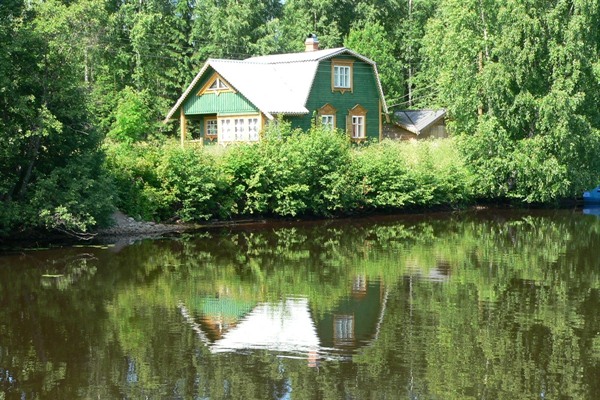 Today stop at Mandrogi to relax on the verdant river bank and enjoy the pleasant scenery with a picnic lunch. (B,L,D)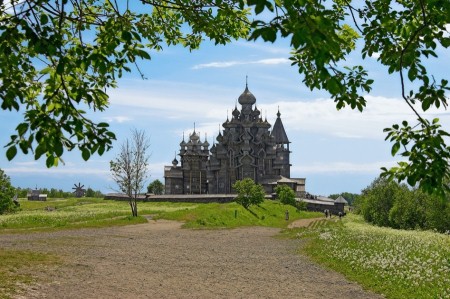 This morning the ship stops at the tiny fairytale island of Kizhi on the northern shore of Lake Onega. Your visit to the island includes the open-air Museum of Wooden Architecture, housing a collection of restored 18th-century Russian wooden buildings and the highlight of this visit - the breathtaking Church of the Transfiguration. (B,L,D)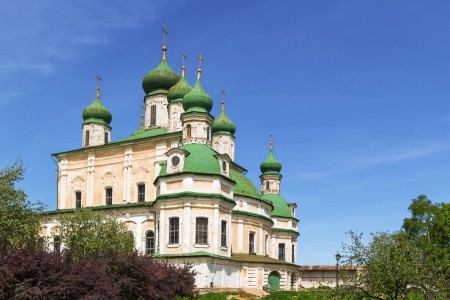 Afternoon arrival at Goritsy, a typical Russian village. There is an excursion to Kirillo-Belozerksy Monastery and various optional events. (B,L,D)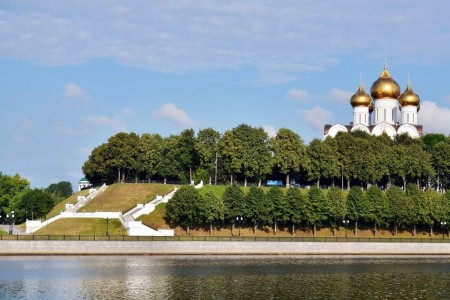 Arrive in the historic city of Yaroslavl, located at the confluence of the Volga and Kotorosi Rivers. On a sightseeing tour by bus see the 17th century Church of Elijah the Prophet which stands in the city's centre and is Yaroslavl's most beautiful church. Visit the church of St. Nicholas the Wonderworker and embark on an interactive tour of the former Governor's house (B,L,D)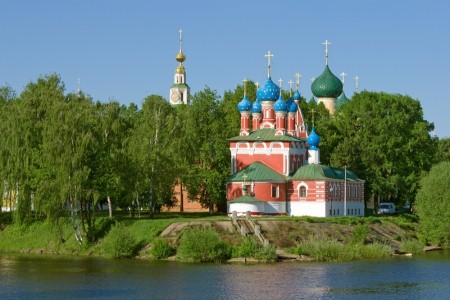 Far from ugly, the view of the town on approach from the Volga River is especially beautiful with the Cathedral of the Resurrection and St. John's Church looming on the horizon. Visit the church of St. Dimitry of the Blood and the Kremlin where the seventh wife of Ivan The Terrible lived in exile. (B,L,D)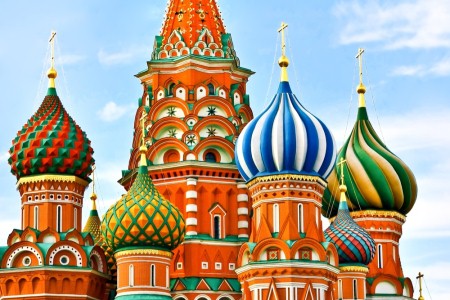 Explore the city on a morning's excursion that will include the colourful, multi-domed St Basil's Cathedral (outside only), Red Square, the Lenin Mausoleum, the Bolshoi Theatre and many other points of interest. (B,L,D)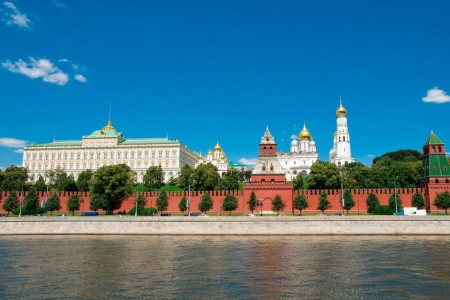 Morning excursion to the Kremlin and one of the cathedrals in the grounds. Time at leisure or book an optional excursion before the river cruise departs Moscow this evening. (B,L,D)
Free morning before transfer to the airport for flight back to the UK. (B)
Pricing Information
11
day tour, from
£1785
per person
Price Includes
Return flights in economy class with British Airways from London/Heathrow
All airport taxes and security charges
Twin air-conditioned cabins with private facilities
Three meals per day [breakfast, lunch, dinner] commencing with dinner on day of embarkation and ending with breakfast on day of disembarkation
Captain's welcome Cocktail Reception
Transfers on arrival/departure
Gala farewell dinner
Full sightseeing programme in each port of call with transfers, entrance fees and English speaking guides
Russian language and song lessons
Nightly entertainment and dancing
Daily aerobics
Tour of ship's bridge
Port taxes
Price Excludes
Russian visa
Drinks with meals
Insurance
Gratuities
Porterage
Extra excursions
Price Notes
There are a large number of ships plying the Russian waterways, especially between Moscow and St Petersburg. However, most ships follow similar itineraries and offer a comparable standard of accommodation and tours. We can book a number of boats, so even if you don't find a date to suit you, then please do not hesitate to contact us.
Itinerary Dates

26 Aug 2017

-

05 Sep 2017

02 Sep 2017

-

12 Sep 2017

16 Sep 2017

-

26 Sep 2017

23 Sep 2017

-

03 Oct 2017

12 May 2018

-

22 May 2018

19 May 2018

-

29 May 2018

02 Jun 2018

-

12 Jun 2018

09 Jun 2018

-

19 Jun 2018

23 Jun 2018

-

03 Jul 2018

30 Jun 2018

-

10 Jul 2018

14 Jul 2018

-

24 Jul 2018

21 Jul 2018

-

31 Jul 2018

04 Aug 2018

-

14 Aug 2018

11 Aug 2018

-

21 Aug 2018

25 Aug 2018

-

04 Sep 2018

01 Sep 2018

-

11 Sep 2018

15 Sep 2018

-

25 Sep 2018

22 Sep 2018

-

02 Oct 2018
M/S Chernishevsky
M/S Chernishevsky is a four deck vessel built in Germany in 1981 (project 301), refurbished in 2007. It is equipped with modern navigation devices and can reach the speed up to 26 km per hour (around 17 mph). Its length is 125 metres, width is 16.7 metres, and immersion is 2.9 metres. The boat can accommodate up to 265 passengers.
The ship features outside cabins with air-conditioning, affording majestic views of the passing countryside. The dining room offers Continental and Russian cuisine, as well as the specialities of the surrounding regions. There are two restaurants, bars, a small souvenir shop, music room, dance hall, and sauna. Laundry service is also available. Parties, games, dancing and shipboard entertainment all serve to ensure a memorable cruise.
Click on images to enlarge
Tour Route Map
Russia, St Petersburg
Russia, Mandrogi
Russia, Kizhi
Russia, Goritsy
Russia, Yaroslavl
Russia, Moscow
Image Gallery
Click on images to enlarge
Reviews
I would like to thank you very much for a lovely well organised holiday, especially to our guides Sergei and Svetlana. Our only comment was the arrival into St Petersburg was early and our room was not available until later. Otherwise we had a great time and would recommend the trip to other would be travellers.
The Girlings
Hotel Asteria - clean, good location, did the job! Itinerary documentation clear and well presented. Office staff helpful and quick responding to email queries.
Mr A Townsend
Let me say a big Thank You to Christina for enabling me to have a wonderful Trans-Siberian experience this summer. I guess it must have been you who informed the company that I was celebrating my birthday when I arrived in Vladivostok...where to my surprise and delight was presented with a bottle champagne and birthcard by the hotel reception. Thank you...The vastness of Russia becomes more and more apparent as days go by on the train. I was amazed at how the scenery barely changes all the way from Moscow to Khabarovsk (except Lake Baikal). I began to think that the train was stationary and the scenery was being moved around. I am sure I saw the same forest a thousand times over! I would recommend Ekaterinburg, Novosibirsk, Irkutsk and especially Ulan Ude!
T Watkins
The Ambassador Hotel - excellent service, room and location. Regent Holidays were very respondent to our needs as individual travellers and able to respond to last minute changes and additions. Driver and guide first class. We plan to use Regent Holidays ahain. The whole trip lived up to and went beyond our expectations. Thank you.
Mr G Hawksford
We stayed in the National in Moscow and the Angleterre in St Petersburg - both good, the National was particularly friendly! We felt we were exceptionally well cared for in Russia. The local guides were particularly punctual and reliable.
W. Peake
Many thanks for interesting, caring holiday. The Hotel Cosmos in Moscow was basic but OK and the restaurants at both hotels needed prompting about gluten free meals but did provide lovely meals immediately.
Ms G Milanne
Flexible and extremely well organised - the hotel Vega in Moscow and the home-stay in Mongolia were OK. Terelj Ger Camp was beautiful.
Mr M Wakefield
We had a wonderful holiday. Our guide Sergei was helpful in the extreme. He was very interesting and informative. We really enjoyed his company. Our driver Alexei was courteous and helpful. As a result we were able to relax and enjoy the wonders of St Petersburg.
S. Mcully
Carl Meadows was excellent. Your local partners in Mongolia were fantastic - we had a great time! Hotel Vega in Moscow and Ulanbataar Hotel both good and did the job!
Mr E Whittle
The tour guides were excellent - also the travelling and tour arrangements. We added a couple of visits plus 2 shows. The Sovietsky was OK - just a little far out and the Angleterre was excellent.
S.Rovall
We would thoroughly recommend Regent Holidays as this was our first visit to Russia - everything was very well organised and the tour guides very informative and helpful. The Grand Express was a wonderful experience and an enjoyable way to get from Moscow to St Petersburg. The National Hotel in Moscow and the Astoria in St Petersburg was excellent.
Mr M Hewitt
We enjoyed our stay at the Hotel Dostoevsky in St Petersburg. We were very impressed by the service provided by our Tour Guide Tanya. Her knowledge and organisational skills made our holiday completely stressfree. The taxi drivers Regent Holidays provided were also very polite and helpful. Thank you for a wonderful holiday which I will always remember.
Mrs J Schubert
The Hotel Angleterre was a great hotel, very helpful staff and brilliant location.
Mrs E Folwell
We so enjoyed our recent cruise on 31 May to 9 June and so did our travelling companions. We have told everybody. The boat was superb, the guides excellent and the food so tasty. The upgrade to a junior suite made the cruise!
S. Searle
The holiday was perfect from the start. Our Driver and Guide were excellent, very informative and knowledgeable - we could not have wished for more.
Mr & Mrs Radley
April 24, 2013
The independent guided tour was excellent and worth paying the money for – highly recommended! Every meeting was on time and the guides very pleasant and helpful. We were met at the station and escorted to the train which was good as the station was very crowded and confusing.
The organisation of everything worked perfectly and made out holiday extremely enjoyable.
The Groves'
July 9, 2013
I was very impressed by the very high level of service and excellent advice on Russia by Andrei Kashkin. When we book our next holiday it will be through Regent Holidays.
The Crawford's
August 6, 2013
The tour of the Kremlin and the Diamond Fund was excellent – the guide most informative and my wife loved the jewels. All of our guides were super, and this was one of the best holidays we have had – absolutely fascinating!!
Mr & Mrs Hewitt-Jones
August 29, 2013
Our trip to St Petersburg was timed to coincide with a 70th Birthday. We advised Christina Gibbons of this fact and she obviously passed this information to the Astoria Hotel. We were overwhelmed by the upgraded service we received fro the Astoria. Russian champagne, large box of chocolates and a birthday card on the relevant day. Well done to all concerned.
Mr & Mrs Foley
September 24, 2013
My trip on the Trans Mongolian Express far exceeded my expectation, and this was mainly due to the expert and professionalism of support that I received from Carl Meadows and his team.
This was my first trip that I had booked through Regent Holidays, and on the basis of how much I enjoyed it, I will definitely be booking my next trip for 2014 through yourselves.
An excellent job well done – thank you.
Mr N Young
November 29, 2013
I would like to say this has been the best holiday I have had for many years. A wonderful experience. The local guide Mikhail was wonderful. Very friendly and helpful. Extremely knowledgeable. Never flinched answering any questions even personal ones. I will definitely be considering travelling with Regent Holidays again and would like to thank everyone concerned for doing such a great job.
Mr A Graham
October 10, 2014
My holiday arranged by yourselves on the Transiberian Express from 20th August until 4th September was one of the most spectacular I have ever had. It exceeded all my expectations.
The organisation, accommodation, staff and extra care taken by all concerned was second to none. I have no hesitation in recommending to anyone.
Of course all the help and assistance you gave to me as well all helped make the whole experience a delight.
I met some delightful people and saw some amazing places.
I am so glad I travelled with you.
Ms Hilary Fryer
September 19, 2016