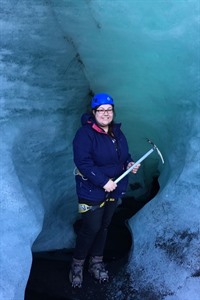 Georgie James
Iceland & the Arctic Travel Specialist
My journey in the travel industry started with a Saturday job whilst I was in my final year of college. It didn't take long for me to realise a career in travel was the perfect opportunity for me to develop my languages and make peoples dream holidays a reality. Booking holidays is a very personal experience and I have enjoyed listening to many travel adventures and stories.
Krakow & Berlin are two of my favourite destinations, both being so rich in history. When in Berlin, it is still very clear to see the divided city and a tour on the glass dome on the Reichstag is a particular favourite of mine, from there you can see for miles over the Tiergartens and the Brandenburg gate. In Krakow I love walking around the beautiful old town and on market square every hour you can hear the trumpet call which was used in medieval times to announce the openings of the city gates. I have also visited Auschwitz which is a place I feel everyone should visit.
Above all, I have thoroughly enjoyed getting to know our Iceland & The Arctic portfolio. No matter how many times I visit Iceland, I always find something new and wonderful to experience - in the winter the Northern Lights make any trip special and in the summer, the opportunities to embark on a fly-drive holiday and explore the north are fantastic.
Featured Tours