Offering a perfect breeding and nesting environment for migrating birds, the Faroe Islands become home during the summer months to puffins, plovers, sparrows, wild gees, storm petrels, ravens, crows, gannets, guillemots and the national bird of the Faroes – the oyster catcher.
Embark upon a unique fly-drive adventure to this undiscovered destination, locked away in the heart of the North Atlantic Ocean. Witness thousands of Atlantic puffins on Mykines gathering to nest and rear their young, go in search of the only Faroese gannet colony, and take part in a fascinating excursion after dark on the island of Nolsoy to discover the largest colony of storm petrels in the world.
Enjoy a boat trip to the renowned Vestmanna bird cliffs. Cruise alongside the towering cliff faces and hunt for the breeding areas of guillemots and razorbills.
Tour Itinerary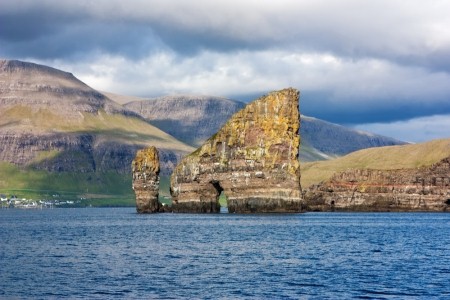 Fly to Vagar where you will collect your rental car at the airport and spend the rest of the day at leisure. Perhaps, visit the small villages of Bour and Gasadalur - until the recent opening of a tunnel through the mountain this was one of the most isolated villages on the islands, or take a walk from the village of Midvagur to the rock formation known as the Witches' Finger. This walk offers a beautiful scenery. Overnight in Vagar.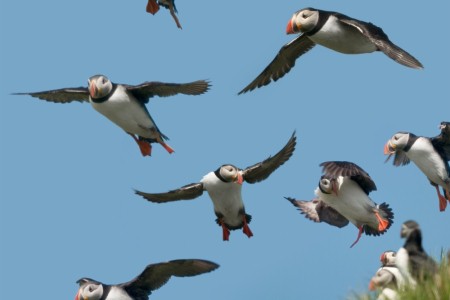 Drive to the village of Sorvagur and travel by ferry to the island of Mykines - the westernmost of the 18 Islands of the Faroe Archipelago - an island rich with bird life. Upon arrival, meet with a local guide and begin a 2-3 hour hike to Mykinesholm. Enjoy spectacular views, admire dramatic coastline and discover bird colonies, including thousand of puffins. Mykines is also home to the only Faroese gannet colony. Later in the afternoon return to Vagar by ferry and return to the accommodation for an overnight stay. (B,L)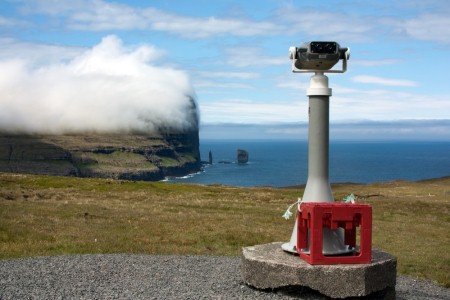 From Vagar, drive to Vestmanna on the island of Streymoy and join a boat trip along the spectacular bird cliffs which rise precipitously to over 600 metres and are home to nesting puffins, razorbills and guillemots whilst out to sea gannets can often be seen diving at full speed in search of fish. The boat explores the grottoes and inlets between the rocks and is a truly memorable experience. Afterwards continue to the island of Eysturoy and check-in to the Hotel Klaksvik for 2 nights. (B)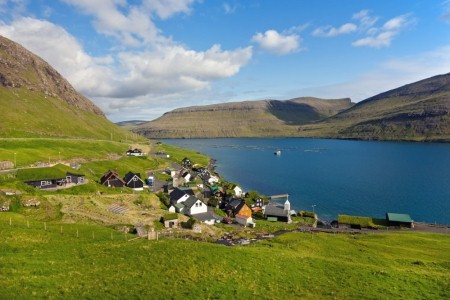 Today meet your guide for a private bird-watching tour on the island of Eysturoy. You will be met at your hotel and the guide will have knowledge of all the best spots to see the fabulous Faroese birdlife before returning to Klaksvik. The town is a bustling centre for fishing and the impressive church is designed to reflect the nautical heritage of the island and houses a unique art exhibition in the crypt underneath the church. (B)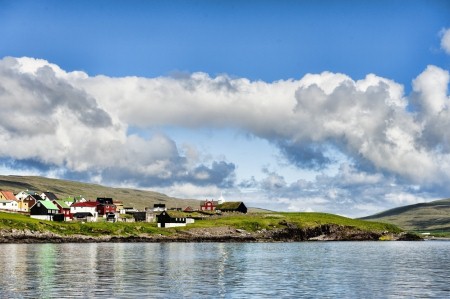 Have the day to travel from Eysturoy to the charming capital of Torshavn. On the way you could visit the historic village or Tjornuvik and the remote village of Saksun, perched above the Pollurinn tidal lagoon at the end of a long valley. In the evening travel by ferry to the island of Nolsoy. Catch the boat in the evening from Torshavn to the island of Nolsoy (a 20-minute journey) and take part in a guided walk to discover the largest Storm Petrel colony in the world. This exciting walk takes place from 10pm to 2am. Overnight on the island of Nolsoy. (B)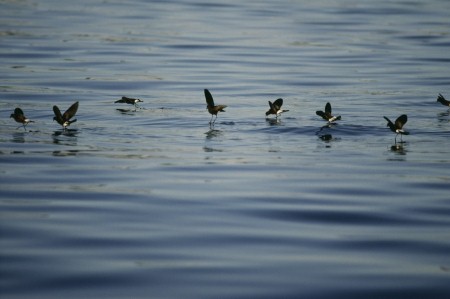 Return by ferry in the morning to Torshavn. Once back in the capital have the day free to explore the town where the old centre has narrow streets, and turf-roofed buildings and is home to the national museum, art gallery and the Nordic House - the Faroese cultural centre and a great place for lunch in the Bordkrokur cafe. Spend 2 nights at the Foroyar Hotel, set above the city with views out to sea. (B)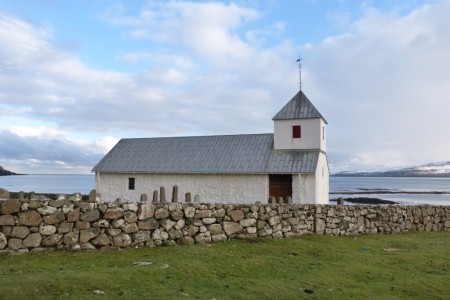 Spend the day at leisure - you could drive the short distance to Gamlaraett and take the ferry to the green island of Sandoy - the "Saga" island. Here you can visit the villages of Dalur and Husavik and on arriving back onto Streymoy be sure to visit the historic village of Kirkjubour, with its ruined cathedral, church and farm which has been worked by 17 generations of the same family, before returning to Torshavn. (B)
Return the rental car at the airport and fly back to the UK. (B)
Pricing Information
8
day tour, from
£1885
per person
Price Includes
Return flights in economy class with Atlantic Airways direct fom Edinburgh
All airport taxes
8 days car hire group B incl. unlimited mileage, CDW+TP*, including pick up/drop off at Vagar airport
7 nights accommodation in B&B and guesthouses with breakfast
Meals as specified
Sightseeing tours wih local guides
*Please contact us for full details and conditions of car hire
Price Notes
Remember to bring warm and practical clothes, a water bottle for the walks and binoculars