Explore the highways and byways of Slovenia with a clear conscience on our very first electric vehicle fly-drive holiday.
Feel safe in the knowledge that you are helping to protect Slovenia's pristine mountainous landscape as you travel by e-vehicle from alpine lakes to jaw-dropping mountains, rolling vineyards to glistening Adriatic coast; there is no better way to explore Slovenia than by car.
Another advantage to this holiday is the inclusion of entrance fees and sightseeing tours, allowing you optimum time to soak up all this stunning country has to offer in a week.
Tour Itinerary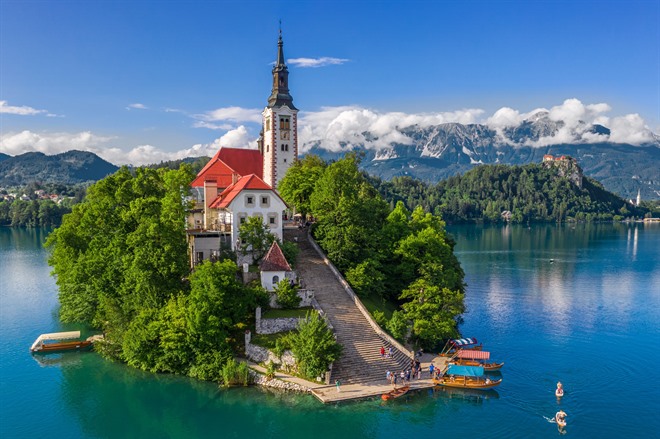 Arrive in Ljubljana. Collect your e-vehicle upon arrival. Make the 30 minute drive to Lake Bled where you will spend the next two nights.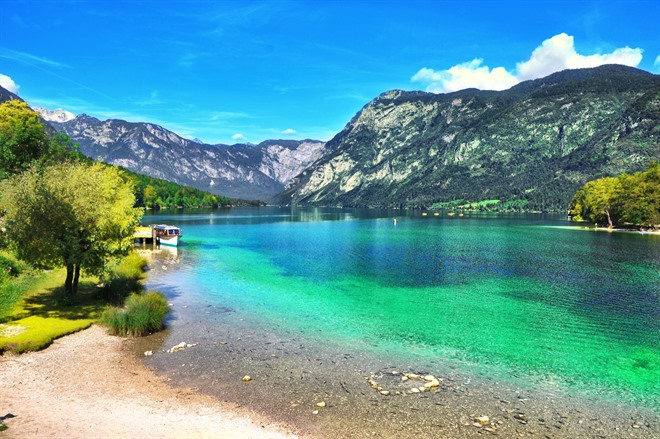 The car is not needed this morning so head out on foot for a morning hike around Lake Bled (6km to walk the whole circumference), before taking a traditional Pletna boat ride across to Bled island where legend has it if you ring the bell in the tiny church your wishes will come true. Afterwards, collect your car and drive on to Lake Bohinj (approx. 30 minutes). The second of Slovenia's mighty lakes is less developed and a haven for kayakers and paddle boarders. A trip on the Mt Vogel cable car is included and elevates you 1500m up into the Triglav National Park where further hiking opportunities await or you may opt to relax at the alfresco café and drink in the magnificent views with a drink in hand. If time permits, Vintgar Gorge is worth a visit, punctuated by rapids and small waterfalls. End the day at Bled Castle for an evening view over Bled. (B)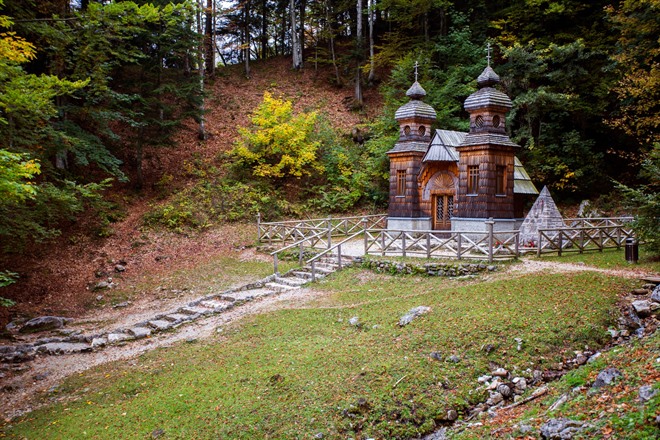 Drive north into the Julian Alps this morning and head to the town of Kranjska Gora (45 minutes), known as the hub of winter sports within Slovenia. During the rest of the year it is a peaceful mountain town with Lake Jasna nearby and many hiking trails of varying degrees of difficulty. After some time spent here, depart for the Vrsic Pass which at 1611m is the highest pass in the country (road open from Spring onwards). Look out for the Russian Orthodox chapel, built by Russian POWs. Follow the road through the splendid Soca Valley on to the wine country of Goriska Brda, nicknamed 'Slovenian Tuscany' (approx. 2 hours drive). The area is an oenophiles paradise. For a special treat, you may like to pre-book a table at Slovenia's recently crowned two Michelin stared restaurant 'Hisa Franka' (contact us to book). (B)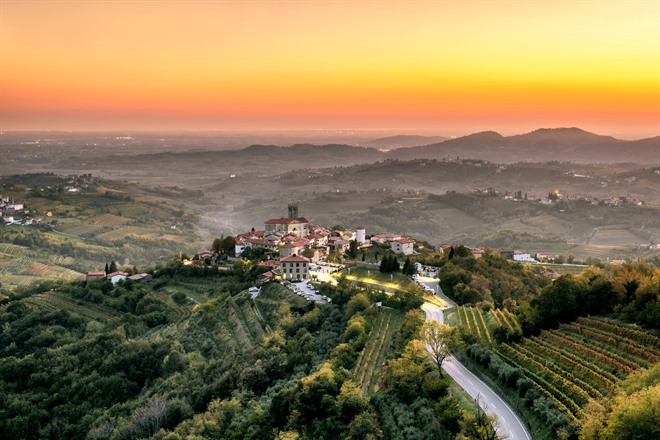 Take a walk or rent a bike for a last look at the wine region before driving on down to the coast (approx. 1.5hours). En-route you will pass through the Kras region, known for its famous prosciutto, so make a pitstop if that appeals. Down on the coast you will find a mixture of resorts, beaches and Venetian old towns; the perfect Balkan mix. (B)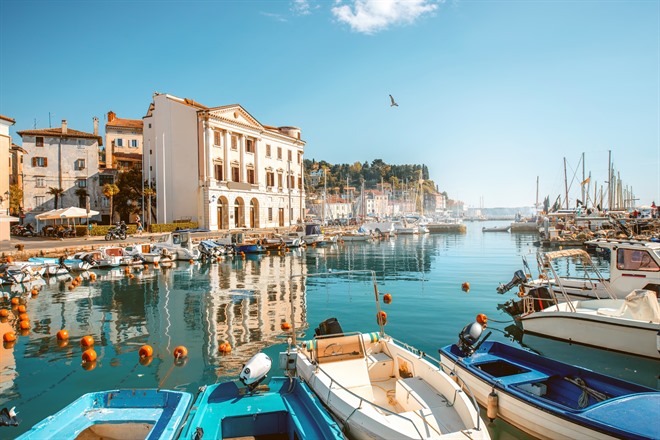 Spend the whole day at leisure along the coast, choosing to relax on the beach at Portoroz or maybe walk the seafront riva to Piran old town to explore its typical Medieval old town charm. (B)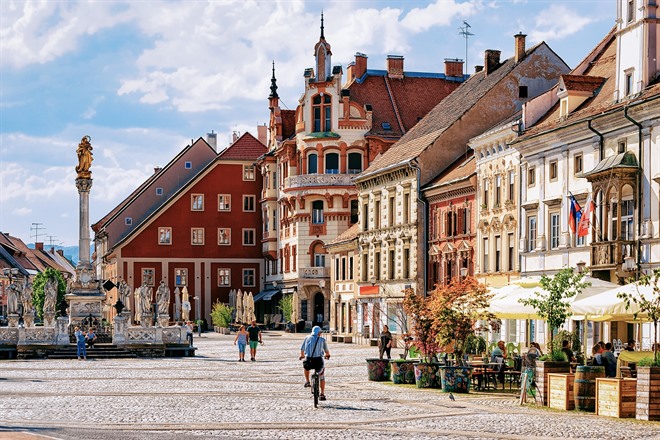 Leave the coast behind and arrive at the Postojna Caves complex (approx 50 min drive) where you'll take a 2 hour guided tour of this fascinating subterranean world. If time permits, pay a visit to the nearby impregnable Predjama Castle, built high into the cliff face. Continue on to Zice Charterhouse (approx 1.5 hr drive), a former monastery home to the 'white monks' and relax over a coffee at the oldest restaurant in Slovenia before arriving in Maribor for an overnight stay (approx 40 min drive). (B)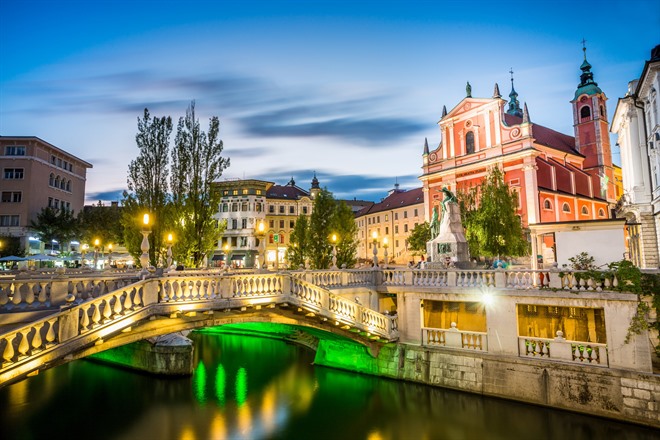 Maribor is Slovenia's second largest city and lays claim to the world's oldest vine; over 400 years old. Pay it a visit at the Old Vine House and taste a little of its produce. After your time in Maribor, make your way to the Koroska region (approx 1 hr drive) to try the unique experience of timber rafting on a 2 hour cruise on the river Drava. Round off your introduction to Slovenia in the nation's capital; Ljubljana. This small but perfectly formed capital is the perfect place to spend a leisurely evening with many restaurants, cafes and bars offering alfresco dining. Your car will be collected from your hotel this evening. (B)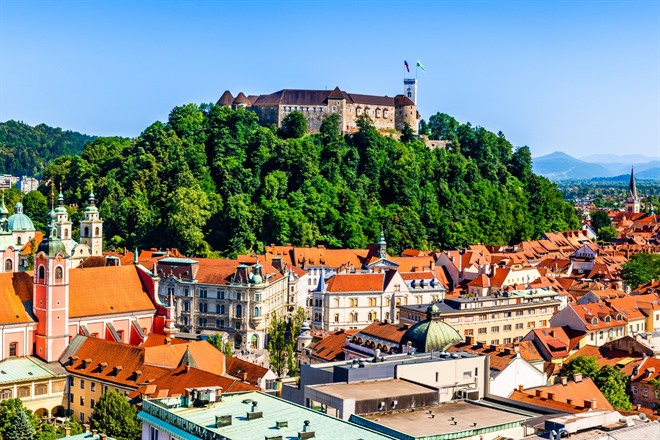 Ljubljana deserves a day to itself, explored at a leisurely pace. Starting at Ljubljana Castle, ride the funicular up to the top for a full view of the city below, spotting places of interest to visit next. Back in the city, you can stroll idly around the old town and along the banks of the Ljubljanica river, admiring the architecture as you go and stopping at the Central Market for fresh goods. (B)
Take a private transfer back to the airport for your return flight. (B)
Pricing Information
9
day tour, from
£1450
per person
(Single person supplement + £340)
Price Includes
Flights from the UK to Ljubljana
Airport taxes
Accommodation in 4* hotels on B&B basis (hotels have parking and most have charging points for your vehicle)
Electric car hire (Renault ZOE or upgrade to Tesla 3) hire inc; GPS, unlimited mileage, CDW with basic insurance, theft protection, airport surcharge, VAT and pickup/collection at Ljubljana Airport.
Included activities;
Bled island with St.Mary Church entrance fee
Pletna boat ride on Lake Bled
Bled Castle entrance fee
Vogel cable car (round trip)
Postojna cave entrance fee
Žiče Charterhouse entrance fee
Wine tasting at Old wine house Maribor
Timber rafting on Drava river
Ljubljana Castle and funicular
Price Excludes
Tips and gratuities
Travel insurance
Additional activities and restaurant reservations
Price Notes
Upgrade to a Tesla 3 from £410pp
Option to extend the tour in Ljubljana
Image Gallery
Click on images to enlarge