Travel through some of the 18 main islands of the Faroese archipelago on this 11-day fly-drive tour.
From the northernmost fishing village, Vidareidi to the southernmost island of Suduroy encounter incredible remote sights, hear the roar of the sea combined with rushing waterfalls, cruise alongside towering cliffs and delve into short hikes through lush green sceneries.
*As a remote country please note that there is only limited accommodation so it may be necessary to change the order of the itinerary, however, you will still be able to visit all of the sites mentioned in our suggested itinerary.
Tour Itinerary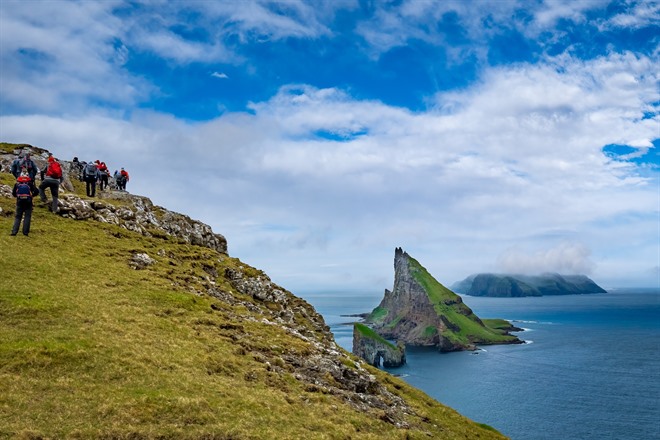 Arrive at Vagar airport and collect the hire car and a map. Explore the island of Vagar and visit the villages of Sorvagur and Bour before driving to Gasadalar to discover the panoramic view over the island of Mykines and Tindholmur. Transfer and overnight at Hotel Vagar in Sorvagur.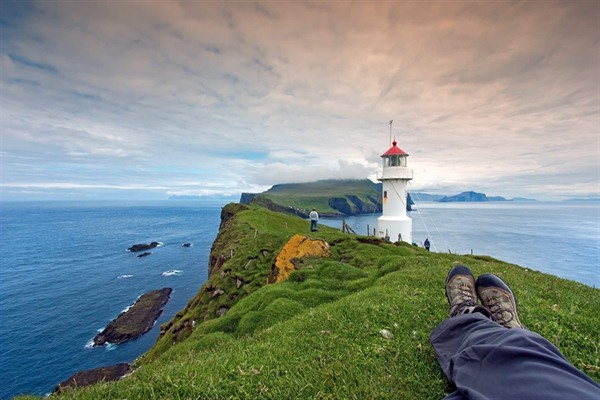 Today take the ferry to Mykines, the westernmost of the 18 main islands and teeming with bird life. Be sure to hike to the Mykinesislat, a challenging but rewarding route. Overnight at Hotel Vagar (B).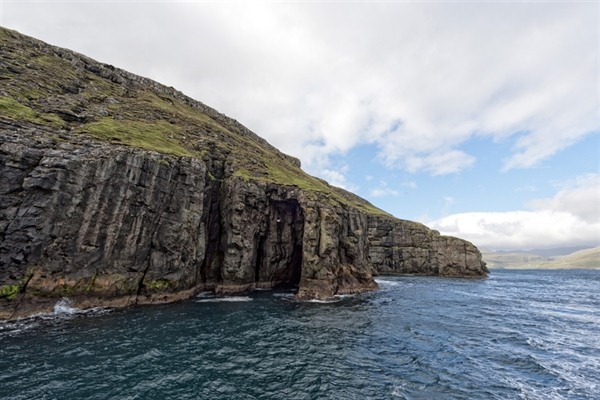 Drive to Streymoy and take an optional excursion setting off on one of the most popular trips in the Faroe Islands - an unforgettable boat tour to the renowned Vestmanna bird cliffs and grottos. Cruise alongside towering cliff faces and search for the breeding areas of puffins, guillemots and razorbills. After a brief stop at Kvivik to see old Viking settlements, reach Eidi and spot the Giant and the Witch rock formation in the sea and Slaettaratindur (882m) – the highest Faroese mountain. Check in and overnight at the charming Gjaargardur Guesthouse for two nights. (B)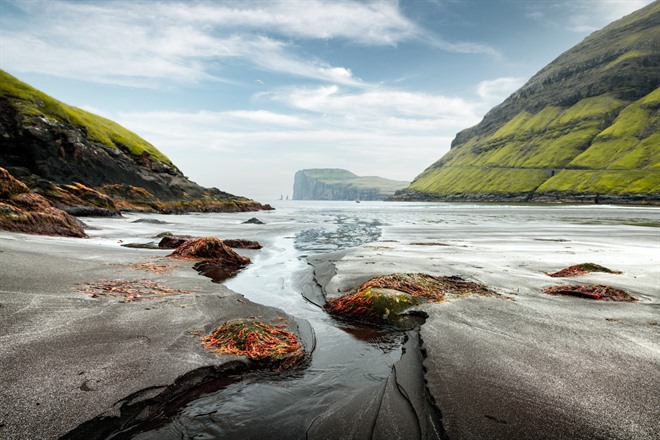 In the morning drive towards the tiny village of Tjornuvik - nestled at the end of a deep fjord which slices into the northern Streymoy shore. Hear the roar of the sea combined with the rushing waterfalls that descend behind the village whilst visiting a Viking burial site. On your way back to Gjogv stop in Saksun, a picturesque village surrounded by high mountains. Overnight at Gjaargardur Guesthouse. (B)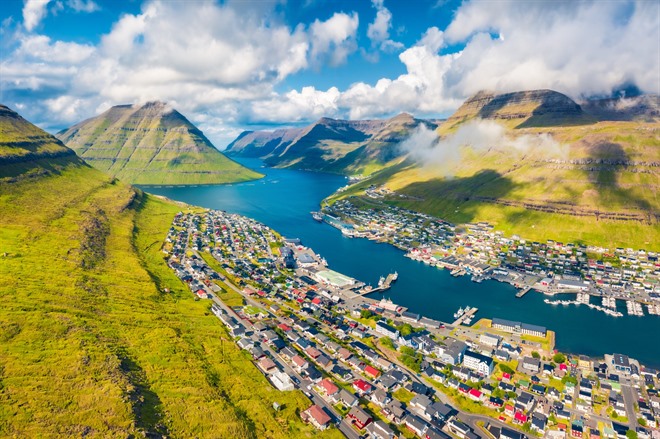 En route to Klaksvik visit the village of Oyndarfjordur and see the peculiar 'rinkusteinar' (rocking stones), two large rocks about 100m off the shore which move with the slightest wave. Continue to the island of Bordoy through the sub-sea tunnel - decorated with lights by the famous Faroese artist Trondur Patursson - and reach the town of Klaksvik. Overnight at Hotel Klaksvik. (B)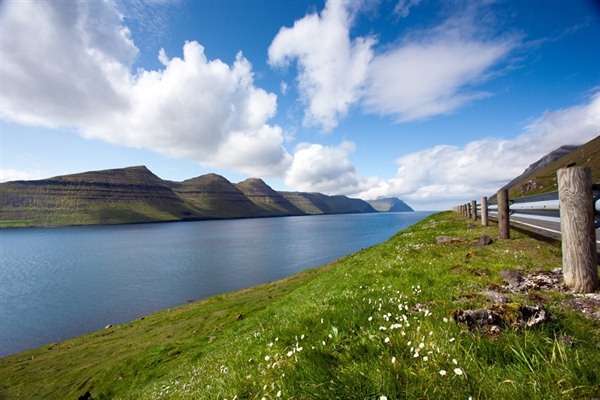 Spend the day exploring the Northern Islands which are scattered with small villages and dominated by dramatic high mountains with steep falls to the sea. Visit Vidareidi, the northernmost village on the Faroe Islands, before continuing to Kunoy. Transfer back and overnight at Hotel Klaksvik. (B)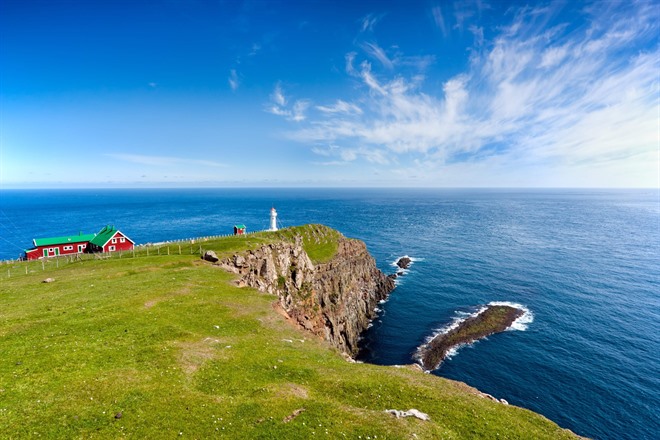 Return to Streymoy, the largest of the Faroe Islands, and check-in to the Hotel Foroyar. Spend the rest of the day exploring the smallest and most cozy capital in the world, strolling through the old town with its turf-roofed houses, watch the fishermen bringing in their catch, relax in one of the cafes of visit the local handicraft shops. (B)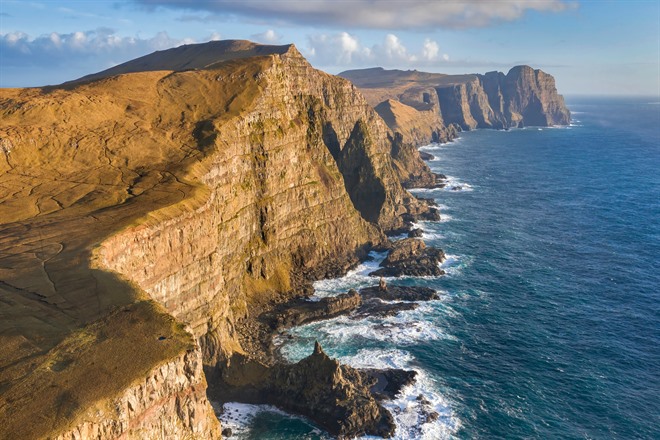 Spend the day unearthing the southernmost island Suduroy. Enjoy magnificent green mountainsides, colourful villages and steep birdcliffs. Visit the village of Akraberg, where some World War II pillboxes are still standing, and the spectacular rock of Beinisvord. Continue to the village of Famjin to see the very first original Faroese flag kept in the village church. Regent recommends also to hike to the beautiful natural Hvannhagi natural area. Overnight at Hotel Tvoroyri in Suduroy. (B)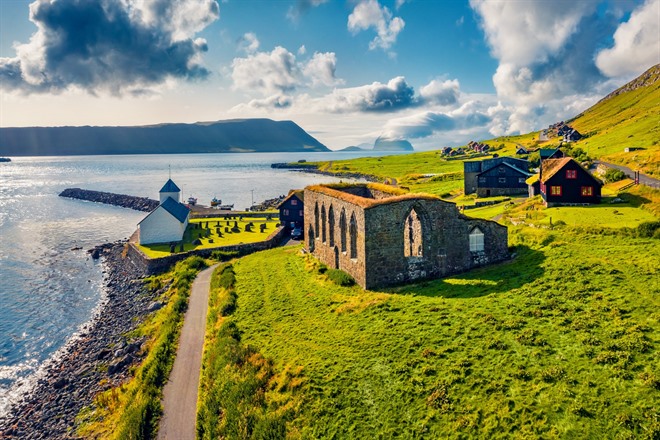 Spend the day in and around the charming capital and discover a variety of restaurants, cafés and handicraft shops. Take a stroll along the harbourside, visit the Nordic House - the most important cultural institution in the Faroes, explore the old town with its many turf-roofed houses and drive to the historical buildings in Kirkjubour. Many excursions are also offered from the capital including the popular cruise on the Nordlysid schooner. Overnight at Hotel Foroyar. (B)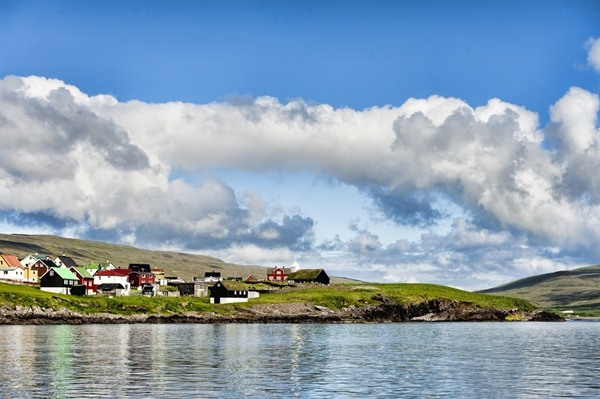 Today visit the beautiful and green island of Sandoy, also called the Saga-island. Discover the villages of Dalur with its pretty church, Husavik with its 'Heimi á Gardi' ruin and fascinating legend that surrounds it, before making a stop at Skalavik to buy food and beverages. Overnight at Hotel Foroyar in Torshavn. (B)
Return the hire car to Vagar airport and fly back to the UK. (B)
Image Gallery
Click on images to enlarge