On this hiking holiday in Iceland travel to Landmannalaugar and hike along the Laugavegur trail in the southern central highlands of Iceland to Thorsmork glacier valley. Discover colourful rhyolite mountains, rugged glaciers, bubbling hot springs, stunning rivers, impressive waterfalls and deep canyons in one of the last unspoiled wilderness areas in Europe. Admire diverse landscapes and enjoy panoramic views of the North Atlantic Ocean on this popular hiking route in the south Icelandic highlands.
Please contact a Regent Iceland Specialist for details
Tour Itinerary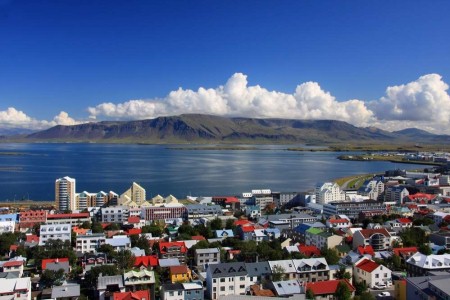 Fly to Reykjavik and transfer by Grayline Shuttle Bus to the Hotel Cabin.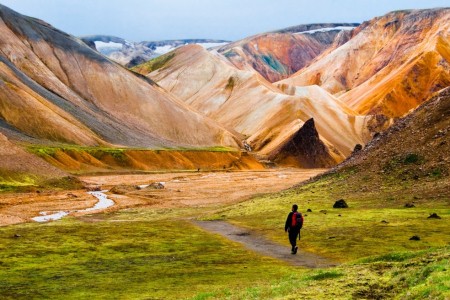 Transfer from your meeting point* to Landmannalaugar, driving through the stunning Icelandic landscape and arriving around 11:00am. Set off on a hike through the stunning colours of the rhyolite mountains, trek into the black obsidian desert of Hrafntinnusker and enter a dramatic black and white world. Overnight at the Hrafntinnusker Mountain Hut. (B,L,D) (Hiking: 12km)
*Meeting points and times in Reykjavik:
7:00 a.m. – Tourist Information Center at Reykjavik's City Hall (Ráðhúsið) on Vonarstræti
7:15 a.m. – Hallgrímskirkja Church
7:30 a.m. – Reykjavik Campsite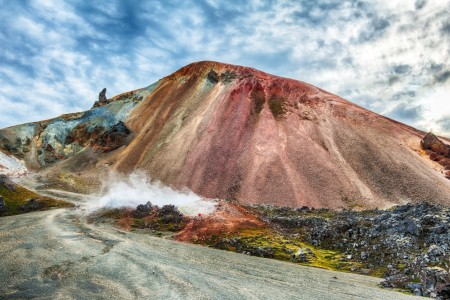 Continue walking along the hills of Reykjafjoll through gullies towards Jokultungur. Here the landscape changes to dark turf mountains and glaciers, with plants scattered around. Ancient rivers and streams mark the land as the walk traverses small gullies and streams. Due to the high altitude there may be snow patches to walk over. Descend down steep slopes into a green oasis and continue to the campsite at the northern shore of lake Alftavatn. Overnight in huts. (B,L,D) (Hiking 12 km)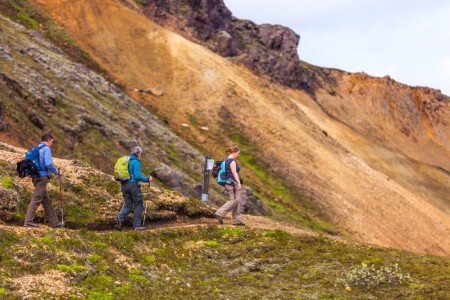 Today walk past the green volcano Stórasúla and into the black desert of Mælifellssandur. Walk through this black glacial desert and, in the late afternoon, reach lake Emstrur. Overnigh in huts. (B,L,D) (Hiking 15 km)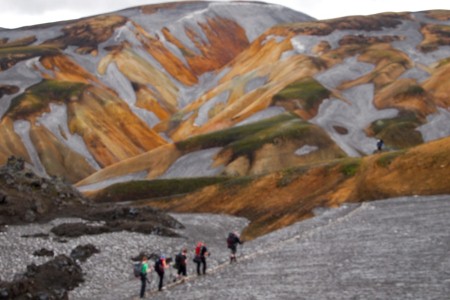 Leave lake Emstrur behind and continue to Thórmörk valley along the canyons. See birch forests, beautiful mountains view and volcanic glaciers. In the evening, reach Reykjavik and overnight at the Hotel Cabin. (B,L) (Hiking 15 km)
Transfer by Grayline Shuttle Bus to Keflavik airport and fly back to the UK. (B)

Image Gallery
Click on images to enlarge