Enjoy a night in the wonderful Snow Hotel, built each winter with individually sculptured rooms and suites as well as spending three memorable nights in your very own glass-domed igloo. Located far enough from the light pollution of nearby Rovaniemi this is a perfect base for catching those magical northern lights dance across the night sky from the comfort of your own bed.
This itinerary is full of Arctic experiences as well, including; snowmobiling, ice fishing , and a snowshoe hike, along with dinner on all four days which includes the Ice Restaurant, and a unique snow sauna and outdoor hot tub experience all at the Snow Hotel retreat. Warm weather clothing is also included for the duration of your trip making this Arctic experience the perfect winter getaway for couples and families alike.
Tour Itinerary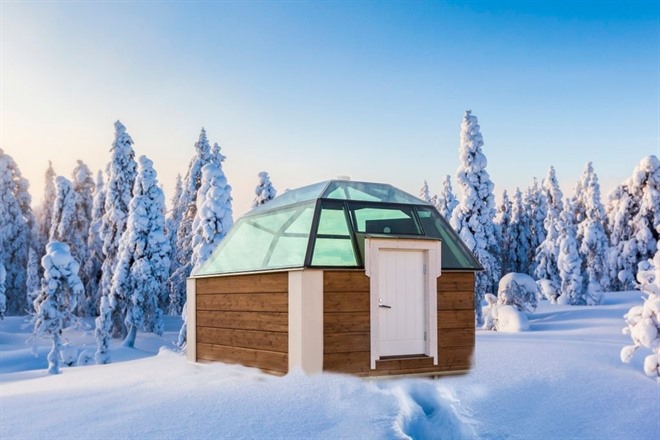 Fly to the capital of Finnish Lapland, transfer to the Arctic Snow Hotel and check in for three nights in a glass igloo. You'll also spend a night in the Snow Hotel's Ice Rooms, which can be either your first or last night. For this itinerary, we recommend it as your final day. Your flight arrives early so spend the afternoon into the forest before, stopping to warm up with a hot drink. Enjoy a welcome drink at the hotel's Ice Bar, in which everything, from the chairs and tables to the glass you drink from, is carved from blocks of ice. Tonight sit down for dinner at the hotel's main restaurant. (D)
Accommodation
Arctic Glass Igloos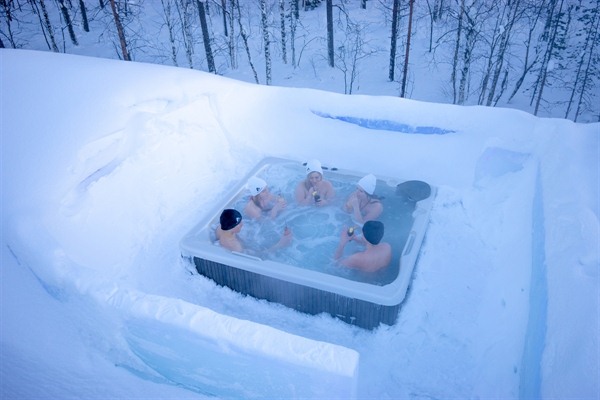 Spend the morning participating in a fun Arctic activity which will be memorable for all ages. Transfer to a nearby frozen lake where you can try your hand at some ice fishing (duration 1-1.30hrs).
Spend the afternoon enjoying a snow shoe experience, heading through snowy landscapes and a picturesque snow covered forest — includes a hot drink and the opportunity to roast sausages by the fire (duration 2hrs). Afterwards, check-in for your first night in the glass-igloo where you'll hopefully witness the greatest light show on earth - the Aurora Borealis. Don't miss an opportunity with the Aurora alarm. A night watchperson searches the skies as you sleep, and will sound the quiet alarm , once any Aurora activity is detected. Dinner this evening is served in Restaurant Kota (B, D)
Accommodation
Arctic Glass Igloos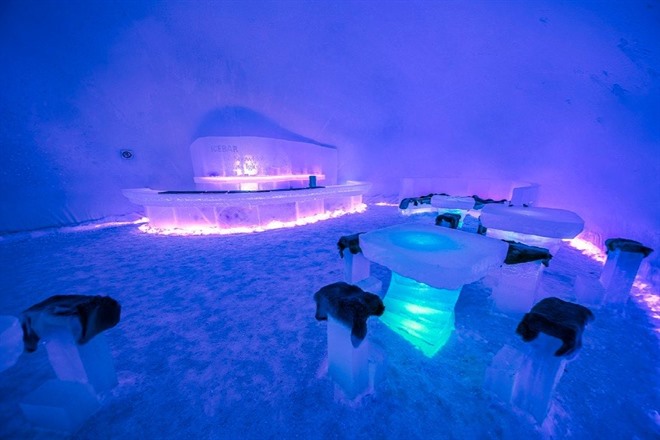 Enjoy a free day or take an optional excursion and visit husky or reindeer farms, learning all about the animals before embarking on a sleigh ride with them.. For families, why not embark on a trip to the home of Santa Claus in Rovaniemi. This tiny city is a short drive away and houses an array of shops and restaurants, the Arktikum Museum and the world famous Santa Claus Village - perfect for both children and adults alike. The hotel operates a shuttle-bus service to Rovaniemi (booked and paid for locally). A unique evening experience awaits in the form of a private snow sauna session - that's right, a sauna made of snow where once fully steamed you will not be able to see your hands in front of your face. Also included in this experience is a traditional, Finnish sauna by the lake and an outdoor hot-tub under the stars - all for personal use (duration 90 mins). Dinner this evening is served in the Ice Restaurant (B,D)
Accommodation
Arctic Glass Igloos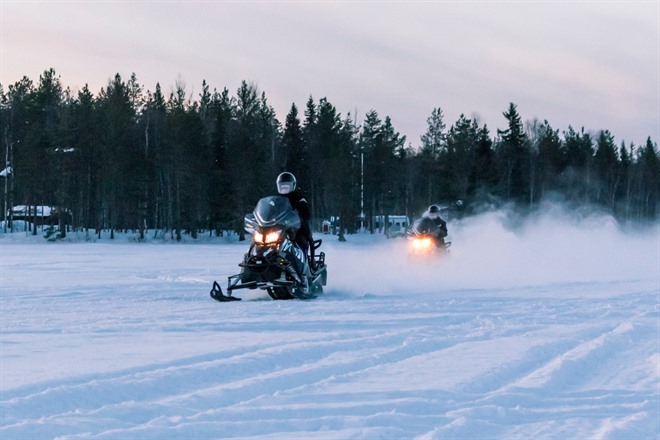 Today is snowmobiling day; enjoy a 3 hour safari aboard an electric snowmobile, where you'll get closer to nature than ever before riding the silent/zero emissions snow mobiles. This is an exhilarating experience as you traverse along frozen waters and through snow capped forests. Warm drinks and food served by campfire caps off this wonderful trip (duration 2-3 hrs). Dinner this evening is served in Restaurant Log before checking in to an elaborately decorated ice room for the night. (B, D)
Accommodation
Arctic Snow Hotel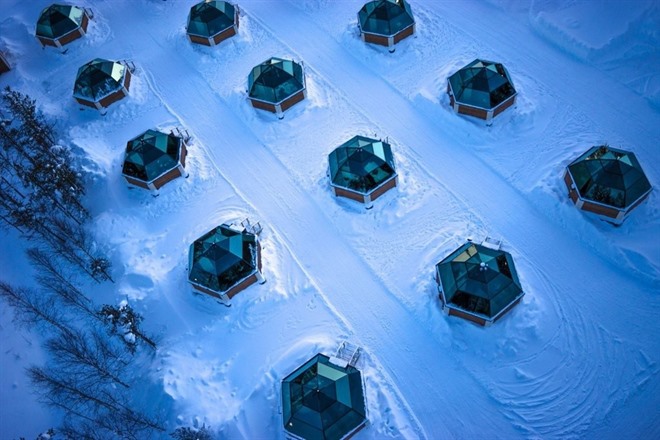 Transfer to Rovaniemi Airport for the return flight to the UK. (B)
Pricing Information
5
day tour, from
£1920
per person
Price Includes
Flights in economy class to Rovaniemi from London Gatwick
All airport taxes and security charges
Three nights' accommodation in a glass igloo and one night in an Ice Suite at the Arctic Snow Hotel
Meals as specified (B= Breakfast, L = Lunch, D = Dinner)
Airport transfers
Excursions as specified
Winter clothing for the duration of stay
Price Excludes
Optional excursions
Meals other than stated in itinerary
Price Notes
The Snow Hotel is built each year in late December.
Image Gallery
Click on images to enlarge