From Kazakhstan's former capital Almaty travel to picturesque Kyrgyzstan where mountain ranges, lush green valleys and stunning blue lakes dominate the landscape. Discover the lonely Burana Tower, explore the pretty market town of Kochkor, spend the night in a traditional yurt and stop at Tash-Rabat Caravanserai, constructed in the 10th century as a stopping off point for merchants on the Great Silk Road.
This itinerary is generally available from June to September.
Tour Itinerary
Fly to Almaty.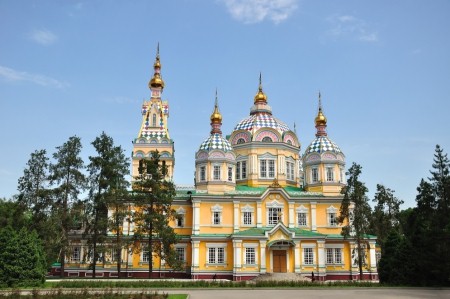 Arrive in Almaty and transfer to the hotel for an early check in. Spend the rest of day relaxing or take some time to explore Almaty at leisure. (B)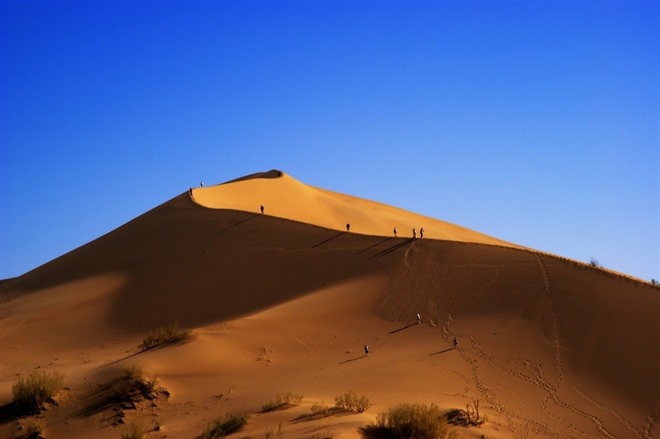 Embark on a full day city tour of Almaty. Visit Panfilov Park and its 'Glory Memorial' to the 28th Panfilov Battalion who died fighting off Nazis. Discover one of Almaty's few surviving tsarist-era buildings, the candy-coloured Zenkov Cathedral, which is the world's second tallest wooden building, visit the Historical Museum and the Museum of National Musical instrument and head to Kok-Tobe Hill for a panoramic view of Almaty. (B)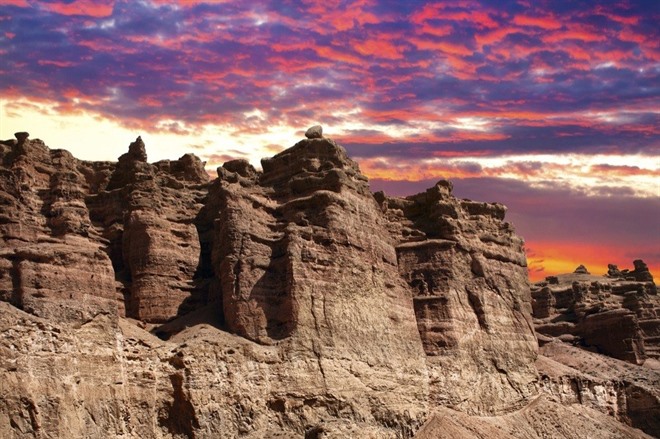 This morning cross the Kazakh-Kyrgyz border and drive to Bishkek. After lunch, enjoy a sightseeing tour of Kyrgyzstan's capital. Explore the Osh Bazaar and Panfilov Park with its rusting Soviet rides and arcades. Visit the National Philharmonic and the Museum of National Arts. Check in to a hotel for an overnight stay. (B)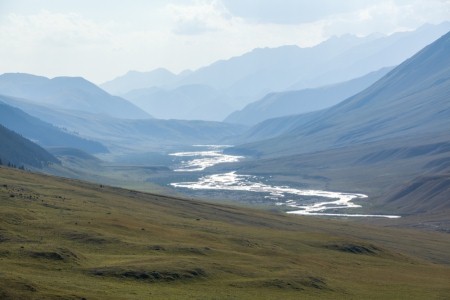 Today travel to Chong-Kemin valley, located some 150km from Bishkek. This valley is a perfect place to experience rural Kyrgyz life, go horseback riding and learn how to make Kyrgyz cuisine or simply enjoy a hike into the gorges. On the way visit Burana Tower, a minaret from the 10th century and examine archaeological findings in the local museum. Transfer to a guesthouse in Chon-Kemin for an overnight stay. (B,D)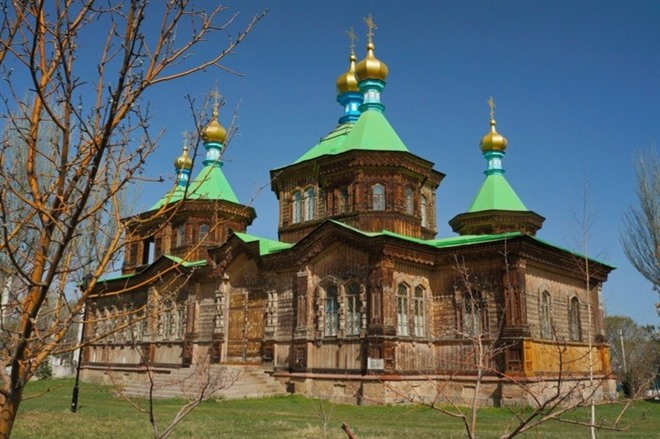 Awake in Chon-Kemin and hike to the gorge. Take part in a horseback riding tour in Kalmak-Ashuu (extra cost) and after lunch drive to Issyk-Kul lake, the second largest alpine lake in the world known as 'the pearl of Kyrgyzstan'. Overnight at a guesthouse in Chon-Kemin. (B,L)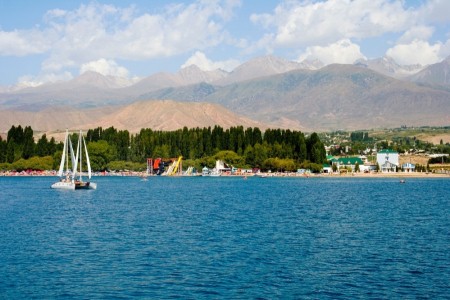 Drive to Cholpon-Ata, a popular beach resort in the Soviet period and currently enjoying a renaissance with neighbouring Kazakhs choosing to holiday in the newly built hotel resorts. One of the highlights of the day is clambering over rocks at the Regional and Open Air Petroglyphs Museum to spot ancient drawings of ibex, deer and sun symbols. In the afternoon enjoy an optional boat tour on Issyk-Kul lake (extra cost). Overnight in a first class (local 4-star) hotel. (B)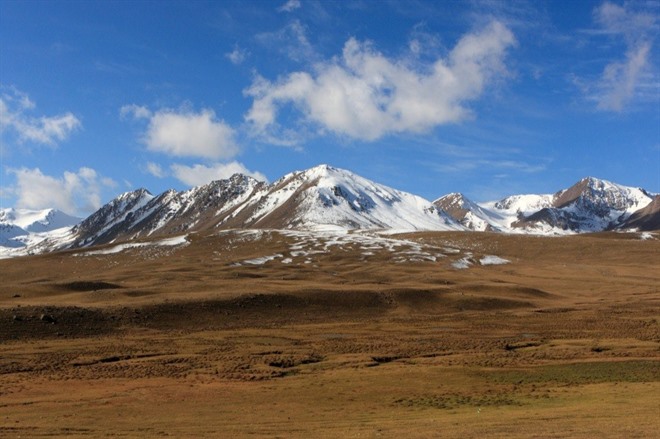 Transfer to Karakol via Grigoriev National Park. Starting from the pretty village of Grigorievka take an easy walk in the narrow, picturesque valley and admire stunning alpine scenery and rushing mountain streams. In the afternoon continue on to Karakol and check in to a guesthouse for two nights. (B)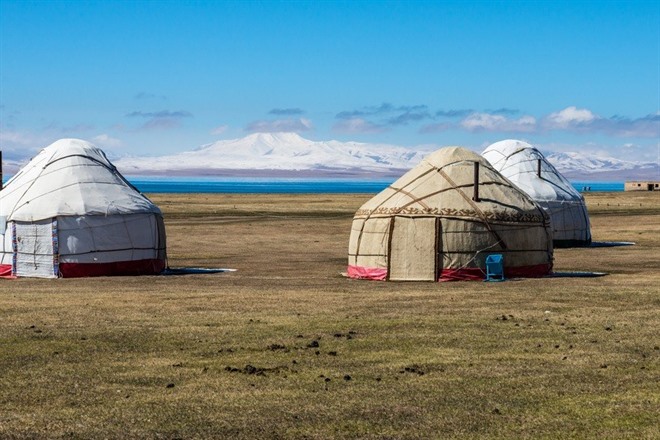 Awake in Karakol with its wooden chocolate-box cottages and shady poplar-lined avenues. Take a full day tour of the city and visit the Dungan Mosque and the attractive Russian Orthodox Church. In the afternoon drive to Jety-Oguz gorge, famous for its red sandstone bluffs or Seven Bulls. Overnight in a guesthouse. (B) We recommend to be in Karakol for the Saturday/Sunday Animal Market, where herders and nomads come from all over to buy new livestock such as horses, cows, sheep and pigs. Get up early as the best action is from 0600 to 0800!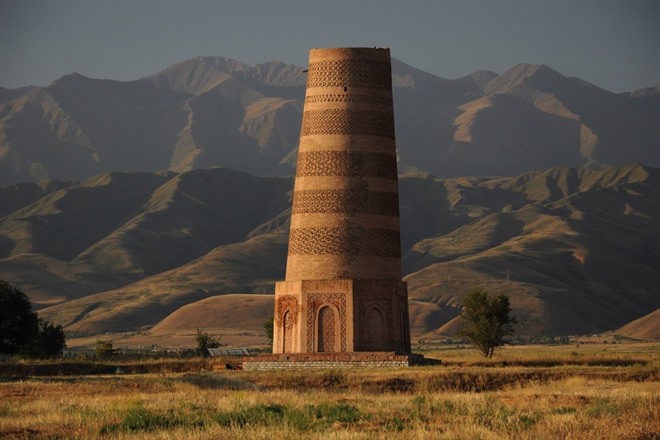 Today drive along the southern shore of Issyk-Kul Lake to the small market town of Kochkor, and en route visit Fairytale Canyon: a surreal canyon filled with shapes carved from the red clay and sandstone. In the afternoon, take a tour of Kochkor and its Felt-shop and Felt-show (for supplement). Overnight at a homestay. (B)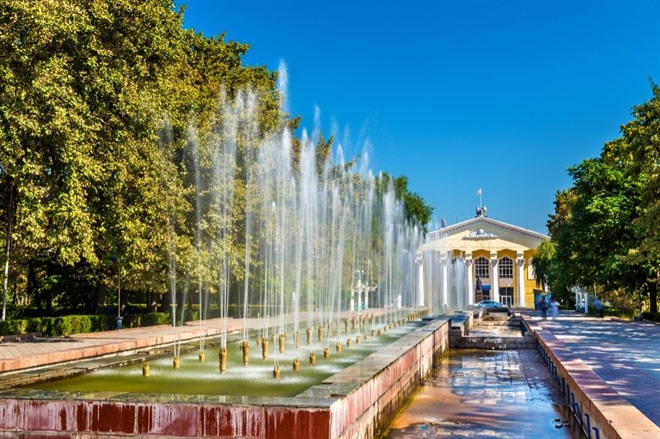 Travel to Tash-Rabat caravanserai and, on the way, stop in Naryn for lunch and a wander around this former Russian garrison before continuing to Kyrgyzstan's most remarkable monument. Tash-Rabat caravanserai is a stone fortress, located 80km from Torugart, the China-Kyrgyz border post. This stone-built caravanserai was built in the 15th century and offered rest and refuge for travellers on the Great Silk Road from Central Asia to China. With its massive stonewalls and two towers it may also have been used as a monastery for Nestorian Christians (or Buddhists) before the Mongol invasion and the spread of Islam. Overnight at the yurt camp. (B)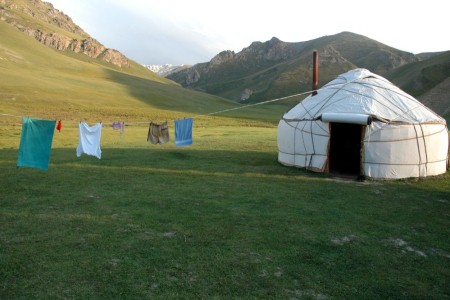 Spend the morning relaxing at the yurt camp or take a leisurely walk in the local area before departing to Naryn in the afternoon. Overnight in a guesthouse in Naryn. (B)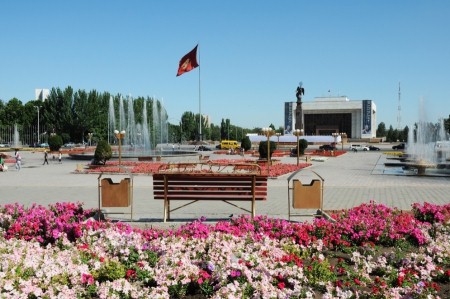 Drive back to Bishkek and check in to a first class (local 4-star) hotel for an overnight stay. (B)
Awake in Bishkek and embark on a city tour. Walk through the Central square Ala-too, ceased to be called Lenin square in 1991, and visit the State Historical Museum with its mural-cum-shrine to Lenin and the Revolution: impressive faux-bronze sculptures charting the Bolshevik uprising. Enjoy Victory Square with its immense yurt-shaped monument and take a look at the ZUM department store. In the afternoon visit the Ala-Archa Natural Park, established in 1976 and located approximately 40km south of Bishkek and includes the gorge of the Ala-Archa River and the mountains surrounding it. Overnight in a first class (local 4-star) hotel. (B)
Transfer to the airport for the flight back to the UK. (B)
Image Gallery
Click on images to enlarge