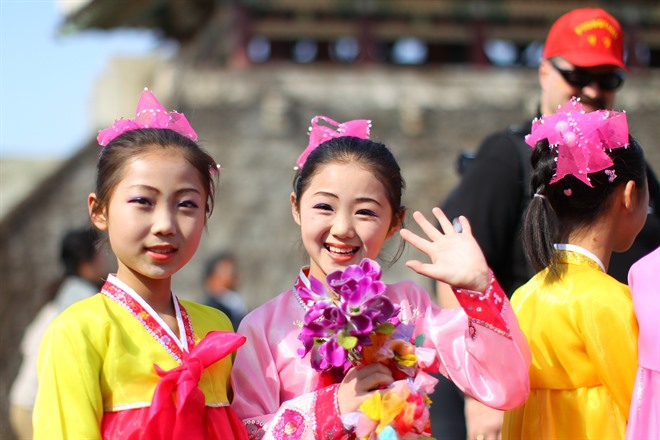 Start the day with a visit to the Monument to the Foundation of the Workers' Party of Korea and the Juche Tower. The Juche Tower is a symbol of the Juche Idea (national self reliance, literally "Master of one's self") penned by Kim II Sung. Those who wish can pay a small fee (5 Euros at current) and be whisked via a lift to the top of the tower for spectacular views over the city and Taedong River. Heading into the eastern suburbs of Pyongyang visit Mt. Taesong, a popular park, funfair and recreational ground which is normally packed on May Day-full of locals celebrating, picnicking and partaking in traditional games and pastimes.
Returning to central Pyongyang, enjoy a lunch in the Okryu Restaurant, one of the most famous restaurants in the country, where you may sample Pyongyang Cold Noodles-a highly coveted dish. This afternoon head to Moranbong, the main city park; a pleasant spot in the heart of the city which is sprinkled with historical gates & pavilions and remnants of the old city walls - an ideal spot for people-watching and attempting to mingle with locals. The route through the park is flex­ible, but will certainly take in the Liberation Tower, a Soviet era monu­ ment built to commemorate the USSR's involvement in Korea's libera­tion from Japan in 1945. Moving on, enjoy a walk along Mirae Science Street, a new and impressive high-rise residential district on the north bank of the Taedong River. We have factored in a little flexibility this afternoon to strive to take in any sights missed from earlier in the tour, or to visit any areas the group may be keen to visit. After some time to freshen up back at the hotel head out for dinner aboard the Taedong­gang Restaurant Boat. (B/UD)
Today is a national holiday, and as such we anticipate various special events and celebrations, and a general jovial atmosphere across the country. Celebrations I events in Korea are normally not known until the 11th hour, and we have thus today factored some flexible tine in Pyong­ yang - allowing the group the best chance of seeing any events and getting the most out of the day. All meals will of course be included, and your guides will do their upmost to ensure you will see as much as is permitted on this special day. Local fees will be payable to attend any special events.