Join
Sami
herders
and
experience the spring migration of Alta's
reindeers as they leave the snowy inland landscape and head towards the cooler northern coast for the spring. Experience almost 24 hours of daylight and marvel at vast Arctic scenery including frozen lakes, mountains and plateaus before finally reaching the reindeers' home for the spring - snow covered valleys and mossy landscapes. Gain an insight into the Sami way of life and live like a reindeer herder on t
his unique small group
adventure.

Good physical fitness is required due to the nature of this tour - where living, herding reindeer and sleeping like a Sami in tents in the Arctic wilderness are the highlights.
Tour Itinerary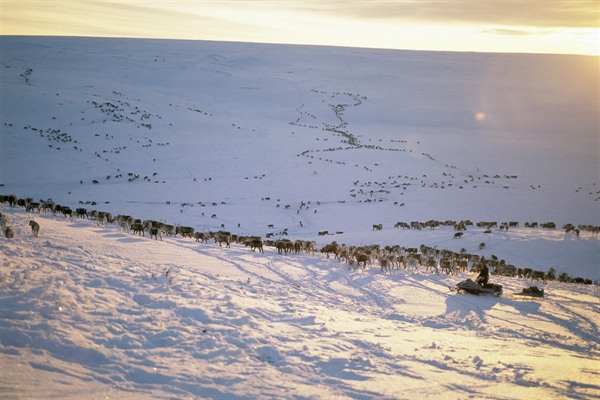 Arrive in Alta and transfer to the log cabin. Surrounded by beautiful countryside and a freshwater river, this is the ideal spot to prepare for the next few days. Meet the rest of the group and enjoy a meal and information meeting with the guide. Receive warm outerwear that is essential for the trip. Learn about the itinerary for the next few days and all about the reindeers and how to be a Sami herder. (D)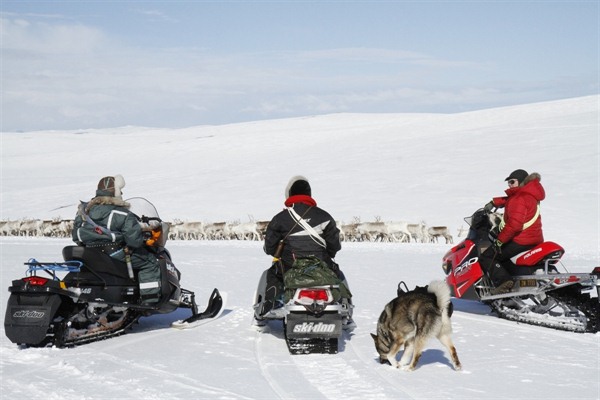 After breakfast, travel inland with the group to the wilds of the Arctic, taking in snow covered scenery during the 2 hour trip (approx.) Board a snowmobile or reindeer sled and transport the equipment needed cross country to meet the Sami herders. Set up the lavvu (Sami tent) and enjoy traditional Sami food over an open fire. Spend the night in the lavvu in a sleeping bag on reindeer skins. (B, L, D)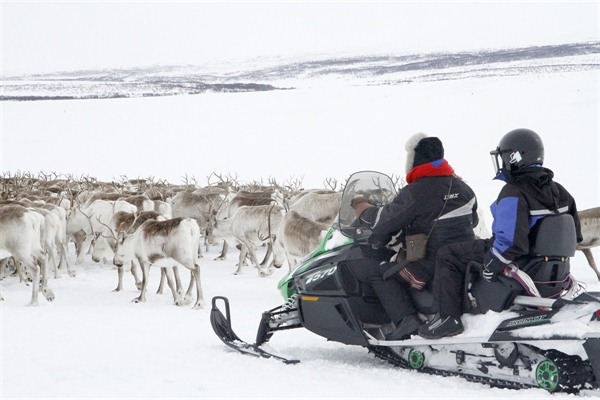 Live like a Sami reindeer herder and travel either by snowmobile or reindeer sled with a herd of reindeer as they migrate north. Each Sami family have their own herding area and move their reindeer from the mountain plateaus to the valleys and coasts, where the reindeer can dig down into the snow with their hoofs and eat the lich beneath.
Enjoy the 24 hour daylight and marvel at the Arctic scenery along the way. Spend the night in a lavvu (Sami tent) and cook traditional Sami food either in the firestove that heats the tent or over an open fire. (B, L, D)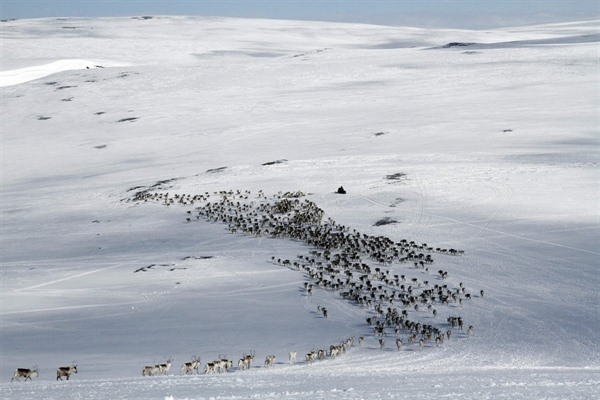 After breakfast, continue the journey north with a herd of reindeers as they migrate. Drive a snowmobile or navigate a reindeer pulling a sled, taking equipment, tents and food to the next camp. Herd the reindeers with the Sami herders and witness awe inspiring scenery along the way. Try some ice fishing on a frozen lake in the all day sun. (B, L, D)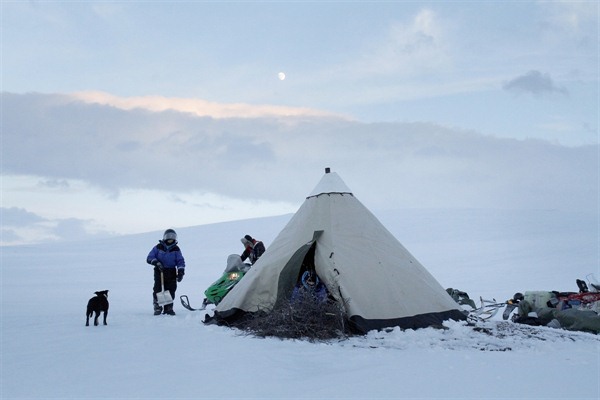 Continue the migration as the reindeer herd heads north. Herd them on a sled or snowmobile as they move to colder climes and fresh pastures. Witness the Arctic scenery whilst travelling past frozen lakes and snow covered forests and mountains on this unique adventure. Enjoy a traditional meal, and live like a Sami herder in small tents called Lavvu. (B, L, D)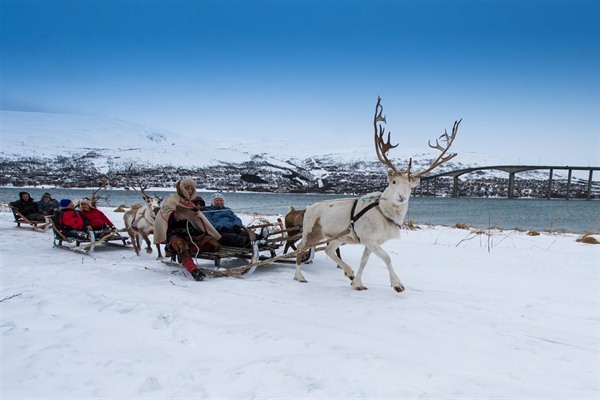 On the final day of the reindeer herding adventure, say goodbye to the Sami herders and the reindeer and head back to Alta with the group. Check into the log cabin and enjoy dinner and a hot shower. (B, L, D)
After breakfast, transfer to the airport for the flight back to the UK. (B)
Pricing Information
7
day tour, from
£3365
per person
Price Includes
Flights in economy class to Alta with Scandinavian Airlines from London Heathrow via Oslo

Return airport transfers

2 nights in a wilderness cabin
4 nights in tents with a Sami reindeer herding family
Meals as specified in itinerary (B=Breakfast, L=Lunch, D=Dinner)
Warm outerwear and snowmobile suits (loaned on arrival)
Price Notes
Recommended personal equipment:
• wool underwear (long johns and top with full length arms) (2 pairs)
• thick wool sweater
• Good waterproof warm trousers
• wool socks (2 pairs)
• other underwear
• scarf
• thin gloves (easy to work when we are putting up tents)
• wool hat
• Swiss army knife
• sunglasses and sunscreen
• toiletries and other private equipment
• Pack light, Maximum 40L backpack. (We're travelling as light as possible)
Image Gallery
Click on images to enlarge