One of our most popular tours of the year, the 2021 departure of our September Classic Tour focuses not only on the very best of the southwest of the country, but also includes a special visit, by chartered aircraft, to the remote and lesser visited northeast of the DPR Korea.
This 11 night / 12 day tour starts with two nights based in Sariwon, the capital of North Hwanghae Province. We shall use Sariwon as a staging post to enjoy a visit to the DMZ and a number of our other favourite sights in this southwestern corner of the country. Returning to Pyongyang on the 9th September we shall spend three nights in this captivating capital, touring the city in detail and taking in celebrations for the 73rd Anniversary of the Foundation of the DPR Korea. Whilst no massive events are expected on this date, we do anticipate that the holiday will be commemorated with a number of celebratory concerts and public gatherings, which we shall of course strive to attend/witness. Departing the capital on day 6 we shall enjoy 2 day/1 night excursion to Mt. Myohyang, before we set off on a chartered aircraft to visit Mt. Paektu, the highest peak in Korea. From Paektu we fly onwards to the remote north-eastern province of North Hamgyong, where we shall spend a night in Chongjin before returning to Pyongyang for one last night in this fascinating city before our memorable adventure comes to an end.
This small group tour will operate for a minimum of 10 and a maximum of just 16 persons. Please note that if demand sees fit we may operate this tour as two or more distinct separate groups, but no single party will be more than 16 persons. For those looking for a more in-depth itinerary at this time of year our Pioneering North Korea Tour operates over similar dates (6th—23rd September) - please contact us for further details.

Tour Itinerary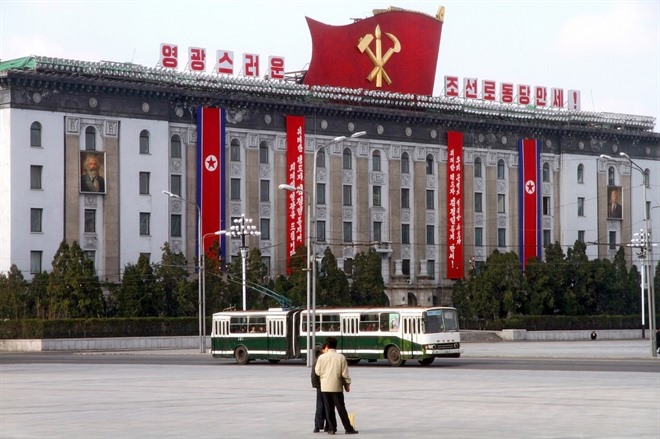 This morning make your own way to Beijing Capital Airport, Terminal 2, to depart at approximately 1305 on the Air Koryo flight to Pyongyang (schedules TBC). The short flight will bring the group into Pyongyang at approximately 1605 local time. On clearing customs/immigration meet with your Korean guides and driver. From the airport we will drive to and through Pyongyang, making the drive of approximately 85km/53 miles to Sariwon, capital of North Hwanghae Province. Here we will check into our hotel for a two night stay. Enjoy dinner and plenty of time to chat with our guides—getting a feel for next few day's plans. (D)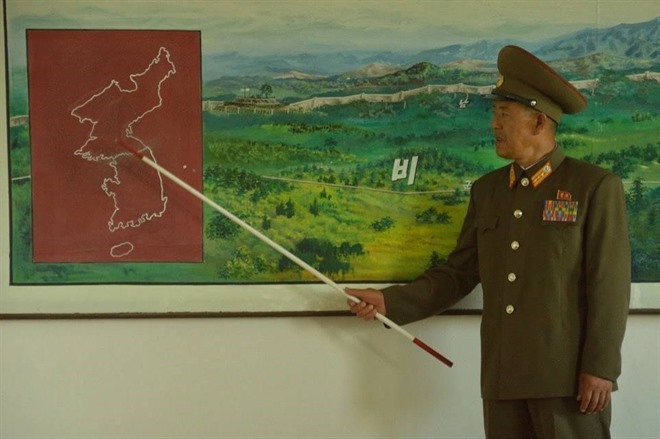 Departing our hotel relatively early we will this morning head as far south as possible, to visit Panmunjom - the DMZ and border with South Korea. Upon arrival at Panmunjom, which is often the highlight of any visit to North Korea, you will meet with an army escort who will explain the background to the history of the DMZ, before moving on to the Armistice Talks' Hall and the building (and attached small museum) where the armistice was signed. From here head right down to the border itself, where the group will be (local conditions permitting) escorted, possibly under the watchful eyes of South Korean soldiers, into one of the huts which straddle the North/South Korean border. (Please do note that in the last couple of years, more often than not, access to the border hut hasn't been possible). Enjoy lunch at the Panmunjomkwan Restaurant inside the DMZ. This afternoon we will visit the UNESCO world heritage listed Tomb of King Kongmin, one of the best preserved royal tombs in the country. Departing Kaesong we will return to Sariwon, breaking the journey en-route to visit the Unjong Cooperative Farm, one of the few places in the country where traditional 'talchum' masked dancing is still practiced. Here we will enjoy a quick tour of this farm and hopefully take in a brief talchum performance. Enjoy dinner and overnight back at the March 8th Hotel. (B/L/D)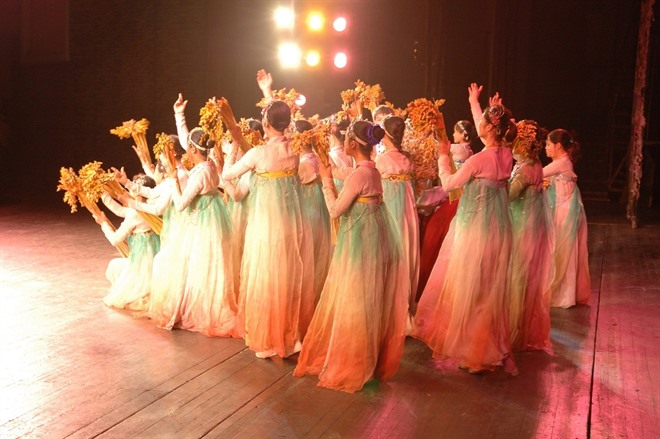 This morning check out of our hotel and drive to Pyongyang, a journey of approximately 65km/40 miles. On arrival in the capital enjoy a walk in the city centre from the exterior of the Pyongyang Grand Theatre to Kim Il Sung Square and then onto the Foreign Language Bookshop, a good spot to pick up a wide range of publications, postcards and the like. From here drive to the Yanggakdo Hotel. On arrival check in for a three night stay, followed by lunch. (B/L/D)
Today is an important national holiday, and as such we anticipate various special events and celebrations, and a general jovial atmosphere across the city. Celebrations / events in Korea are normally not known until the 11th hour, and we have thus today factored a fully flexible afternoon – allowing the group the best chance of seeing any events and getting the most out of the day. All meals will of course be included, and your guides will do their upmost to ensure you will see as much as is permitted on this special day. Local fees will be payable to attend any special events. At this time of year common events are mass dances in the main city squares, together with commemorative opera/circus performances. Dinner is expected to be in the Arirang Restaurant, one of our favourite options in the city.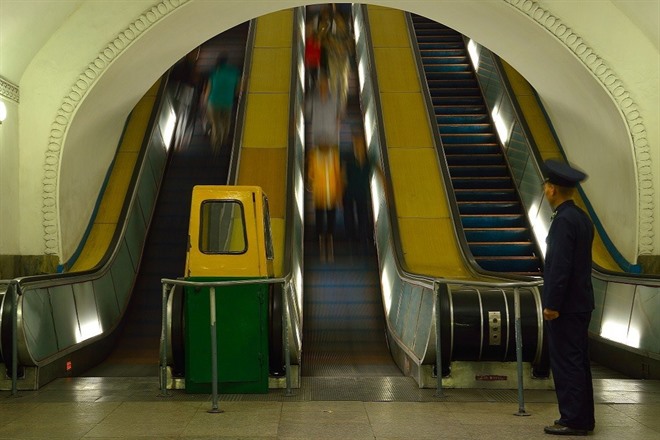 Enjoy a full day in Pyongyang, starting with the Grand People's Study House — the national library and a major centre of learning. The view from the upper balcony of the study house affords a commanding panorama over Kim Il Sung Square and central Pyongyang. From here we will travel to the Mansudae Fountain Park and ascend Mansu Hill to visit the Mansudae Grand Monument, the centrepiece of which are the spectacular 20-metre tall bronze statues of Kim Il Sung and Kim Jong Il. Here, millions of Koreans visit annually to pay their respects to the leaders. The group will be expected to lay a wreath of flowers at the foot of the monument before bowing in unison before it (flowers purchased locally for a small fee). We will also see the nearby Chollima Monument. After lunch in a nearby restaurant visit the Mansudae Art Studio, a state-run art complex which is believed to the be the largest centre of art production in the world. Pushing on head underground for a journey on the impressive Pyongyang Metro, travelling one stop from Puhung to Yonggwang (arguably the two most impressive stations) before pressing on four stops to the recently refurbished Kaeson Station. At Kaeson surface beside the Arch of Triumph, 10 metres higher than its Parisian counterpart; for a small fee it is possible to ascend (by lift and then foot) to a viewing platform near the top of the arch—from where you will have a good view over north central Pyongyang, including a number of buildings such as the TV Tower & Kim Il Sung Stadium. Before ending the day with dinner in Ryomyong New Town enjoy a walk in Moranbong, the main city park. (B/L/D)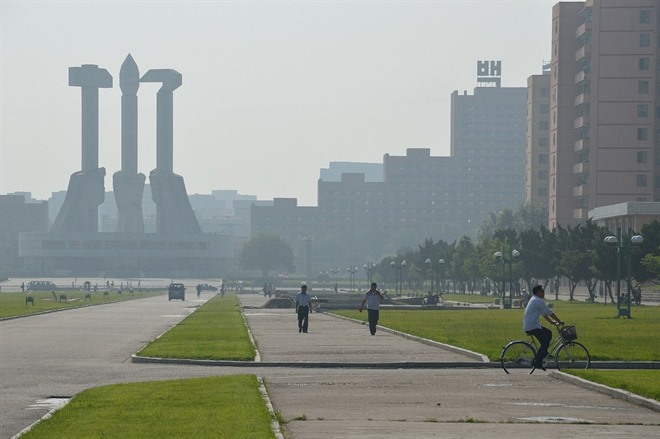 Enjoy a further full day of sightseeing in Pyongyang. This morning visit the Fatherland Liberation War Museum and the USS Pueblo, an 850 ton US spy boat captured in 1968 by the Koreans off the coast of Wonsan. The very large museum dedicated to this devastating war has some truly fascinating displays and exhibits and we will visit just some of the highlights before it is time to move on. Heading into Pyongyang's western suburb of Mangyongdae we will visit the Mangyongdae Native House, birthplace of President Kim Il Sung. After lunch in Mangyongdae District we will visit the Kwangbok Area Supermarket. This is the only "normal" Pyongyang supermarket that can be visited by tourists (and one of the only places in the country where one can obtain Korean currency at the "normal" exchange rate) - the best location to pick up some small souvenir items such as Korean made foodstuffs, cosmetics or clothing, for example. An ideal as spot as any to stock up on snacks and supplies before heading 'up country'! Back in the city centre we will visit the Monument to the Foundation of the Workers' Party of Korea, Pyongyang Cultural Exhibition Hall and the Juche Tower. The Juche Tower is a symbol of the Juche Idea (national self reliance, literally "Master of one's self") penned by Kim Il Sung. Those who wish can pay a small fee (5 Euros at current) and be whisked via a lift to the top of the tower for spectacular views over the city. From here we shall head to the Tadonggang Bar No. 3 (or similar) for a drink or two and the chance to relax and reflect on the day. (Drinks at your own expense, non-alcoholic options available). Enjoy dinner this evening back at the hotel. (B/L/D)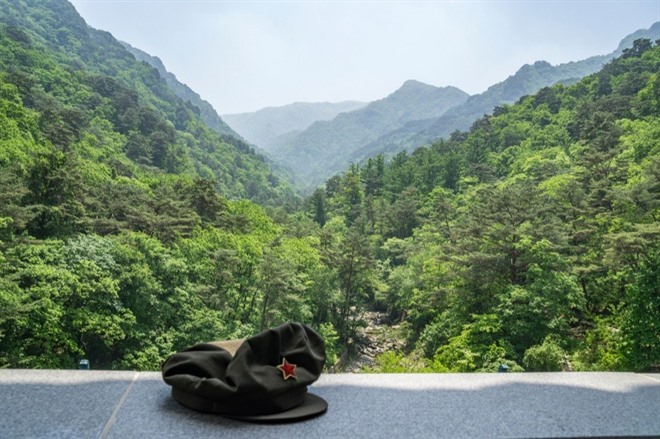 Start the day with a visit to the awesome Kumsusan Palace of the Sun, the former residence of Kim Il Sung, and now the Mausoleum for both Kim Il Sung & Kim Jong Il. You will here see the bodies of both leaders lying in state. The Mausoleum itself is followed by exhibits showcasing medals of honour bestowed upon the leaders. (Please note for this site you will be expected to dress smartly). Moving on head to Mt. Taesong to visit the Revolutionary Martyrs' Cemetery, home to the graves of more than 200 of Korea's leading resistance figures over the years of Japanese rule and the Korean War, including Kim Jong Suk, the wife of Kim Il Sung. If the weather is clear you will from here be afforded good views over Pyongyang. Returning to your hotel change into more comfortable clothes, check out and have lunch. Departing the capital this afternoon we shall make the 155km/96m journey north towards Mt. Myohyang. On arrival in the beautiful Mt. Myohyang region we will visit the Pohyon Temple, founded in 1042 yet sadly heavily damaged in the Korean War. From Pohyon make the short drive to the Hyangsan Hotel and here check in for an overnight stay. This evening enjoy a Lamb BBQ Dinner in the grounds of the hotel. (B/L/D)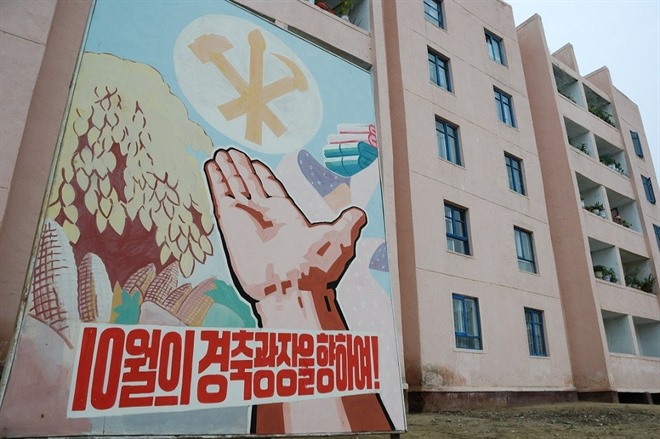 After checking out we will spend the morning touring the impressive International Friendship Exhibition, a massive complex housing the many thousands of diverse gifts presented to Kim Il Sung, Kim Jong ll, Kim Jong Un & Kim Jong Suk over the years. The buildings, built into the mountainside, are home to seemingly endless corridors and rooms lined with diverse gifts from all over the world – keep an eye out for the gifts from Regent Holidays! After lunch back at the hotel we shall spend the afternoon slowly returning to Pyongyang, breaking the journey partway for a visit to the rarely visited city of Anju, where the group will make a quick stop at the Paeksang Pavilion and the Anju City Chinese People's Volunteer's Cemetery, the latter a poignant reminder of China's heavy involvement in the Korean War. From this cemetery one is afforded a tranquil view of the farmlands and city below. On arriving in Pyongyang return to the Yanggakdo Hotel for dinner and an overnight stay. (B/L/D)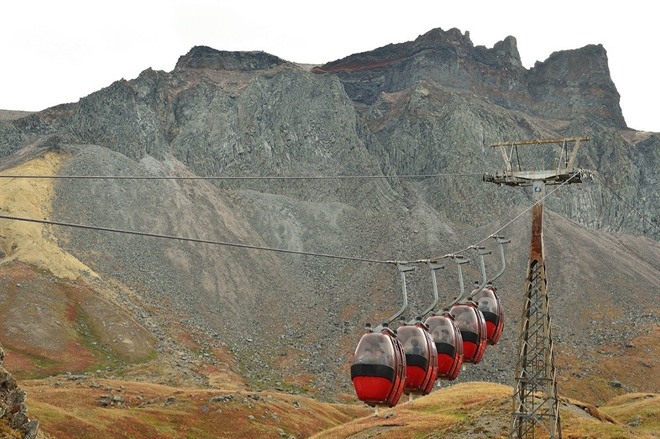 Departing our hotel this morning we make the short drive to Pyongyang Sunan Airport for our chartered flight to the town of Samjiyon in remote Ryanggang Province, the home of Mt. Paektu, the 'Sacred Mountain of The Revolution.' This border region is of great spiritual symbolism to all Korean people, a symbolism enhanced (in the North) by the fact that it was the home of the Korean People's Army during the war against the Japanese. Our aircraft is expected to be an Ilyushin IL-18D and the journey on this vintage 1960s aeroplane is an experience in itself. Flight times are TBC locally, but we expect to depart/arrive at around 1000/1100. After arriving in Samjiyon's small airport we will transfer to our hotel, currently scheduled to be the Pegaebong. Here we will have lunch and check in for a two night stay. This afternoon's itinerary will be confirmed closer to travel, but will take in a tour of the impressive and beautifully located Samjiyon Grand Monument at Lake Samji, from where we will hopefully be offered our first glimpse of Mt. Paektu. We also anticipate seeing a number of sites in Samjiyon (please see note overleaf). (B/L/D)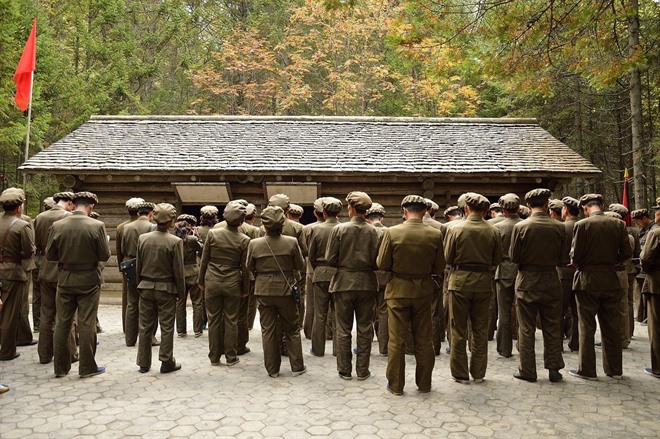 Heading out this morning we will drive to Mt. Paektu. Arriving at the checkpoint at the foot of Mt. Paektu, go through entry formalities (as this is right beside the Chinese border) before ascending to the crater rim of the mountain (a funicular normally operates but occasionally it is necessary to walk from the base of the funicular to the crater rim, taking approximately one hour). From here, those who wish can (time and weather permitting) press on up to the highest point in the Korean Peninsula, Janggun Peak, at 2750 metres in height (approximately 30 minutes walk each way from the crater rim), or head down the 2160 steps to the shore of Lake Chon. Those who are quick enough may have the chance to visit both the lake and the summit. (A cable car does run down to the lake, but it does not always function. If the funicular and cable car are operating those who wish to use these must pay on the spot – expect the cost to be around 15 Euro per person). Descending the mountain, we will find a pleasant spot to pause for a picnic lunch near the Chinese frontier before visiting the Paektu Secret Camps, from where the Army was based and Kim Il Sung headquartered from 1936 to 1943. This site is also the 'official' birthplace of Kim Jong Il. We will also visit Rimyongsu Falls before returning to our hotel in the mid to late afternoon. This afternoon there may be a couple of hours free to relax in the hotel. Subject to local confirmation those who wish may, with a guide, be able to head out for a brief walking tour of Samjiyon. Dinner at the hotel. (B/L/D)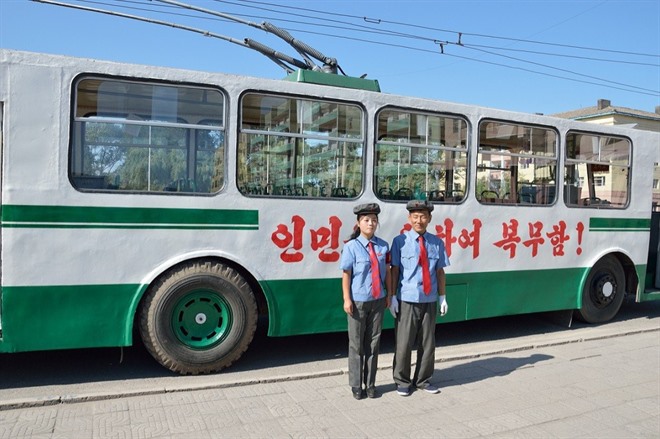 Checking out of our hotel transfer to the airport to board our chartered aircraft for the short flight to Orang. Orang is essentially a military airport, and on previous Regent trips through here we have more often than not spotted MiG fighter jets in the air and on the tarmac around us – certainly an experience to remember! On arriving in Orang we will head north along the attractive coastal road to Chongjin, the administrative capital of North Hamgyong Province. Chongjin is an industrial and port city which receives few foreign visitors - closer to Vladivostok than Pyongyang. On arriving in Chongjin we will enjoy lunch before commencing our afternoon of sightseeing. Our tour today will include Komalsan and the Soviet War Memorial (which also affords good views over the city), a city tour in a privately chartered trolleybus, the Chongam Kindergarten (where we will also likely enjoy a performance) and the Chongjin Foreign Language Institute. At the institute we will likely have the chance to meet and interact with English-language students. This evening enjoy dinner in our hotel, scheduled to be the Chongjin Tourist Hotel (but subject to change). (B/L/D)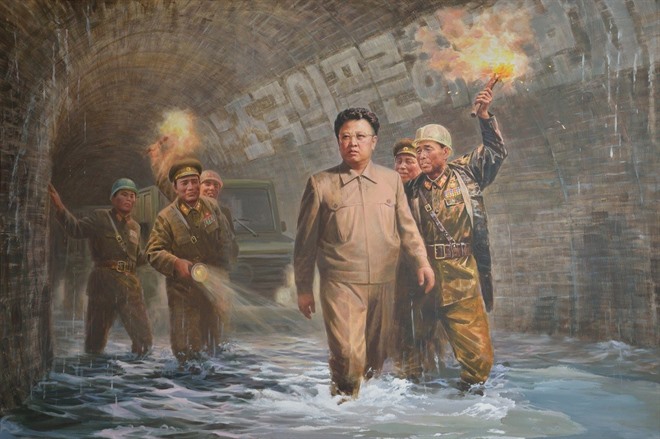 Departing Chongjin this morning we return to Orang Airport, stopping en-route at Yombunjin, an attractive coastal site which also goes by the name of Yombun Revolutionary Site—a pleasant spot to break the journey for 30 minute or so. From here push on to Orang and fly (flight tentatively scheduled for midday) to Wonsan (to allow some persons to disembark) before we continue to Pyongyang. Upon arrival in Pyongyang we will have a late lunch at the airport before returning to the Yanggakdo Hotel for our final night in the country. We have factored in a little flexibility this afternoon to strive to take in any sights missed from earlier in the tour, or to revisit any areas the group may be keen to see once more. After some time to freshen up back at the hotel head out for a farewell dinner aboard the Taedonggang Boat Restaurant, as pleasant a spot as any to enjoy our farewell meal. (B/L/D)

This morning the group will be transferred to the airport to depart Pyongyang at approximately 0830 on the Air Koryo flight to Beijing. Upon your arrival in Beijing (scheduled for 0950, but times TBC) tour arrangements end. (B)

Pricing Information
12
day tour, from
£2750
per person
(Single person supplement + £450)
Price Includes
Air Koryo flight Beijing–Pyongyang—Beijing and Pyongyang-Samjiyon-Orang-Hamhung
Accommodation throughout
Meals in North Korea as specified (B=Breakfast, L=Lunch, D=Dinner)
All transfers, transport and sightseeing, with two local guides, including main entrance fees to sites
Regent Holidays escort guide throughout whilst in North Korea
North Korean Visa Fee and North Korean Visa* (*If issued for you in the UK via Regent Holidays)
Price Excludes
Return international flights from your country of residence to Beijing
Meals / services / accommodation in China and any other items other than those clearly specified
Chinese Visa (if required)
Entrance fees to certain sites in Korea, as specified
Gratuities / porterage
Itinerary Dates
From Price
Single Room Supp.

07 Sep 2021

-

18 Sep 2021

£2750
£450
Image Gallery
Click on images to enlarge