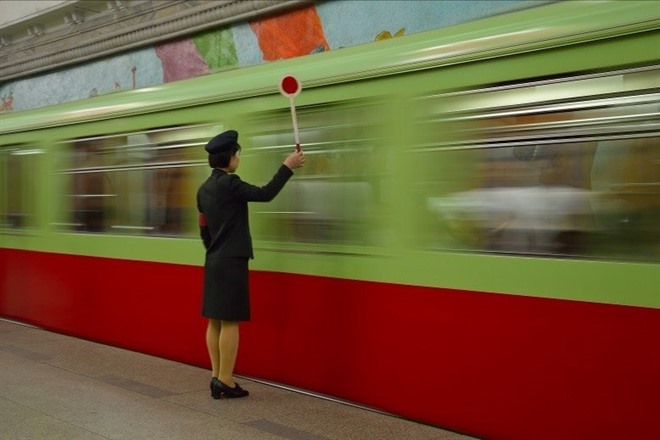 Enjoy the full day sightseeing in Pyongyang, starting with a walk in the city centre from the exterior of the Pyongyang Grand Theatre to Kim Il Sung Square and then onto the Foreign Language Bookshop, a good spot to pick up a wide range of publications, postcards and the like.
From here pop into the Vienna Coffee Shop to relax over a hot drink (at your own expense) before heading to the Grand People's Study House — the national library and a major centre of learning. The view from the balcony atop the study house down onto Kim Il Sung Square affords a spectacular vista of central Pyongyang. After lunch in the nearby Pyongyang Bell Restaurant visit the Mansudae Fountain Park.
Next ascend Mansu Hill to visit the Mansudae Grand Monument, the centre piece of which are the spectacular 20-metre tall bronze statues of Kim Il Sung and Kim Jong Il. Here, millions of Koreans visit annually to pay their respects to the leaders, and the group will be expected to lay a wreath of flowers at the foot of the monument before bowing in unison before it (flowers purchased locally for a small fee). You will also see the nearby Chollima Monument.
From Mansu Hill head down to the Mansudae Art Studio—the organisation responsible for the most famous artworks and statues in the DPRK. After a tour of the studio and a visit to the studio shop head underground for a journey on the impressive Pyongyang Metro, travelling one stop from Puhung to Yonggwang (arguably the two most impressive stations) before pressing on four stops to Kaeson.
At Kaeson station surface beside the Arch of Triumph, 10 metres higher than its Parisian counterpart. From the Arch head to Ryomyong New Town, a modern high rise residential district and enjoy a brief walk along the impressive main avenue before enjoying dinner in the KITC Ryomyong Restaurant.
After a busy day of sightseeing return to the Yanggakdo Hotel. (B/L/D)