Holidays at ICEHOTEL Sweden
As part of our brand-new Sweden holiday collection, we're excited to launch trips to the world's first hotel made of ice and snow. Over 200km north of the Arctic Circle in Jukkasjärvi, a small village in Swedish Lapland on the banks of the Torne River, rooms at ICEHOTEL are carved from ice harvested when the river freezes over in the winter months. Here nature and creativity collide, as a team of artists from around the world design each room and intricate ice sculpture individually to create an impressive frozen wonderland that changes every year.
Since 1989 ICEHOTEL has been offering guests the unique winter experience of sleeping in a room where everything, from the walls to the bed frames, is made of ice, with standard Cold Rooms and Art Suites available from December to April. Further details of each room category can be found below.
Brand new for 2017, concept development ICEHOTEL 365 offers ice-sculpted Art Suites and Deluxe Suites year-round inside a refrigerated summer structure, run entirely on solar power by the midnight sun.
ICEHOTEL comes complete with a traditional sauna, an array of excursions, including ice fishing, cross-country skiing, northern lights safaris and husky sled rides. The original ICEBAR (trendy sister establishments can now be found in London and Stockholm) is the perfect place to sip a signature cocktail from a glass made of ice, in an ice bar that changes design every year.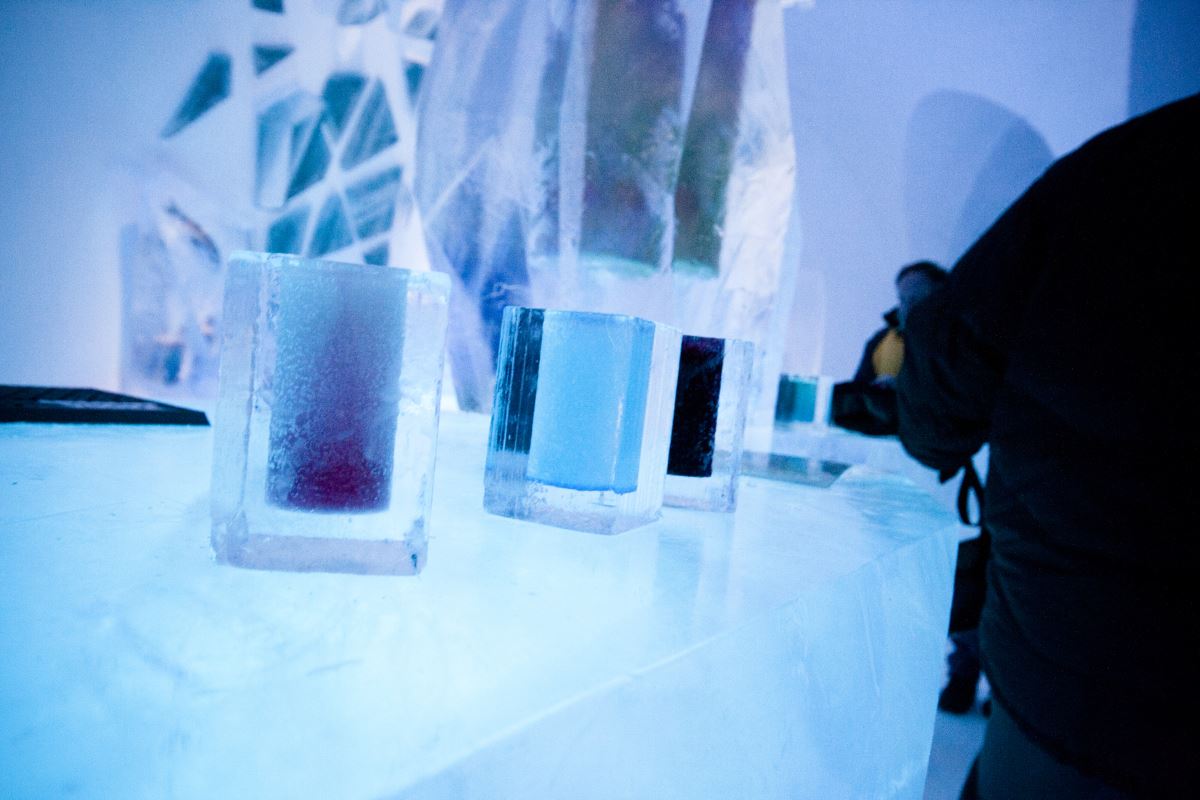 THE ROOMS
ICEHOTEL
Cold Room – Ice Room
ICEHOTEL's standard Ice Rooms are simple and classic in design, focussing on the experience of spending the night inside the frozen winter structure. Large ice beds are covered in warm reindeer hides and thermal sleeping bags are provided.
Cold Room – Art Suite
Individually themed and designed by artists commissioned from around the world, the beautiful ice art suites are located in the winter structure and hold 2-4 beds. Mornings start with hot lingonberry juice at your bedside and a complimentary sauna session and hot shower before enjoying the breakfast included.
ICEHOTEL 365
Cold Room – Art Suite 365
Rooms in the ICEHOTEL 365 are the same standard and visual design as the winter structure, but are able to remain in use year-round so that summer and autumn excursions are available with the ice room experience, as well as winter activities. Like the winter Art Suites, the summer structure Art Suites are individually themed.
Cold Room – Deluxe Suite 365
The deluxe suites in the summer structure are the largest rooms available at ICEHOTEL, each individually designed and hand-crafted. Suites are furnished with exclusive Carpe Diem beds and boast a private heated bathroom / relaxation connected directly to the bedroom, where luggage can also be stored.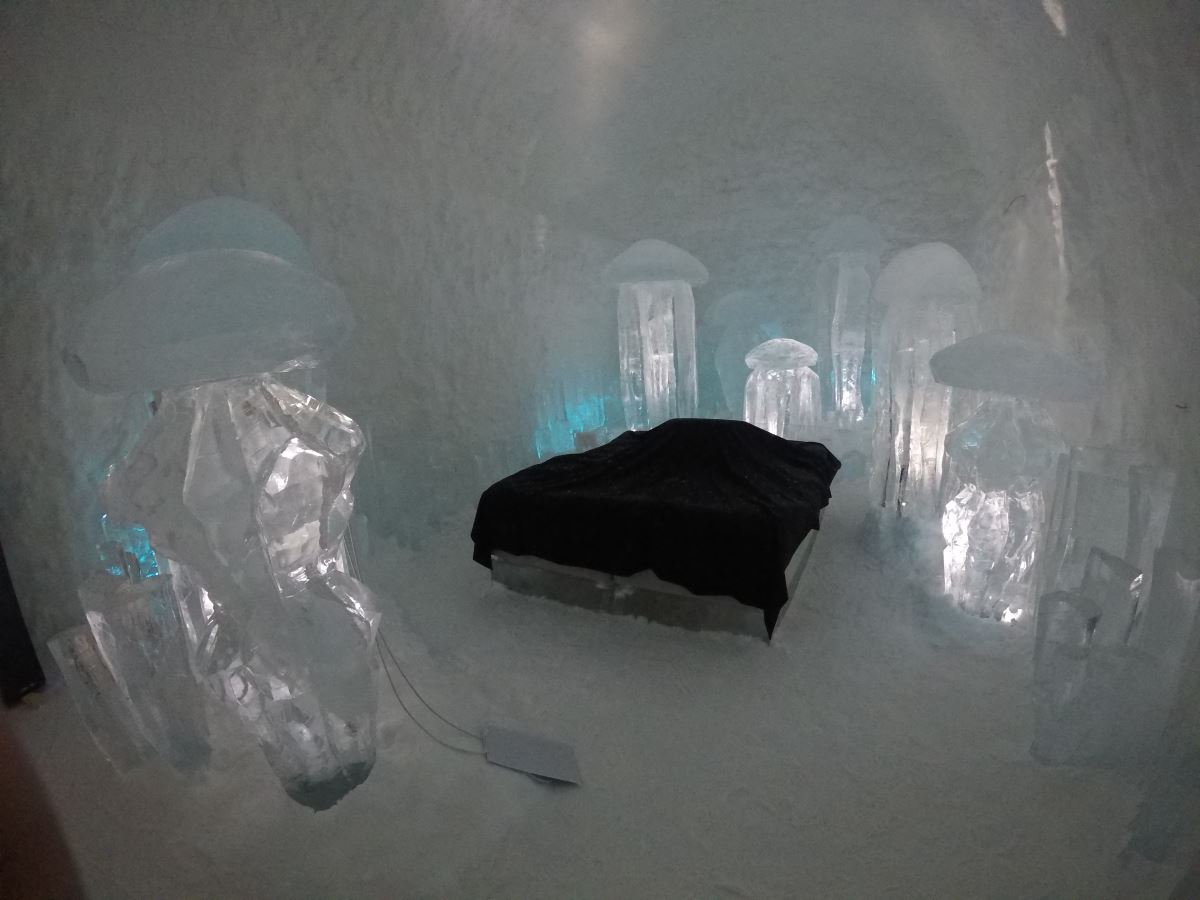 WARM ROOMS
Kaamos
Regular, heated hotel rooms are also available at ICEHOTEL for those wanting to experience the ICEHOTEL without spending the night in a frozen room. Kaamos rooms have two beds, arm chairs and a coffee table, and are decorated with traditional Scandinavian-style whitewashed wooden panels and gentle grey and brown shades. Rooms are ground floor-level, overlook the spruce and birch trees that surround the hotel and in the summer months, have grass and wild flowers growing on the roof. These rooms include breakfast, a complimentary tour of ICEHOTEL and sauna entry.
Nordic Chalet
Featuring classic Scandinavian design, the warm Nordic Chalet apartments are perfect for families or groups, with two bedrooms, a kitchenette and a lounge. These rooms include breakfast, a complimentary tour of ICEHOTEL and sauna entry.
Arctic Chalet
With wood panelled walls and a neutral colour pallet inspired by the natural world outside, the warm Arctic Chalets are comfortable and rustic. These rooms feature a master double bedroom, a single bedroom, a kitchenette and a lounge, and include breakfast, a complimentary tour of ICEHOTEL and sauna entry.
At Regent, we recommend spending two nights in a warm room to enjoy the wilderness and excursions available around ICEHOTEL, before finishing with a night in one of the cold rooms.

WHAT DO I NEED TO KNOW?
Thermal sleeping bags are provided for nights in the cold rooms, along with loaned balaclavas, snowsuits, boots and mittens. Guests bring their own thermal under layers.
Wooden bed frames sit above the bed blocks of ice, covered in cosy and insulating reindeer hides.
Rooms hold temperatures of between -8 and -5 degrees Celsius.
In the mornings, all guests are woken up with a mug of hot lingonberry juice.
Luggage is stored in personal lockers in warm buildings.
REGENT RECOMMENDS
Speak to a Sweden Travel Specialist to book your excursions and restaurant reservations in plenty of time before you visit ICEHOTEL, as early booking is essential.
ICEHOTEL can also be incorporated into a Swedish Lapland holiday as a day-trip. Our Lapland Guesthouse holiday spends a day touring the ICEHOTEL's impressive sculptured environment and includes a sauna experience.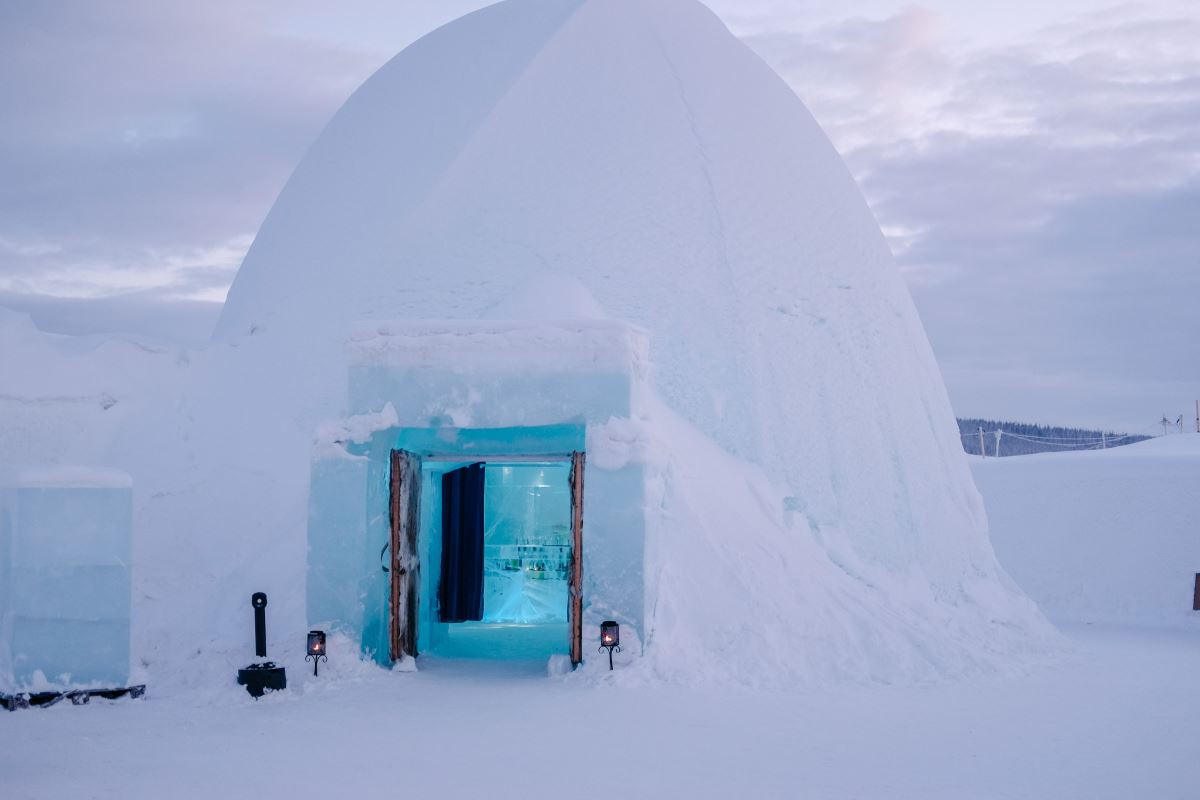 Find more inspiration on our social media #MyRegentMoment
Image Credits - Martin Smedsen, Beatrice Karlsson, ICEHOTEL

Holidays
Image Credits - Martin Smedsen, Beatrice Karlsson, ICEHOTEL
Find more inspiration on our social media #MyRegentMoment