Northern Lights Explorer Group Tour
8 Day Tour, from £2130 per person
Itinerary Dates: 01 Oct 2017 - 08 Oct 2017, 06 Oct 2017 - 13 Oct 2017, 13 Oct 2017 - 20 Oct 2017, 15 Oct 2017 - 22 Oct 2017, 20 Oct 2017 - 27 Oct 2017, 27 Oct 2017 - 03 Nov 2017, 29 Oct 2017 - 05 Nov 2017, 03 Nov 2017 - 10 Nov 2017, 10 Nov 2017 - 17 Nov 2017, 12 Nov 2017 - 19 Nov 2017, 17 Nov 2017 - 24 Nov 2017, 24 Nov 2017 - 01 Dec 2017, 26 Nov 2017 - 03 Dec 2017, 01 Dec 2017 - 08 Dec 2017, 03 Dec 2017 - 10 Dec 2017, 05 Jan 2018 - 12 Jan 2018, 07 Jan 2018 - 14 Jan 2018, 12 Jan 2018 - 19 Jan 2018, 19 Jan 2018 - 26 Jan 2018, 21 Jan 2018 - 28 Jan 2018, 26 Jan 2018 - 02 Feb 2018, 02 Feb 2018 - 09 Feb 2018, 04 Feb 2018 - 11 Feb 2018, 09 Feb 2018 - 16 Feb 2018, 16 Feb 2018 - 23 Feb 2018, 18 Feb 2018 - 25 Feb 2018, 23 Feb 2018 - 02 Mar 2018, 02 Mar 2018 - 09 Mar 2018, 04 Mar 2018 - 11 Mar 2018, 09 Mar 2018 - 16 Mar 2018, 16 Mar 2018 - 23 Mar 2018, 18 Mar 2018 - 25 Mar 2018, 23 Mar 2018 - 30 Mar 2018, 30 Mar 2018 - 06 Apr 2018, 01 Apr 2018 - 08 Apr 2018, 06 Apr 2018 - 13 Apr 2018, 08 Apr 2018 - 15 Apr 2018
*Hover over dates to show all
Dive head first into a journey that tackles Iceland's greatest winter wonders on a group tour specially designed to uncover the highlights of the South West, whilst also maximising the chances of witnessing the aurora borealis. Once you've toured Reykjavik, set off to discover the volcanic craters, hot springs and waterfalls of Borgarfjordur Valley and visit the charming fishing villages that speckle the Snaefellsnes Peninsula's craggy landscape. See the famed trio of geothermal sites that make up the Golden Circle before exploring the lava fields of Skaftafell National Park and walk behind a natural waterfall. And that's just during the days! Evenings are packed with nocturnal adventure too on this trip, as this is hopefully when the northern lights will make an appearance.
Please note: Itineraries may be subject to change at short notice during severe weather conditions and certain outdoor activities and day trips may be cancelled during the winter season in Iceland. In these rare cases, where situations of force majeure apply, excursions/activities cannot be refunded but the local guides will try their best to find reasonable alternatives where and whenever possible.
Tour Itinerary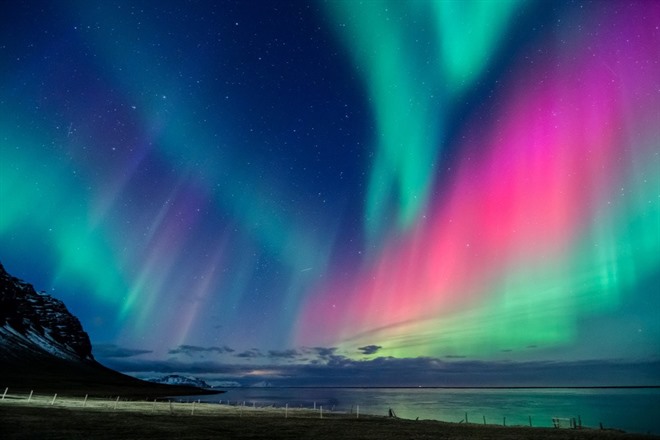 Fly to Iceland. Transfer by Flybus shuttle bus from the airport to your hotel in Reykjavik for an overnight stay.
Enjoy a city tour of Reykjavik and discover some of the highlights of Iceland's capital before heading west to Borgarfjordur Valley, also known as the Saga Valley of West Iceland. Climb Grabrok volcano crater and feel the heat at Deildartunguhver - Europe's most powerful hot spring. Discover the Hraunfossar series of waterfalls pouring from beneath a wide lava field and visit Barnafoss known as the Children's falls. Check into Icelandair Hotel Hamar in Borgarnes for two nights and in the afternoon listen to a short lecture about the northern lights. After dinner take a guided walk outside to search for the flickering neon lights in the sky and warm up with a hot chocolate or tea. (B)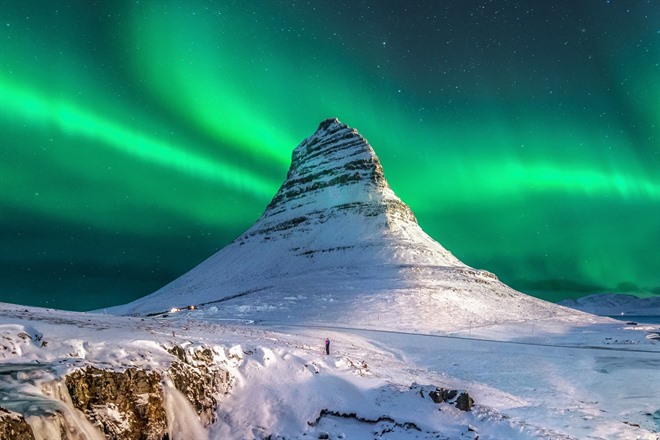 Travel to Snaefellsnes Peninsula and discover the charming fishing town of Stykkishólmur before a cruise in Breiðafjörður fjord. Sample freshly caught scallops whilst sailing around this unique archipelago and visit Bjarnarhöfn, the regions leading producer of hakarl (shark meat). In the afternoon stop (weather conditions permitting) at the fishing village of Grundarfjordur with its impressive coastline and mountains. Jutting out into the bay rises one of the most photographed mountain in Iceland Mt Kirkjufell. En route back to Borgarnes learn some tips of how photograph the Northern Lights from your guide. Once darkness falls head outside to search for nature's light show whilst soaking in the hotel's outdoor hot tubs. (B,L)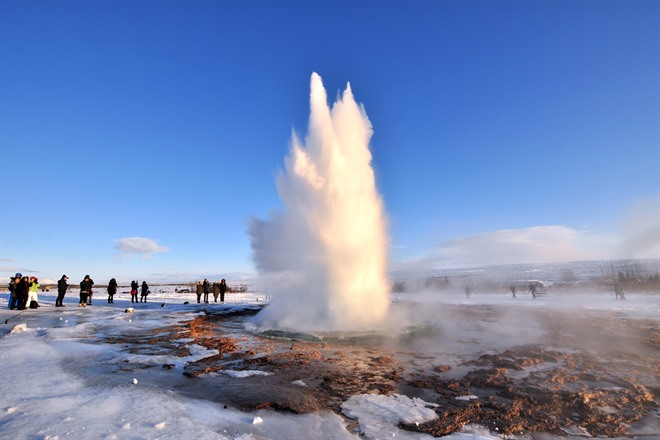 Today visit the many and varies sights that make up Iceland's famous Golden Circle. Travel along the scenic shores of Hvalfjörður and onwards to Thingvellir National Park, a UNESCO World Heritage Site. En route stop at an Icelandic wool outlet store, where those who wish can buy a traditional woollen jumper. At the Geysir geothermal fields discover hot springs, bubbling pools and the erupting Strokkur geyser. Meet the chef of the Geysir Restaurant and taste freshly baked hot spring bread, geothermally boiled eggs, herring and enjoy a small glass of exceptionally cold Geysir Schnapps. Continue on to the mighty Gullfoss waterfall and in the afternoon, visit a geothermal greenhouse and taste local tomatoes, before meeting some Icelandic horses and learning about their history. Spend the night at Foss Hotel Hekla and keep a look out for the elusive northern lights from the comfort of a hot tub in the garden of the hotel, amidst the peace and stillness of rural Iceland. (B)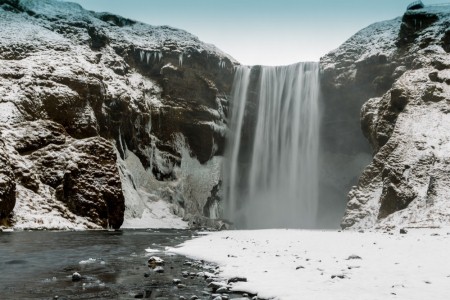 Travel along the south coast and learn about living next to a glacier and an active volcano at the Eyjafjallajökull Information Centre. See Skógafoss waterfall and visit one of Iceland's finest folk museums to discover an outstanding collection of farm and domestic artefacts typical of Iceland's past. In the afternoon take a stroll on the black lava beach and discover amazing bird cliffs at Reynisfjara in South Iceland. Check in to Fosshotel Nupar near Kirkjubaejarklaustur in Vatnajökull National Park for two nights. (B)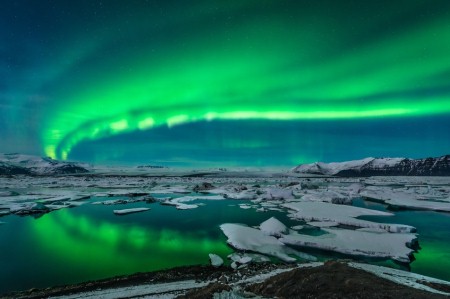 Explore Skaftafell National Park, the largest National Park in Europe and home to Iceland's highest mountains, an alpine environment and Europe's largest glacier. Jökulsárlón glacial lagoon is one of the many highlights of visiting Iceland - see huge icebergs of various hues floating on the ice-cold waters and search for seals playfully swimming. Take a walk on the black sand beach among different sized glaciers flung onto the land by the power of the sea. In the afternoon visit the tiny tuft church of Hof. In the evening enjoy a video presentation about the northern lights before heading outside where if the skies are clear in this remote and quiet location the northern lights may be visible dancing across the night sky. (B)
*Optional Ice Cave Tour (Operating only from 15th Nov to 15th Mar)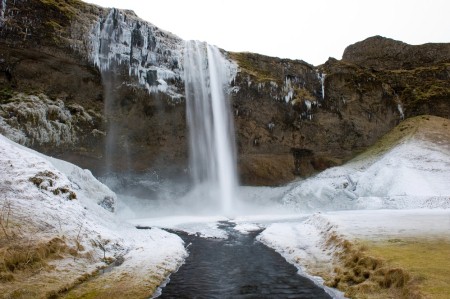 Discover the impressive Eldhraun lava field near the village of Vík and visit Seljalandsfoss waterfall. In the afternoon return to Reykjavik for some free time before an evening visit to the Blue Lagoon to relax in its mineral-rich waters. Enjoy a farewell dinner in a local restaurant in Grindavik or Sandgerdi, followed by one last nocturnal tour in search of the Aurora Borealis. Overnight in your hotel in Reykjavik. (B,D)
Transfer to the airport for the flight back to the UK. (B)

Pricing Information
8
day tour, from
£2130
per person
(Single person supplement + £475)
Price Includes
Return flights in economy class with Icelandair from London Heathrow
Airport taxes
Accommodation in three-star/four-star hotels
Meals as specified (B= breakfast, L= lunch, D= dinner)
All transfers and transportation*
Sightseeing with English-speaking guide
Entrance fees on sightseeing tours as specified
Price Excludes
Travel Insurance
Tips and gratuities
Price Notes
Single supplement: £475
*Arrival and departure transfer by FLYBUS Plus shuttle
Please note that fixed 2-course dinners with fish, meat or vegetarian main courses are available at the hotels starting from ISK7,200 (£54-55) per person per night. Generally the guide on this group tour will arrange this with you locally and the choice of various meals and the quality is very good. Country hotels do not generally offer a la carte meals and there are no other restaurants nearby.
Itinerary Dates

01 Oct 2017

-

08 Oct 2017

06 Oct 2017

-

13 Oct 2017

13 Oct 2017

-

20 Oct 2017

15 Oct 2017

-

22 Oct 2017

20 Oct 2017

-

27 Oct 2017

27 Oct 2017

-

03 Nov 2017

29 Oct 2017

-

05 Nov 2017

03 Nov 2017

-

10 Nov 2017

10 Nov 2017

-

17 Nov 2017

12 Nov 2017

-

19 Nov 2017

17 Nov 2017

-

24 Nov 2017

24 Nov 2017

-

01 Dec 2017

26 Nov 2017

-

03 Dec 2017

01 Dec 2017

-

08 Dec 2017

03 Dec 2017

-

10 Dec 2017

05 Jan 2018

-

12 Jan 2018

07 Jan 2018

-

14 Jan 2018

12 Jan 2018

-

19 Jan 2018

19 Jan 2018

-

26 Jan 2018

21 Jan 2018

-

28 Jan 2018

26 Jan 2018

-

02 Feb 2018

02 Feb 2018

-

09 Feb 2018

04 Feb 2018

-

11 Feb 2018

09 Feb 2018

-

16 Feb 2018

16 Feb 2018

-

23 Feb 2018

18 Feb 2018

-

25 Feb 2018

23 Feb 2018

-

02 Mar 2018

02 Mar 2018

-

09 Mar 2018

04 Mar 2018

-

11 Mar 2018

09 Mar 2018

-

16 Mar 2018

16 Mar 2018

-

23 Mar 2018

18 Mar 2018

-

25 Mar 2018

23 Mar 2018

-

30 Mar 2018

30 Mar 2018

-

06 Apr 2018

01 Apr 2018

-

08 Apr 2018

06 Apr 2018

-

13 Apr 2018

08 Apr 2018

-

15 Apr 2018
Tour Route Map
Iceland, Reykjavik
Iceland, Borgarnes
Iceland, Thingvellir National Park
Iceland, Skogafoss waterfall
Iceland, Jokulsarlon Glacial Lagoon
Iceland, Blue Lagoon
Iceland, Reykjavik
Image Galllery
Click on images to enlarge
Reviews
The design of this tour was outstanding. Every day a new high.
Ms. H. Butcher
February 20, 2013
All the hotels were very good and the tour guide and driver were excellent. They made a good team and nothing was too much trouble. They made the holiday.
Mr & Mrs Kearsley
March 7, 2013
A very enjoyable holiday from beginning to end – very well organised and both the coach driver and guide were excellent. I was very happy with all aspects of the holiday and would consider using Regent Holidays in the future.
Mrs. Thompson
April 3, 2013
The Icelandic guide was fantastic. She was very knowledgeable and approachable. She ensured that every activity was safe and most of all very enjoyable.
I had such a good time and met some fab people.
Ms Cornish
November 29, 2013
Our guide and driver were SUPERB. There was rain, snow and gale force winds but my memories are all good ones! Thank you for organising such an experience.
Mrs Dray
December 9, 2013
Our tour guide was excellent. He really made the holiday – so informative everywhere we went, telling us history and facts about Iceland. We learnt so much through him that was so interesting. He also made sure the activities suited everyone on the trip, which was really nice.
Thanks for a great holiday and an unforgettable experience, we had a fantastic time!
Miss A Pool
December 16, 2013