This exclusive Regent group tour combines the historic cities and stunning landscapes of Albania with forays into Kosovo and Macedonia to visit the unmissable Balkan treasures of Prizren and Lake Ohrid. Staying in accommodation from boutique hotels to mountain resorts and even a luxury five-star hotel in Tirana.
Travel in a small group with a local guide, discovering Albania's national parks and UNESCO World Heritage Sites and enjoying many delicious local meals along the way.
Tour Itinerary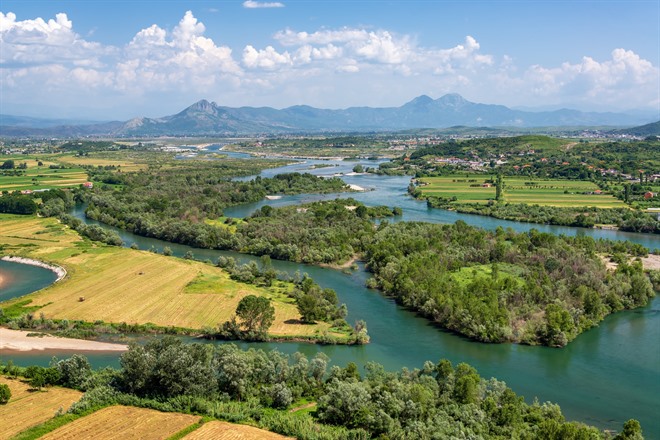 Fly to Tirana. On arrival, meet your tour guide and transfer to the historic town of Kruja where you will check in to the hotel for an overnight stay. Enjoy a welcome drink and light buffet on arrival.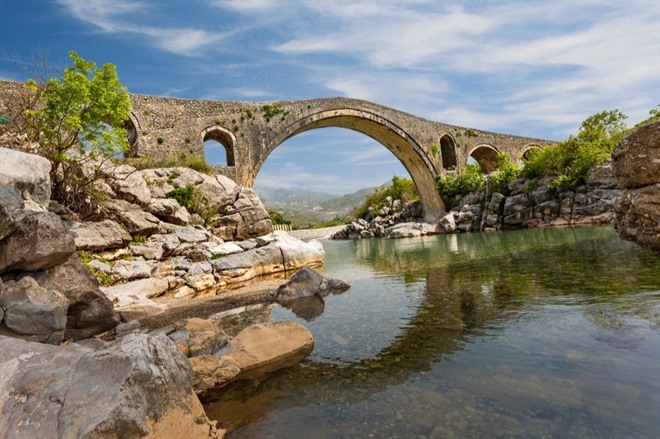 Enjoy a sightseeing tour of Kruja this morning. Visit the restored Castle and Citadel, and the Skanderbeg Museum - located inside the castle and erected in memory of the Albanian national hero. Skanderbeg was originally from the area and Kruja was a strategic point in the anti-Ottoman resistance. Shop for authentic souvenirs in the old bazaar before continuing for lunch at one of Albania's most renowned restaurants 'Rizi i Zanave', en-route to Shkodra. Set on the banks of a sparkling lake and at the foot of the wild and rugged mountains of High Albania, Shkodra was once the largest and most flourishing town in the country. Even today it remains the cradle of northern Albanian culture. On arrival in Shkodra, embark upon a walking tour of the city. Discover Rozafa's Castle and Marubi Museum. Spend two nights in Shkodra. (B,L)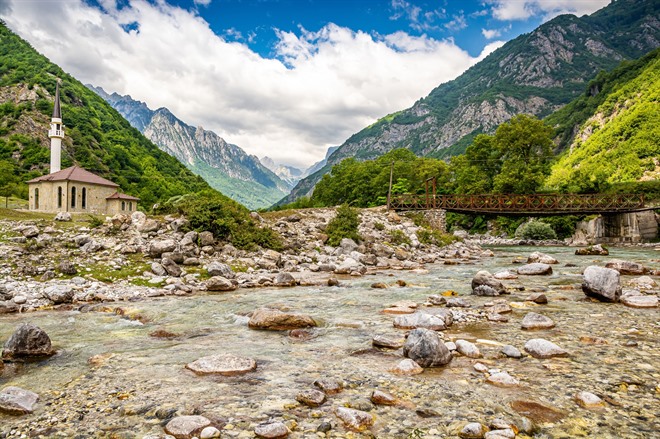 This morning venture further into the Albanian Alps and the remote Theth National Park via Edith Durham's memorial. Visiting Theth in the early 20th century, the traveller Edith Durham said; "I can think of no place where human beings live that has given me such an impression of majestic isolation from the entire world" and today the village still feels as cut off from the world as ever. Enjoy a walking tour of the area visiting Grunasi Canyon, Thethi waterfall, the Ethnographic Museum, Catholic Church and the tower of the isolation (used in blood Feuds). Return to the hotel in Shkodra for dinner. (B,L,D)
Board the Komani ferry and sail along the Koman Lake, towards the town of Fierza. Originating from the construction of three dams, Lake Koman passes through much of the beautiful Albanian Alps; a thoroughly memorable experience and a highlight of the tour for many. Arrive in Fierza at midday and continue to Kosovo, with lunch en route, and on to the famous Decani Monastery. The Decani Monastery is the largest medieval church in the Balkans, containing stunning and painstakingly preserved murals. The monastery dates from the 13-th century and consists of a combination of gothic, roman, byzantine and baroque architectural styles. The monastery is recognised by UNESCO as a world heritage site. Continue to Prizren for an overnight stay. (B,L)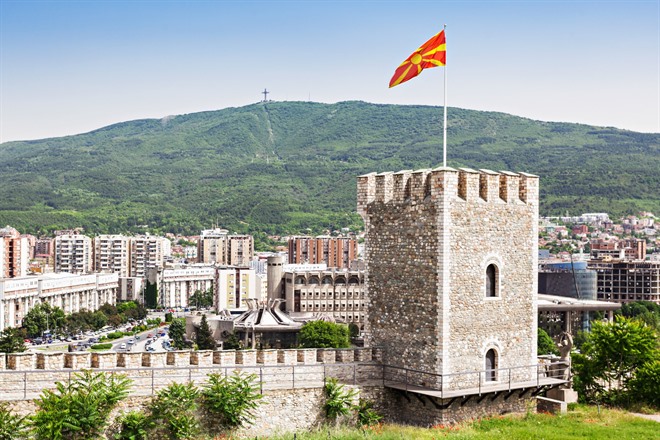 Embark on a walking tour of the pretty Ottoman town of Prizren. Known for its ethnic diversity, Prizren has a long tradition of tolerance and inter-ethnic cooperation. Visit the Hamam, the Museum of Prizren League, the Ethnographic Museum, the Helveti Tekke, Sinia Pasha Mosque and afterwards perhaps shop for the silver filigree that the town is famous for producing. Drive to Tirana and check-in to the hotel for two nights. Dine at a local restaurant. (B,D)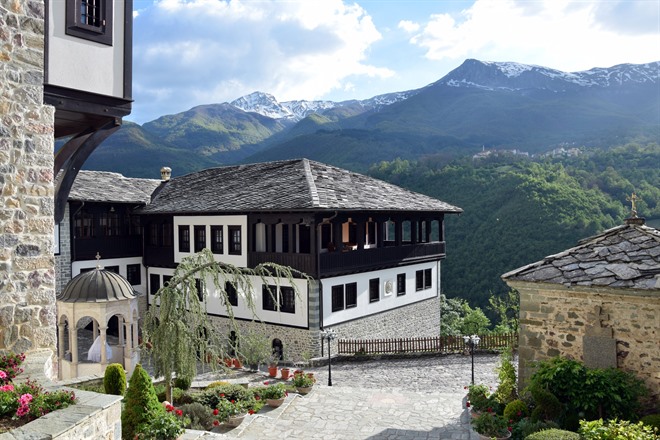 Today's tour of Tirana begins in the lesser known parts of the city. Visit the memorials to the British and American mission in Albania and the National Martyrs Cemetery of Albania, located on a hill overlooking the city. Some 900 partisans who died during WWII are buried in the cemetery. The cemetery was also the resting place of former leader Enver Hoxha, who was subsequently disinterred and given a more humble grave in another public cemetery. Continue the city tour of Tirana with visits to the National Museum, with its impressively decorated façade, National Art Gallery and Et'hem Beg Mosque. Tirana could be described as a cross between Istanbul and Naples with a pinch of Minsk. The capital and the biggest city in Albania offers a wide range of activities, museums and monuments to explore, most of which are centred around Skanderbeg Square and along the Martyrs of the Nations boulevard. (B,L)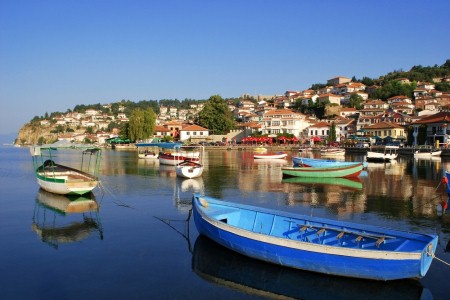 Travel towards Macedonia and the lakeside town of Ohrid, with a short stop in Elbasan to visit the legionary cohort fortress. Upon arrival in Ohrid, embark on a walking tour of the town which starts from the square of St.Clement and visits the old part of the town, stopping at the Lower Gate and the archaeological museum. Explore the church of St Sophia and then on to the Roman theatre which dates back to the 2rd century BC. Continue to Plaoshnik, the site of the reconstructed church of St Clement which stands beside the original site of St Clement's University. From here head towards the Church of St Jovan at Kaneo, which was built at the end of the 13th century, and is one of the most photographed churches in the Balkans due to its beautiful location on the cliffs directly above the lake. Return to the town by boat across the lake. Check in to the hotel in Ohrid for an overnight stay. (B,L)
Visit the Monastery of Sveti Naum this morning. The magnificent grounds of the Sveti Naum monastery are a real treat and contain the source of Lake Ohrid's water. After the visit, journey through Prespa Lake and Galicia National Park en-route to in Albania. On arrival enjoy a walking tour of Korce, known as the country's centre of culture and the arts, the first Albanian language school opened here in 1887. The city served as a very important trading market and caravans travelled from here to Greece, Turkey, and Russia. Korce today exhibits eastern characteristics, along with traces of French influence in its urban scheme and grand architectural planning. Visit the Orthodox Cathedral, the Old Bazaar, the Museum of Medieval Arts and Albanian school museum. Free time in the afternoon in Korce and overnight in the city. (B,L)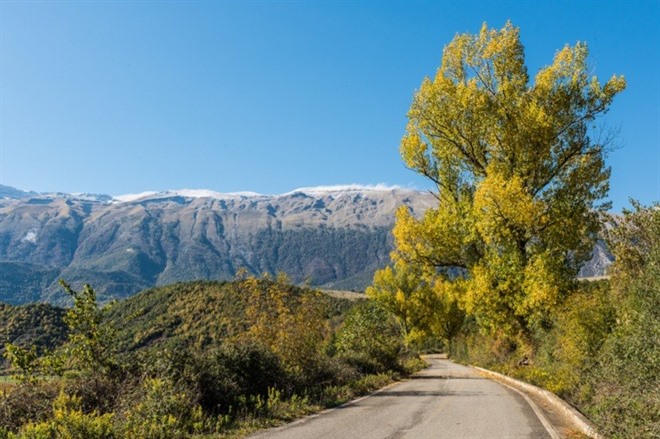 After a three hour drive in the morning, and a brief stop in the town of Erseka- Albania's highest town- stop in Permet for lunch. The city of Permet lies along the Vjosa river valley. The journey between Permet and Gjirokaster is one of the most scenic highlights of the tour, with imposing mountains rising up alongside beautifully green meadows covered in wild flowers and the river Vjosa running alongside. Continue on to the UNESCO city of Gjirokaster for a brief orientation tour before checking in to the hotel for a two night stay. (B,L)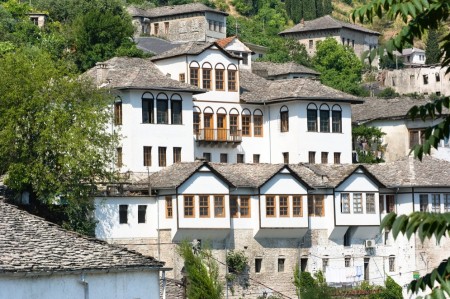 After breakfast, drive to the ruins of the ancient city of Antigonea, a short-lived city that only lasted for 150 years before it was destroyed by the Romans in 167BC and never rebuilt. It was founded by one of the most famous personages of the ancient world, King Pyrrhus of Epirus (319-272 BC). Stop in the pleasant village of Libohove, a village located at the foot Mount Bureto and dominated by its fortress. Continue toward Labova e Kryqit, 'Labova of the Cross Church'. The Church is one of the oldest in Albania and once contained a relic believed to be part of the true cross of Christ. Return to Gjirokaster late in the afternoon to explore it further. Known by many as the 'City of Stone', Gjirokaster comprises hundreds of Ottoman-style tower houses with distinctive stone roofs, wooden balconies and whitewashed stone walls. Dominated by the sheer flanks of its vast castle, Gjirokaster is a magical city with a tumultuous past. A walk around the network of cobbled streets will transport you back in time. A visit to the vast 13th-century Castle brings the adventurous tales of medieval rulers and communist atrocities alive. (B,L)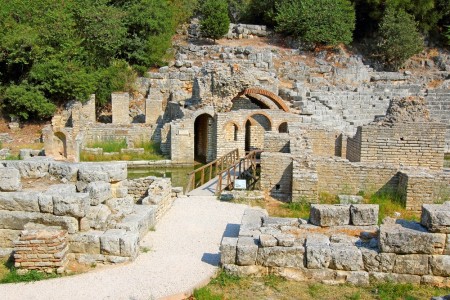 Drive to the coastal town of Saranda via the Blue Eye Spring, the source of the river Bistrica, and the UNESCO site of Butrint. Butrint is a national park that includes a very well preserved archaeological area and the wetlands around the lake provide shelter for different animals and aquatic species in danger of extinction. The main importance and magnificence of the site was in the Roman period when the city was proclaimed a Roman Colony and used by the roman aristocracy as a holiday destination. Continue to Saranda and visit the recently discovered synagogue and Lekursi Castle. Saranda is situated on a beautiful horseshoe bay between the mountains and the Ionian Sea, located opposite the Greek island of Corfu. Check in to the hotel for an overnight stay and enjoy dinner at a sea-side fish restaurant. (B,D)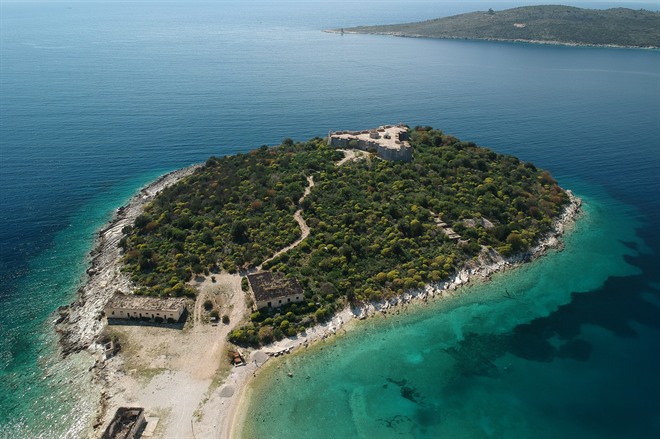 Drive along the stunning Albania Riveria towards Vlore. Dubbed by some as the last secret of Europe, the Albanian Riviera has some stunning beaches peppered along its Ionian coastline. The road snakes past breathtaking scenery, with mountains rising dramatically up from the coast and the azure blue sea shimmering below. Stop at the Gulf of Porto Palermo for lunch, followed by a visit to the Fortress of Ali Pasha Tepelena, situated on an attractive island. Travel over the Llogara Pass to Llogara National Park. On arrival in Vlore visit Independence Square and Muradie Mosque and spend some time at leisure in the in town. Overnight in Vlore. (B,D)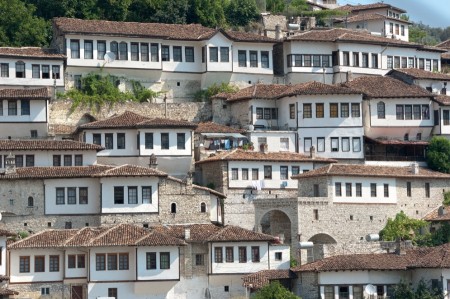 This morning visit the archaeological site of Apollonia. The ancient city of Apollonia of Illyria was founded at the beginning of the VII century BC by Greek colonists. The city prospered in Roman times and was a vital stronghold in Caesar's civil war with Pompey. On the way to Berat, discover the Eastern Orthodox Monastery of Ardenica, famous for playing host to the wedding of Skanderbeg in the 13th Century and stop at Cobo winery for a wine tasting. Berat is also known as 'The town of a Thousand windows' due to the many large windows that decorate the houses of the old town. The town is renowned for its historic architecture and is on the register of UNESCO World Heritage sites. The town has several beautifully decorated 15th Century mosques and a very large number of Byzantine Orthodox churches. Several of the churches have frescoes by the well known painter Onufri. Check in to the hotel for a two night stay. (B, D)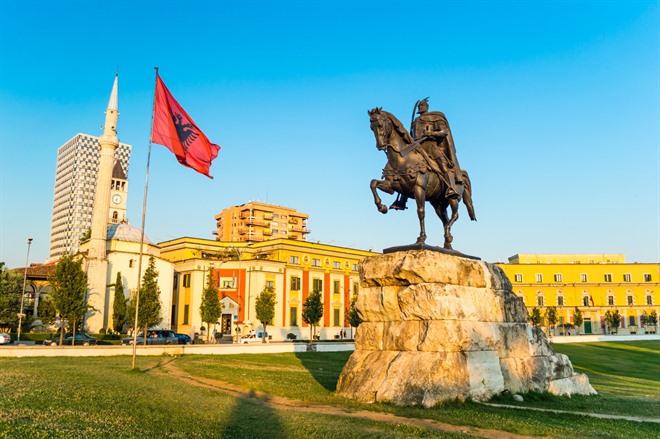 After breakfast, take a tour of both the lower and upper quarters of the fortress of Berat. One of the highlights is a visit to the Onufri Museum, where many fine examples of Onufri's work are displayed, including many splendid iconostas. The upper fortress offers up stunning panoramic views of the surrounding Tomorri Mountains from its surrounding walls. In the afternoon you are treated to a lecture by a famous Albanian writer; an expert in the arts, ethnography and literature, within the walls of the fortress. Enjoy a farewell dinner tonight in Berat. (B,D)
Set off for the city of Durres. Visit the ancient city walls, roman amphitheatre and the byzantine forum of the city. Durres is the main port and the second biggest city in the country and it is home to some important archaeological monuments that testify to the city's glorious past. In the afternoon, transfer to Tirana airport for the flight back to the UK. (B,L)

Pricing Information
15
day tour, from
£1680
per person
Price Includes
Return economy flights with British Airways direct from London Gatwick
All airport taxes
Accommodation in 3,4& 5 - star hotels
Meals as specified (B = breakfast, L= lunch, D= Dinner)
All transfers and transportation
Meals as specified
Entrance fees and sightseeing with English speaking guide
Entrance fees
Wine tasting
Price Excludes
Travel Insurance
Tips and gratuities
Meals not stated
Price Notes
Single room supplement £195
Image Galllery
Click on images to enlarge