Intriguing and mysterious, controversial, yet mesmerising. Saudi Arabia may not be a destination for everyone, but by opening its borders in 2019 to non-Muslim visitors, this experiential holiday would appeal to independent travellers with a pioneering spirit.
Rich in history, with a vibrant culture, and Islamic heritage, Saudi Arabia has a lot of sand, lots of it, as 95% of the country is desert. Its capital Riyadh offers stunning modern architecture, while Saudi's second city Jeddah, on the Red Sea, is smaller and has a historic Old City dating back to the 7th century. Travel across the desert to remote desert towns like Al Ula and Ha'il, visit a Najdi mud house in Ushaiger and witness some serious bartering at the Camel Market in Buraydah.
As with any destination, you need to travel with an open mind, as tourism in Saudi is still in its infancy. If you adhere to its laws and customs, this holiday will offer truly and unexpected hidden gems and unforgettable experiences.
Tour Itinerary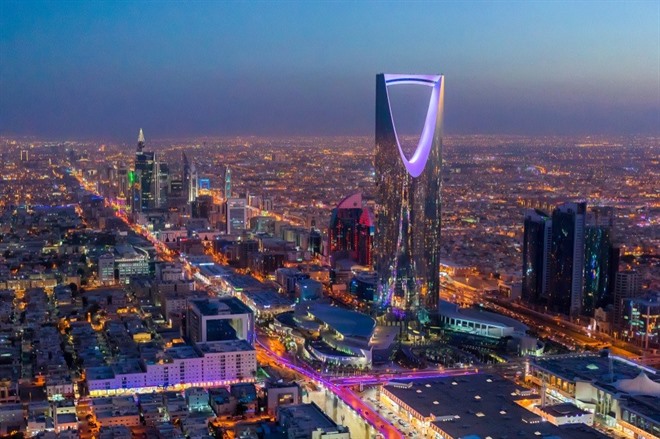 Fly to Riyadh where on arrival you will be met and taken to your hotel.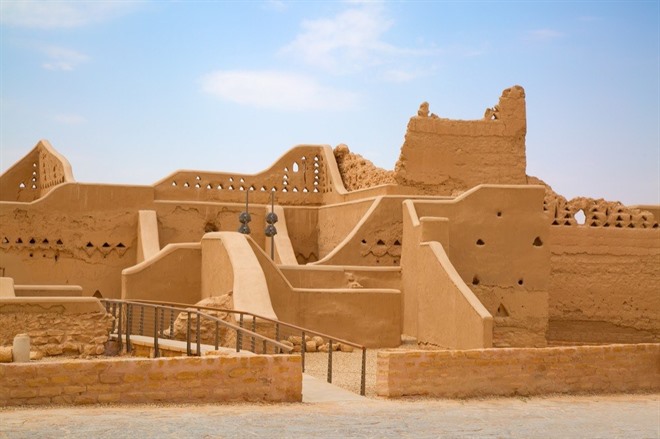 After breakfast your guide will take you to Riyad's historical district of King Abdul Aziz, where you visit the National Museum of Arabia to discover the history of the country and learn more about the country's main religion, Islam. Continue to Fort Masmak, built of clay and dried mud more than 150 years ago.
Discover present day Riyadh and climb up to one of the Kingdom's highest buildings - the Al Faisaliyah Tower or the Kingdom Tower – where the views over the capital are breathtaking. In the late afternoon you are taken to the nearby town of Al Dir'iyah. Known for its traditional mud-brick architecture, this UNESCO Heritage site, was the first capital of the Kingdom and used to be a significant role place pilgrims and traders. (B)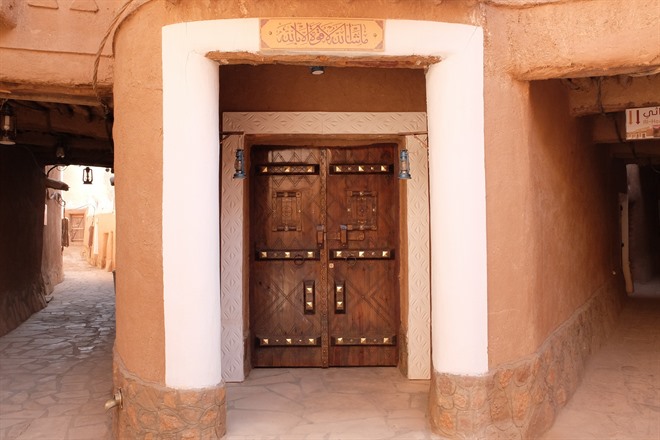 Travel through the desert to Ushaiger, Heritage village, where it's easy to get lost in a maze of mud houses, small alleyways, and timber-framed walkways. Constructed over centuries, it's another perfect example of Nadji architecture where mud bricks were used to build houses. After lunch, continue to Buraydah, famous for its camel market. (B)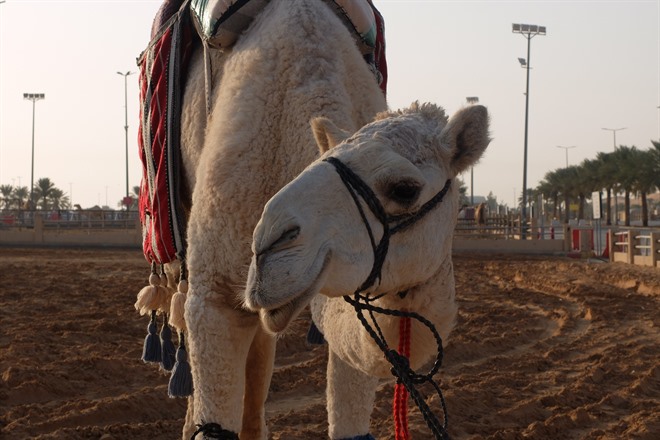 It's an early start, as today you witness the largest camel market in the world before breakfast. These ships of the desert still play a significant role in Saudi culture and it's no wonder the camel is the National Animal of Saudi Arabia. They're an important source of livelihood for many Saudis and are still primarily used for transportation (goods and people) in the desert. Return to the hotel for breakfast and depart for Hail, to explore the forts and souk. (B)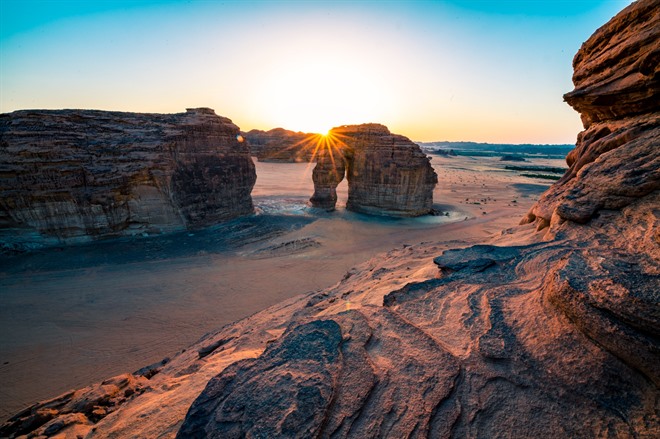 Like neighbouring Jordan, Al Ula, is an ancient Nabataean city with impressive ruins like Petra. En-route stop in Jubbah, another UNESCO World Heritage, which is more like an open-air gallery as it extends over 39 km² and admire the impressive petroglyphs dating back from around 5500 AC. Spot the incredibly well-preserved drawings of elephants, buffaloes, camels, and other domestic animals of that time.
In the late afternoon, witness sunset at Elephant Rock, where surrounded by the golden sands of the desert, the ever-changing hues of this magnificent rock formation, is the perfect place to be when the sun goes down. (B,D)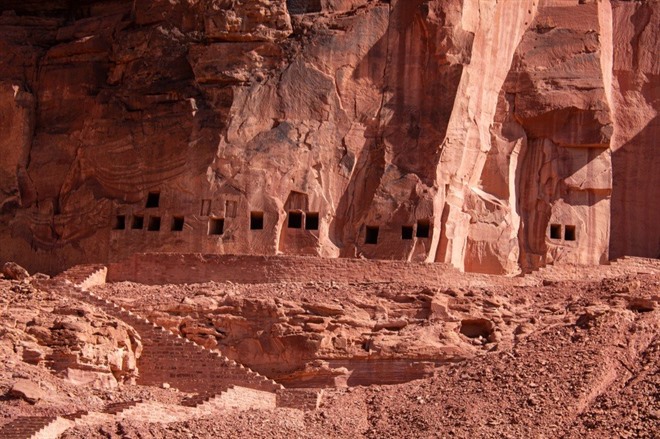 More Nabataen treasures today, with the most significant discoveries of all in the ancient city of Dadan, the capital of the Dadan and Lihyan Kingdoms. At Madâin Sâlih, a UNESCO heritage site dating back to pre-Islamic times, you find even more rock-cut tombs, with elaborate and very well-preserved facades and examples of Nabataean architecture in all its splendour. (B,D)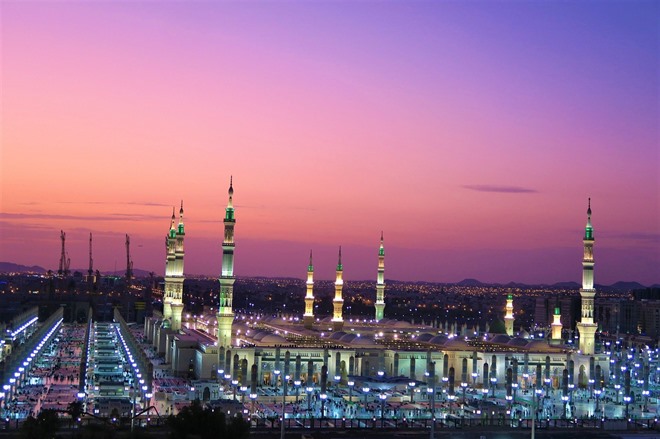 Today, travel to Medina, the second holiest city in the world for Muslims. Although non-Muslims are not allowed to enter the mosques, you can take in the city which is always busy with pilgrims from all over the world.
From the outside you can admire the impressive Prophet's mosque, which was built by the Islamic prophet Muhammad and is the second largest mosque after the Masjid al-Haram in Mecca. Finish the day on Mount Uhud with magnificent views of the city. (B)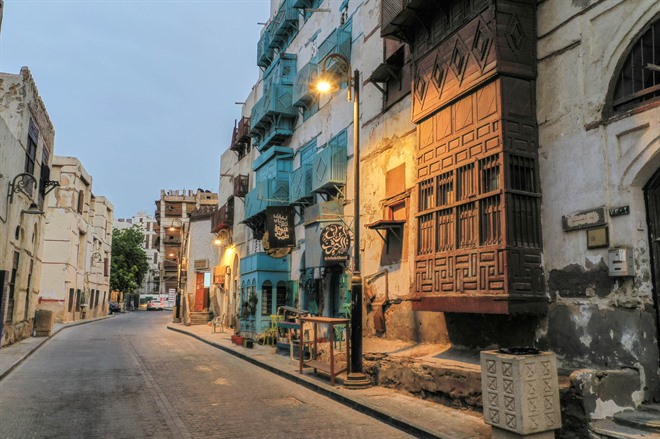 Depart Medina in the morning and arrive in the port town of Jeddah, for centuries a gateway to the west for traders and pilgrims. Jeddah, often called 'Arous Al-Bahar', which means Bride of the Red Sea, is the second largest city in Saudi Arabia. Jeddah offers an extremely diversified cultural life - 'Jeddah Ghair' or Jeddah is different, is the unofficial slogan for this charming port city.
The rest of the days is free at your own leisure. (B)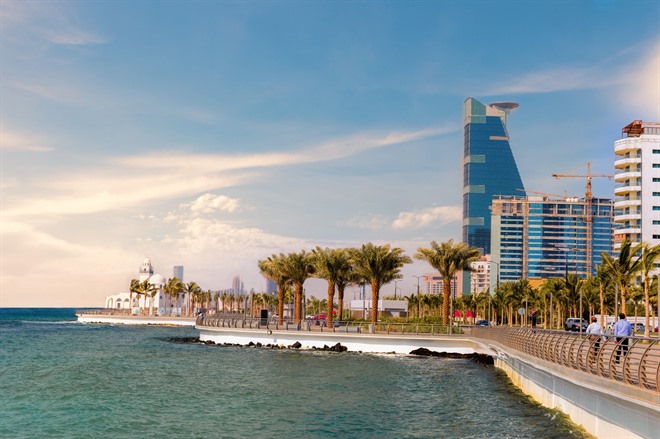 After breakfast, experience Jeddah through the eyes of a special Cities and People local guide. First visit Al Balad, the old and historic part of Jeddah, listed as a UNESCO World Heritage Site, with its narrow streets and merchant houses, admire the architecture of Nassif House and stroll through Souq Al Alawi where you may find some memorable gifts to take home.
At the end of the afternoon, head towards the coastal road - the Corniche - lined with sculptures over a length of 30 km. From the waterfront it's hard to miss the striking Fatima-Al-Zahra or Al-Rahmah Mosque, constructed on stilts in the sea and completed in 1974, it's often nicknamed the floating mosque. (B)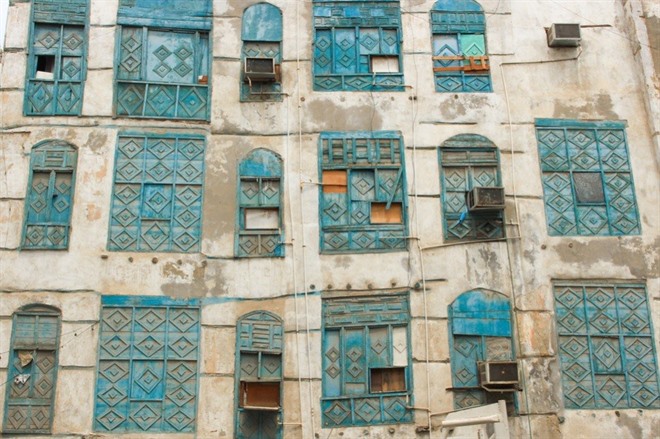 This morning you will be transferred to Jeddah airport for your return flight to the UK. (B)
Image Gallery
Click on images to enlarge