About Regent Holidays
Regent Holidays is a specialist travel company offering hand-picked, alternative holidays to destinations including:
The Baltics,
Central and Eastern Europe,
The Caucasus,
Central and East Asia, and
With 50 years' experience, Regent was one of the first companies to operate tours to Russia, Ukraine, the Stans, Albania, North Korea, and Greenland. Our pioneering spirit continues today, and in 2009 we were the first UK tour operator to offer holidays in Kosovo following its independence from Serbia.
If you're thinking about a Regent holiday, you're probably somebody who likes to do things a little differently. Our destinations can be off-the-beaten-track, and some still remain relatively underdeveloped. That's just part of what makes them so unique; travelling with this in mind will help you appreciate the little quirks and cultural differences you may encounter on your journey.
ATOL PROTECTION
We hold an Air Travel Organiser's Licence issued by the Civil Aviation Authority (ATOL number 2786). When you buy an ATOL protected flight or flight inclusive holiday* from us, you will receive an ATOL Certificate. This lists what is financially protected, where you can get information on what this means for you and who to contact if things go wrong. We, or the suppliers identified on your ATOL Certificate, will provide you with the services listed on the ATOL Certificate (or a suitable alternative). In some cases, where neither we nor the supplier are able to do so for reasons of insolvency, an alternative ATOL holder may provide you with services you have bought or a suitable alternative (at no extra cost to you). You agree to accept that in those circumstances the alternative ATOL holder will perform those obligations and you agree to pay any money outstanding to be paid by you under your contract to that alternative ATOL holder. However, you also agree that in some cases it will not be possible to appoint an alternative ATOL holder, in which case you will be entitled to make a claim under the ATOL scheme (or your credit card issuer where applicable). If we, or the suppliers identified on your ATOL certificate, are unable to provide the services listed (or a suitable alternative, through an alternative ATOL holder or otherwise) for reasons of insolvency, the Trustees of the Air Travel Trust may make a payment to (or confer a benefit on) you under the ATOL scheme. You agree that in return for such a payment or benefit, you assign absolutely to those Trustees any claims which you have or may have arising out of or relating to the non-provision of the services, including any claim against us, the travel agent or your credit card issuer where applicable. You also agree that any such claims may be re-assigned to another body, if that other body has paid sums you have claimed under the ATOL scheme. *The flights and flight- inclusive holidays we arrange are ATOL protected providing they are made available in the UK. For further information visit the ATOL website.
We are also a member of ABTA (ABTA number V2359). If your holiday does not include flights, ABTA will financially protect your holiday by ensuring you receive a refund or, if your arrangements include return travel to the UK (other than flights) you are returned to the UK in the event that your holiday cannot be provided as a result of our insolvency. Please go to www.abta.com for a copy of the guide to ABTA's scheme of Financial Protection
Regent Holidays is a trading name of International Travel Connections Ltd and is a member of ABTA membership number V2359. ABTA and ABTA members help holidaymakers to get the most from their travel and assist them when things do not go according to plan. We are obliged to maintain a high standard of service to you by ABTA's Code of Conduct. For further information about ABTA, the Code of Conduct and the arbitrations scheme available to you if you have a complaint, contact ABTA, 30 Park Street, London, SE1 9EQ. Tel: 020 3117 0500 or visit ABTA's website.
THE HISTORY OF REGENT HOLIDAYS
The 1970s
1970 Regent is formed by Noel Cairns in a small office on the Isle of Wight.
Noel has spent time travelling through the Balkans and Turkey, and wants to form a company which arranges the type of holiday he enjoys – unconventional, unusual and interesting.
Regent Holidays becomes the first operator in the UK to offer tours to the People's Socialist Republic of Albania, showing visitors that there is far more to the country than current perception. Far from being the poorest country in Europe, visitors are surprised to find a country where prices have not changed since the 1950s. An extremely low crime rate exists here, few cars are on the road and there are large restoration projects of its Greek & Roman monuments. Albania describes itself as the sole 'Marxist-Leninist state in Europe' and is officially an atheist country, religious practices having been banned since 1967. Despite close trading ties with the USSR & China, it is self-sufficient with large reserves of natural gas, copper and timber. It exports meat products and fruit and vegetables. Our first clients are fascinated by the country.
Our group tours include flights via Dubrovnik, hotels, transfers and both an Albanian & Regent tour guide. The visa cost is a princely £6.80 and our optional excursions cost between £1 to £19, the latter including a night in a hotel!
Visa restrictions state that USA citizens and journalists are not permitted into the country, along with males with long hair or full beards! Beards are only permitted when there is a large shaven area between the sideburns and start of the beard… should authorities not be satisfied with your appearance, a barber is present on arrival who will cut your hair to the country's standards!
1975 Regent operates first tours to Iceland & opens an office in Bristol
With ten group tours travelling each year to Albania, Noel needs new challenges and sets up an Iceland programme. Iceland is hardly known in Britain at the time so is an obvious choice. Neil Taylor joins the company that summer and begins working on adding China and Cuba to Regent's portfolio.
An office is opened in Bristol, which is only a two-hour journey to London where the Embassies, so crucial to the company for the issuing of visas are. Clients can now drop in to discuss their holidays. The office started in 13 Small Street, on the second floor, which had room for four staff but no more.
Noel remains on the Isle of Wight as he has a young family happy to grow up beside the sea. Soon he begins tours to Turkey, an almost unheard of destination for British tourists.
"This was still an era when people distrusted the phone for spending large sums of money. They needed to see whom they were dealing with, particularly if the Company claimed you could not only enter Albania, but return too!" Neil Taylor
1976 Regent starts operating tours on the Trans Siberian Railway from Moscow to Beijing (or Peking as it was called back then)
1979 Regent starts operating tours to the Soviet Union and buys a Telex machine!
After several years of trying to become accredited to the USSR's only tourism agent, Regent are finally given permission to work with them in Moscow and operate tours to a UK market.
Tours go largely to what is now Russia and Western Ukraine, with a few to central Asia. The Baltics are closed with only limited visits to the three capitals being allowed, but only in combination with Leningrad and Moscow.
Regent purchases a telex machine which proves to be a life line for communications and arranging tours behind the Iron Curtain. It is expensive, but quick and reliable.
Visas become easier and easier through the late 1970s and early 1980s. Our messenger takes applications in with a passport photocopy on Tuesdays and collects everything on Friday, with no payment whatsoever involved. Provided we pay upfront for the arrangements, and have a telex to confirm this, visas are issued automatically.
There is a black-list of about a hundred people who are banned from entering in place, mainly those who have openly engaged in political activity on a previous visit.
Regent builds up a large wholesale business offering tours to the USSR to companies who might have just one group a year. There is also great interest from school groups. The Soviet Union is a very safe and cheap place to travel.
"I remember well the uproar when visas first cost £1 and then £2 each. The British government were happy with this as it enabled them to start charging in Moscow. This was in the perestroika era at the end of the Soviet period when Russians were allowed to travel abroad so visas applications for Britain shot up." Neil Taylor.
Regent also starts tours to Czech Republic, Hungary & Poland - offering tours well away from the crowds, featuring lakes, mountains and coastline trips.
The 1980s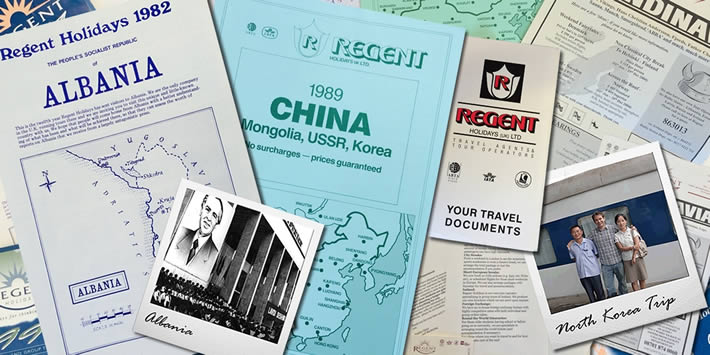 1981- 1985 Regent starts tours to Vietnam, Central Asia & North Korea
Neil Taylor has been negotiating with North Korea since 1983 and is finally given permission to enter the country on a four day trip. Access to Pyongyang is easy as Aeroflot has a weekly flight from Moscow which incorporates an overnight on the way out and a long day on the way back. Neil has breakfast in Pyongyang and dinner in London on the same day! We are now able to start operating tours in North Korea, another first for Regent – we become the only UK operator permitted to do so.
Visa procedures are sporadic. Sometimes visas come from a trade mission in Paris, sometimes from East Berlin, and occasionally on arrival at the border. In the 1990s they begin being issued by a trade mission in London, which becomes a full Embassy in 2000. We still use the North Korean Embassy in London today, and obtain visas for our clients via personal visits.
1987 Regent starts tours to the Caucasus and Indochina
The 1990s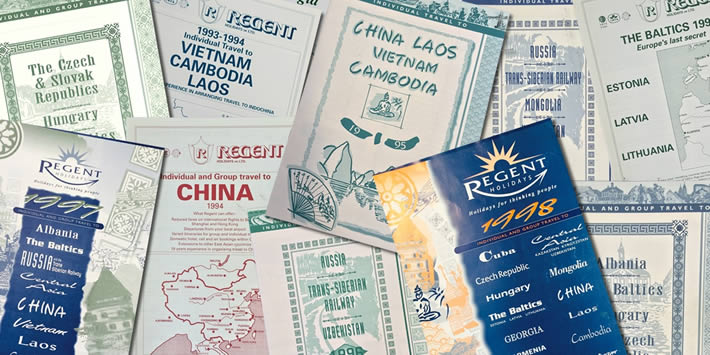 1990 Regent moves to a larger office in John St, Bristol
We have greatly expanded and need more space and staff! We take our trusty Telex machine with us although we have also bought a fax machine too. It is safer to have both to ensure reliable communications.
1991 The fall of Communism in Albania means that the country slowly opens up to Western tourism
The Baltics – Estonia, Latvia & Lithuania declare independence and open themselves up completely to tourism. No areas are off limits, and Visas for UK citizens are abolished. We advise clients to see the countries during their intriguing transition, as very soon they will become more westernised.
"The collapse of the Soviet Union gave us great scope for new tours, above all in the Baltics, which were all of a sudden completely open and visa-free. However there were plenty of complications: one country suddenly became fifteen, all with different private companies eager for our business, but none with any track record." Neil Taylor
1994 Our 'Introduction to the Baltics' tour includes all of the previously banned areas along the coast and in the countryside. We invite clients to be among the first British visitors to see these newly opened areas and have a first hand glance at three unique countries re establishing themselves
1995 With new area codes introduced in Bristol, our office telephone number becomes 0117 921 1711. Should you have a machine, you can telex us on 444606 REGENT G.
National Express coaches offers returns from Bristol or Birmingham to London Heathrow for £14, and we feature this in our brochure.
1997 With tourism advancing in Albania, we offer group and individual tours that combine Northern Greece with stays in Albania.
Tirana is given a new lease of life with private shops, restaurants, businesses and markets. The countryside continues to reflect days of old, which gives our clients an authentic experience of both sides of the country as it changes. Our 13 day Northern Greece & Albania tour costs £699 in May and includes flights, hotel accommodation on half board, the full sightseeing programme and a guide. Air Passenger Duty is a mere £10!
As our North Korea tours have grown in popularity with people living outside of the UK, we advertise our prices as if travelling from Beijing – a practice we still use today. Our brochure warns clients to be prepared for the unexpected, and to expect sudden changes in the itinerary. 'Remember it will be an experience rather than a holiday'… good advice that still applies.
Our Regent Holidays slogan, 'Holidays for thinking people', appears for the first time on the cover of our 1997 brochure.
1998 Regent forms its Educational Tours Department specialising in cultural, language and historical tours for schools to France, Belgium, Switzerland, Estonia, Latvia, Lithuania, Russia, Turkey & Northern Cyprus. Although this department does not exist today, we still arrange tours for many school groups every year.
As the world is changing, we are unable to offer tours around Albania due to tension in the area but still operate our Tirana city breaks. We also anticipate that Cambodia will be open to tourism that year.
Our Isle of Wight office arranges all of our tours to Turkey and Northern Cyprus, while our Bristol office handles all our other destinations.
Regent's website is launched at www.regent-holidays.co.uk, updated regularly with new tours regularly added. We advise visitors to refresh the page each time they visit to make sure they view the latest version.
Anyone with a revolutionary new system called email can contact us electronically. Our email address is the catchy – 106041.1470@compuserve.com
1999 Regent starts tours to Belarus
Still a communist country, our clients are surprised to see first-rate restaurants, buzzing live music venues and fine shops in its capital Minsk, a city emerging at its own pace.
One of our most popular tours is called 'A Byte of Switzerland' and is 'A complete beginners course in personal computers and the internet'. For the price of £495, we include flights, 7 nights hotel accommodation on half board, 5 days of course tuition, and a coach excursion!
Our educational tours department arranges a camping and field study trip to Iceland which includes trekking, cycling, and the option of an add-on visit to Greenland. The trip is escorted by a Regent Tours Manager as well as the schools' leader.
2000s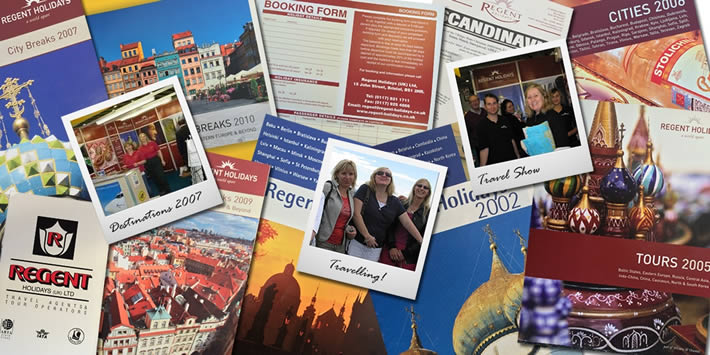 Regent starts tours to Moldova, Azerbaijan & South Korea.
Regent starts operating city breaks to Poland. Poland is a recent addition to our portfolio of European destinations and with the ease of access to its three major cities, Warsaw, Krakow and Gdansk, we feel that this country will be popular for city breaks.
Our group tour to North Korea features a sample itinerary that we hope to run that year, due to tensions in the area we are unable to confirm it.
Eventually, the tensions were resolved during the North-South Joint Declaration and we are able to operate our tours without interruption. Phew!
2001 Regent starts tours to Romania and Bulgaria
A nice feature on our website allowed our visitors to log on and send us an 'electronic postcard' from their trip, we gave prizes for our favourites!
2002 Regent starts tours to Iran.
Our 'Northwestern Iran' 9 days Tour starts at £1,159 and our 13 day 'Iranian Culture Tour' is £1,717. These tours proved very popular and we still arrange tours to Iran today.
2003 Regent starts tours to Myanmar (Burma)
As the Eurovision Song Contest is being held in Riga, Latvia, one of our most popular destinations, we feature Eurovision Song Contest tours on our website.
Regent is purchased by Western & Oriental Ltd who are based in London and also own W & O Travel, specialising in luxury holidays.
2004 As our 'Historical Baltics Tour' turns 10 years old, we offer all clients booking this trip a free gift! We also introduce our 11 day Siberian Sayan Ring Tour, which features Krasnoyarsk, travelling across the Sayan Mountian range, and witnessing a shaman ceremony and staying in a yurt.
2006 Regent starts tours to Bosnia & Herzegovina
Beginning with a 'Long Weekend in Bosnia' which includes return flights, accommodation in three-star hotels, some lunches and evening meals, transfers by private car, tour guide and all entrance fees for £635. We also offer a seven-day "Experience Bosnia" tour which is a more in-depth look at our newest destination.
We launch our dedicated Cuba brochure to great success. All of our Cuba holidays are handled by our Cuba specialists in our London office, nowadays our sister company Western & Oriental arrange tours for our clients.
2008
At the Wanderlust Travel Awards Ceremony on 31st January, Regent Holidays is voted as one of the top 10 tour operators in the UK by readers of the magazine.
Our Solar Eclipse tour to Novosibirsk, Russia takes place in August. Novosibirsk is predicted to be the best place in Russia to view the eclipse, and our clients are not disappointed. The eclipse lasts 2 minutes 27 seconds and visibility is excellent. The eclipse area covers 237 km, including the whole city. We join 10,000 other travellers who have travelled to Russia to witness it.
2009 Regent is the first UK tour operator into Kosovo following its independence from Serbia
As Kosovo becomes one of the newest countries in Europe, we launch our 4 day Kosovo Special Weekend Group Tour in May. Priced at £555 per person, the tour includes return flights, sightseeing tours of Prishtina, Peja and Gjakova, all meals, transfers and accommodation in 3 star hotels, plus the services of both local guides and a Regent Holidays Tours Manager. Unsurprisingly, this tour sells out fast so we permanently add Kosovo to our portfolio of countries.
2010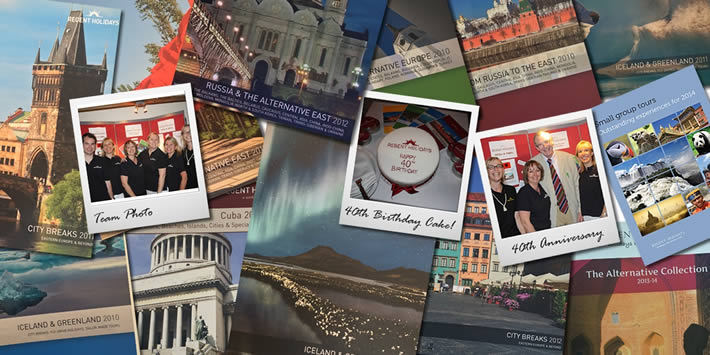 2010 Regent celebrates its 40th anniversary
We celebrate with a great party at a hotel in Bristol and invite our regular clients (some who have been travelling with us since the 1970's!), travel agents who have worked with us over the years, and the travel press. A wonderful cake is made and a great time is had by all!
Here's to the next 40 years!
2012 Regent wins Best Small Tour Operator to East and Central Asia at the British Travel Awards
We are thrilled to win 'Best Small Tour Operator to East & Central Asia', as voted by the public!
2014 Regent celebrates 40 years operating in Iceland
2017 Regent rebrands with a new, modern look...
.. followed, of course, by a new website and some fantastic new brochure cover designs.
2017 Regent wins Best Small Tour Operator to Central and Northern Europe at the British Travel Awards
We're delighted once again to have received such support from public votes to and to win the Best Small Tour Operator award for Central and Northern Europe.