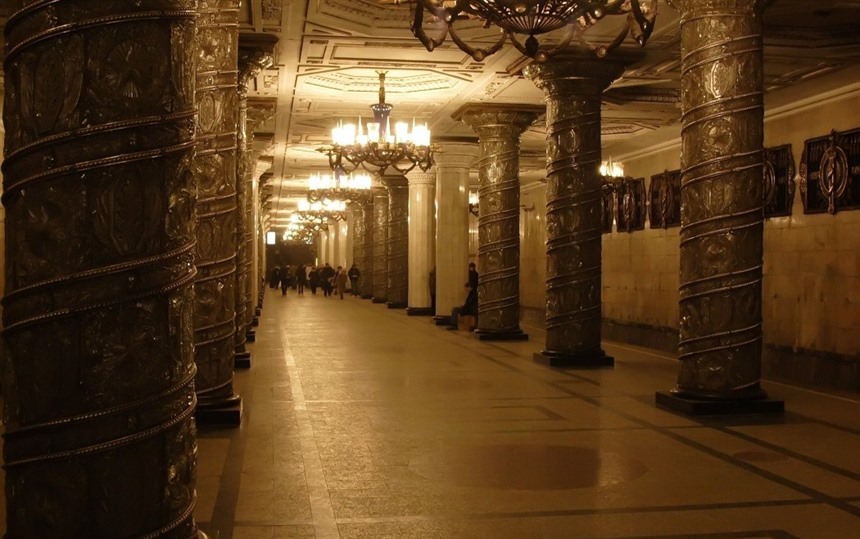 This is a guest post by Mandy Huggins, who visited St Petersburg with Regent Holidays. Mandy's favourite destinations in the world are Japan, India and Eastern Europe. She enjoys travelling, writing and watching flamenco!
I spin round, trying to take in the full splendour of this palatial space in one glorious eyeful. Marble columns soar towards the heavens, intricate mosaics spill across the floors, and elegant chandeliers dance with the light.
But this is not Peterhof or the Hermitage, this is Avtovo metro station, one of St Petersburg's 'palaces of the proletariat'. Widely considered to be one of the most beautiful and extravagant stations in the world, it is impossible to pass along these ballroom-esque platforms without a gasp of joy.
The whole of the St Petersburg metro system is full of similar beauty and surprises. Vast vaulted ceilings, exquisite sculptures and decoration, and detailed mosaics depicting the strength and might of Mother Russia.
At the outset of my journey, things aren't as promising. At Alexander Nevsky Square, I encounter a swaying drunk, his bottle hidden from view in a dirty paper bag. He mumbles incoherent insults to the vacant-eyed girl by the station entrance, who responds by wrapping her fur jacket tighter around her bony frame.
On the trains there is a sense of stoicism behind inscrutable faces, a slight frisson of unease, a knot of tension. Curious eyes stare, and do not turn away when met. Even when eyes are closed, there is the feeling that all the other senses are alert.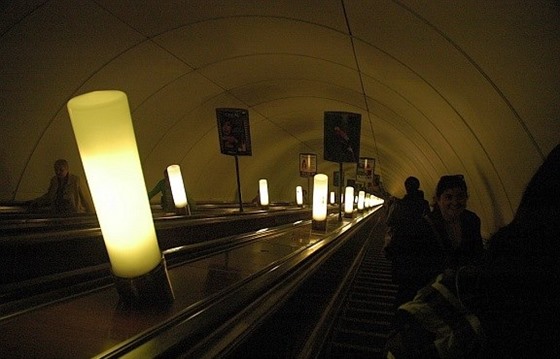 In contrast to the opulence of the stations, the trains are basic and functional, transporting the paraphernalia of everyday working lives without a murmur of surprise. Babushkas in tightly tied headscarves clutch their buckets of lilacs and delphiniums as they travel from the suburbs to a lucrative pitch in the centre of the city. A man carries a spade, still with traces of black earth stuck to the blade. A young girl opposite pulls a tiny kitten out of her pocket. I smile, but her expression does not change as she gently strokes the soft white fur.
Stepping out of the carriage at Avtovo is a huge shock to the senses, inducing instant elation. There can be few places in the world where such extravagant beauty is found in such a commonplace setting. Beauty for beauty's sake.
I look around at the other passengers as they walk by, and see the babushka with her flower bucket. I wonder if she is immune to this splendour, does it go unnoticed through over-familiarity? Does she resent it or does it uplift her? I don't speak enough Russian to ask, but I run after her to buy flowers.
Want to see your travel stories published on our blog? Contact us on blog@regent-holidays.co.uk
Find more inspiration on our social media #MyRegentMoment