Upon completing my recent Russian visa application form I had to count how many Russian visas I had applied for in the past and to my astonishment discovered I had visited this vast country 20 times. I am struggling to remember each and every trip but quite a few remain firmly in my memory.

My first visit was in 1987 when the Soviet Union was opening up under Gorbachev's policy of glasnost. I was a young school girl at the time, just starting to study Russian and had saved money from various summer jobs to pay for the trip myself as I was so desperate to go. My grandmother did not speak to my parents for a while for allowing me to visit the "commie enemy" but thankfully my socialist-minded father was more encouraging. I remember everything being gray on that first visit during a cold wet February half term. We stayed in the monolithic Hotel Rossiya in Moscow, which at the time was the largest hotel in the world. I can't remember the exact measurements of each gargantuan side but it took us 15 minutes to walk to breakfast and we seemed to have to walk outside to reach the huge banqueting hall, where a breakfast of 1 egg, a slice of mystery meat and for one day fried cabbage fritters were served. The doors kept giving us electric shocks but it had a great location overlooking Red Square. In St Petersburg drunken Finns used to bang on our bedroom doors late into the night once they discovered us 16 year old school girls much to the anger of the dyzhurnaya (those fierce key ladies who used to live on each floor during the Soviet time) and I can't recall who we were most scared of – her or the Finns! I remember the thrill of travelling down endless escalators to elaborate metro stations, huge sheets of ice floating on the Neva River in the sepia coloured light of late afternoon and the queues to get into hard currency shops known as beriozkas, where we could finally spend our US dollars on expensive tacky souvenirs, the bronze-coloured bust of Lenin I gave my Dad still graces his lounge. I feel very privileged to have visited the Soviet Union during this period, which was the beginning of my fascination with this intriguing, mystical and sometimes infuriating destination.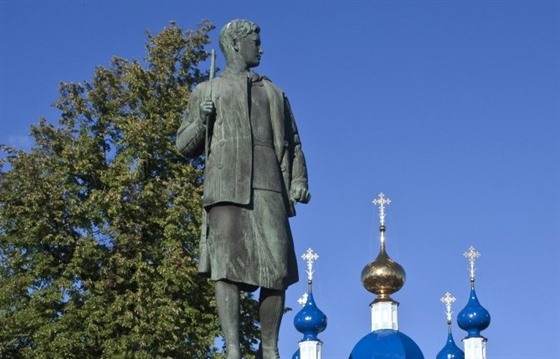 My next trip was for my university placement, where I chose to study in Tambov. My friends and I figured we were more likely to be together in Tambov, rather than being split up in the oversubscribed courses in Moscow and St Petersburg, plus we had never heard of the place! How right we were when just one month after the August Coup – the one where Yelstin stood on a tank in front of the Russian government building, the three of us were bidding a tearful farewell to loved ones at Heathrow. Whenever I meet anyone who lived during the Soviet times, they always find it amusing that I lived in Tambov. I think mostly because of a saying "Tambovsky volk – tebye tovarish". The Tambov wolf is your comrade! And I still don't know exactly what it means… Tambov was a town of roughly 250,000 people around 300km from Moscow and at the time we all stood out like a sore thumb in our western clothes.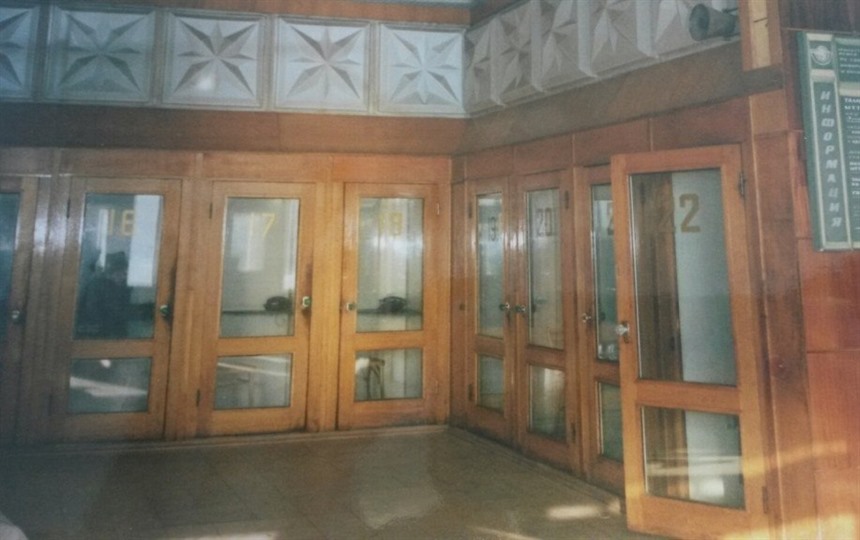 In those days it took over 3 hours to place a call home. You went to the Central Telephone Exchange and gave your number, the duration of the call and waited and waited for your call to be announced. You would then rush to the correct telephone booth trying to outrun the babushka, who had obviously thought that "Chyepstoi"(Chepstow) was a place in Russia! I will never forget my mother answering the phone with "Hello is that the Soviet Union?" "Uh, no Mum it's me!". Apparently calls were put through to Moscow and then abroad with the operator asking "You have a call from the Soviet Union, do you wish to accept?" We lived in student hostel number 3, which offered the highest standard of accommodation in the town but still the lift never worked during our 6 months there, the kitchen was over run with huge rats and cockroaches scurried everywhere. There were shortages of nearly everything except basic food stuffs but you could fly to Moscow for the price of a packet of polos at that time (10p with our student discount). We squashed on to over-packed trolley buses to take classes at the pedagogical institute and drank bottles of cheap Russian Champansky. It really was one of the most fascinating times of my life.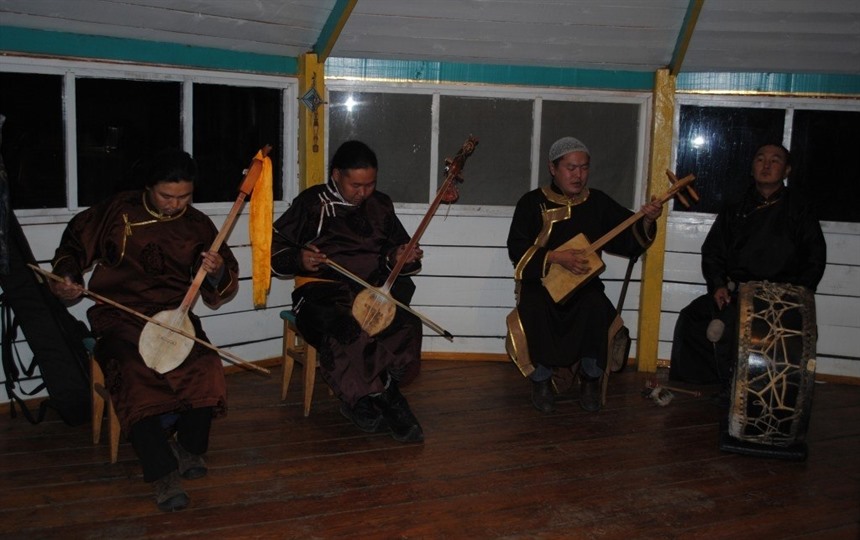 One of the more unusual journeys I made was on a familiarisation trip to the Sayan Mountains located near the border of Mongolia and next to the Altai Region. There were 10 of us in the group from Russia, Germany, Holland, Finland and of course myself from the UK. Our starting point was Krasnoyarsk, a stop on the Trans-Siberian Railway and the starting point for Yenisey River cruises. The flight was memorable on board Krasair – yes that really exists. We boarded the huge Antonov up the wide set of internal stairs in the middle of the aircraft whilst a catchy operatic-style anthem of the airline played Krasair, Krasair, Krasair! I wondered if we would ever lift off as the plane lumbered and creaked its way down the runway. This trip really reminded me of how much the Russians love their countryside as we picnicked by streams, they collected bags of mushrooms, which the next hotel would cook for us – delicious woody tastes. As we stopped for a bathroom break, they picked juicy autumnal berries. We met and listened to throat singers, which sounded magical camping in a yurt on the wild steppes of the Tuvan Republic, not quite the same when played on a cd back home! We stayed in log cabins in the Sayan Mountains and learnt about medicinal mountain and forest plants that the locals use. I experienced my first Russian banya whipped by birch twigs, rolled naked in the forest moss and finally dunked in a freezing Siberian stream. We were glowing pictures of health around the camp fire that night sipping tea made from the herbs we had collected that afternoon. We drove over the huge hydro-electric dam, the construction of which started in 1956 and completed in 1972. The dam is proudly displayed on the 10 rouble and was one of the largest built during the Soviet time. By the dam we met an old man, who was a young pioneer and had volunteered to build the dam. I don't know why he was there on that day but he proudly showed us his photo album full of black and white images of strapping young men and beautiful girls working and living together truly believing they were contributing to a better tomorrow. They were hard times he wistfully said, but they were the happiest of his life and look what we achieved pointing to the giant wall of concrete and turbines. We stopped in Abakan to learn about Khakassian culture, their music and dancing in their bright colourful costumes.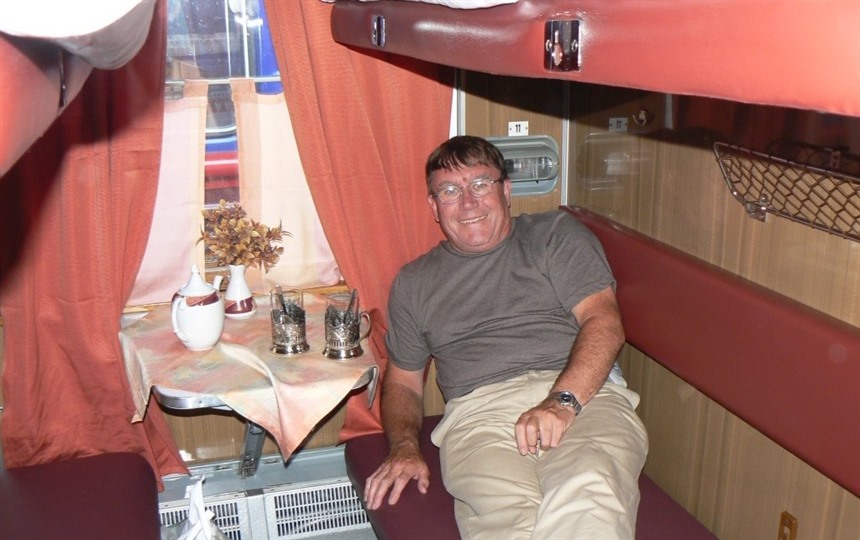 One of my favourite trips was on the Trans-Siberian Railway with my father – a 60th birthday present for him and a trip of a lifetime for us both. We set off from Moscow stopping in Yekaterinburg, Irkutsk, Lake Baikal, Ulan Ude and Ulaanbaataar en route to Beijing. We enjoyed wonderfully hot Siberian weather and I was constantly amazed by my father's ability to purchase ice cold beers at even the shortest of stops. We bought fresh summer berries, hot potatoes seasoned with fresh dill and freshly cooked omul (delicious fish indigenous to Lake Baikal) from gold-toothed babushkas on station platforms. We met Sergei, an Army officer and his sweet four year old daughter Angelina returning from visiting relatives in Belarus. He shared home made spirit called samogon and salo (that oh so delicious raw pig fat) with us. We shared our vodka and kolbasa (Russian salami) with SFB officers (the new name for the KGB), who were transferring to Ussuriysk.We paid the kitchen staff to use their shower after spending 2 nights on the train – best 200 roubles I ever spent. One of my favourite stops was at Ulan Ude, home to the world's largest Lenin head, as well as being the spiritual home of Siberia's Buddhists. We visited a traditional Buryat family and learned how to construct a yurt (a very useful skill), as well as dumplings called buuza. One of my favourite excursions was to the Old Believers village, where we ate a delicious home-cooked meal, listened to the village choir and played some old Russian games. The Old Believers were a group of Russian religious dissenters who refused to accept the liturgical reforms imposed upon the Russian Orthodox Church by the patriarch of Moscow Nikon during the 17th century so they kept old traditions and ways of dress etc. We did enjoy all of our stops en route. Although my father wanted to carry on to Vladivostok so we will just have to return.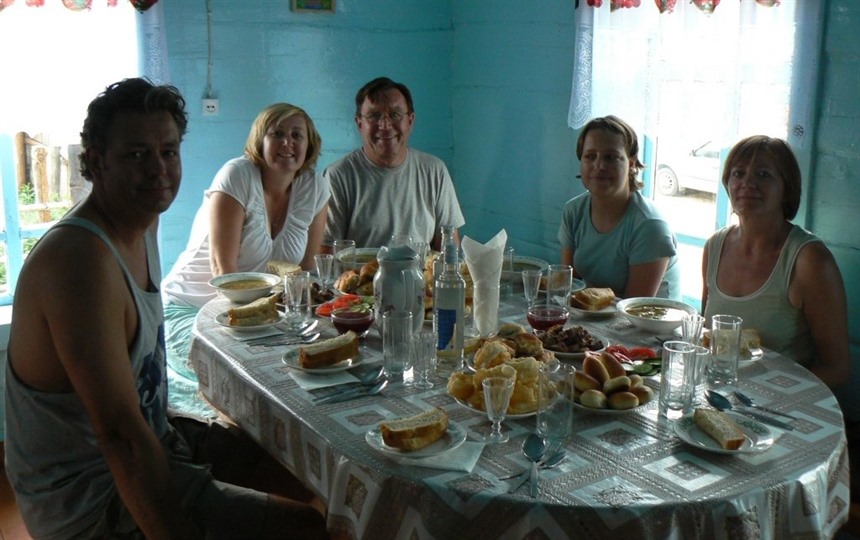 I hope my 20th trip will be just as enjoyable and interesting as these past journeys.
View all our holidays to Russia.
Find more inspiration on our social media #MyRegentMoment