This epic fly-drive is ideal for those looking to be completely immersed in Norway's magical landscapes, while at the same time exploring some of the country's most impressive cities. Start in Bergen, the 'city between seven mountains', visit the beautiful Art Nouveau town of Ålesund and finish in Trondheim, Norway's main foodie hub and formal capital.
Along the way, drive the famous Atlantic Road, one of the most dramatic routes in all of Norway. Take in all 22 exhilarating miles of this spectacular architectural feat, hugging the coastline and jumping out over the ocean's edge between small islands on a series of eight bridges.
Throughout your journey, enjoy the freedom that the car offers you to explore the rich coastal culture of Norway, passing through idyllic fishing villages, near impressive lighthouses and along narrow coastal paths, while bringing you close to two UNESCO listed fjords - the Sognefjord and the Geirangerfjord - all on this fantastic fly-drive holiday.
This holiday can be 100% tailor-made. Speak with your Norway specialist if you would like to make any changes at all to the package.
Tour Itinerary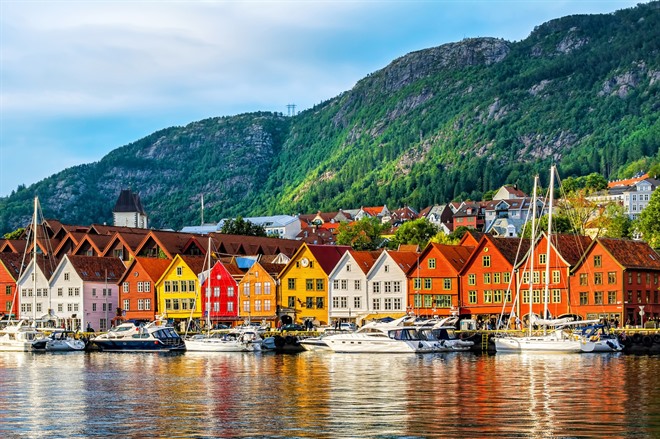 Fly from the UK to Bergen and transfer to the city centre where you'll spend the first two-nights of your Norwegian adventure. The remainder of the day is at leisure.
Overnight at Thon Hotel Bristol Bergen or similar
Accommodation
Thon Hotel Bristol Bergen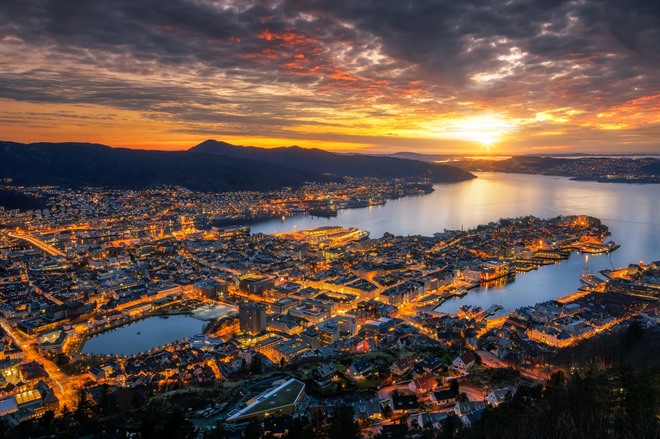 Enjoy a free day in this vibrant city. A stroll through picturesque Bryggan with its iconic, tilted houses and concealed maze of wooden walkways is a must do for any visitor. When lunch time rolls around, the nearby Torget Fish Market is an excellent place to sample fresh seafood. We also recommend a ride up to the top of Mt. Fløyen on the Fløibanen funicular for sweeping views of this fjord-side city. (B)
Overnight at Thon Hotel Bristol Bergen or similar
Accommodation
Thon Hotel Bristol Bergen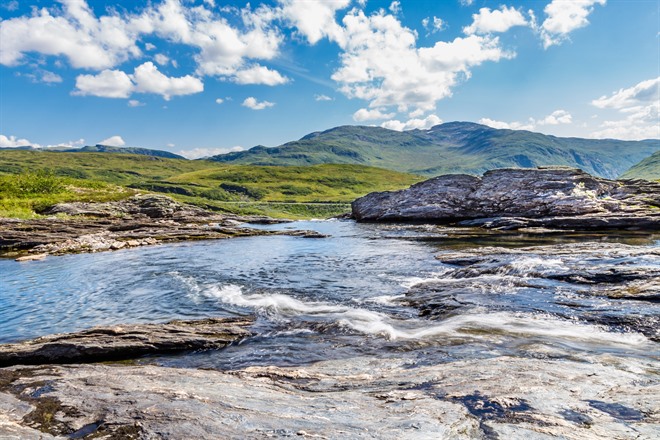 Pick up your hire car and start your Norwegian road trip, heading towards Førde. The drive will take you through varied coastal landscapes, past forests, through valleys and over mountains. Perhaps, stop in for a visit at the Sunnfjord Museum, just outside of Førde. If you have time, the Scenic Route Gaularfjellet is a drive which offers up fantastic waterfalls. (B)
Overnight at Thon Hotel Forde or similar
Speak to your Norway specialist if you are interested in extending your stay in the area to have more time to enjoy the spectacular Sognefjord (the largest fjord in Norway) or to do a tour of the Jostedal Glacier. You can either spend more time in Førde or opt to spend a night or two in Balestrand, at the end of the Gaularfjellet Scenic Route.
Accommodation
Thon Hotel Forde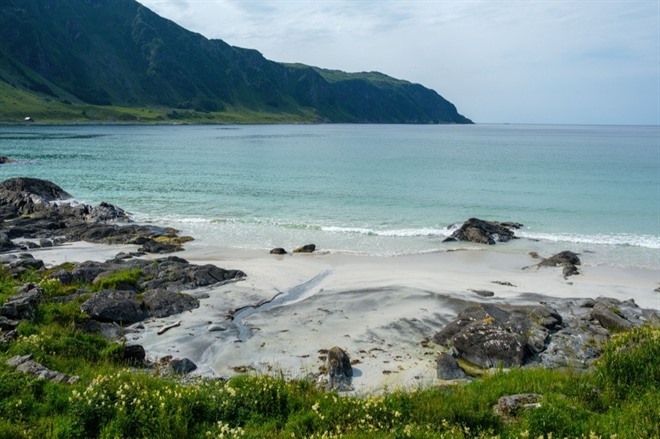 Drive from Førde to the coastal town of Måløy today, perhaps making a stop in the idyllic town of Florø, Norway's westernmost town. Måløy is quite small, but natural attractions just outside the town centre are worth the visit. The 1.5 km long stretch of fine white sand at Refviksanden is one of the most beautiful beaches in the country, and the characteristic Kannesteinen rock is an impressive sight to behold. (B)
Overnight at Thon Hotel Maloy or similar
Accommodation
Thon Hotel Maloy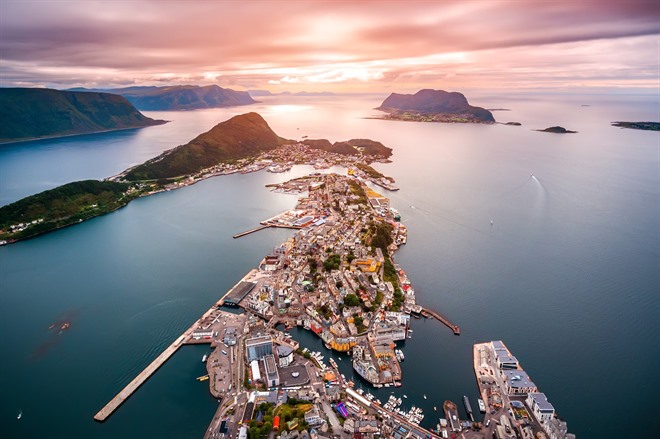 Today, on your way to Ålesund, we recommend a visit to the monastery island of Selje, a truly unique place. In Ålesund, we recommend a walk up Mount Aksla for sweeping views of the area. Ålesund has some of the world's most unique Art Nuoveau buildings so we highly recommend taking the time to explore the city on your own or taking part in a guided walk. (B)
Overnight at Thon Hotel Alesund or similar
Accommodation
Thon Hotel Alesund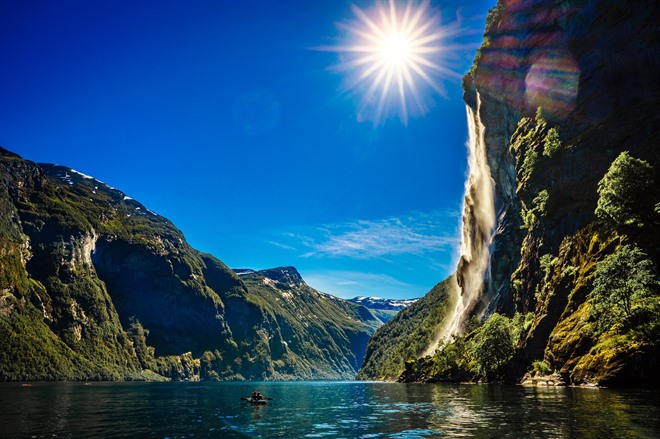 Take a break from driving and really immerse yourself in Norway's prettiest town, where there are heaps of exciting activities to take part in, like deep sea fishing, kayaking trips or high-speed RIB safaris. The hiking in the area is also excellent - the view from the top of Sukkertoppen (The Sugar Top) is truly worth the hike up! Or, head over to the spectacular, UNESCO world heritage Geirangerfjord for the day. (B)
Overnight at Thon Hotel Alesund or similar
Accommodation
Thon Hotel Alesund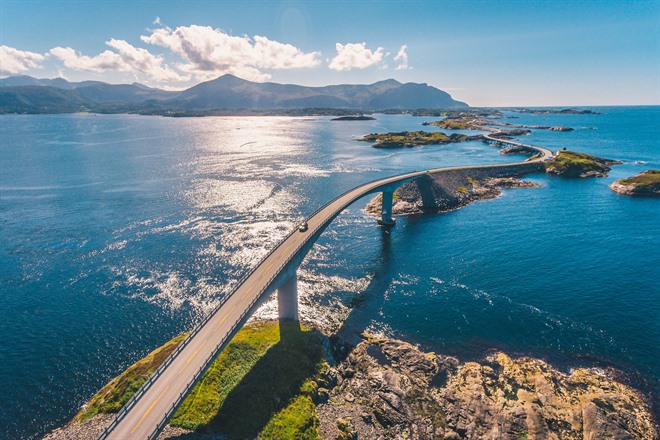 Today, it's time for a true highlight - drive one of the most dramatic stretches of road in all of Norway - The Atlantic Road National Scenic Route which goes from Bud to Kristiansund. This road winds its way alongside the ocean's edge, and jumps between islands and islets by a series of eight bridges. Along the drive there are several attractions worth keeping an eye out for, including the elevated hiking path at Eldhusøya. (B)
Overnight at Thon Hotel Kristiansund or similar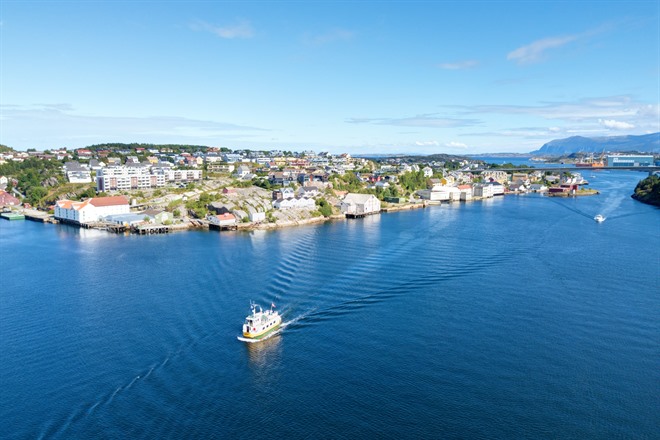 Whilst in Kristiansund a trip on the local Sundåten boat is a must. Kristiansund's town centre is spread over four islands and the boat service has gotten passengers around the city for over 200 years. Perhaps take a visit to Grip Island to see one of the smallest stave churches in the world. When you're ready to leave Kristiansund, it's time for the final leg of your road trip. Upon arrival into Trondheim, where you'll spend your final two nights, you will return the hire car. (B)
Overnight at Thon Nidaros Hotel Trondheim or similar
Accommodation
Thon Hotel Nidaros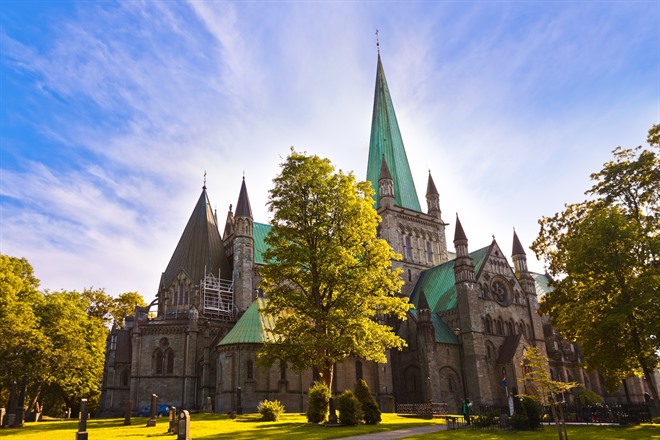 Your morning and afternoon are free at leisure for you to explore Norway's 3rd largest city and formal capital. Perhaps pop into one of the many museums or galleries, or visit the impressive Nidaros Cathedral which is the largest medieval building in Scandinavia. Other sites of note are the Archbishop's Palace which houses the crown jewels and Stiftsgarden, the oldest wooden palace in Scandinavia. (B)
Overnight at Thon Hotel Nidaros Trondheim or similar
Accommodation
Thon Hotel Nidaros
After breakfast, transfer to the Airport for your flight back to the UK. (B)
Image Gallery
Click on images to enlarge