Explore the world's most appealing island destination on this in-depth tour to the Faroe Islands.
Experience breathtaking scenery, beautiful lakes, historic architectural treasures and an abundance of birdlife on a journey around this unique and fascinating destination. Explore the island of Streymoy and its idyllic hamlets whilst based in the quirky capital Tórshavn, a pretty harbour town with a labyrinth of cobbled streets and grass-roofed cottages.
Sail to the peaceful southernmost island of Suðuroy to admire the dramatic bird cliffs and spectacular vistas and travel to Eysturoy, home to the tallest mountain in the Faroes before exploring the northern islands of Borðoy and Kunoy.
If you would like to register interest in this tour for 2024, please click here to send us an email.
Tour Itinerary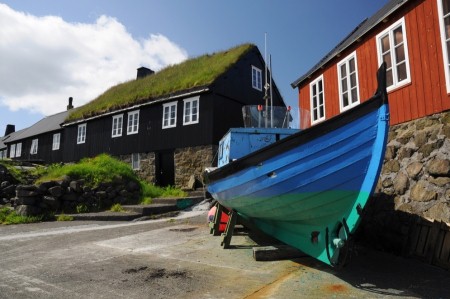 Arrive at Vagar airport and meet your guide for the week before taking the scenic drive to Torshavn and check-in to your hotel for 2 nights and enjoy dinner. (D)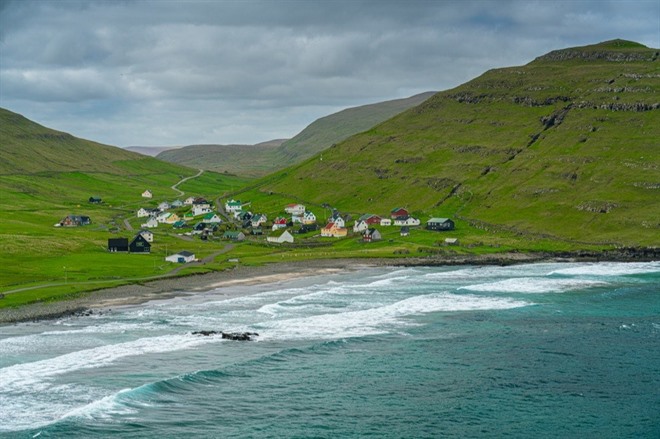 This morning you will drive through the new subsea tunnel, which opened in December 2023 to Sandoy and experience the traditional Faroese lifestyle on this unspoilt island. Enjoy lunch and visit the art gallery in Sandur which is home to the largest art collection in the Faroe Islands. Travel back to the capital and dine at leisure. Overnight in Torshavn. (B,L,D)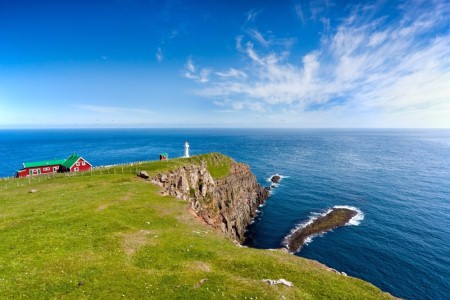 After breakfast transfer to the harbour and board the modern Smyril Line ferry to Suduroy (sailing time 2 hours). Visit Akraberg, the southernmost point in the Faroes and stroll to the lighthouse which was built in 1909. At the church in Famjin, discover the original flag - Merkid - which was created by three Faroese students in Copenhagen in 1919 before stopping for a hot drink and some freshly baked waffles in a local café. Dine in Seglloftid, a cultural centre and restaurant in Tvoroyri. Try a Faroese beer in the old pub in the neighbouring house before returning to the ferry. Overnight at the Hotel Tvoroyri. (B,L,D)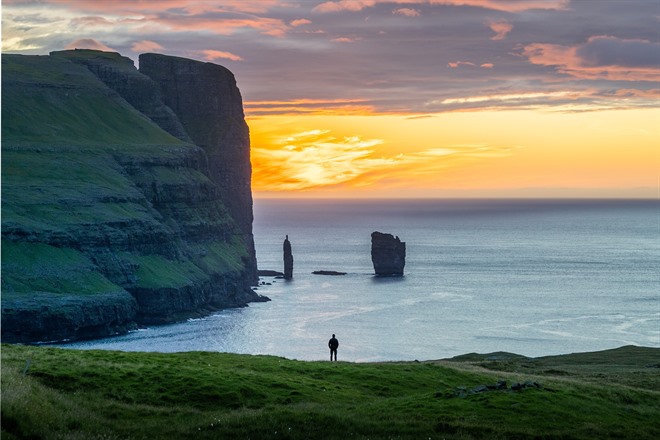 Enjoy breakfast on board before setting sail for Torshavn. On arrival travel by bus to Vestmanna for a boat trip to the Vestmanna Cliffs to search for puffins, guilliemots, kittiewakes and razorbills. After lunch begin the scenic drive along the coast of Streymoy to the island of Eysturoy. Pass the famous rock formations - the Giant and the Witch - which stand out in the sea, and admire the highest mountain in the country Slættarartindur. Stop at Funningur, where the Vikings first settled before reaching the pretty village of Gjogv where there are a number of walking trails. Check-in to the guesthouse Gjaargardur for 2 nights. (B,L,D)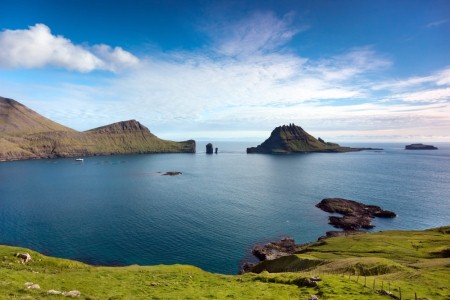 From Leirvik drive through the subsea tunnel to Klaksvik, on the island of Bordoy. The tunnel has been decorated by the Faroese artist Trondur Patursson from Kirkjubour. Once in Klaksvik, the main fishing port in the country, visit the Christian church before continuing onto Kunoy, an island in the north-east and enjoy a stroll through the small forest. Travel back to Gjógv stopping en route at the new church in Gota - also decorated by the artist Trondur Patursson. Dinner and Overnight in Gjogv. (B,L,D)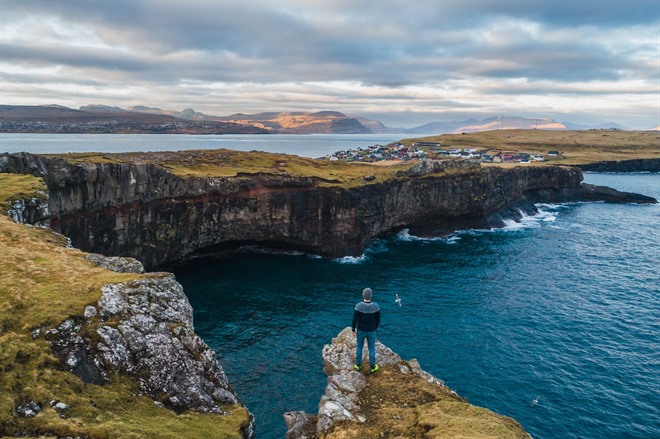 Visit the pretty village of Saksun on the island of Streymoy. Surrounded by high mountains, Saksun lies in the bottom of what used to be an inlet of the sea and is one of the most distinctive villages in the Faroe Islands. Visit the old farmhouse Duvugardar before heading back to Torshavn via the mountain road (packed lunch en route). Once in Torshavn take the early afternoon ferry to Nolsoy, just 20 minutes away where you will have lunch. Whilst Nolsoy is only a short ferry ride from Torshavn it is much quieter and can feel like stepping back in time. Have a tour around the village visiting the museum and see the boat in which local celebrity Mr Ove rowed from Nolsoy to Copenhagen 30 years ago. Return to Torshavn and have the evening free - there are several restaurants and cafes available for dinner and for more popular ones be sure to make a reservation - your guide will be able to give you some recommendations. (B,L)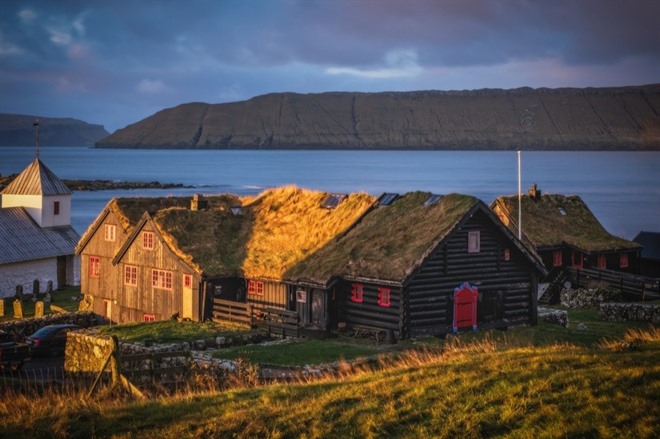 Enjoy a guided walking tour around the lanes and narrow passages of the unique capital from the Middle Ages before visiting the Art Museum, the Faroese Museum of History and the Nordic House. Have lunch at leisure and then in the afternoon drive to Kirkjubour which is one of the most important cultural centres on the Islands, home to the ruined St. Magnus Cathedral and St Olaf's church. Have dinner in the house of the Patturson family, who have farmed the land here for 17 generations. (B,D)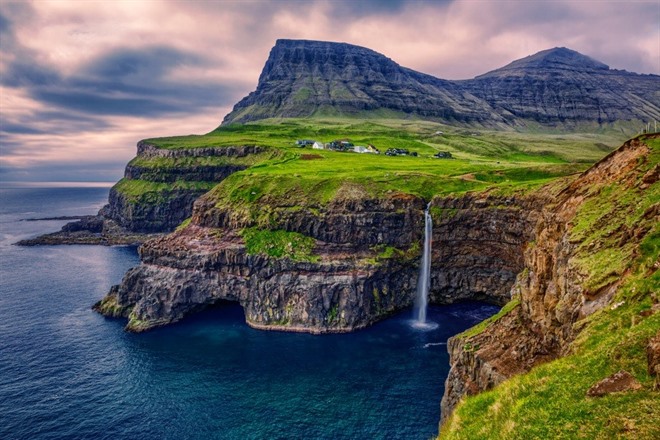 After breakfast visit the village of Gasadalur. This was until recently one of the most isolated villages on the islands and until a new tunnel was opened in 2003. Access involved a tricky two and a half hour walk over a 434m peak. Visit the iconic waterfall before heading to transfer back to the airport in time for your flight back to the UK. (B)
Pricing Information
8
day tour, from
£3350
per person
(Single person supplement + £695)
Price Includes
Return flights in economy class with Atlantic Airways direct from Edinburgh
Return airport transfers
Accommodation in three/four-star hotels and country guesthouses with breakfast
Meals as specified
All transfers and transportation
Sightseeing and excursions with English-speaking guide/driver
Price Excludes
Travel Insurance
Any meals not specified in the itinerary
Optional excursions
Itinerary Dates
From Price
Single Room Supp.

01 Jul 2024

-

08 Jul 2024

£3350
£695
Image Gallery
Click on images to enlarge