Whilst it would take countless weeks to take in all that Georgia has to offer, we have painstakingly curated this new group tour to try and squeeze as much variety as we possibly can into a more manageable 12 days—a perfect introduction for first time visitors to this captivating country. Starting and finishing in Tbilisi, we will enjoy overnight stays in Kazbegi, Kutaisi, Bakuriani and Vardzia as we explore a varied range of sites— from mountain highs to cave depths, with much, much else in-between. While the following itinerary is, hopefully, self-explanatory, please do feel free to contact us for further details on any aspect of this tour—we pride ourselves in our specialist knowledge and would be happy to discuss this tour with you to ensure that it is the right trip for you.
This tour is a complete package starting and finishing in the UK, and will run for a minimum of 8 and maximum of 14 persons. Regent Holidays has been operating tours to Georgia since the days of the USSR and carefully tweaks and tailors our trips with each passing year in an attempt to offer our clients the best possible experience.
This tour is being managed in the Regent office by Carl Meadows, who joined Regent back in 2004. Carl first visited the Caucasus in 2000, spending 3 months working as an English teacher in Tbilisi. Since then he has made numerous return trips to the Caucasus and has travelled extensively throughout the region.
Tour Itinerary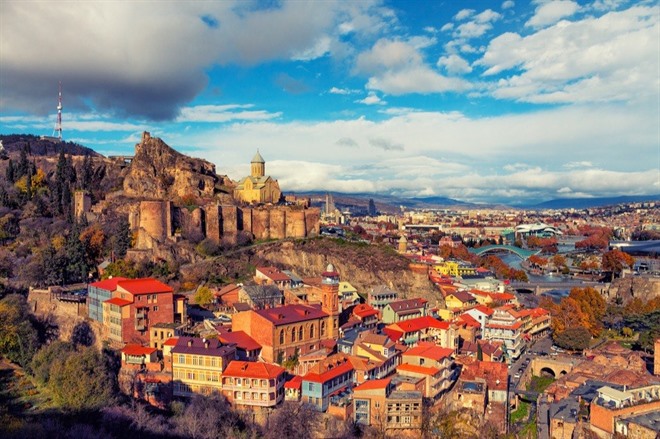 Today depart London Gatwick at 22:55 on your Georgian Airways flight to Tbilisi.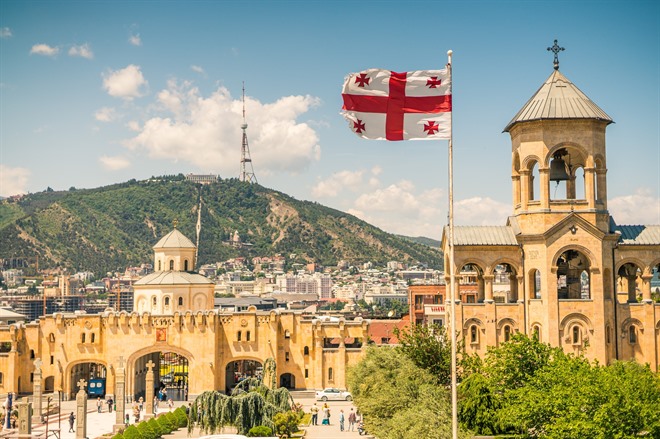 This morning you are scheduled to arrive in Tbilisi at 06:35. Upon arrival you will be met and transferred to central Tbilisi's Vera District, where your room at the Rooms Hotel will be ready for you, with early check in included. After your overnight flight enjoy the rest of the morning at leisure, with breakfast available should you wish. At 12:30 meet your guide in the reception of the hotel to commence an introductory tour of Tbilisi. Departing your hotel on foot visit a currency exchange office (for the chance to purchase Georgian Lari) before enjoying a traditional Georgian lunch at the Keto & Kote Restaurant. After your meal head underground and ride the rails with your guide two stops to Avlabari Station. Back above ground, walk through Rike Park to the Aerial Tramway and ascend by cable car to the Narikala Fortress for a good view over Tbilisi's Old Town. Descending on foot from Narikala walk down into Tbilisi's Old Town, passing the Sulfur Bathhouse and slowly heading northwest as you meander past a number of key Old Town sites to Liberty Square.
Pressing on we will come to Rustaveli Avenue, Tbilisi's central avenue and main thoroughfare, home to numerous governmental, public and cultural buildings. We will walk along this picturesque avenue, passing the exteriors of numerous striking buildings such as the Georgian National Museum, Parliament of Georgia, Kashueti Church and the Shota Rustaveli Theatre & Film University. Our last stop of the day will be to visit the Georgian National Opera and Ballet Theatre of Tbilisi. While typically only open for performances, we have arranged this afternoon for a private tour of this 19th century building, which first opened its doors back in 1851 (but has undergone many changes and restorations over the years). Our guided tour will take in a number of the small halls and the main stage of the theatre as we learn of the site's chequered history, and culminate with our being able to spend a few minutes watching the ballet dancers rehearse. After this pleasant introductory tour arrive back at the Rooms Hotel and here end your excursion. This guided excursion will be without private transport, but your metro tickets and one-way tramway ticket will be included in the tour cost, as of course will lunch. In the event of poor weather or tired feet your guide can arrange, on the spot and at your expense, to reduce the walking where possible, with a short taxi or bus journey. (B/L)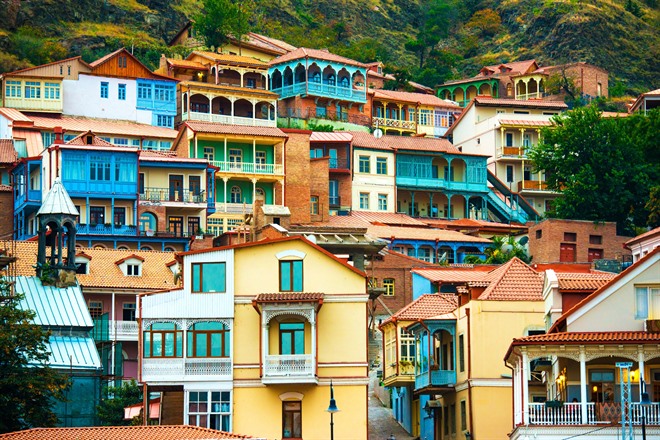 Today enjoy the full day free to explore Tbilisi at leisure. Perhaps head up into Mtatsminda Park, tour the Vake area of the city or visit the central market - there is plenty to keep you busy! Speak with your local guide on day 2 for ideas and suggestions. (B)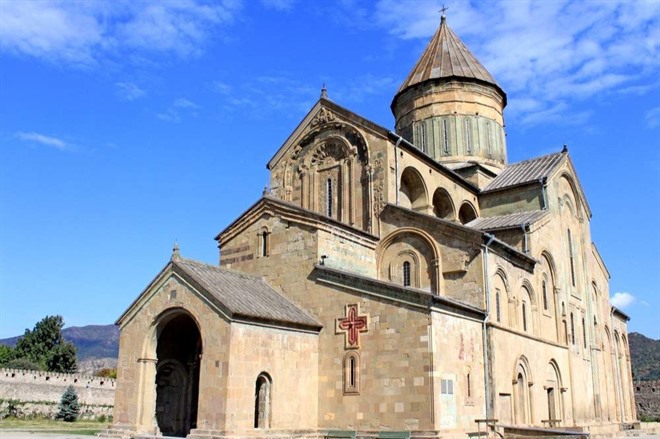 This morning check out of our Tbilisi hotel and transfer to Mtskheta, the religious capital of Georgia and ancient capital of Kartli. Here visit three UNESCO World Heritage sites, namely the Cathedral of Svetitskhoveli, Samtarvo Monastery and Jvari Church. From Mtskheta we head north and ascend the Georgian Military Highway, entering the Caucasus Mountains as we slowly drive towards the Russian border. En-route visit Ananauri and its amazing complex of churches and towers dating from the 16th-17th centuries. Here enjoy lunch at a local restaurant before pressing further north to Kazbegi and the Rooms Hotel. After checking in for a 2 night stay enjoy the rest of the afternoon and evening at your leisure. (B/L)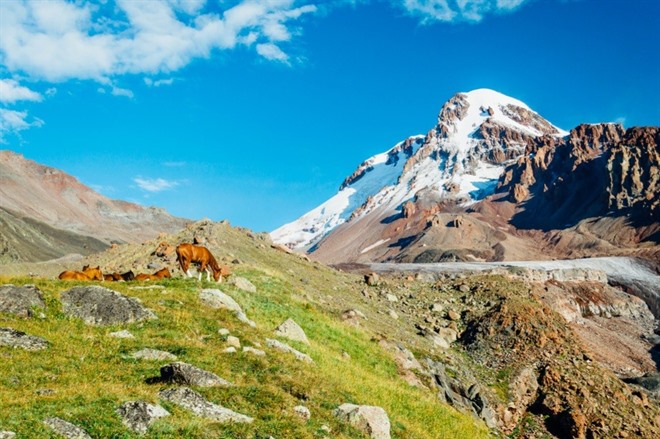 Spend the day exploring in and around the local area. This morning enjoy a tour of the small town of Kazbegi before visiting the Gergeti Holy Trinity Church, located at an elevation of 2170m. This Church can now be accessed by private vehicle, so there is no need to hike here (unless anyone wishes to do so)! Lunch today will be with a local family. This afternoon drive towards the Russian border for dramatic views of the Dariali gorge, and here enjoy a light hike to Gveleti waterfall. This is of course a private group excursion and thus there is a degree of flexibility in today's itinerary depending on the weather and the group's inclination. (B/L)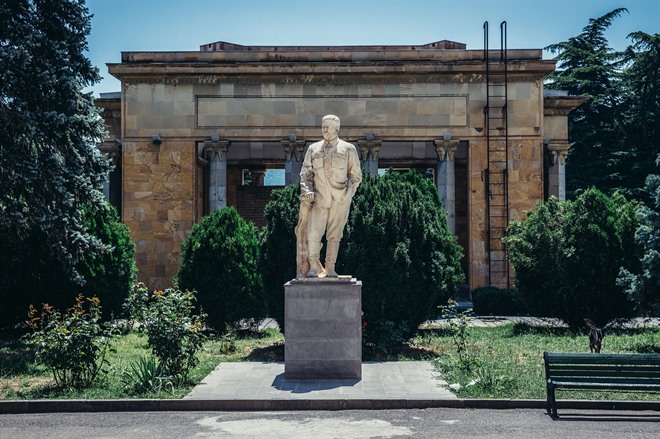 Checking out of our hotel descend from the high Caucasus and head to Chateau Mukhrani near Mtskheta. Here enjoy lunch followed by wine-tasting in this award winning estate. From Mukhrani head west to Gori, the birthplace of Stalin. Here visit the Stalin Museum, which includes in its ground the small house in which he was born and his personal railway carriage. Moving from 20th century history to pre-Christian history visit the cave-city of Uplistsikhe. Established as a major Silk-Road trading centre by the 5th century this site was settled for almost 2000 years before the Mongolians arrived in the 14th century. From Uplistsikhe drive west to Kutaisi, Georgia's 3rd most populous city and capital of the western region of Imereti. On arrival check into the Best Western Kutaisi Hotel for a 2 night stay. (B/L)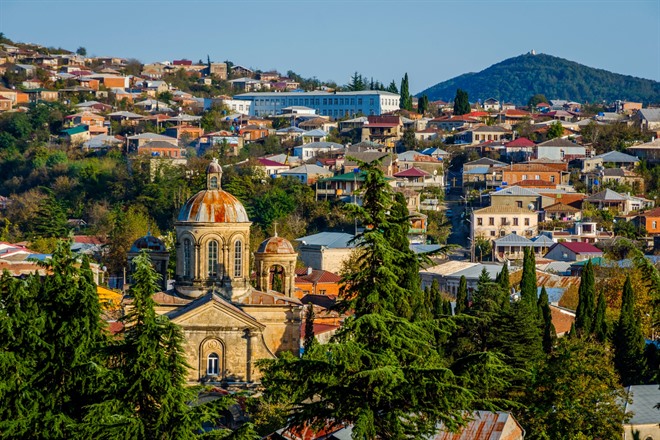 This morning enjoy a brief introductory walking tour of central Kutaisi from your well located hotel, taking you past some of the key sites in the small city centre. From the hotel walk over Tetri Bridge and head via the Tourism Information Centre to the Green Bazaar where we can enjoy some time in this small yet interesting market. Pressing on pass the Meskhisvili Theatre and nearby fountain before passing through Kutaisi Park and the Soviet-era monuments in the park's southwest corner. From the Opera Theatre enjoy a coffee/refreshment break (at your own expense) before picking up our transport and heading to Gelati Monastery, located in the hills to the northeast of the city. From Gelati head towards Kumistavi (Prometheus) Cave, the largest cave in Georgia. En-route stop in Tskhaltubo and enjoy lunch at a local restaurant. Kumistavi Cave is the largest cave in Georgia and here walk a 1600 metre route, being just 10% of the cave system. Back above ground return to Kutaisi and enjoy the rest of the afternoon and evening at your leisure. (B/L)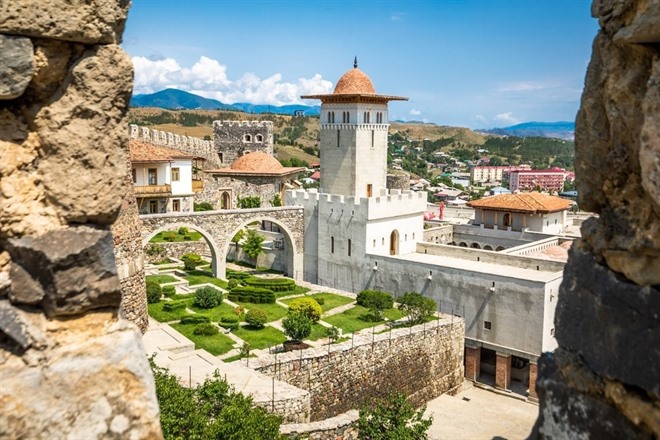 Checking out of our hotel we spend the day slowly travelling to Bakuriani, a small town in the Trialeti Range of the Lesser Caucasus Mountains. While in Winter this town functions chiefly as a ski resort, in the warmer months it is an ideal location to base oneself in for a night or two while exploring this pocket of Georgia. From Kutaisi we will travel partway along the road already travelled on day 6 of our tour, but upon reaching Zestafoni we will branch northeast and drive to Chiatura, a mining town that boomed during the Soviet era. This town is well off the conventional tourist trail, but a fascinating contrast to the sights you will have seen already. Situated in a steep river valley, an extensive network of ageing cable cars transport workers around the valley – if working and if inclined, enjoy some time to ride a couple of these cars (at your own expense) before continuing along a lesser used road, driving via Korbouli and Ali (and passing within 2km of the 'border' with South Ossetia) before re-joining the main Kutaisi-Tbilisi highway. From here we will head southwest and arrive in Borjomi, a famed resort town on the edge of the Borjomi-Kharagauli National Park.
After lunch in Borjomi we will depart the town at around 1400, departing on the Kukushka ("little cuckoo") Train to Bakuriani. This 37.2km narrow-gauge railway line opened back in 1902, and spends 2 ½ to 3 hours slowly trundling up through the mountains, gaining almost 900 metres in altitude as it works its way to Bakuriani, travelling through some spectacular scenery and over the striking 'Eiffel' bridge, designed by Gustave Eiffel.
Our departure on this basic train will be a chartered service, and thus allow for a little interaction with the train drivers and the possibility of one or two brief photography stops. While we recommend bringing a bottle of wine or beer or two for the journey and savouring this 'slow travel', those who wish can always disembark partway through the journey in Tsaghveri, where our driver will pick you up and ferry you onwards (without your guide) to the terminus in Bakuriani, where you can wait for the group. Please also note that there are no toilets on the train. On arrival in Bakuriani we will transfer to the Rooms Hotel Kokhta and here check in for an overnight night stay. (B/L)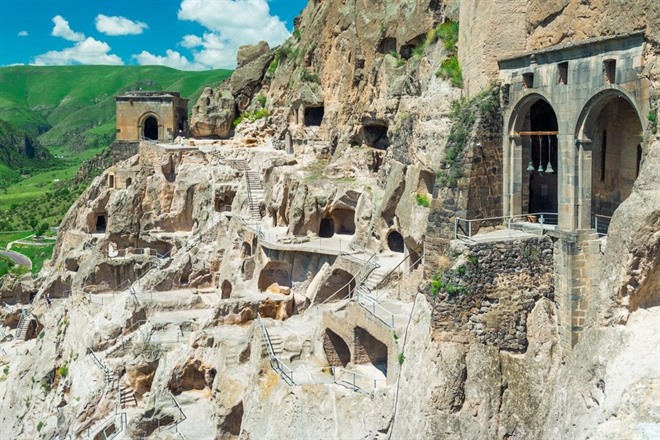 Upon checking out of our hotel we will depart Bakuriani and return to Borjomi by bus (a far quicker, yet less exciting means of transport compared to yesterday)! Here we will visit the Children's Park and take a return cable trip in the famed Borjomi Cable Car, proffering us good views of this picturesque town and the gorge in which it sits. (Those who prefer not to travel in this cable car, one of Georgia's best known tourist attractions, may explore/relax in & around the Children's Park at their own leisure).
Departing Borjomi we will head southwest to the small city of Akhaltsikhe, arriving here in the late morning. In Akhaltsikhe we will visit the famous Rabati Castle, a medieval fortress dating back to the 9th century and one of the main cultural attractions of the Samtskhe-Javakheti region. From Rabati we will drive, via the small town of Aspindza, to the village of Chobareti. Here we will enjoy a leisurely late lunch in the home of a Meskhetian family (the Meskhetians being a subgroup of Georgians native to this pocket of the country, who have their own distinct dialect). The meal will include both local and home made wines, together with traditional local cheeses and dishes – those who wish can see how our local host prepares some of these delicious foods.
Please note that the 16km road between Aspindza and Chobareti is not always passable for buses – we may need to switch to smaller local vehicles for this drive – all part of the local experience. On departing Chobareti we will return to Aspindza and make a quick photography stop at the statue of Shota Rustaveli (the famed medieval Georgian poet), before visiting the nearby Amphora Brewery, where we can enjoy a spot of beer tasting before setting off for our final drive of the day, to our hotel in Vardzia. En-route we will make a quick photo stop (exterior only) at the Khertvisi Fortress. Upon arriving in Vardzia check into the Vardzia Resort for an overnight stay, including dinner. (B/L/D)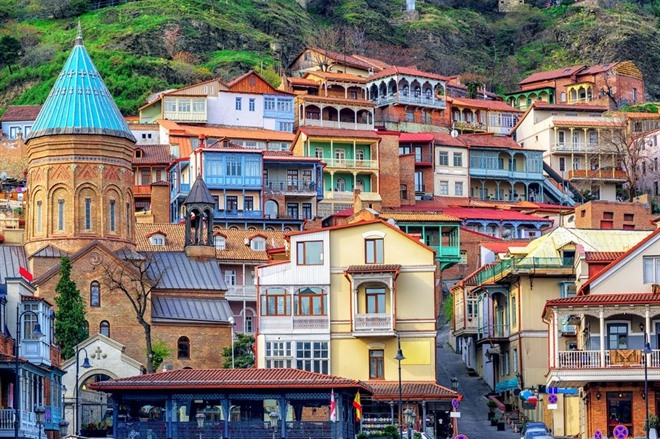 This morning we will have time for a leisurely breakfast and check out, as Vardzia, our first sight of the day, does not open until 10AM. We will spend approximately 90 minutes exploring Vardzia, a cave monastery hewn into the slopes and cliffs of Erusheti Mountain. While the site has been inhabited since the Bronze Age, its main period of construction (and the bulk of what we will see this morning), dates to the second half of the 12th century. From Vardzia we will spend the majority of the afternoon driving to Tbilisi, a journey of approximately 225km along the southern road to the capital (and thus new ground for our group), taking us via Ninotsminda, Paravani Lake and the Tsalka Reservoir. While there is little to see on the road, other than soaking up the scenery, we will enjoy a lunch stop at the Poka Nunnery, which is also home to a small outlet selling the nunnery's own products, such as cheeses and jams. On arrival in Tbilisi in the late afternoon return to the Rooms Hotel and here check in for a two night stay. (B/L)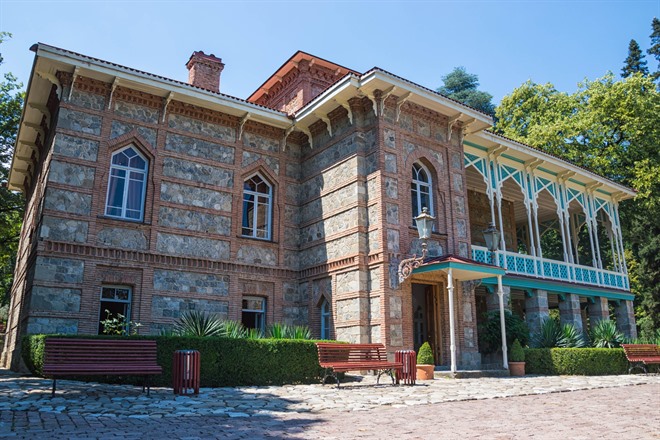 This morning we will depart the comfort of our hotel at around 09:00 for a day trip to Kahheti, Georgia's easternmost province and its famed wine region, where wine, it is believed, has been made for approximately 8,000 years. Our first stop of the day will be to visit a clay master who creates Georgian Qvevri, earthenware vessels used for the fermentation, storage and ageing of traditional Georgian wine, a skill that has been handed down over the millennia. We will be given a brief insight into this art before, for those brave enough, enjoying the chance to sample some Chacha, a traditional pomace brandy.
Upon arrival in Telavi we will visit the local Farmer's Market, where we may sample some local sweets, dried fruits and cheeses straight from the stalls. Departing Telavi we will drive to the Schuchmann Wines Chateau for lunch and wine tasting. This afternoon we will visit the Tsinandali Palace, the historic estate and winery belonging to the 19th century aristocratic poet Alexander Chavchadze. Pressing on drive to Sighnaghi and here spend a little time exploring this picturesque walled town – as pleasant place a place as any in Georgia for strolling the backstreets and watching the world go by. From Sighnaghi enjoy an excursion to the Monastery of St. Nino at Bodbe, a nunnery just a couple of kilometres from Sighnaghi. Return to Tbilisi via Manavi and Sagarejo, completing a circuitous route of the highlights of Kakheti.
On arriving back in Tbilisi we will have a chance to quickly freshen up back at our hotel before we head out for a farewell dinner in the beautiful Gardenia Shevardnadze, a beautiful restaurant and good a spot as any for us to enjoy our final dinner in. (B/L/D)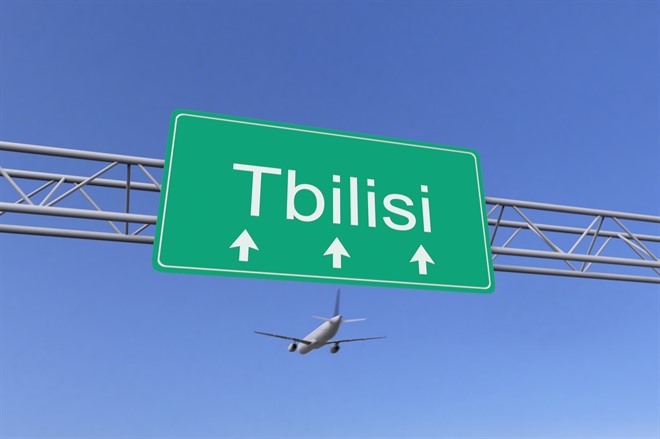 Enjoy the bulk of the morning at leisure to relax in your hotel or to take in any final independent shopping or sightseeing. After checking out and being collected by your guide one last time enjoy a farewell lunch and final/flexible sightseeing in the city, before transferring to the airport to depart at 1925 on the Georgian Airways flight home. Arrive back into London at 21:50 local time, here ending your tour. (B/L)

Pricing Information
12
day tour, from
£2990
per person
(Single person supplement + £750)
Price Includes
International flights as specified with Georgian Airways, including 1 piece of hold luggage
Accommodation throughout, including immediate check in on arrival on day 2
Meals as specified (B=Breakfast, L=Lunch, D=Dinner)
One complimentary copy (per booking) of the Bradt Guide to Georgia
All transfers/transport in a private vehicle, as specified
Private train charter on day 8, as specified
English speaking guide throughout, while in Georgia
Standard entrance fees to specified sights
Price Excludes
Meals / services other than specified
Alcoholic beverages during meals
Travel Insurance
Porterage
Gratuities


Itinerary Dates
From Price
Single Room Supp.

14 May 2022

-

25 May 2022

£2990
£750
Image Gallery
Click on images to enlarge