While famous wine regions have their charm, we're here to introduce you to the hidden gems, off-the-beaten-path wineries, and unique wine experiences that defy convention. From Moldova to Croatia, discover boutique wineries tucked into breathtaking landscapes, where innovation meets tradition. From rustic cellars in unexpected corners of the world to historic vineyards, prepare to explore wine culture from a refreshingly different perspective. Our top alternative wineries destinations are handpicked for you by the experts.
1. Moldova
Moldova, nestled in Eastern Europe, offers a wine lover's paradise. It boasts picturesque vineyards, rich winemaking traditions, and a delightful array of wines, including world-class reds and whites. You can explore charming cellars, taste unique varietals, and savour the warmth of Moldovan hospitality in this vinicultural gem.
Our Highlights of Moldova Group Tour presents plenty of opportunities to taste the region's fine wines. In Chisinau, you'll visit the Milestii Mici Winery, which holds the title of the world's largest wine cellar. You'll find many impressive labels here. After exploring, head back to Chisinau for a special dinner in a wine shop, where you can taste five different Moldovan wines with a local sommelier. Crama Mircesti, a renowned winery, and Castle Mimi also host some exciting wine tastings, too.
2. The Azores
The Azores, a stunning Portuguese archipelago in the Atlantic Ocean, offer a unique wine experience. They're volcanic soil and maritime climate nurture exceptional wines, including crisp whites and robust reds. During your visit, you can tour lush vineyards, taste rare varietals, and enjoy a tranquil, island-hopping wine adventure amid breathtaking natural landscapes.
Our diverse Explore the Azores Group Tour takes you to the island of Pico, home to an eponymous volcano, Ponta do Pico, the highest mountain in Portugal. It's also a land of fine wine, with a scatter of UNESCO-recognised vineyards in its centre. Take a tour around each vineyard and learn about the region's fascinating history of winemaking.
3. Georgia
Georgia is the cradle of winemaking, claiming the title of the oldest wine-producing region in the world. Its ancient qvevri winemaking tradition, diverse grape varieties, and vibrant wine culture make it a must-visit. The people of Georgia are very passionate about the delicious wines they produce and serve, which is reflected in their wonderful hospitality.
On our Glorious Georgia Tour, you'll get the chance to meet the creator of the Georgian Qvevri, earthenware vessels that have had a crucial part to play in Georgia's winemaking tradition. You'll also pay a visit to Tsinandali Palace, which was formerly the illustrious estate and winery of the 19th-century aristocratic poet, Alexander Chavchavadze.
4. Uzbekistan
Uzbekistan beckons wine enthusiasts with a burgeoning wine culture amidst its arid landscapes. Its diverse terroir, from the foothills of the Tian Shan Mountains to the fertile Fergana Valley, offers a rich canvas for winemaking. Try unique Uzbek grape varieties like Rkatsiteli and Saperavi, explore modern wineries, and immerse yourself in Uzbek hospitality while learning about the country's evolving winemaking traditions.
Our Classic Uzbekistan Tour lets you do all the above – and more! Visit Bagizagan Winery to trace the footsteps of five generations of winemakers and, notably, Alexander the Great, who is believed to have passed through the village and tasted the wine!
5. Croatia
Croatia is a hidden gem in the world of wine. From the sun-drenched vineyards along the Dalmatian coast to the continental plains of Slavonia, Croatia offers diverse terroirs and unique indigenous grape varieties like Plavac Mali and Graševina.
On your travels here, you can explore historic wine cellars, enjoy wine tastings along the Adriatic Sea, and immerse yourself in the rich winemaking heritage of Croatia. Our Pathways of Istria Tour takes you truffle hunting in the forests of Motovun, where your findings will be paired with a delicious glass (or two) of local wine to complement. You'll also stay at the Meneghetti Wine Hotel, which has an onsite winery that produces 14 varieties of wines you can try.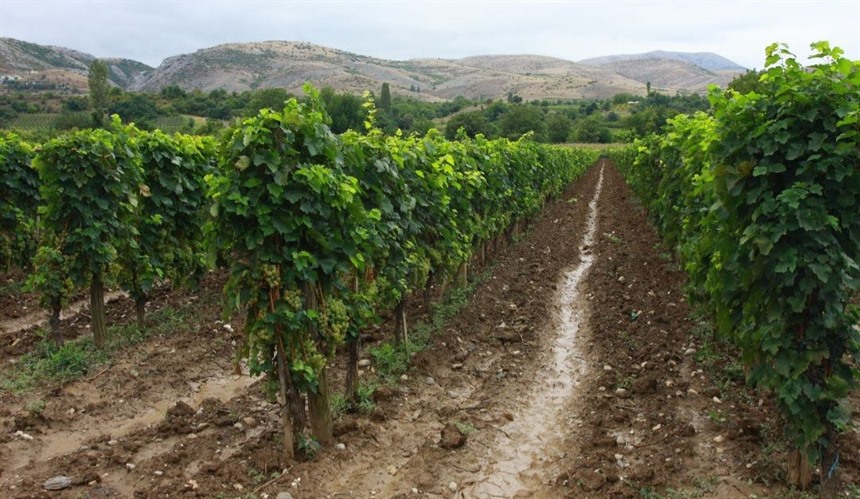 6. North Macedonia
North Macedonia, a rising star in the world of wine, presents a captivating blend of old-world charm and innovative viticulture. The country's diverse landscapes, from the Tikveš Valley to the rolling hills of Povardarie, provide a unique canvas for winemaking with indigenous grapes like Vranec and Stanušina. Explore boutique wineries, experience tastings along the picturesque Lake Ohrid, and immerse yourself in the warmth of North Macedonian hospitality.
Popova Kula Winery is located on the southern slopes of Veliko Brdo, west of the town of Demir Kapija. They produce 20 different types of wine from 11 different grape varieties here, so there's plenty for you to taste during your stay. The hotel also has an authentic restaurant, offering traditional Macedonian cuisine. Over in Ohrid, near the entrance of the old city, Villa & Winery Mal Sveti Kliment offers a B&B stay and a boutique winery. The owners of the hotel have vineyards in the Ohrid region, and they only produce a few thousand bottles a year – so each sip is special!
Ready to wine and dine around the world?
To arrange your next off-the-beaten-track tour, with wineries as a must-have on your itinerary, speak to our Travel Specialists today. They'll craft a bespoke journey, ensuring your taste buds and wanderlust are truly satisfied.