From the incredible architecture of Tashkent to the cosmopolitan city of Almaty, discover the beauty of Central Asia by rail on the Orient Silk Road Express. The legendary Silk Road is perfect for a group tour, with spectacular sights and thrilling excursions hiding around every corner.
Whether you want to visit the Amirsoy Mountain Resort or enjoy a sightseeing tour of Samarkand, we can provide the ultimate adventure of a lifetime. During this unforgettable journey, you'll explore impressive Khiva and uncover its history that stretches back 2,500 years. In addition, experience a folklore show in Bukhara, take a dip in Issyk-Kul Lake and spend a day in Dushanbe.
This detailed trip will take you between four diverse countries and introduce you to vastly different cultures – following an iconic route with awe-inspiring moments along every step of the way.
Tour Itinerary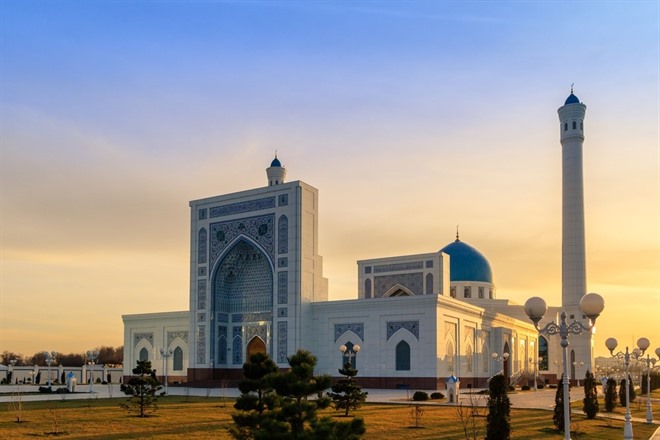 Upon arriving in Tashkent travellers will be greeted at the airport by a friendly tour guide and transferred to the hotel for a two night stay. Enjoy the rest of the day to relax/recover at your leisure.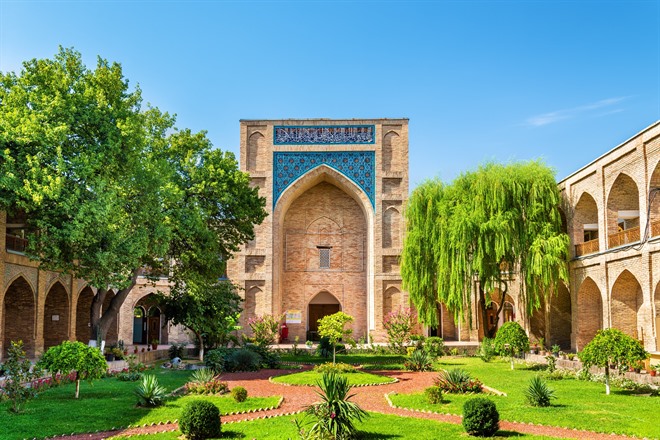 Enjoy the morning at leisure in Tashkent. In the early afternoon our trip commences in earnest, starting with a tour of Tashkent. Sights this afternoon will include Kukeldash Madrassah (which dates to the late 16th century) and the Kavoj and Amir-Timur monuments, in the city centre. (B,D)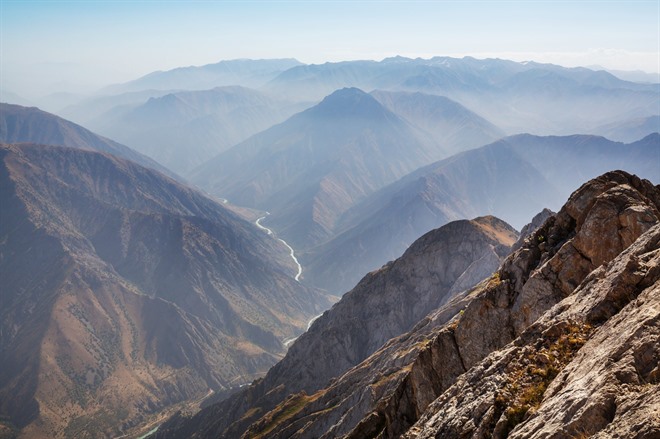 After checking out of the hotel, head out of Tashkent for a day trip to the Chimgan Mountains, northeast of Tashkent. In Chimgan visit the Amirsoy Mountain Resort and ride the cable car to a scenic spot at 2,290 metres above sea level. After lunch head to the Charvak Reservoir to further take in the glorious mountain scenery before arriving back in Tashkent in good time to board the Orient Silk Road Express. A relaxed get-together in the dining car will give the chance to meet fellow travellers and learn more about the splendid train which will be your home from home for the next fortnight. (B,L,D)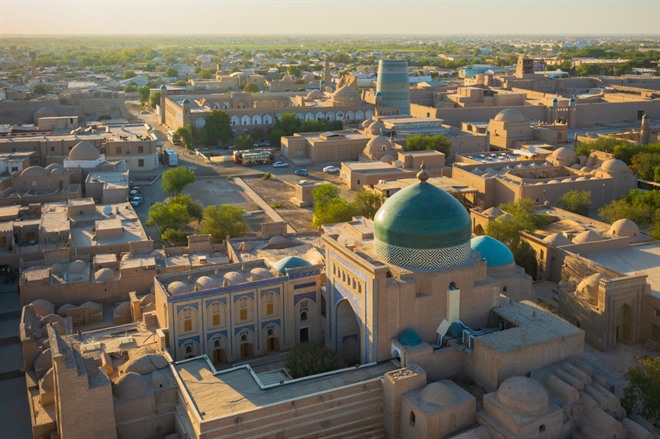 Today arrive into Khiva, one of the most impressive cities on the Silk Road, the inner town of which is a UNESCO World Heritage Site. This remote oasis city is west of the Amu Darya River, sandwiched between the Karakuk and Kyzylkum deserts—a logical place for Silk Road traders of yesteryear to rest up before their difficult onward journey. Khiva's history stretches back some 2,500 years, but much of interest in the city today is from the 17th century onwards. The entire city feels like a living museum and sights today will include a whirlwind of spectacular palaces, mosques, minarets, madrassahs and mausoleums. (B,L,D)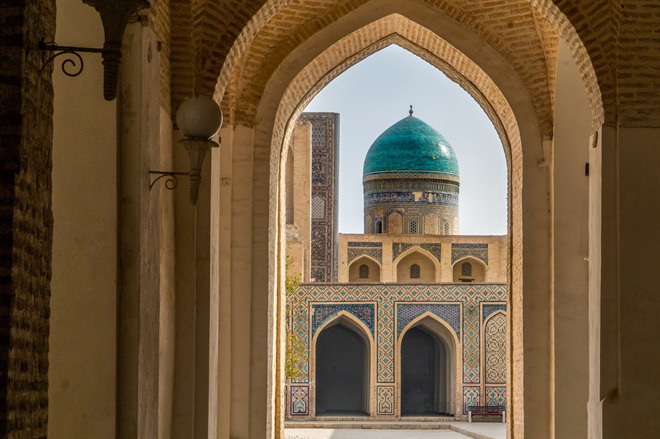 Arrive today in Bukhara, another wonderful Silk Road city with a history that stretches back millennia. In Bukhara's Old Town one can often feel as if they are in another world, or time in a world steeped in history which is, for many, rather unfamiliar: Samanids, Khwarazmids,Timurids; it certainly pays to brush up on your history before arriving! Sights today will include the impressive Kalyan Minaret (spared by Chinggis Khan during the Mongol invasion of 1220), Lab-I Hauz Ensemble and the Nasreddin monument. Later today, in the courtyard of a madrassah, experience a folklore show replete with music, national costumes and traditional dances. (B,L,D)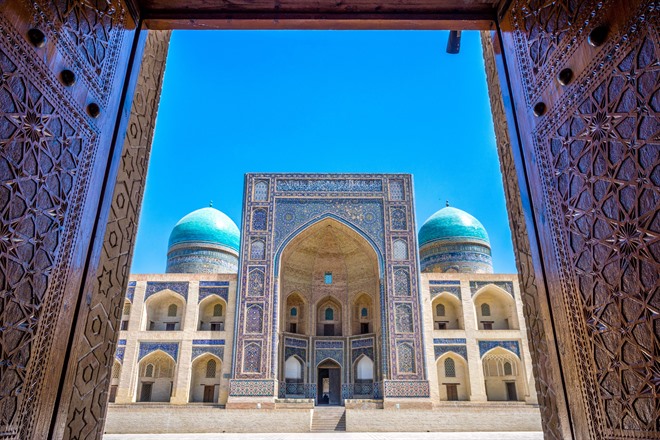 Spend the day further exploring Bukhara, with visits to the Mir-I Arab Madrassah, Ismail Samani Mausoleum and the awesome Ark Of Bukhara, a massive fortress which functioned as such until 1920, when the Emirate of Bukhara fell to the Soviets. Later on, return to the train and set off southwest through the night towards the small city of Sha-kriysabz, birthplace of Amir Timur. (B/L/D)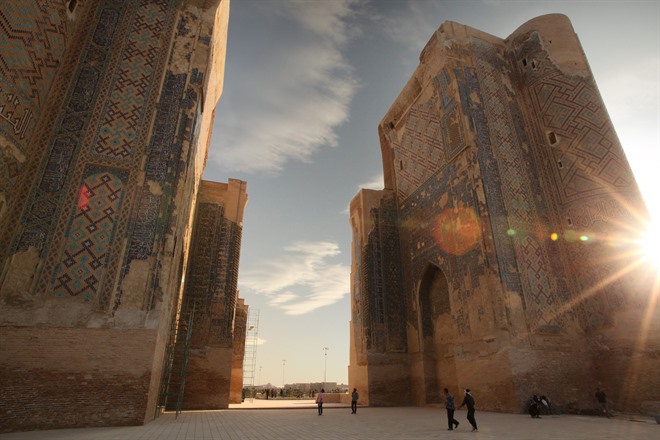 Arrive in Shakriysabz, another spectacular city whose his-toric centre has been designated as a UNESCO World Heritage Site. Enjoy sightseeing in the city, birthplace of Amir Timur, before continuing the journey to the second country of the trip, Tajikistan. During the night the train will pass through Kumkurgon, the southernmost point of our journey, just over 60km/27miles from the Afghan frontier. (B/L/D)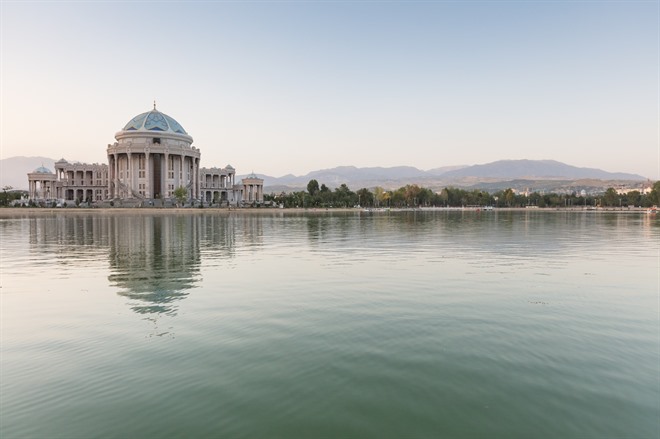 Arrive in Dushanbe, the Tajik capital, a curious city with a mix of Soviet influence, Persian culture and modern authoritarianism. Influences from other countries, including Russia, China and Afghanistan, ensure the city packs a heavy cultural punch. Spend the day touring Dushanbe, the bulk of sights of note being situated in a relatively compact area. After a whistlestop tour of the city, get back on board the train for another night on board. (B/L/D)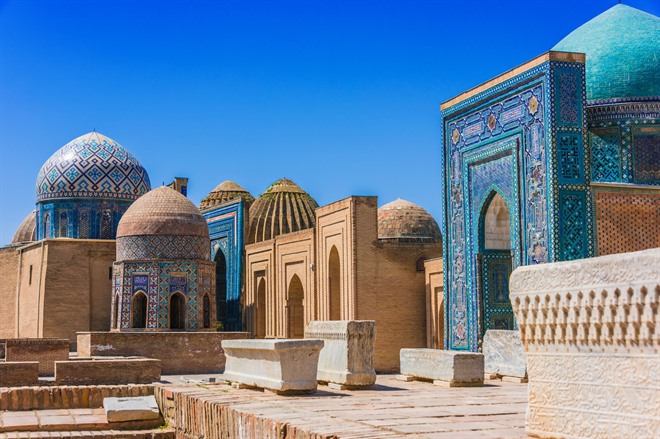 Discover the legendary Samarkand, the final in the trio of unmissable Uzbek 'Silk Road' cities. Samarkand, with a population of approximately one million people, has quite a different feel to Khiva, Bukhara and Shakyrisabz; a more bustling pace, with similarities to Tashkent. Enjoy a sightseeing tour of the city with visits to the Shahi-i-Zinda, Afrosiyab and the mighty Registan Square, arguably one of the most impressive sights in all of Central Asia. Here visit the three famous Madrassahs: Ulugh Bek, Sher-Dor & Tilya-Kori. (B/L/D)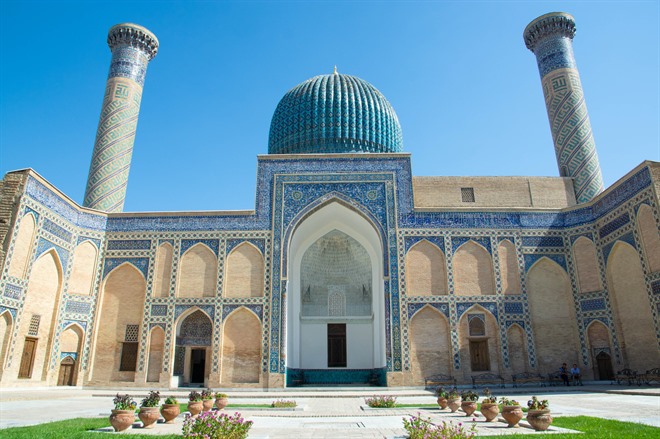 Enjoy a further full day of sightseeing in Samarkand today, with visits to include a Silk Carpet manufacturer, a workshop where paper is made traditionally, from mulberry tree bark, the Ulug Bek Observatory and Bibi Khanum Mosque. Visit the Gur-i-Amum Mausoleum Complex, where Amir Timur, founded of the Timurid Empire, is buried. (B/L/D)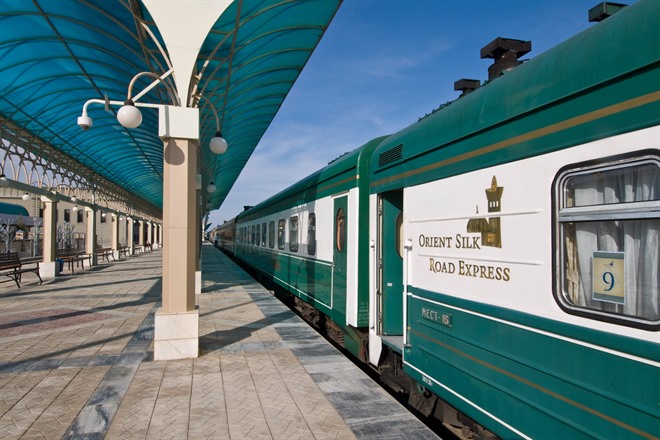 Checking out of the hotel after breakfast return to the train and head towards the next stop, Kyrgyzstan. Spend the rest of the day, heading to Bishkek, the Kyrgyz capital. On board, relax with a number of topical lectures, or simply watch the world go by from your compartment. (B/L/D)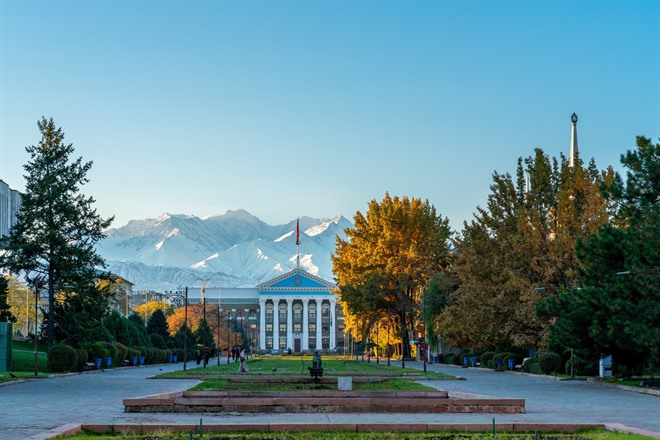 Arrive this morning into Bishkek, one of the greenest capital cities in the world. Enjoy an introductory tour of this pleasant yet often overlooked capital, which has a population of just under one million. Moving on, enjoy an excursion to the nearby Ala Archa National Park, where the tallest peaks rise to just shy of 5,000 metres in height. (B/L/D)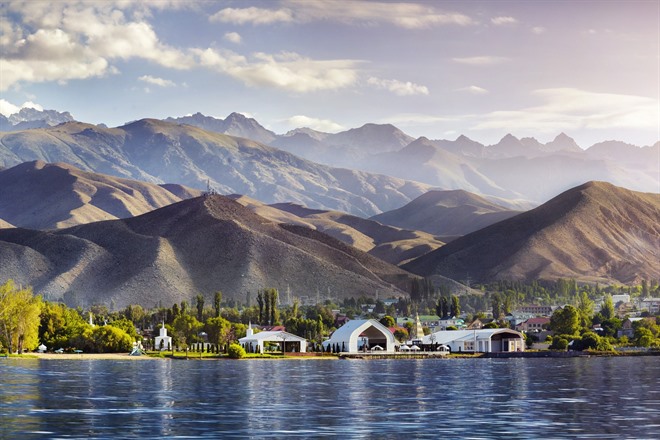 Depart Bishkek after breakfast and jump back on board the train for a journey east to breath-taking Issyk-Kul Lake, a 6,236 square kilometre lake situated at an altitude of 1,607m. Issyk-Kul, one of the deepest and largest lakes in the world by volume is also one of the most beautiful, located in the Tien Shan Mountains and ringed by many dramatic peaks. Visit the Centre of Nomadic Culture and spend some time savouring in the beauty of the lake, those brave enough may wish to take a dip in its chilly waters. Enjoy a boat trip on the lake before getting back on board your train for the final leg (and border crossing) of your journey to Kazakhstan. (B/L/D)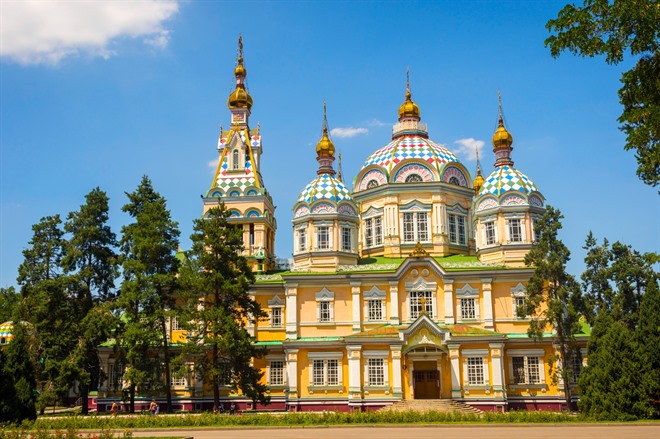 Arrive, after lunch, in cosmopolitan Almaty, Kazakhstan's largest city (and former capital). The city, in places, has quite a different feel to the rest of the Central Asian cities we have visited. On arrival, and upon disembarking the Orient Silk Road Express train for the final time, enjoy an afternoon touring the city, with sights to include the Zenkov Cathedral, Wedding Palace, Kazakh State Circus and Central Mosque. A farewell dinner will be served in a yurt inspired restaurant. (B/L/D)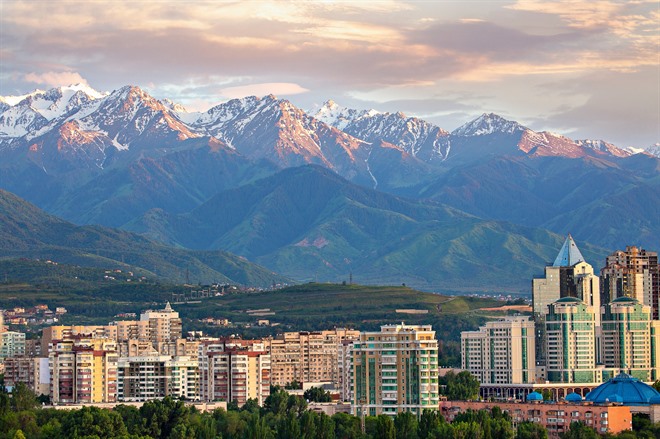 This morning check out of your hotel after breakfast. Be transferred to Almaty Inter-national Airport (ALA) in good time for your departure flight home. (B)
Pricing Information
15
day tour, from
£6375
per person
(Single person supplement + £1875)
Price Includes
All airport taxes & security charges
Accommodation and meals as specified
Transfers as specified
Activities and excursions as specified
All entrance fees on sightseeing tours as specified
Price Excludes
Travel Insurance
Any meals not specified in the itinerary
Tips and gratuities
Optional excursions
Itinerary Dates
From Price
Single Room Supp.

03 Oct 2024

-

17 Oct 2024

£6375
£1875

27 Mar 2025

-

10 Apr 2025

£6275
£1875
Image Gallery
Click on images to enlarge