This 19-day Bhutan holiday traverses the length of its prayer flag strewn and mountainous terrain providing an in-depth discovery of a little known country. Start in the west with visits to Paro and Thimphu and the chance to hike to Taktshang 'Tigers Nest' Monastery, an iconic image of Bhutan. Drive east across the Dochula pass for sweeping views of the landscape before dropping down to explore the Punakha Valley and the stunning Punakha Dzong with its excellent murals depicting the life of Buddha. Continue on to the Bumthang Valleys, a lovely drive through the Chhume Valley ending in Jakar where an easy walking tour takes you to the highlights including Jakar Dzong, the 'Castle of the White Bird'.
Finally make the move to the east of the country, said to be home to the mystical migoi, or yeti and still largely unexplored by visitors. Yeti-searching aside, the region offers a wealth of interesting sites to visit including remote Lhuentse Dzong, located on a cliff top and home to a small community of friendly monks and the stunning temple of Gom Kora with its colourful Buddhist carvings and 'sin testing' passageway: only the virtuous need apply! This is a comprehensive Bhutan holiday covering quite a distance and offering a range of experiences in-between -Bhutan cannot fail to leave you with some amazing memories.
Tour Itinerary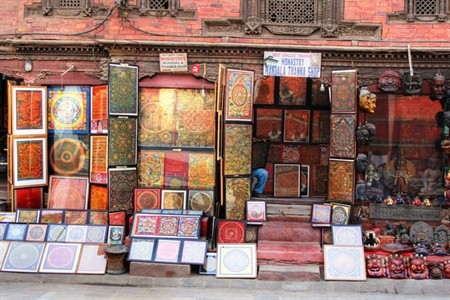 Land Kathmandu and drive to the hotel. Afternoon and evening at leisure.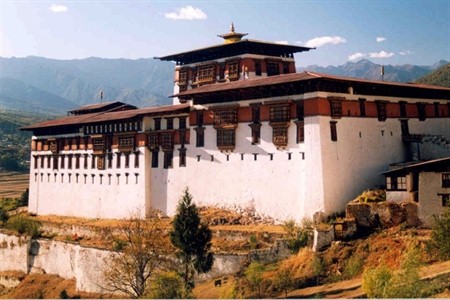 Fly from Kathmandu to Paro and transfer to the hotel in the Paro Valley. Enjoy time exploring the town. (B,L,D)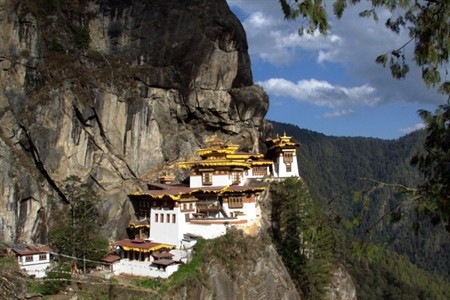 This morning drive towards Taktshang 'Tigers Nest' Monastery. The walk to the monastery takes roughly two hours through steep forested landscape. En-route enjoy a buffet lunch at a point with excellent views of the cliff face and monastery. There is an optional extra walk higher to a closer view point. Descend back to Paro and visit Kyichu Lhakhang which dates back to the 7th Century. Overnight Paro. (B,L,D)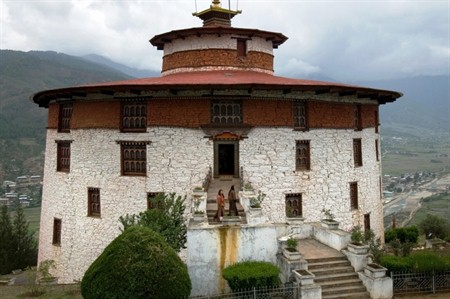 This morning will be spent further exploring Paro including the National Museum and Rinpung Dzong, the home for the monastic school. Drive to the head of the valley and visit Drukgyel Dzong which offers spectacular views of Mt Jomolhari. This afternoon enjoy lunch in a traditional Bhutanese farmhouse, a basic but filling meal. This evening drive to Thimphu via Chuzom and through spectacular mountain terrain. Overnight Thimphu. (B,L,D)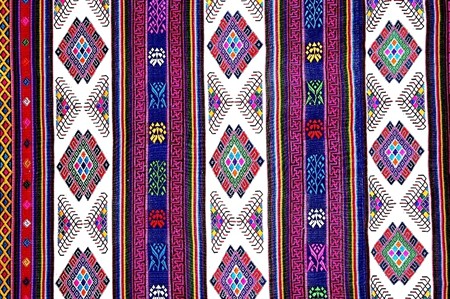 Today will be spent exploring Thimphu, there are a choice of sites to explore including the King's Memorial Chorten, National Textile Museum, a handicraft emporium and Semtokha Dzong, Bhutan's oldest fortress. Overnight Thimphu. (B,L,D)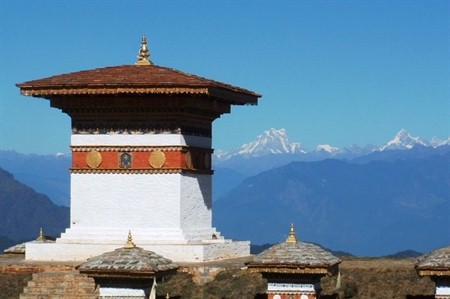 Today drive from Thimphu to Punakha and Wangdue via the stunning Dochula Pass which offers unforgettable views of the Eastern Himalayan mountain ranges. Arrive Punakha and explore Punakha Dzong, the winter residence of the central monastic body. From here stroll through the paddy fields to visit Chimi Lhakhang temple. Overnight Punakha. (B,L,D)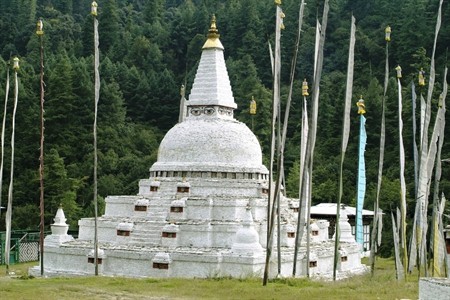 An early start today. Drive from Punakha towards Trongsa which takes you through the impressive Black Mountain National Park. This afternoon visit Gangtey Goemba, a monastery overlooking the green expanse of the Phobjikha valley. Continue the drive to Trongsa and stop at the Pele La to enjoy the sweeping vistas below before dropping down to visit Chendebje Chorten. Overnight Trongsa. (B,L,D)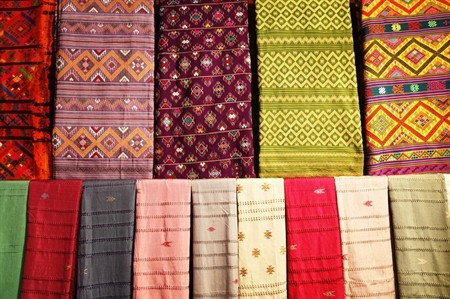 This morning spend time in Trongsa township and visit Trongsa Dzong and Ta Dzong, now converted into a fine museum. After lunch drive to Bumthang across the Yotong La mountain pass before descending into the Chumey Valley. Visit a traditional weaving centre to learn a little of the art of weaving 'Bhutan-style' and continue onto Jakar. (B,L,D)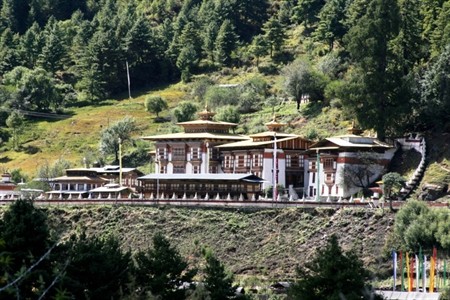 Bumthang Valleys comprises 4 valleys: Choskhor, Tang, Ura and Chhume. Today will be spent enjoying visits to the regions most famous sites including Jakar Dzong, Kurjey Lhakhang, Tamshing Goemba and Jambay Lhakhang. As Jakar is easily negotiated on foot this will be a walking tour. Overnight Jakar. (B,L,D)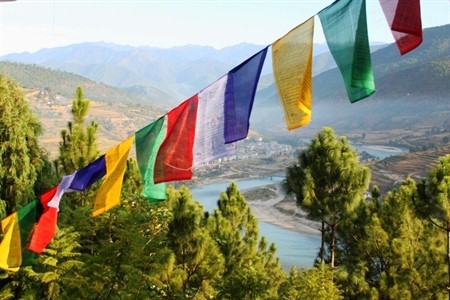 Today will be a long days drive to travel further into eastern Bhutan to Mongar. The road crosses two high altitude passes (Shertang La at 3573 metres and Thrumshing La at 3800 metres) and traverses several wild roads that cling to the side of the hills - it is one of the most spectacular drives in the country. Several stops will be made along the way to not only break up the journey but to allow exploration of some of the more rural areas of Bhutan. Overnight Mongar. (B,L,D)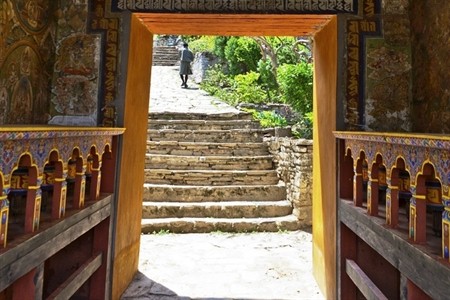 Enjoy a full day visit to Lhuentse, the ancestral home of Bhutan's royal family and an area famed for its intricate kushutara weaving. Drive from Mongar north into mountainous terrain to Lhuentse stopping along the way to visit a bamboo weaving village. Lhuentse is a small town and home to arguably the most picturesque Dzong in the country. Perched atop a rock with sheer drops either side, the Dzong commands excellent views down the Kuri Chhu Valley. Explore the Dzong before returning back to Mongar. (B,L,D)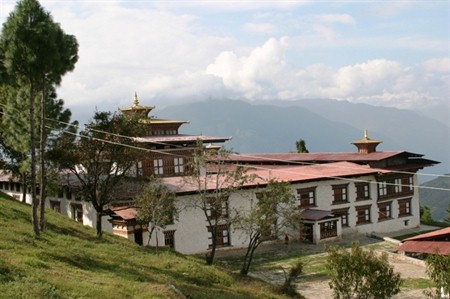 This morning visit Mongar Dzong and then drive onwards to Trashigang travelling past rhododendron and blue pine forests via some hairpin bends. Visit Drametse Goempa, one of the most important Goemba's in eastern Bhutan and the source of the Nga Chhum drum dance performed in many tsechus around the country. Arrive in Trashigang, a town with a relaxed and friendly pace, and visit the country's most impregnable structure, Trashigang Dzong. (B,L,D)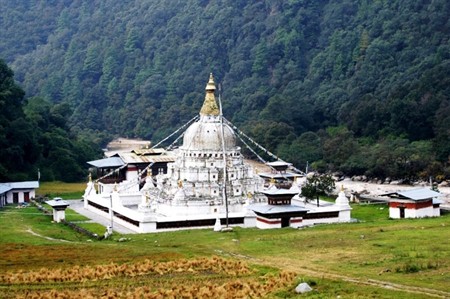 An excursion today travels to Trashiyangtse. Stop en-route to visit Gom Kora, a small temple with beautiful wall paintings dating back to the 15th century. In Trashiyangtse, visit Chorten Kora, a large white stupa patterned in the same style as the stupa of Boudhanath in Nepal. Also explore Trashiyangtse Dzong before returning to Trashigang for the night. (B,L,D)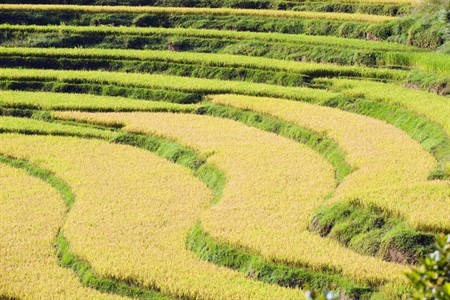 Today is a long driving day and an early start to return to Bumthang. Stops will be made along the way. Overnight Jakar. (B,L,D)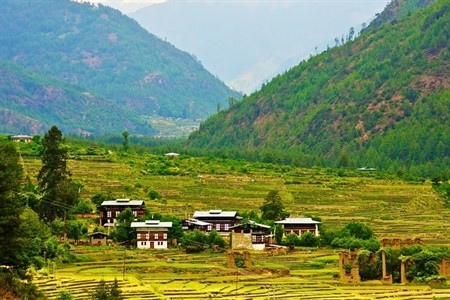 Take the flight today from Bumthang to Paro. Drive to the hotel and enjoy the afternoon at leisure to explore. (B,L,D)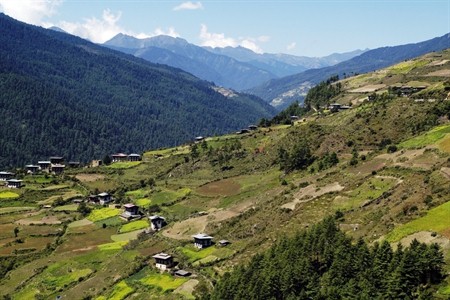 Enjoy an excursion into the remote and rarely visited Haa Valley. Explore the valley and visit a local village with a picnic lunch in the afternoon. Return to Paro via the Chele La Pass, the highest mountain pass on a motorable road in Bhutan. Enjoy spectacular views of Mount Jomolhari in one direction and the Haa Valley in the other. Overnight Paro. (B,L,D)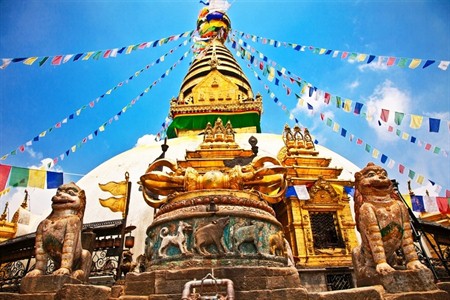 Fly back to Kathmandu and transfer to the hotel. This afternoon enjoy an afternoon city tour of Kathmandu. (B)
Return to Kathmandu airport for the flight back to the UK. (B)
Image Gallery
Click on images to enlarge