Whilst it would take countless weeks to take in all that Uzbekistan has to offer, we have painstakingly curated this new group tour to try and squeeze as much variety as we possibly can into a more manageable fortnight - a perfect introduction for first time visitors to this captivating country. Starting and finishing in Tashkent, we will (in addition to time in the capital) enjoy plenty of time in Khiva, Bukhara and Samarkand, amongst other areas.
Though the following itinerary is hopefully self-explanatory, please do feel free to contact us for further details on any aspect of this tour - we pride ourselves in our specialist knowledge and would be happy to discuss this tour with you to ensure that it is the right trip for you.
This tour is a complete package starting and finishing in the UK, and will run for a minimum of 6 and maximum of 14 persons. Regent has been operating tours to Uzbekistan since the days of the USSR and carefully tweaks and tailors trips with each passing year in an attempt to offer clients the best possible experience.
Tour Itinerary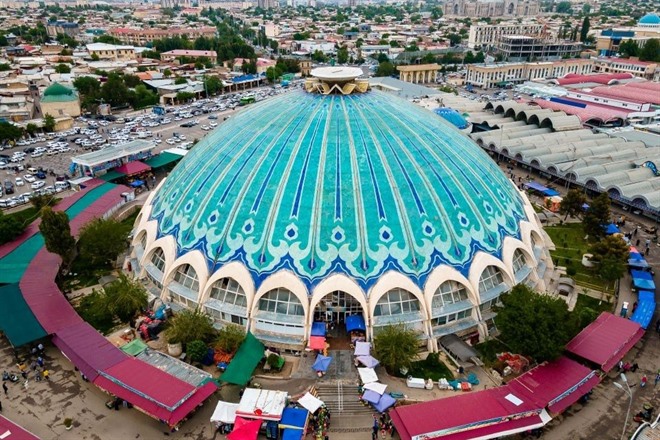 Today, depart London Heathrow LHR on the overnight flight to Tashkent TAS, travelling with Uzbekistan Airways.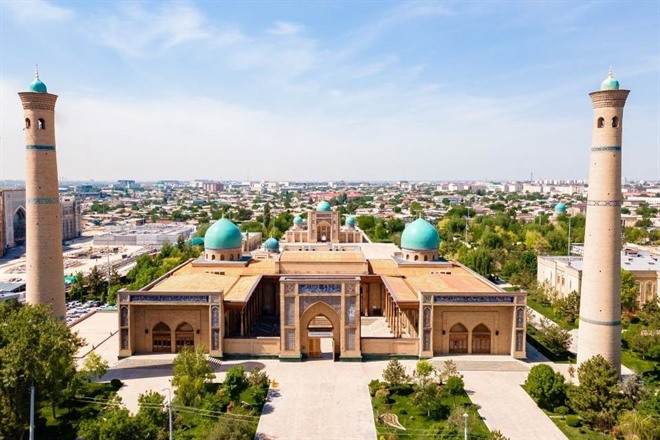 Upon arrival in Tashkent, you'll pass through immigration, collect your baggage, and meet your dedicated Uzbek escort guide, who will accompany you throughout the tour, managing all logistics and sightseeing. Embark on a short drive to central Tashkent, where your hotel rooms will be ready for check-in. The morning is yours to relax, with breakfast available at your leisure. In the afternoon, join your guide for a tour of Tashkent's Old Town and surroundings, visiting attractions like the Abu Bakr Kaffal Shashi Shrine, Khazrati Imam Complex, Chorsu Bazaar, Kukeldash Madrassah, Rakhimov's Ceramic Studio, and the Museum of Applied Arts. The evening is free for your own leisure. (B,L)
*Please note that there's no welcome dinner planned for today, and you can choose from nearby dining options. Additionally, there's a chance to attend a performance at the Alisher Navoi Theatre if one is scheduled during your stay.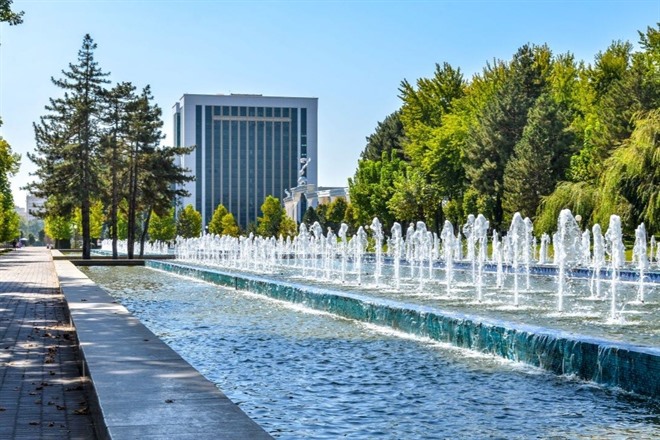 Explore Tashkent's often overlooked modern history, from the Russian Tsar era to Soviet times and its role as the capital of independent Uzbekistan. As the fourth-largest city in the USSR and the largest in Central Asia, Tashkent has much more to offer beyond its historic old town. The day starts with a morning walking tour from your hotel, including the exteriors of the Alisher Navoi Theatre and the State Museum of the History of Uzbekistan, showcasing Soviet architecture. You'll visit landmarks like Mustakillik Fountain, Independence Square, and Amir Timur Square. After lunch, explore the Memorial to the Victims of Repression and embark on a metro tour of Tashkent's impressive stations. Stops include Bodomzor, Amir Timur, Paxtakor, and Kosmonavtlar, each an artwork in its own right. The day concludes with a visit to the Cosmonaut Monument and the Islam Karimov Memorial Complex, providing insights into Uzbekistan's post-USSR journey. (B,L)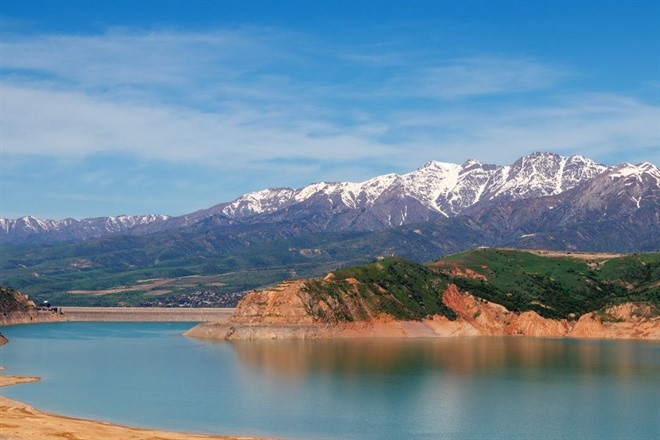 After several eventful days, we have a relaxed start today, checking out of our hotel in the mid-morning. Departing Tashkent, we head northeast to the Chimgan Mountains, part of the Western Tian Shan, nestled between Kazakhstan and Kyrgyzstan. The main focus of our visit is the Amirsoy mountain and ski resort. We'll take a cable car to 2,290 meters above sea level, enjoying lunch at the 2290 Bar Terrace while taking in the breathtaking mountain views. If the sky is clear, the scenery is even more impressive. You can choose to spend about 30 minutes walking in this picturesque area. We'll then drive along the southern shoreline of the Charvak Reservoir, making scenic stops. Returning to Tashkent, we'll have dinner and prepare for our overnight sleeper train journey to Urgench. (B,L,D)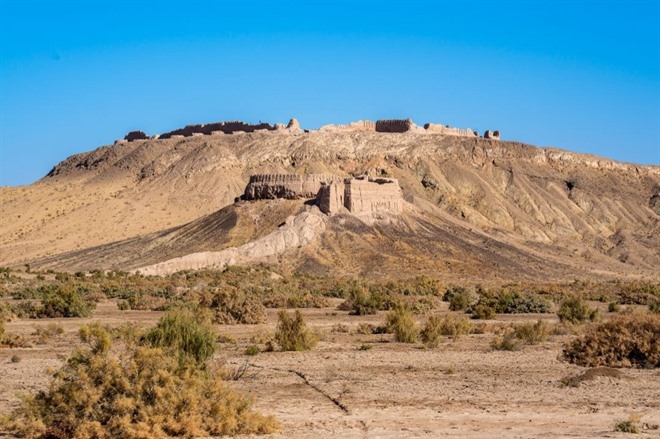 This morning, we'll arrive in Urgench, the capital of Uzbekistan's Khorezm Region, around 10:10 am. After disembarking, we'll head northeast to Ayaz Kala, where we'll enjoy lunch at a Yurt Camp and experience a taste of desert life in a somewhat staged setting. In the afternoon, we'll explore two Desert Castles of Ancient Khorezm, part of a collection of over 50 abandoned fortresses in the region. While visiting all 50 would be a significant expedition, we'll have time to see Ayaz Kala (near our lunch stop) and Toprak Kala. Our journey continues to Khiva, where we'll check in to our hotel for a 2-night stay in the late afternoon. After a couple of eventful days, the rest of the afternoon and evening are yours to enjoy at your leisure. (L)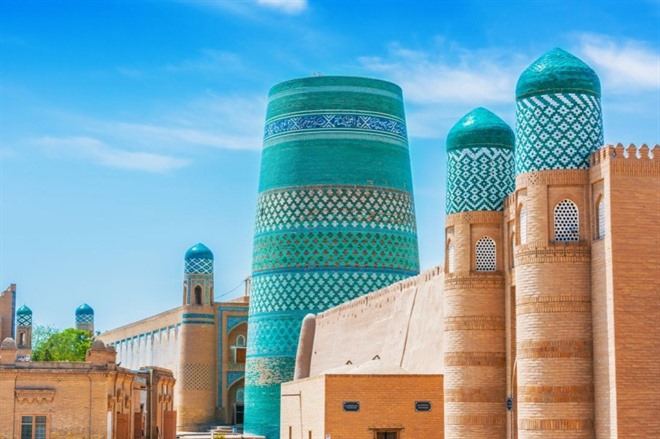 Spend the full day exploring Khiva, one of the most impressive cities on the Silk Road—the inner town of which is a UNESCO World Heritage Site. This remote oasis city is west of the Amu Darya River, sandwiched between the Karakum and Kyzylkum deserts—a logical place for Silk Road traders of yesteryear to rest up before their difficult onward journey. Khiva's history stretches back some 2,500 years, but much of interest in the city today is from the 17th century onwards. The entire city feels like a living museum and sights today will include a whirlwind of spectacular palaces, mosques, minarets, madrassahs and mausoleums. (B/L)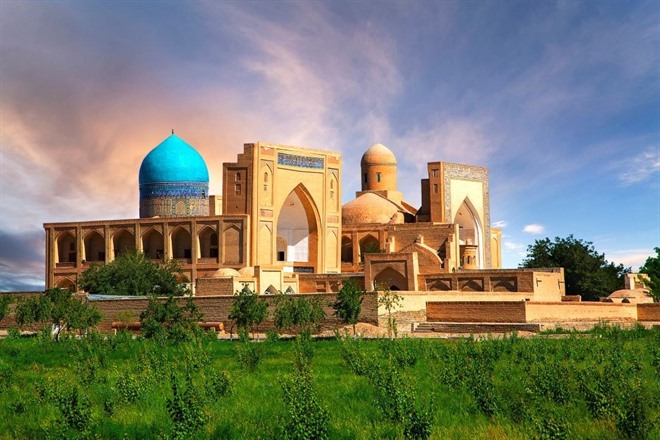 Leaving Khiva, we embark on a day-long 450km/280-mile journey to Bukhara. After departing from Khiva near the Turkmenistan border, we cross the Amu Darya River, gradually transitioning from the fertile Khorezm region to the arid Kyzylkum Desert. The road offers sparse settlements, but we'll pause at a basic café for snacks/drinks (at your own expense) and make occasional stops to stretch our legs. After a 7-hour drive, we arrive in Bukhara for a 3-night stay, checking in at our hotel. Following a chance to freshen up, we'll head out for an early dinner at a nearby restaurant. (B/D)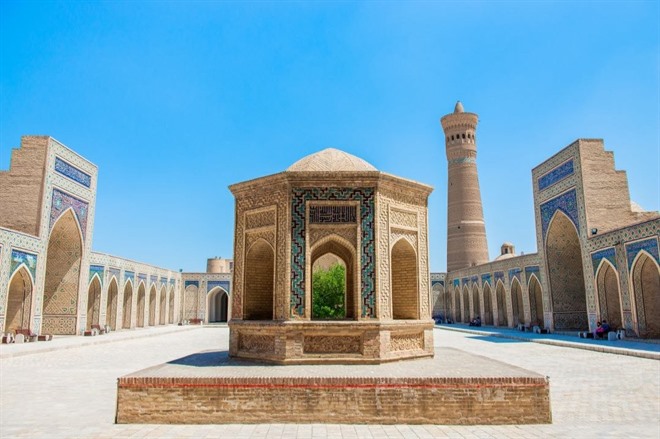 Enjoy the full day sightseeing in Bukhara, another wonderful Silk Road city with a history that stretches back millennia. In Bukhara's Old Town one can often feel as if they are in another world, or time—in a world steeped in history which is, for many, rather unfamiliar: Samanids, Khwarazmids,Timurids; it certainly pays to brush up on your history before arriving! Sights today will include the impressive Kalyan Minaret (spared by Chinggis Khan during the Mongol invasion of 1220), Lab-I Hauz Ensemble and the Nasreddin monument. Later today, in the courtyard of a madrassah, experience a folklore show replete with music, national costumes and traditional dances. (B/L/D)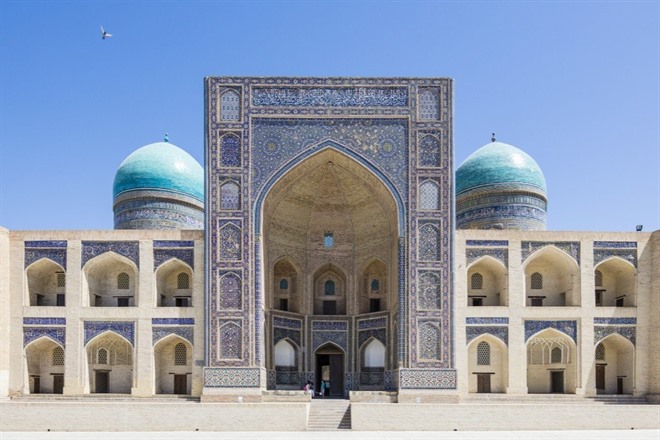 Spend the day further exploring Bukhara, starting with a visit to Sitorai Makhi Khosa, the summer palace of Bukhara's last emir, Alim Khan. This early 20th century compound incorporates Russian and Bukharan designs and provides a fascinating insight into the final days of the Emirate of Bukhara. Moving on, we will continue our city sightseeing with visits to the Mir-I Arab Madrassah, Ismail Samani Mausoleum and the awesome Ark Of Bukhara, a massive fortress which functioned as such until 1920, when the Emirate of Bukhara fell to the Soviets. In the mid-afternoon, return to your hotel and enjoy the rest of the day and all evening at leisure, giving you time to independently immerse yourself in this fascinating city. (B/L)
Leaving Bukhara, we take a leisurely 285km/180-mile journey to Samarkand. Unlike those rushing between cities, we make stops along the way. First, we visit Gijduvan, famous for traditional ceramics, and experience small-town life while witnessing the ceramic masters at work. We take a quick tea/refreshment break here before continuing. Our next stop is Navoi, a modern city "refounded" by the Soviets in the 1950s. Though of limited interest to cultural enthusiasts, we have lunch and explore the city center with its Soviet-style influences. In the late afternoon, we arrive in Samarkand and check into our hotel for a 4-night stay. After some downtime, dinner awaits in a nearby restaurant. (B/L/D)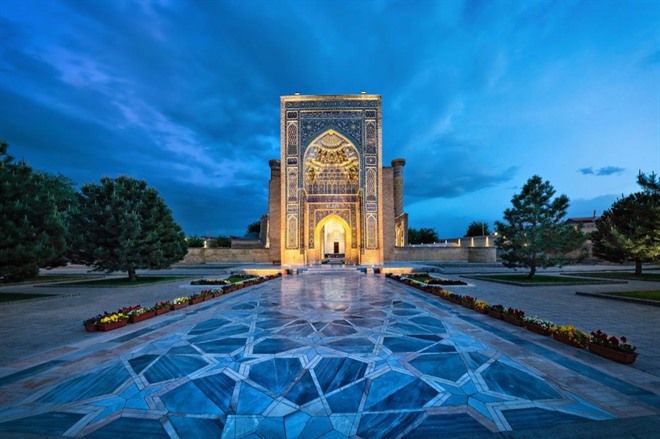 Explore Samarkand, the last of our remarkable Uzbek Silk Road cities. With a population of about one million, Samarkand offers a different atmosphere compared to the other classic Silk Road cities, resembling bustling Tashkent. Starting at the magnificent Registan Square, one of Central Asia's most impressive sights, home to the famous Madrassahs: Ulugh Bek, Sher-Dor & Tilya-Kori. Next, we visit the Gur-I Amir, a Timurid dynasty necropolis, where you'll see Amir Timur's tomb adorned with Mongolian Jade. We then proceed to the 15th-century Bibi Khanum Mosque, a remarkable architectural feat of its time. We also visit the Siyob Bazaar, conveniently located next to Bibi Khanum, and take a short walk to the Hazrat Hizr Mosque for city views and a visit to the small Mausoleum of Islam Karimov (no photography allowed). After a fulfilling day, you'll have a free evening to explore and dine at your leisure. (B/L)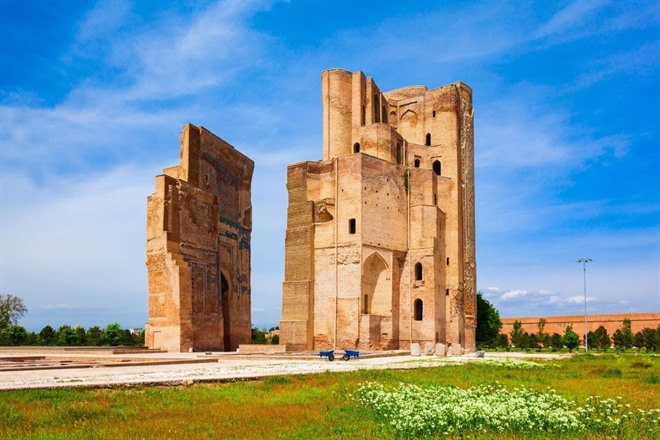 Today we depart Samarkand for a day trip to Shakrisabz, birthplace of Amir Timur, a city some 90km/55 miles south of Samarkand. Shakriysabz is another spectacular city with its historic centre designated as a UNESCO World Heritage Site. We will have plenty of time to tour the city, with our visits to include the Dor at-Tilyavat Complex, Dor as-Siadat Complex and the Ak Serai Complex. We will break our day with lunch in the city. Arriving back into Samarkand in the later afternoon, enjoy what is left of the day and the evening at leisure. (B/L)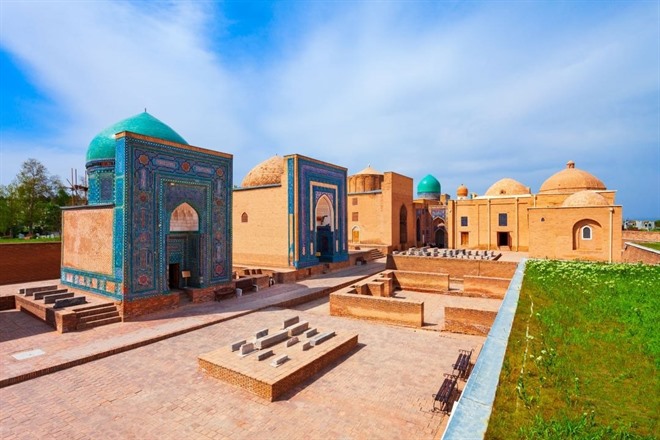 Explore Samarkand further with a half-day itinerary, starting at the Shah I Zinda Necropolis. The path is lined with ornate tombs boasting stunning blue and turquoise domes. Time permitting, the group can also visit the attached graveyard. Exiting the city, we'll visit the Afrosiab fort and the nearby Ulug Beg Observatory, an intriguing medieval astronomical site. After heading east from Samarkand, enjoy lunch before a wine-tasting experience in Bagigazan, a village with a long history of winemaking, visited by Alexander the Great in the 4th century BC. We'll return to Samarkand in the mid-afternoon, leaving the rest of the day and evening free for your leisurely exploration. (B/L)
*Please note that the day's order may be adjusted on-site since the exact timing of the visit to Bagigazan can only be confirmed on the day.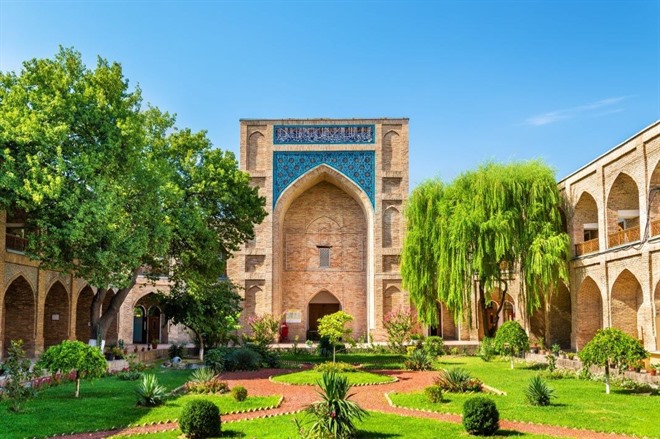 This morning, we depart from our Samarkand hotel and head to the railway station, where we'll board the morning Sharq Train to Tashkent. The train ride takes about 4 hours, and upon our return to the Uzbek capital, we'll have lunch near the station. From there, we'll use the Metro and walk back to our hotel for an overnight stay, our final one in the country. The afternoon offers flexibility for additional sightseeing, making up for missed spots earlier in the tour or exploring sites of personal interest. Alternatively, travelers can opt for independent exploration or leisure time. In the evening, we'll come together for a farewell group dinner in central Tashkent. (B/L/D)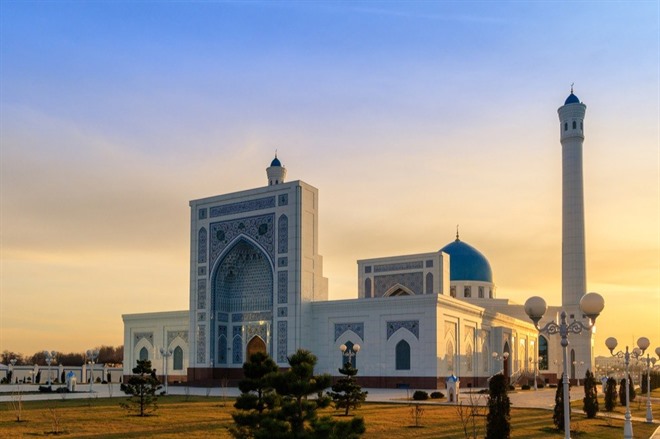 This morning you will be collected from your hotel and transferred to the airport for your Uzbekistan Airways flight home. (B)
Pricing Information
15
day tour, from
£3095
per person
(Single person supplement + £595)
Price Includes
Return International flights as per the itinerary
Accommodation and meals as specified
Transfers as specified
Itinerary Dates
From Price
Single Room Supp.

26 Apr 2024

-

10 May 2024

£3095
£595

04 Oct 2024

-

18 Oct 2024

£3095
£595
Image Gallery
Click on images to enlarge