For this head-to-head travel battle, we've teamed up with our sister company Rainbow Tours and we're pitting the two poles against each other: it's the Arctic vs the Antarctic!
In the northern corner of the ring, we've got our very own Arctic Cruises setting sail for the polar bear-roamed pack ice of the Arctic, for the walrus and seabird-adorned fjords of Svalbard and even for the North Pole. Occupying the southern corner of the ring are Rainbow Tours' incredible trips to the White Continent: Antarctica.
Whether your bucket list includes crossing the mighty Drake Passage to visit the vast penguin colonies iconic of Antarctica or setting sail for Europe's northernmost reaches, scroll down to explore which trip (and which pole!) is best for you.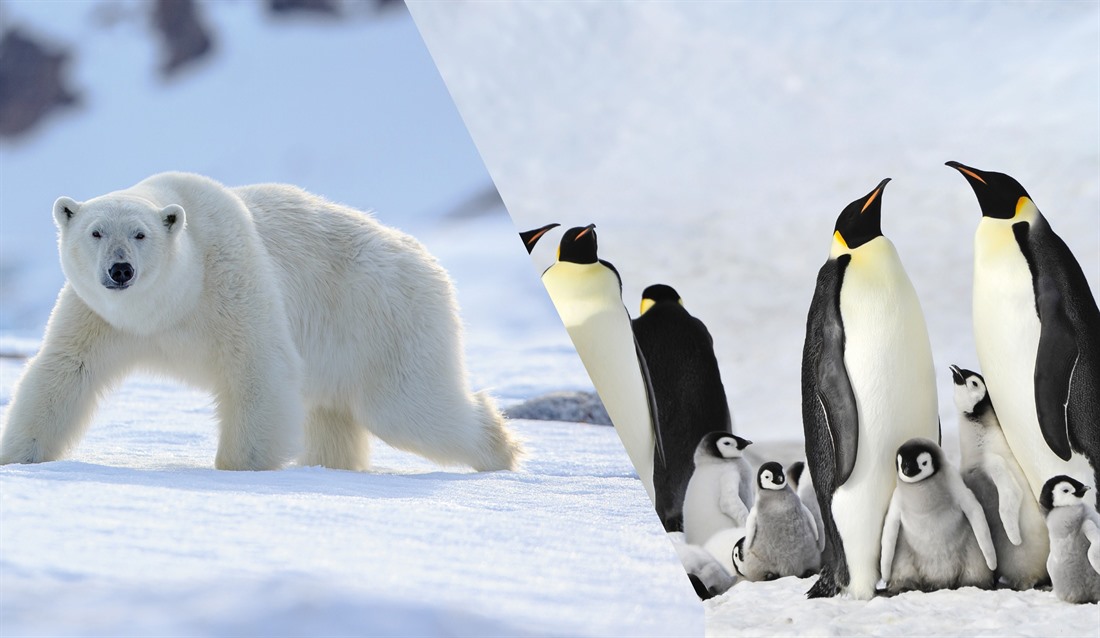 Polar Bears, Birds and Walrus (Arctic) Vs Whales, Seals and Penguins (Antarctic)
If you're keen to set your sights on a polar bear, then Svalbard and an Arctic Cruise are the way to go. Regent can take you face-to-face with the Arctic's incredible and unique wildlife; watch polar bears roaming around the coast as the pack ice breaks up during the summer months, spy seals and walrus relaxing on the ice, or cruise through the archipelago's fjords to visit vast bird cliffs and watch for arctic foxes sneaking up on nesting chicks.
Antarctic expeditions are characterised instead by their whale-watching and penguin-spotting opportunities. Exploring the Antarctic Peninsula aboard the Hebridean Sky with an itinerary dictated by the conditions of the sea, takes you to explore scenic bays home to penguin rookeries, whale feeding grounds and seal wallows. Three species of penguin live on the White Continent, Adelie, Chinstrap and Gentoo, joined by Leopard, Elephant and Antarctic fur seals, while Orca and Humpback whales are frequently sighted from the boat.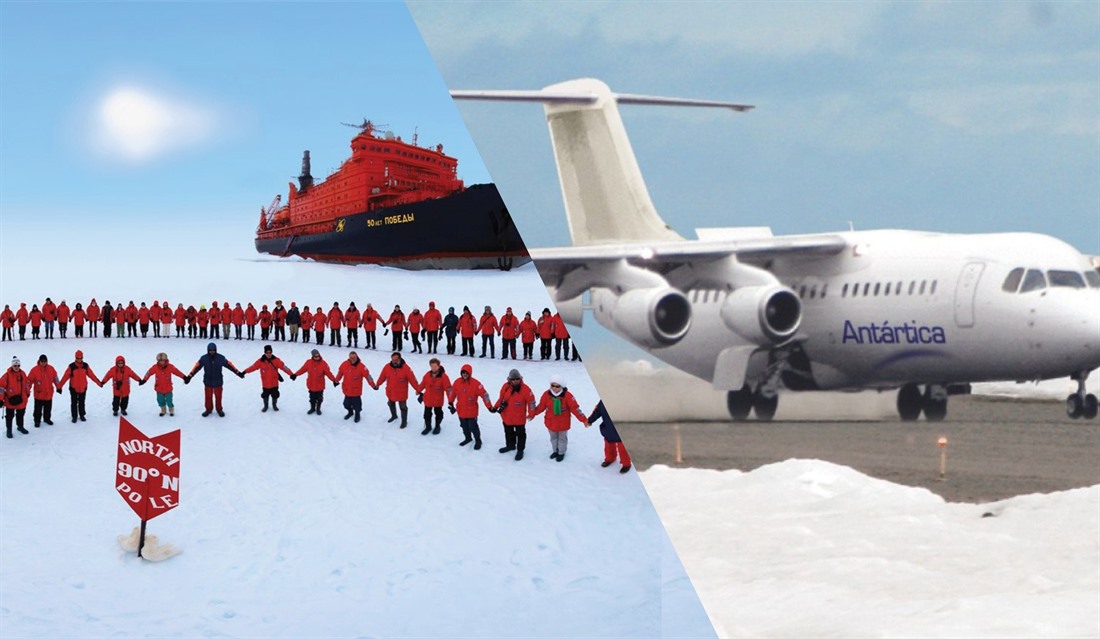 Stand at the North Pole (Arctic) Vs Fly to the Antarctic Islands (Antarctic)
At Regent, we'll give you the rare opportunity to join an exclusive club of travellers ever to stand at the top of the world, reaching the North Pole aboard the most powerful icebreaker vessel ever built. With its 75,000 horsepower, the I/B 50 Years of Victory is the most powerful icebreaker ever built. This icebreaker was purpose-built to pilot scientific and cargo ships to hard-to-reach areas of the Arctic and along the Northeast Passage. Disembark at precisely 90 degrees north, to set foot on the frozen sea, enjoy a champagne toast and get photographic proof of your adventure.
Not all journeys to Antarctica have to begin by climbing on board a ship in Ushuaia, one of Rainbow Tours' new Antarctica tours instead begins with a flight to King George Island in the South Shetland Islands, taking the scenic route over Cape Horn and dodging the choppy waters of Drake Passage. Just 75 miles off the Antarctic Coast where scientific research stations are based, from here, you're perfectly positioned to then meet your expedition ship to travel further to the Antarctic Peninsula.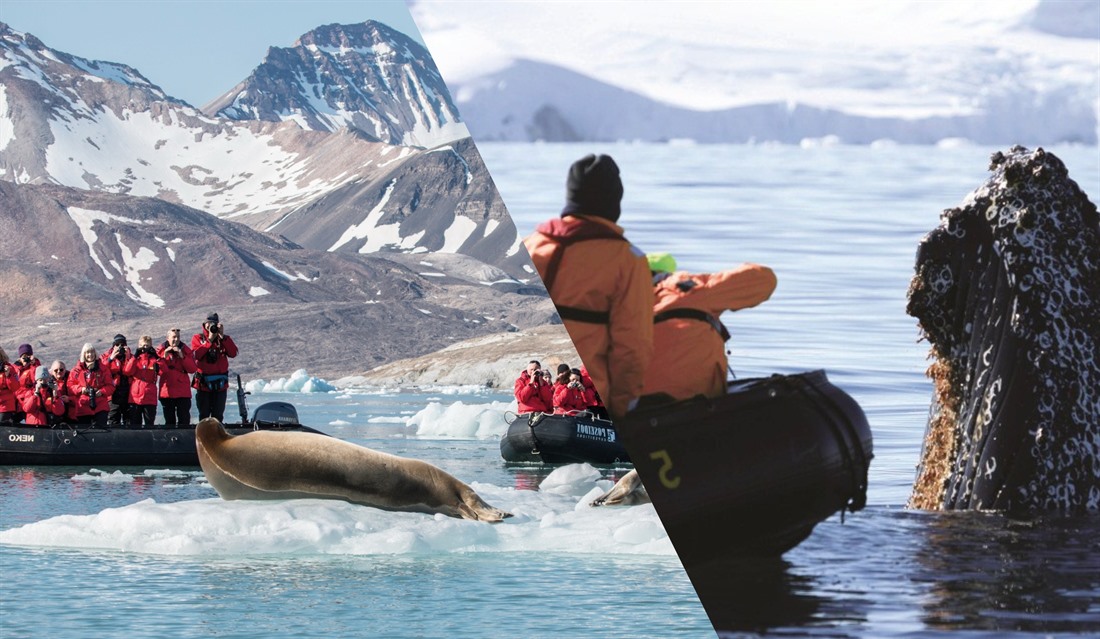 Historic mining towns, polar expedition stations and wildlife trips (Arctic) Vs Scientific research stations, penguins and whale-watching (Antarctic)
Small rigid inflatable Zodiac boats (RIBs) are on hand during our cruises at either pole, enabling you to get up close to the wildlife or to step ashore and uncover historic sites.
In the Arctic, cruise guests can embark on landings to discover remnants of whaling camps, coal mining operations, old trappers' cabins, staging areas of historic attempts to discover the North Pole and abandoned polar research stations. Plus, in the fjords around Spitsbergen, the smaller boats can take you closer to the vast glaciers or to better spot polar bears, reindeer grazing on flowering tundra, Arctic foxes playing and walrus lounging by the shores.
Head south to the Antarctic, and the choice of landing options available also covers some fascinating historic sites such as U.K.'s Port Lockroy or Wordie House, and even active scientific bases such as Poland's Arctowksi or Ukraine's Vernadskiy. Whale watching by Zodiac offers front-row seats to humpback feeding times at Wilhelmina Bay, and excursions are also possible to see the wildlife-filled Penola Channel and penguin rookeries from a safe distance.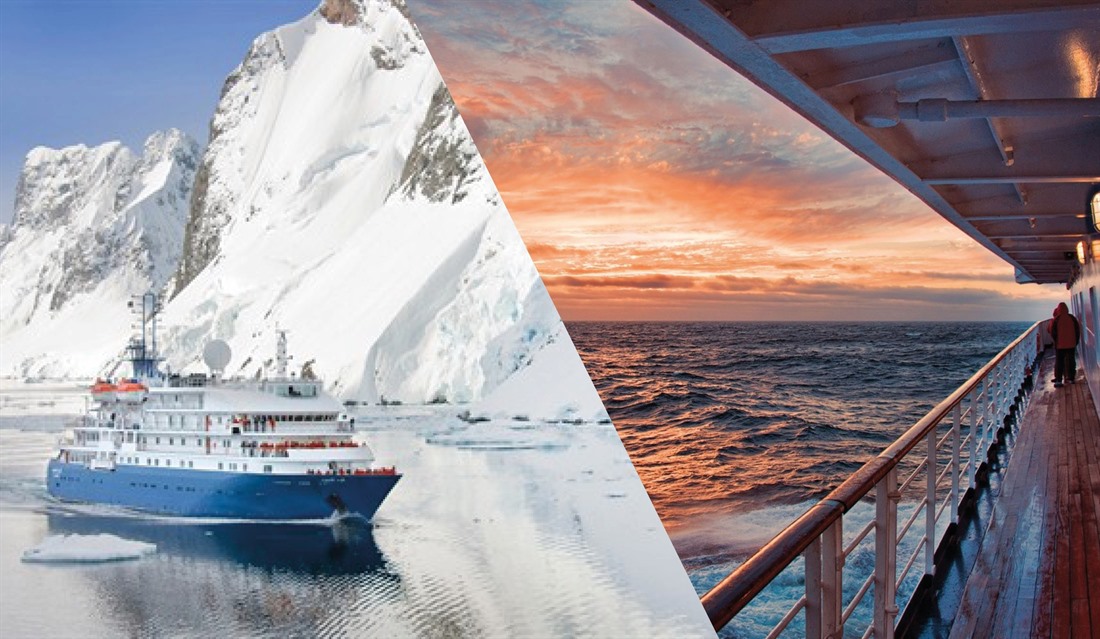 MV Sea Spirit (Arctic) Vs The Hebridean Sky (Antarctic)
The MV Sea Spirit is an ice-strengthened, all-suite expedition ship which services several of Regent's Arctic journeys. Providing spacious suites for a maximum of 114 passengers the Sea Spirit at features the manoeuvrability and friendly atmosphere of a small ship, and offers a luxurious expedition. Biologists, geologists, historians and wildlife experts on board offer guest lectures and educational experiences, and Zodiac RIB boats are deployed for landings or sea excursions.
The Hebridean Sky is a small,ice-strengthened, expedition ship offering a yacht-like experience in Antarctica. For 'up-close' wildlife viewing and landings on the Antarctica continent, the Hebridean Sky is equipped with a fleet of Zodiac inflatable crafts. The spacious deluxe accommodation comprises 57 suites with separate sitting area and outside windows - several also have their own balcony. The spacious public areas provide comfortable and pleasant places to relax between excursions and the library is filled with relevant literature and European Chefs in offer a delicious daily changing menu.
Call 0207 666 1290 to speak to an Arctic travel specialist today or visit Rainbowtours.co.uk to explore their Antarctic travel collection
Find more inspiration on our social media #MyRegentMoment