While Lapland is renowned for its enchanting Christmas celebrations, there's so much more to this Arctic paradise than festive cheer. From exhilarating husky sledding adventures to watching the Northern Lights dance across the night sky, Lapland offers a myriad of experiences that will leave you in awe. Whether you're an adventure seeker, nature lover, or simply craving a break from the Christmas hustle, Lapland has something extraordinary to offer you.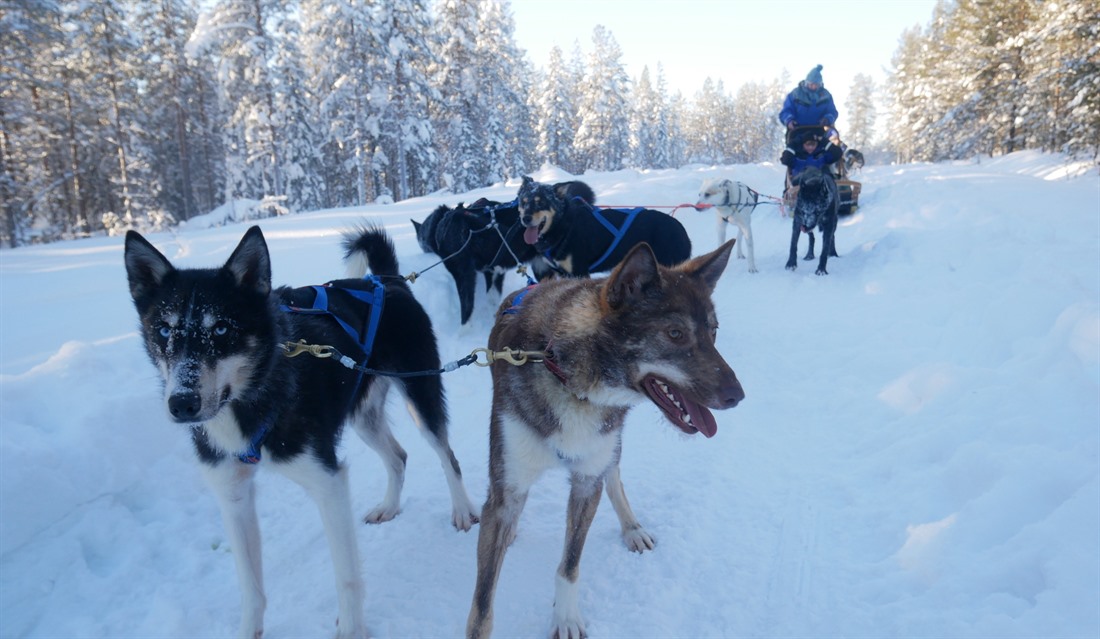 Dog sledding 
When we fly you to Lapland, we'll let you fully embrace the traditions out there in the wilderness, and take you through the daily motions of Lappish life. For the indigenous cultures of the Arctic regions, dog sledding was one of the few ways to travel from A to B. So, by hopping on your very own dog sled for a huskie safari, you'll be stepping into the shoes of the natives, and seeing the wintry landscapes through their eyes.
On our Lapland Wilderness Adventure tour, you can enjoy a two-day husky safari in the Lappish wilderness. Collect your team of huskies at the Harriniva Arctic Dog Sled Centre, learn how to handle a sled, and then set off into the forest for a 25km adventure. In the afternoon, reach a cosy cabin where you can test your wilderness skills by making fire and feeding the huskies. The huskies are always friendly, whether you're feeding them chunks of meat or they're pulling you through the snow. It's a mutually beneficial experience. After relaxing by the fire, travel a further 25 - 30km aboard your dog sled until you reach your final stop, which greets you with a hearty lunch by an open fire. You'll be an expert in the art of dog sledding by the end of the day!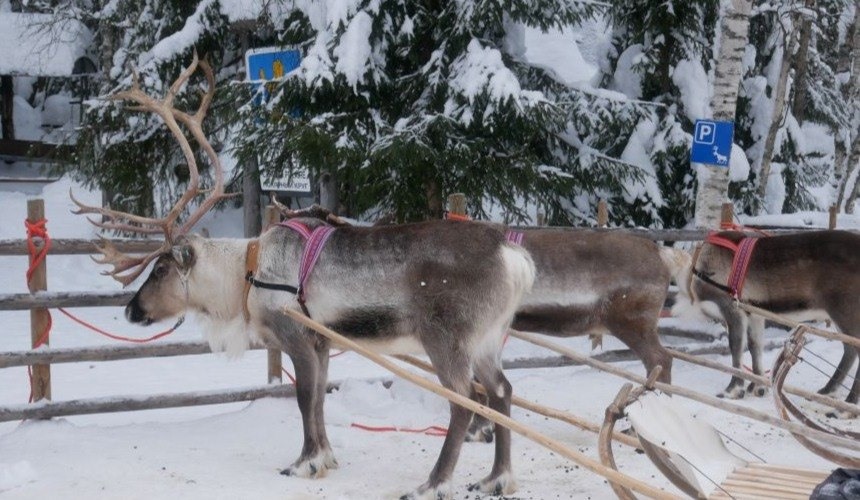 Reindeer safaris 
Like dog sledding, these safaris offer a traditionally Lappish experience. This time, however, you'll be guided through the snowy landscape by magical reindeer! They're the antlered marvels that feature in our dreams of faraway winter wonderlands - and you can see them in the flesh.
This incredible experience also takes place on our Lapland Wilderness Adventure tour. First, visit a family-owned, ethical reindeer farm in Torassieppi (dating back to 1847!), where your expert guide will teach you how to throw a Lappish 'lasso'. Once you've mastered this, you'll meet your reindeer, and embark on a seven-kilometre safari through the forest. As you'll be moving at a much slower pace than you would be on a husky sled, you have plenty of time to drink in all the wonderful Arctic scenery, and to capture the perfect photographs!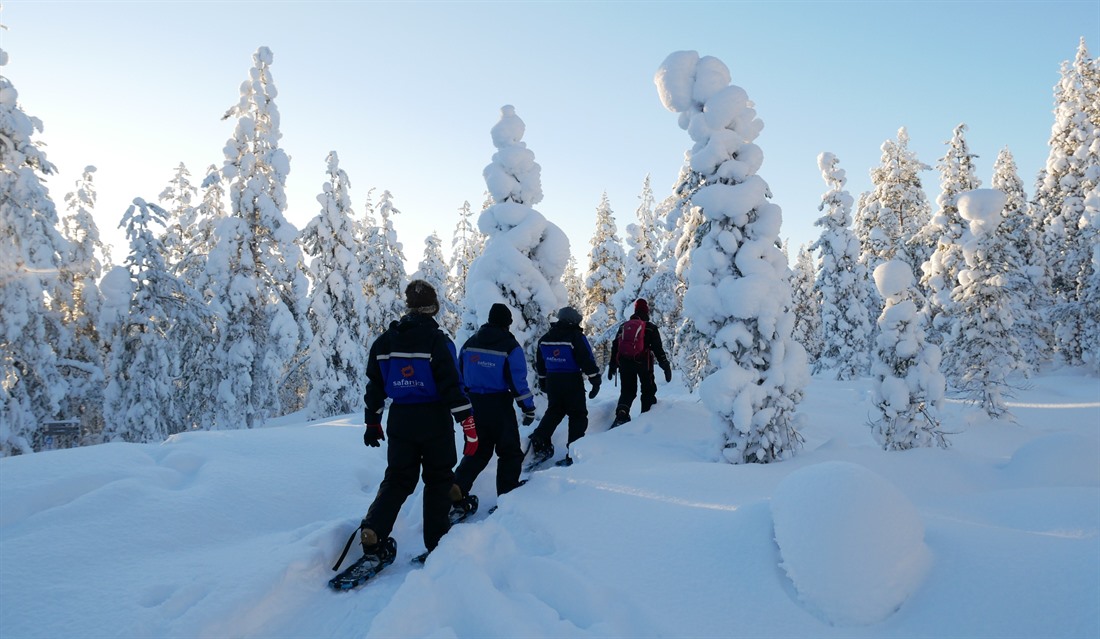 Snowshoeing
Snowshoeing involves walking or hiking over snow-covered terrain while wearing specialised footwear called, fittingly, snowshoes. These snowshoes are designed to distribute your weight over a larger surface area, preventing you from sinking deep into the snow so you can walk around with ease.
When you're donning your snowshoes, you have access to areas that might otherwise be difficult to reach during the winter. They open up plenty of opportunities for hiking, and for spotting wildlife that tends to linger along the fringes of the snowy landscapes. Even better, snowshoeing is a versatile activity, suitable for people of various fitness levels and ages. This is an optional activity on our Lapland Wilderness Adventure itinerary, so you can give it a go, or swap the snowshoes for skis...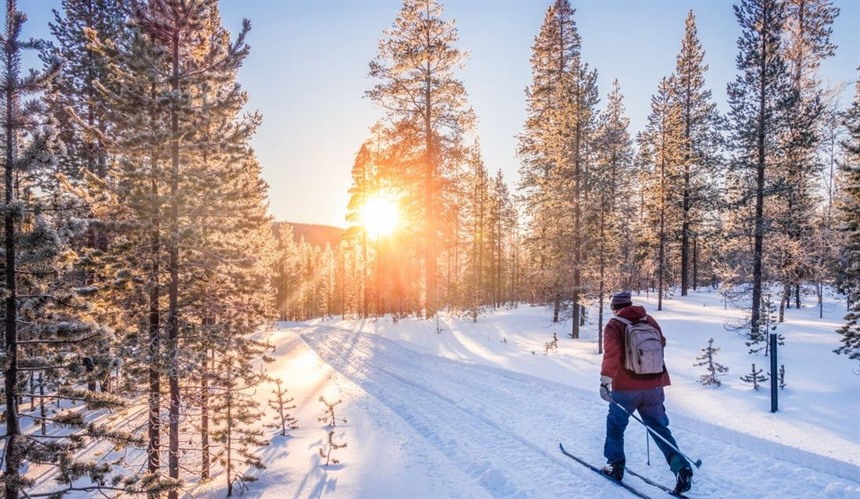 Cross-country skiing
Cross-country skiing in Lapland is another way to explore the wilderness on foot. There mightn't be the same whooshing downhill slopes as there are on your conventional ski course. But this means you can keep your concentration on the serene boreal forests, majestic fjords, and frozen lakes that surround you. You can usually rent skis and other gear from your hotel, where you'll be designated an experienced guide to help you get into the swing of things.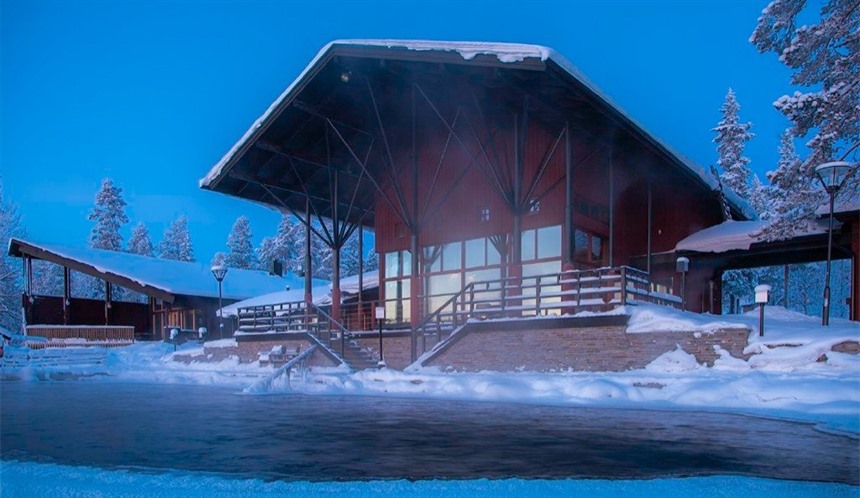 Saunas
Sauna culture is deeply ingrained in the lifestyle and traditions of Lapland. Saunas have a long history in Lapland and are believed to have been used by indigenous Sami people for centuries, primarily for hygiene, healing, and as a place to give birth. Over time, they also became a central social gathering place. The region holds various saunas, from traditional wood-burning saunas to modern electric saunas. Smoke saunas, which use a wood-burning stove and stones, are particularly traditional and are still found in some remote areas.
Saunas are a great way to sign off a day of exploring, giving you some respite from the cold. It's not just about keeping warm though; as a vessel for social connection, and for boosting your wellbeing, there are plenty of benefits to spending time in the heat. In some parts of Lapland, you can enjoy the unique experience of witnessing the northern lights from a sauna. Sitting in the warmth of the sauna while observing this natural wonder is an otherwordly experience you simply can't recreate in many other places.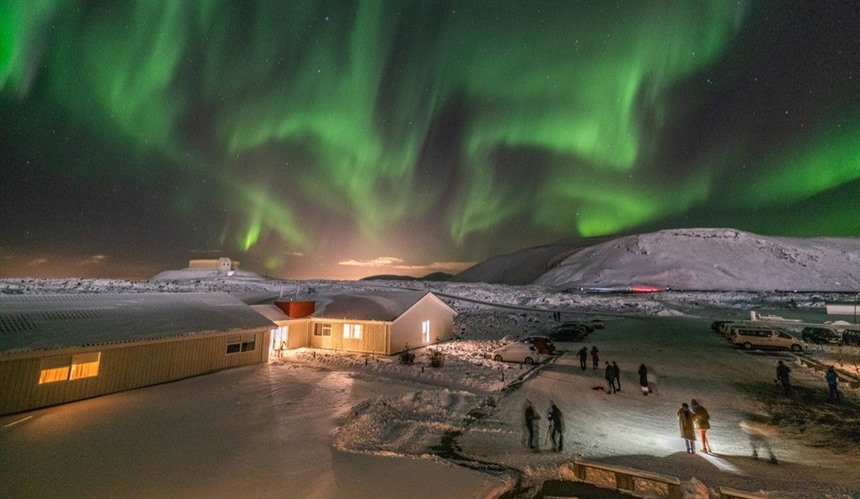 Searching for the Northern Lights 
The northern lights, or the Aurora Borealis, are probably the most remarkable aspect of any trip to Lapland - if you're able to catch them. They only appear at certain times of year (between September and late March), and they're famously elusive, so to spot them you may need to dedicate some time to the search. This is why our Lapland Wilderness Adventure features excursions to hunt for the northern lights, whisking you across the snow on a snowmobile or reindeer safari while you keep your eyes on the night sky.
Your chances of seeing the lights are greater in Lapland, as you'll be in the Arctic Circle, where the northern latitude and minimal light pollution allow for excellent visibility. If you choose to sleep in a cosy igloo or a treehouse and the lights appear in the early hours, you can watch the aurora borealis while tucked up in bed! You might be fast asleep before then, so opt for an aurora wake-up call, and the hotel staff will give you a bell when the lights are approaching.
Seeking a world of snow, ice, and winter magic? 
Look no further than Lapland, a snowy paradise overflowing with incredible activities to try, all year round. To book your escape into the wilderness, speak to one of our Travel Specialists today. They know the northern regions like the back of their hand and can get you booked onto the most adventurous tours of Lapland.