Not a cloud in the sky, the September morning sun beat down on Butrint, Albania's best-known archaeological site, and reflected off the silvery, weathered stone beneath my feet. I'd only been in Albania for two hours and it was already pushing 30oC. I was visiting on a day-trip from Corfu. The port town of Saranda on the Albanian coast is a short ferry ride from Corfu island, so quick trips to the former communist nation are easy and popular. Having spent the week indulging on Greek food and local wine while enjoying lazy afternoons on the beach, a day of culture and exploration was certainly in order.
Saranda itself is, well, far from pretty. Square concrete hotels and apartment blocks jostle for space, most buildings are empty and many lie unfinished. It came as no surprise then, perhaps, that we were promptly whisked away to Butrint National Park, where the scenery improved rapidly.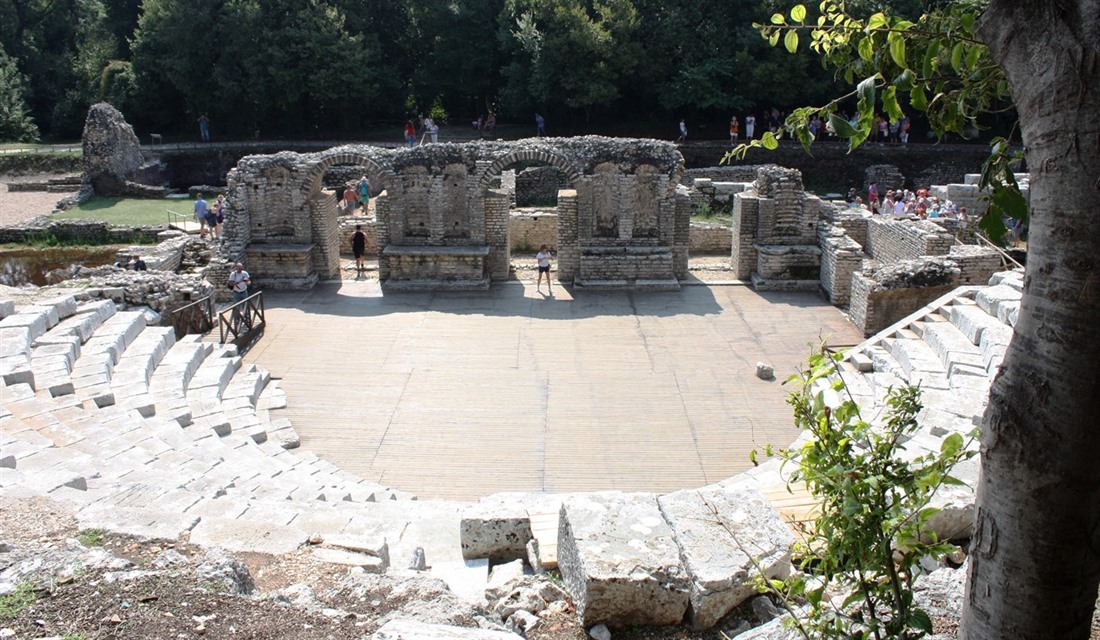 Amongst the trees sits a large Ancient Roman amphitheatre. I recognised the staggered semicircular steps from photographs in travel magazines but the impressive complex extends much further. The surrounding undergrowth is punctuated by tall stone columns. Some poke out from between clumps of gnarled trees as others rise over delicate mosaics - many only recently excavated from their centuries-old hiding place in the dusty earth.
Julius Caesar regularly spent time in Butrint though more interestingly (in my mind, anyway), the amphitheatre once set the stage for the official 'freeing' of a group of slaves, released to honour the gods. As my guide spoke, it was almost hard to believe this was a country kept under communist rule until 1991. It didn't take long, however, for the history lesson to change pace and in the shade of the trees she spoke bluntly about Albania's more recent years.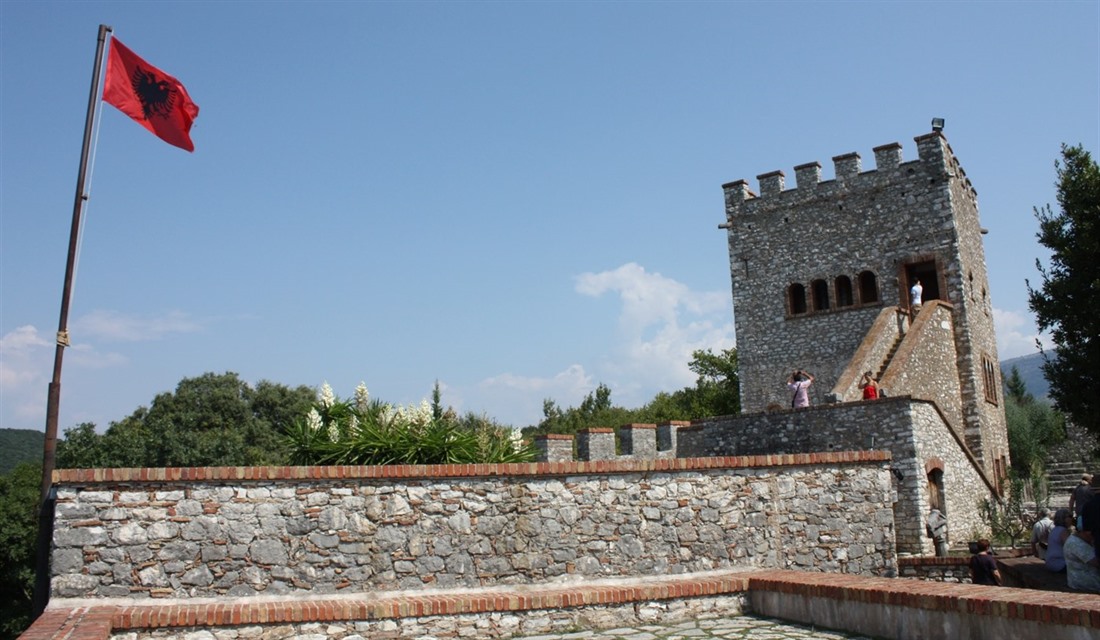 'Churches and mosques were destroyed everywhere. We could not have our own opinions and we were even told what to wear. Finally, after 45 years of communism we are free, we get to choose. We can dress as we like and practice religion openly.'
As a young woman, she hasn't had to live through the years of communism that her parents and grandparents have, but she still referred to the time as 'we'. Having been through so much in the last century, the Albanians seemed to share a great sense of community across the generations. Talking casually about it all felt odd still standing in the Roman ruins.
The crumbling site stretches up to a hill-top castle that looks out over the immense Lake Butrint. Half freshwater and half saline, the glassy surface is broken only by submerged, wooden fence-like structures; mussel farms. From the castle parapets, all my initial misgivings about Albania's beauty (or lack of) are banished as the estuary spills out on the left, overlooked by Corfu a few miles away, and Lake Butrint curves around the right. In the distance, Albania's mountains dominate the skyline.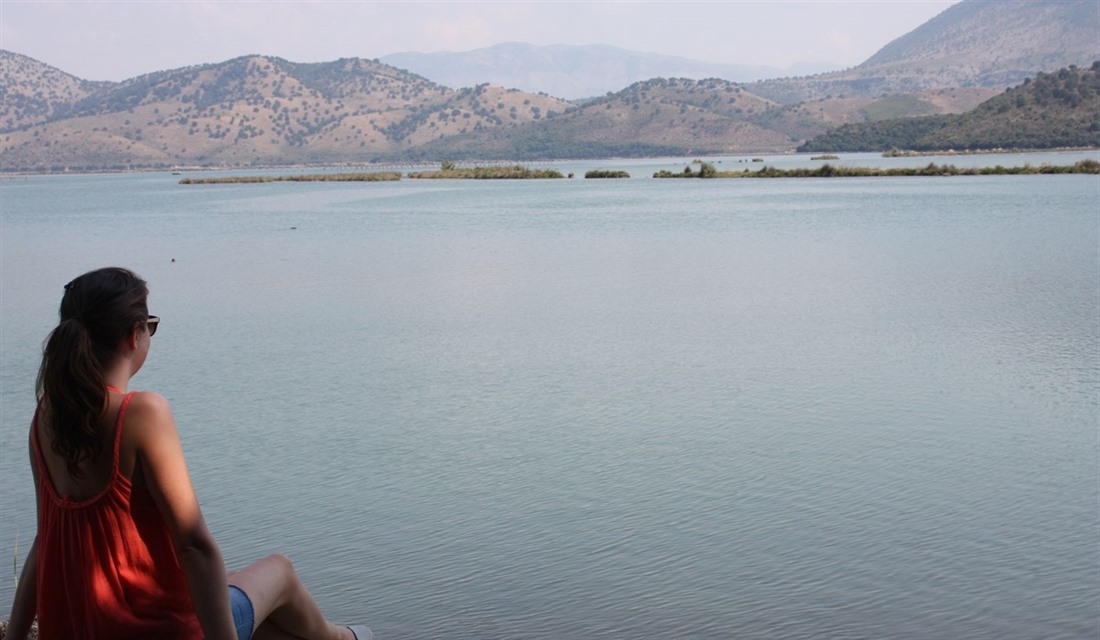 These mountains follow the coastline and arch inland. They do not peak, burst or soar like those in some of Albania's north-west European cousins; they bulge and roll, like aggressive hills with smooth tops and no sharp edges. As luck would have it, they would be our next stop.
Albania in September is dry; the landscape colour palette almost exclusively uses sandy beiges and small khaki bushes gasp for rain. Yet, hydroelectric power runs the country. Rivers running alongside roads are are crystal clear, there's not a history of excess, industry or pollution to be overcome. Great freshwater lakes dammed into reservoirs high up in the mountains have enabled a flourishing renewable energy industry.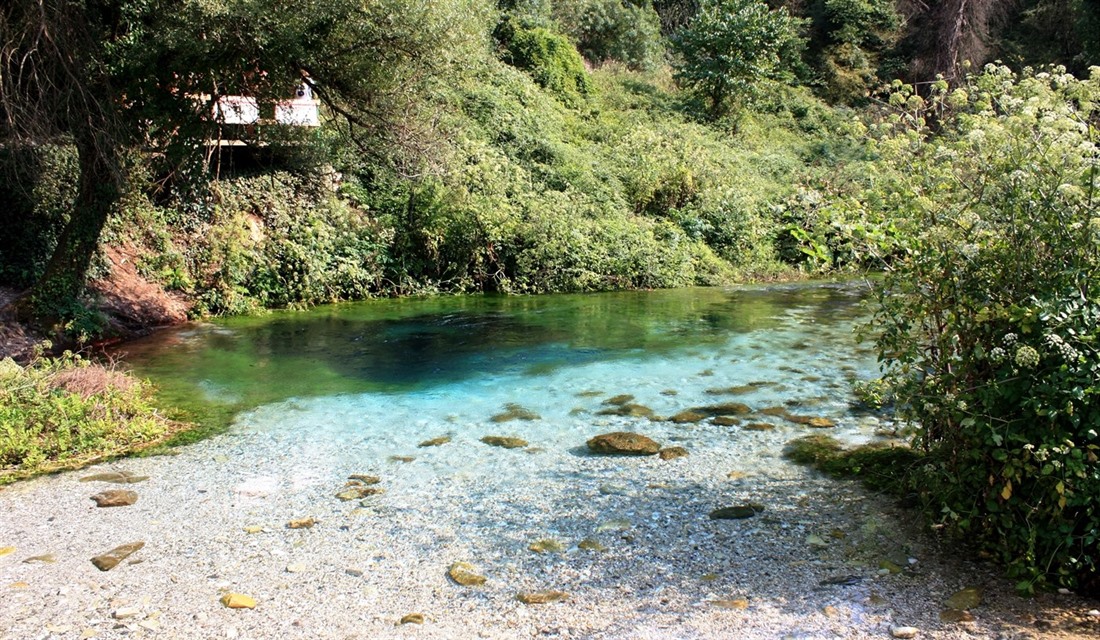 These rivers are fed by natural mountain springs, the most famous of which, Blue Eye, is so picturesque that until fairly recently it was off-limits to the general public, reserved only for senior members of the Communist Party. The deep freshwater pool, as the name suggests, is startlingly turquoise and daringly inviting. A wooden balcony overlooks from which brave souls jump into the deep spring, the waters of which never reach over 10oC, even in the height of summer. I stepped in up to my knees, although didn't find myself lingering long.
Making my way back down to Saranda, I noticed that small concrete domed lookouts remain in the countryside from war time. Even next to houses, their subtle mushroom shape and plaid colours fade into the dry landscape, but their darkened slit windows still appeared to look out. Churches are all new, their white paint has not yet faded, flaked or become grubby with time. Tangible reminders of recent and ancient times are easily spied everywhere, allowing travellers to dip their toes into Albania's history with ease.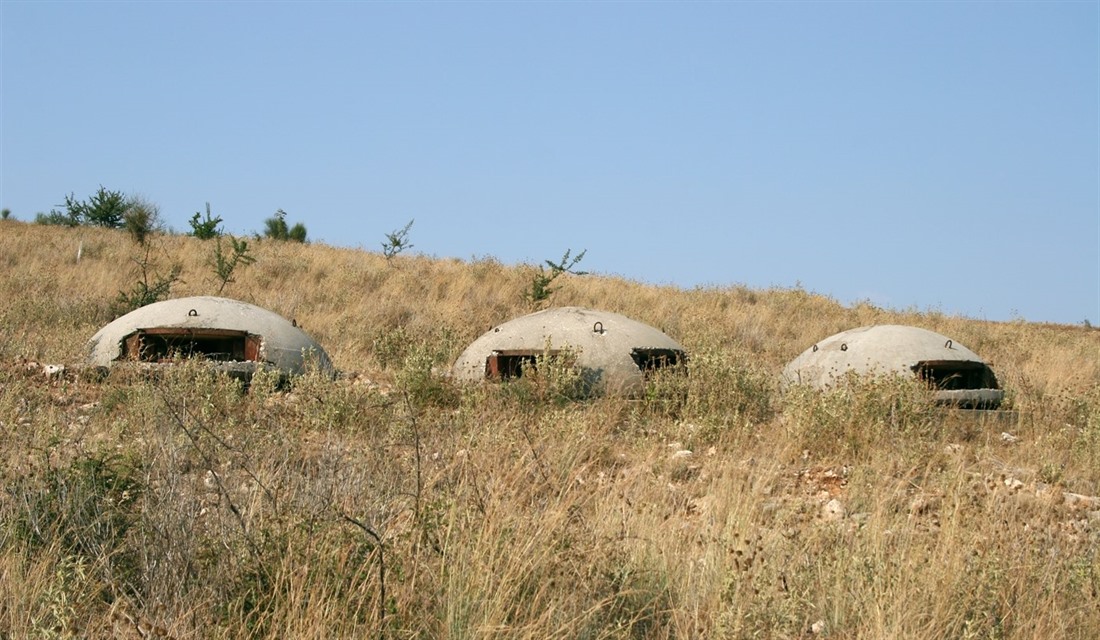 While I wasn't entirely sure what to expect, the welcome across the country was an open and friendly one. The Albanians are keen to nurture their developing tourism industry and share the natural beauties of their home country, shaking off the shackles of decades in the press for all the wrong reasons. The result? An emerging destination still undergoing an intriguing time in its path through history, topped by beautiful natural landscapes unscarred yet by mass tourism.
Click here to find out more about visiting Albania with Regent Holidays here.
Find more inspiration or connect with us
#MyRegentMoment
Find more inspiration on our social media #MyRegentMoment