Travel specialist Laura Dickinson travelled north and discovered that there's so much more to a holiday in Sweden than ABBA, dark crime thrillers and meatballs from Ikea.
Travellers to this famously welcoming nation discover a land of contrasts. Here an enduring Viking heritage sits alongside bright and sophisticated contemporary culture, while serene pastoral beauty blends seamlessly into buzzing, vibrant urban centres.
Summer holidays offer a verdant countryside strewn with azure lakes and swathes of endless forest, before delving headfirst into exciting cities like Stockholm and Gothenburg with their plethora of museums and fine restaurants housed in medieval and baroque architecture.
In the winter, Sweden holidays are all about heading north to the frozen reaches of Lapland, where snow-drenched mountains offer skiing experiences far from the crowds of the Alps and remote log cabins perfect for getting away from it all. Here days are filled with adventures in the snowy wilds – from husky sledding, cross-country skiing and snowshoeing to ice fishing, wilderness training and snowmobiling. Once the sun dips below the horizon, clear skies come alive with the dancing ribbons of the northern lights.
Read on to find out in Laura's own words what she learned on her Swedish adventure.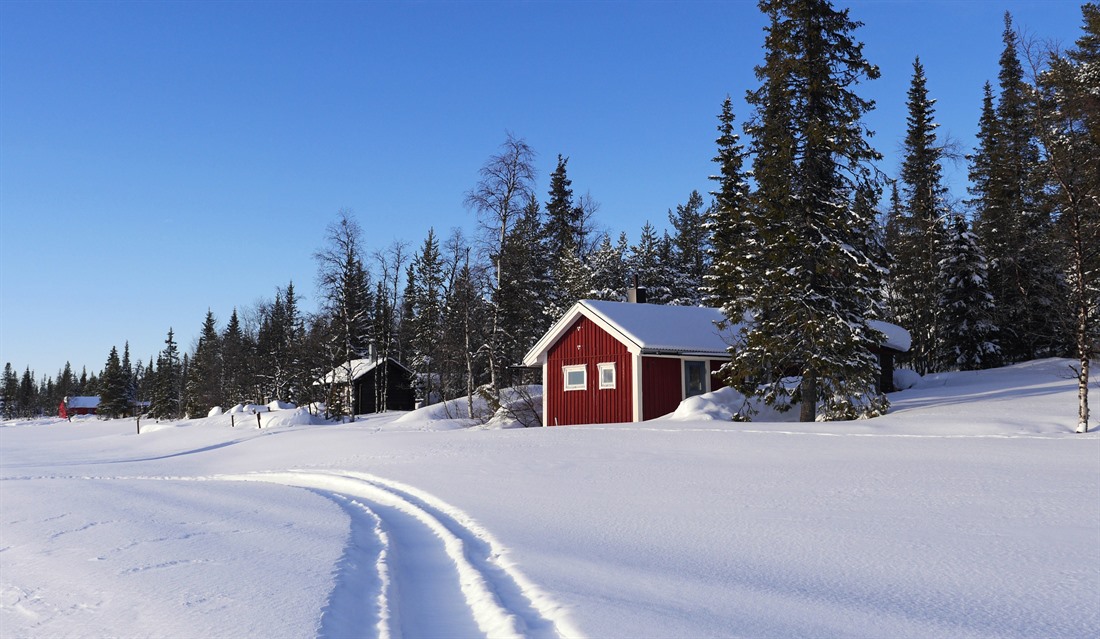 What makes a Sweden winter holiday special?
It's the range of astoundingly creative, unique accommodations on offer; from hotels carved entirely from ice to eclectic treehouses suspended – yes, suspended – up in the forest canopy.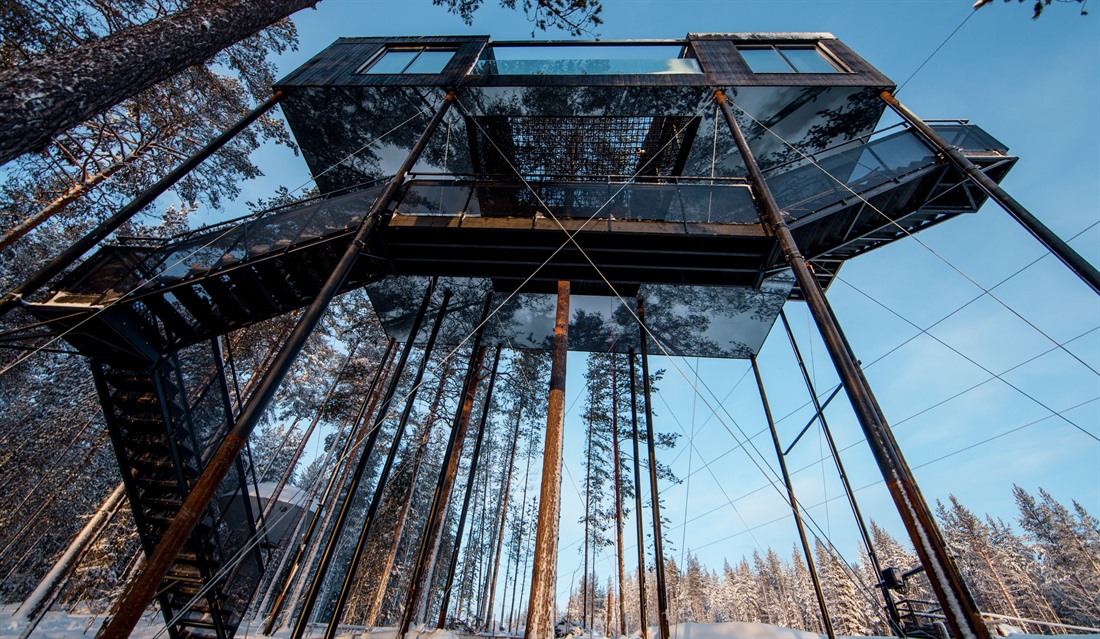 Treehouse Living
So of course, my trip to Sweden wouldn't be complete without a treehouse visit.
The TreeHotel is treehouse-living like you've never experienced before.
Perched amongst the tall pine trees, each of the TreeHotel's elevated accommodations is totally unique; impressive and unusual in equal measure. Here you can choose to stay in a mirrored cube, bird's nest, suspended cabin or spaceship, each lodged firmly above the ground, looking perfectly at home among the heights of the tall pine trees in Northern Sweden. Each treehouse is stylish and comfortable inside and is accessed via a ladder or ramp.
With a dusting of snow on the ground and nature stretching out in all directions, I couldn't help but feel that this is certainly a hotel in which lifelong memories are made. I stayed in the newest treehouse, named the 7th Room. It is one of the largest and one of just two with a private shower making it perfect for a family getaway; every room has private bathrooms, but five of the seven share shower rooms.
For couples looking for a romantic escape, I eyed-up a treehouse named 'The Cabin'. This beautiful, sleek wooden cabin features a floor-to-ceiling window so that the view can be admired whilst tucked up in bed – and from its lofty position high above the forest floor, it's certainly an unforgettable experience!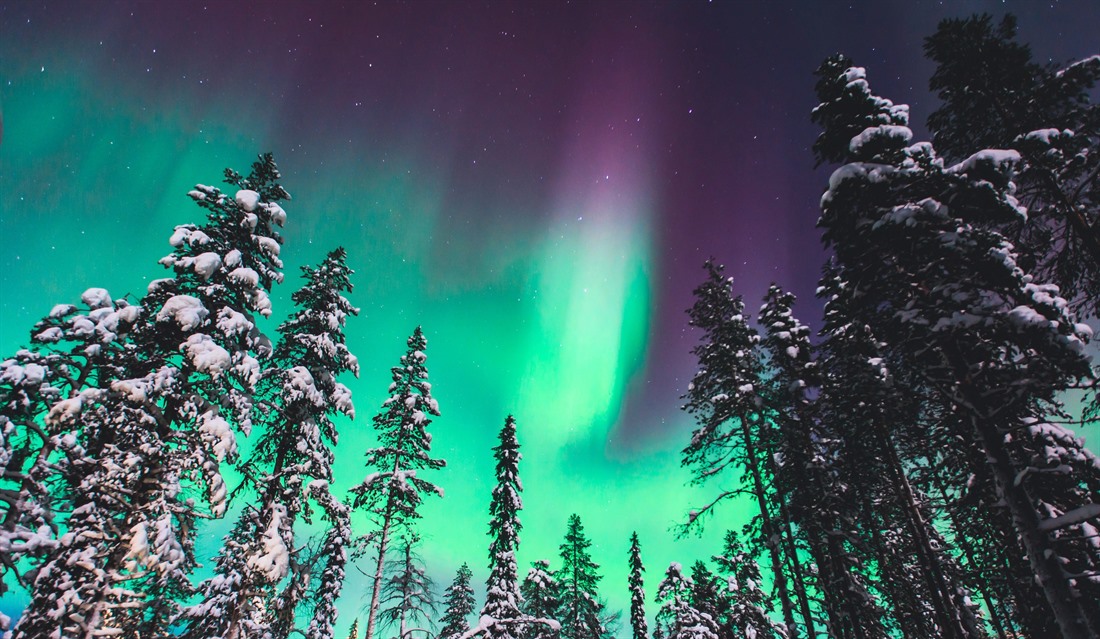 Aurora Borealis
At night during the winter months, these are an incredible place from which to watch the northern lights dance through the skies. Trust me: this far north, northern lights viewings are out of this world!
A variety of excursions are on hand to fill your days, ranging from snowmobiling (also available at night under the aurora borealis) and fishing, to berry or mushroom foraging, depending on the season of your visit.
Enjoy dinners cooked over an open fire at a nearby lakeside (concocted from local fresh ingredients) and perhaps opt to explore your surroundings on horseback or skis.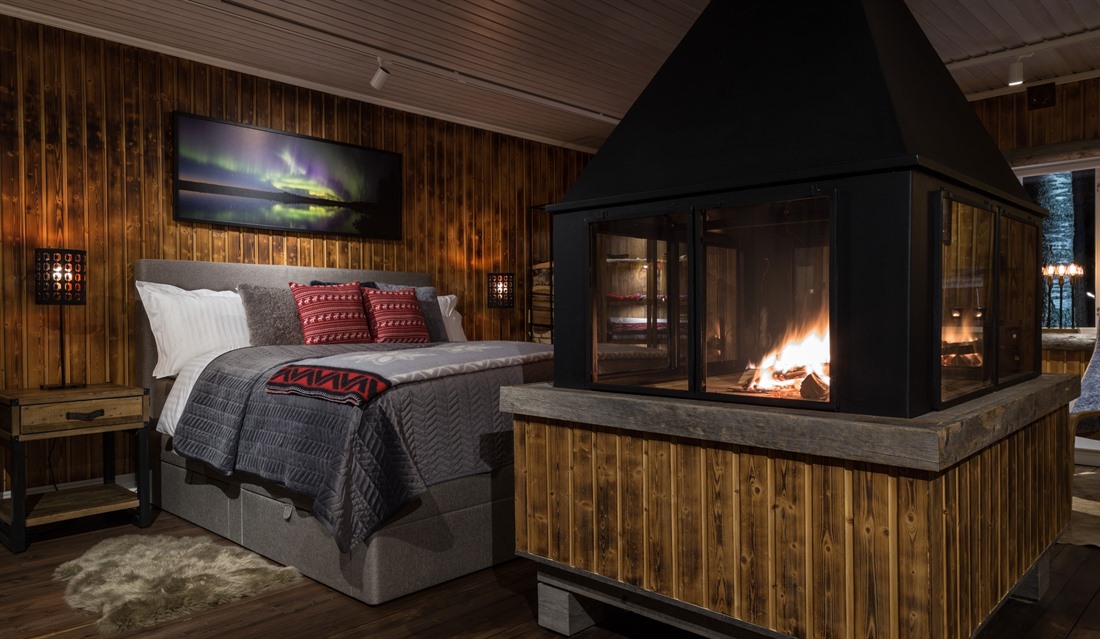 Logger's Lodge
To get here, I had to fly to Lulea in Sweden's far north, via Stockholm, and take a car transfer for just over an hour. On paper, it seems like a slightly arduous journey, but that's the price you pay to experience the real beauty of the remote wilds of this country. But, one of the other great things about this particular property – I know, the list already seems endless – is that one of its 'nearby' neighbours is Logger's Lodge.
Few people have heard of Logger's Lodge and even fewer people have stayed there. This property is as exclusive as they come – a two person-only eco-retreat in the lap of Swedish luxury.
The owners, Eric and Jorgen, take two things seriously: offering a truly remote getaway and creating a luxurious experience. This private eco-lodge is tucked away in the pristine wilds, set 5km away from its nearest neighbours.
Here a roaring fire enclosed in the centre of the room greets guests, and you can enjoy total silence (apart from the crackle of the fire) and incredible opportunities to watch the northern lights far from any hints of city light pollution.
As the only two guests, the wood-fired sauna and outdoor hot tub are yours for your own private use at any time of day or night (think: northern lights in the tub!) and Jorgen, your private chef, is on hand to cater to your every gastronomic need, creating beautiful gourmet dishes from organic, local and traditional ingredients.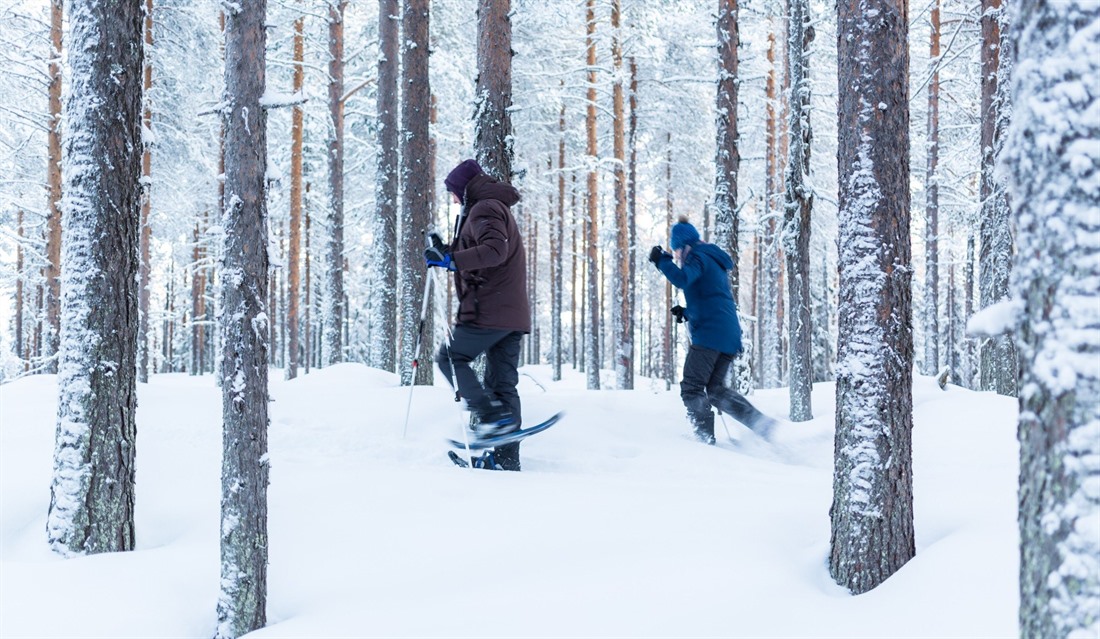 Activities at Logger's Lodge
Activities and excursions are arranged with the Lodge Host, who lives 150 metres away from the lodge and is contactable via the in-house iPad.
Winter activities include:
An Arctic Circle visit to experience Sami culture and meet their reindeer herds
Trips to the beautiful thundering river at Storforsen Nature Reserve
Ski touring
Snowshoe walking
Dog sledding and
Northern lights photography night walks.
I was completely blown away by the beauty of this lodge, the detailed thought that has gone into the smooth organisation of your stay and the fantastic high level of care and service you receive as a guest.
In short, if you're looking for a holiday where everything from the adventurous experiences to the astounding natural environment, and even the place in which you lay your head to sleep each night, is nothing short of incredible, Sweden is for you.
Find more inspiration on our social media #MyRegentMoment