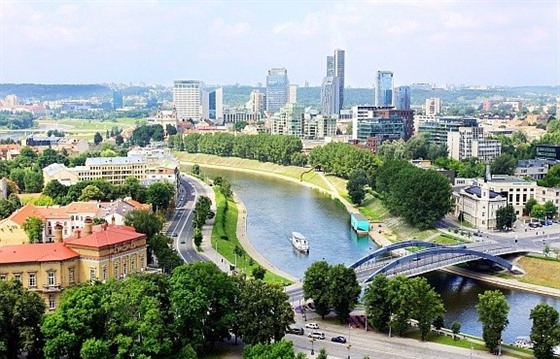 As with any country which has experienced centuries of invasion and occupation, Lithuania is fiercely proud of its culture and language. The latter as ancient and incomprehensible as Welsh. 'Don't worry', our guide informed us. Just like you add an 'a' or an 'o' to a word to make it sound vaguely Spanish or Italian, add 'as' at the end of a word and you will be fluent e.g. centre/centras.

Those marauding Crusaders learnt a bitter lesson believing they could redeem their pride after a crushing defeat in the Holy Land, by an easy victory over those pesky pagans of Lithuania. Two hundred years later, and with a lot of assistance from other 'Christian' states they succeeded in converting, at least on paper, the heathens. Lithuania is still proud of being the last pagan country in Europe to be conquered. The Christians immediately set about imposing their grand style of architecture on the state, but Lithuania remained a good century behind the rest of Europe in this respect. Vilnius, and its close rival, Kaunas, present a grand melee of Gothic, Baroque, Rococo and Russian Orthodox. At times several styles of architecture clamour for attention in the same building.
The legacy of the first Russian occupation is apparent in the pastel coloured elegant buildings a la St. Petersburg followed, of course, by the imposing structures of the Stalinist school of architecture created during the 2nd Russian occupation. The Soviets had no time for frivolity. Buildings were there to be functional and symbols of power. In acts of pure vandalism churches were turned into warehouses; vibrant frescoes eclipsed with paint or plaster, beautifully carved pillars knocked smooth. How significant is it that the first buildings to be restored in all the former communist countries are the places of worship?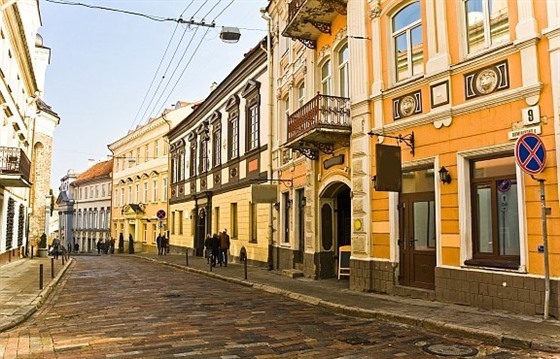 Reminders are all around not only of man's inhumanity but of the power of the human spirit to survive. The beautiful houses and shops of the once thriving Jewish quarter of Vilnius seem to echo the plight of those lucky ones who fled into exile and those not so lucky whose fate was the Nazi concentration camps. On the ground, in front of Vilnius's cathedral, is a circular plaque whose letters spell 'miracle'. This commemorates the spot where a human chain stretched from Lithuania to Estonia through Latvia in defiance to the 50 years of Soviet occupation. Like Moldova, Lithuania has its own break away republic, Us Upil [literally the other side of the river]. Entry is over a bridge from down town Vilnius. Unlike Transdniestr the tiny republic of Us Upil does not take itself very seriously. The parliament meets in a pub; national day is 1st April and the constitution is written in several languages including Gaelic and a South Lithuania peasant dialect. One of the rights of the constitution includes 'It is everyone's right to die, but it is not obligatory'!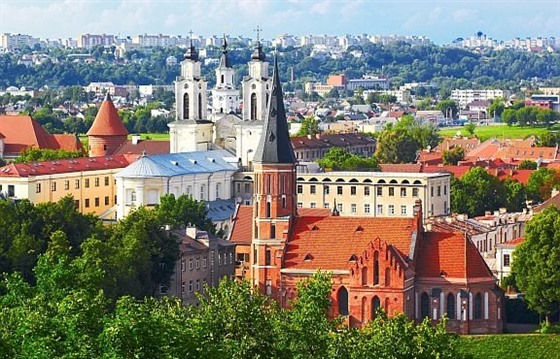 Being a flat country Lithuania is great for cyclists. The countryside is unbelievably green with forests, lush meadows and an abundance of lakes – note beware of mosquitoes. Light and industrial pollution are very low making Lithuania an ideal location for Northern Europe's most powerful telescope. It was amusing to watch a waif like girl watering the grass at the observatory in the middle of a torrential rain storm! How do those leggy, svelte girls keep their shape on a diet rich in potatoes, cheese and pork products? Homemade rye vodka went down surprisingly well at 10.30 in the morning at the open air ethnographic museum outside Kaunas. Fueled by the early shot of alcohol it was not difficult to persuade us to take part in Lithuania's version of 'jeux sans frontiers'. Lithuania has a long history of sanatoriums, but these days the old image of large, white-coated ladies has been discarded in favour of smart spas set in truly stunning landscapes. Scandinavian influence is evident in the use of wood, light, saunas, spa treatments and lighter cuisine. A unique and slightly bizarre type of accommodation is at a recreated farmstead. Designed with all mod cons and great attention to detail but constructed in old world style.

The proud owner made his money in mattresses and now shows guests around in traditional peasant attire, but can easily be persuaded to come back to the 21st century to display his fleet of 4 x 4's, top-of-the-range sports car and rally car! Following the chaos of post-1991, when canny and unscrupulous speculators made their money buying up land and failing enterprises, Lithuania appears to have entered a period of stability with an enviable unemployment rate of 12%, even if this is partly due to mass emigration in the early 90s. The remaining population are sophisticated, cultured and educated. Georgio Armani rubs shoulder with M & S. I couldn't help being struck by a lady sporting an expensive T-shirt emblazoned with the slogan 'togetherness' above a couple hand-in-hand. As she walked, her ample bosom jostled the pair together as if in conflict. Maybe a symbol of Lithuania – a very much together people, always subject to conflict from outside. These regular encounters with traditional and modern day life make for a most fascinating and memorable visit.

Click for more information on Lithuania holidays.
Find more inspiration on our social media #MyRegentMoment