Travel writer Mike Unwin spends a weekend in Ukraine's "laidback" capital of culture, Lviv, with Regent Holidays to experience its unique history, architecture, opera and dumplings.
Tragedy strikes in the final act. The string section swells as jealous Renato storms in and stabs his wife's lover Riccardo through the heart. Riccardo, mortally wounded but still able to muster a soaring tenor, discloses that Amelia never broke her marriage vows. Then he expires. The orchestra goes ballistic. In Lviv, Ukraine's capital of culture, Verdi's Masked Ball is over for another night.
At least, I think that's what's happens. To be honest, with the libretto in Italian and the surtitles in Ukrainian, I'm not entirely sure. But following the plot is not really the point. When we bought our (absurdly cheap) tickets at the little booth we had no idea what we'd be seeing. There were no announcements, no posters, it was all very low key. And now, up here in the Gods, things are still surprisingly informal: the audience wanders in and out; new faces appear beside me after each interval.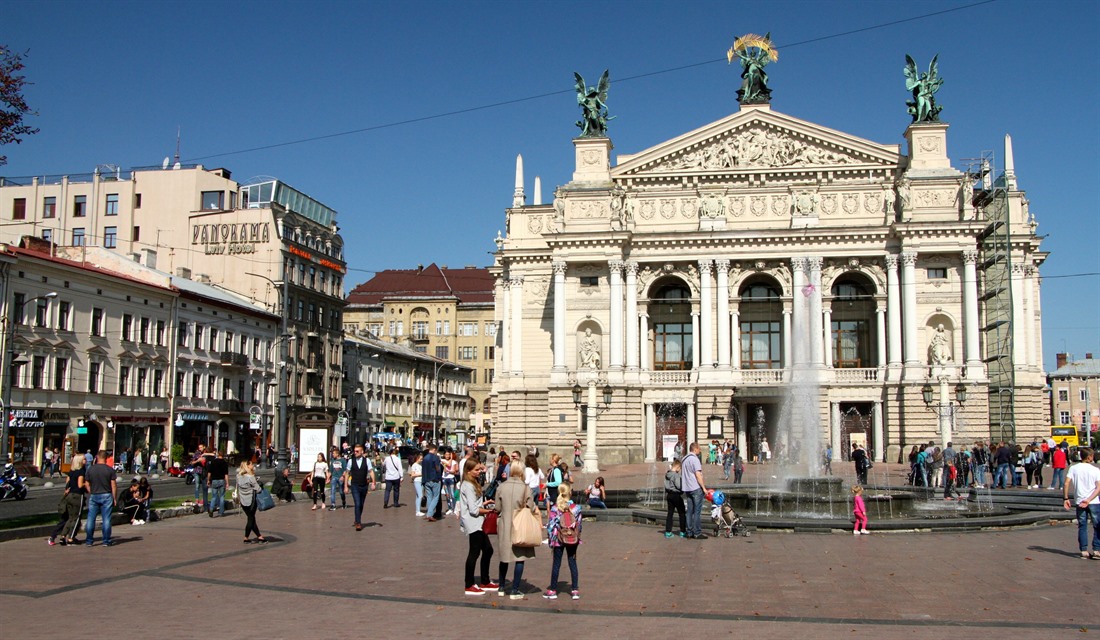 Don't get me wrong: it's as grand a spectacle as you could hope for. There's a huge cast, a superb orchestra and a magnificent baroque theatre, complete with sweeping stone staircases and a spacecraft-sized chandelier. But there seems to be so little song and dance – as it were – about the occasion. It's as though going to the opera here is something you do on a whim, perhaps if there's nothing good on telly.
Lviv's laid-back take on its own treasures has been apparent ever since my wife and I arrived last night for our long weekend. Close to the Polish border, and more European than Russian in its outlook, the city emerged from the ravages of World War Two with its rich culture – a melting pot of Hapsburg, Ottoman, Art Nouveau and Orthodox – largely intact. Today the cobbled streets of the Old Town are a UNESCO World Heritage Site, with every second building a magnificent church or quirky museum. Add to this a profusion of eateries and – during our visit – a pulsing music festival, and you'd think the place would be mobbed. But, though busy, it keeps its cool. There are no pushy street vendors or swaggering stag parties. And a general lack of spoken English suggests that life here does not depend entirely upon tourism. In a summer that has raised serious concerns about the deluge of visitors to the likes of Venice and Barcelona, Lviv seems happy to take it or leave it.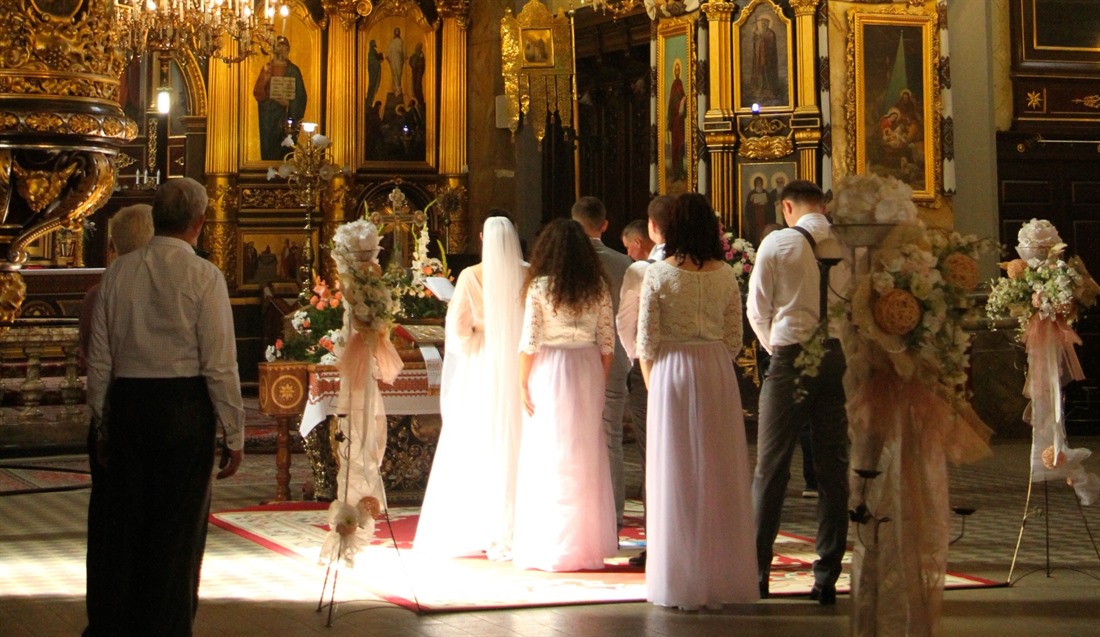 Our hotel is the Nobilis , a discreet and elegant retreat just a ten-minute stroll from the Old Town. We plot our sight-seeing over the breakfast buffet then venture out into the September sunshine with guidebook in hand. Following the broad avenues of Svobody Street towards the opera house, we pause at the Shevchenko Monument. At independence, this statue of Ukraine's national poet supplanted one of Stalin. A relief work depicting centuries of Ukrainian culture towers over the literary icon. Children scale its lower reaches as though at a climbing wall.
A side alley leads us into an eclectic street market, where among embroidered shirts and ancient postcards are toilet rolls adorned with Putin's face – an eloquent commentary on Ukraine's current politics. Emerging into the Old Town, we are soon traipsing in and out of places of worship, from the ancient Armenian Church, with its painted vaults, to the grand blue and gold interior of the Church of the Transfiguration. At the latter, we take a pew to witness first a christening and then, after a rapid unrolling of red carpet, a wedding. Back outside we find there are weddings everywhere, each cobbled street leading us to another bride in white, posing with her entourage for after-ceremony photos outside another grand doorway.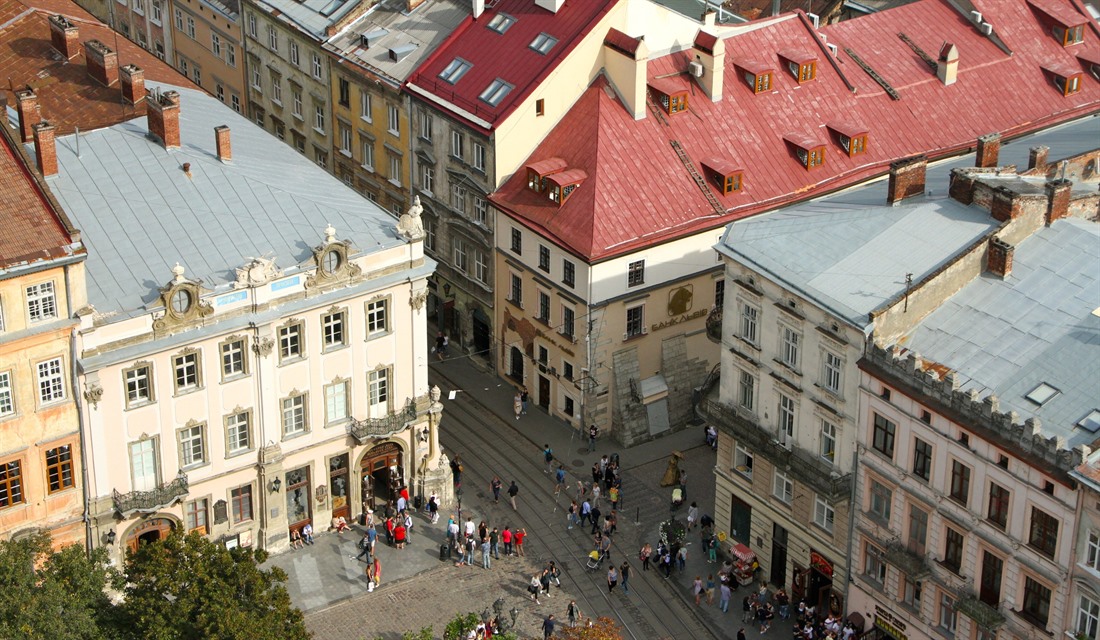 Lest we are lulled into thinking that Lviv is about nothing but piety and young love, however, we also stumble upon a statue of Leopold von Sacher-Masoch. One of the city's more notorious former residents, it was his antics that gave us the term 'masochism'. Clutching hands reach out lasciviously from beneath the statue's undergarments. We hurry on to the old Gunpowder Tower, whose splendid sculpted lions restore a little moral authority.
At the centre of the Old Town we find Rynok Square. Rebuilt after a 1527 fire, its four sides are lined with historic buildings, a beguiling architectural blend of renaissance and baroque. The best view is from above, apparently, so we climb the 306 steps to the top of the town hall tower from where, map in hand, we identify the square's famous houses, from the Black Mansion at number 4 to the pink House of the Seasons at number 23. It's like peering down into a model village.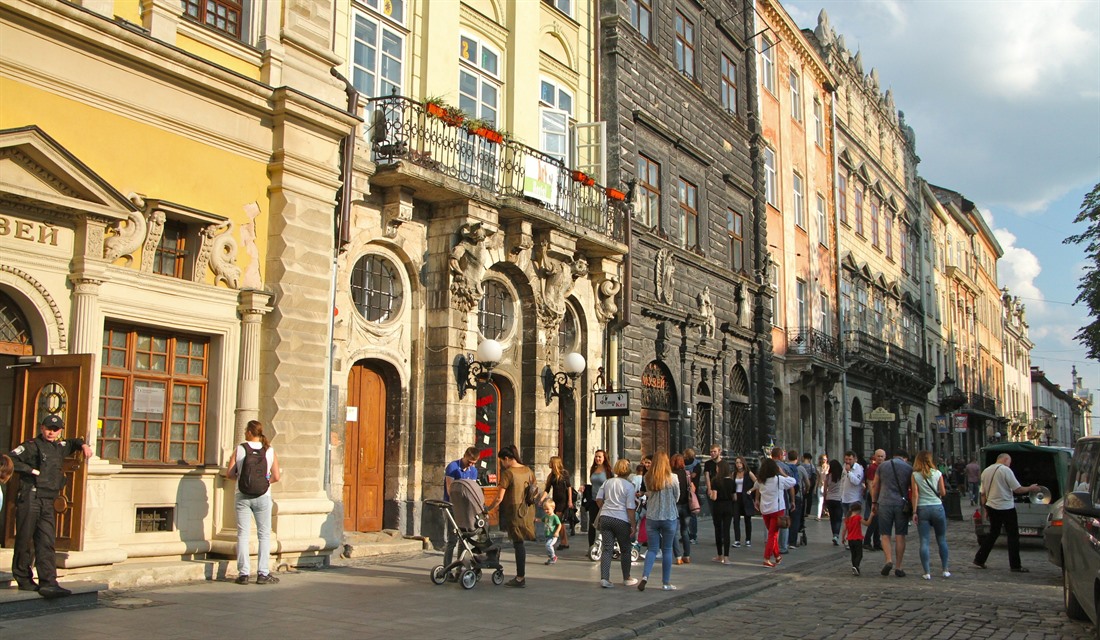 But there's only so much culture you can do on a weekend break without feeling you're missing the 'break' bit, and every street corner restaurant or coffee-house looks tempting. At lunch, we stumble into the delightful Yushka and Schnitzel cafe for traditional green borsch and a view of the passing street life. Later, after the opera, we wander out to Roberta Domsa, where the cellars of the old brewery are hosting live bands. The place is packed with young people and there's not a tourist in sight. We dutifully sample the local beers and consume groaning platters of what our guidebook describes as 'hearty Ukrainian belly fillers'.
On Sunday, we abandon the guidebook and simply wander, heading out beyond the walls of the Old Town. To the east, we stroll through Ivano Franko Park and down to the Patoki Palace, where an Exhibition on Franz Mozart – son of the more famous father and a one-time Lviv resident – offer a musical trawl through the city's Hapsburg past. To the North, we wind up a steep wooded hill to the High Castle, giving fabulous views back across the Old Town and towards the distant hills.
Our flight home comes on Monday afternoon. After three nights in Lviv, it feels we have barely started on the city's rich heritage – but we have at least imbibed something of its ambience. And, with the airport just a 15-minute taxi ride away, there's time for one last lunch. At Kupol, a former art salon now run by three sisters as a family restaurant, we sit down to a wonderful meal on a shaded terrace. The food is exquisite – from the varyaki starters (potato and mushroom dumplings) to the plum brandy deserts. According to our guidebook, 'everything in Lviv is art'. Even, it seems, the dumplings.
Find more inspiration on our social media #MyRegentMoment