Salad Olivier
One of my favourite Russian salads, which is also know as Russian Salad outside Russia and wedding salad in Mongolia! The original version was served in the 1860s by a Belgian Lucien Olivier, a chef in one of Moscow's most popular restaurants of that time – the Hermitage. His recipe was a secret and was naturally more elaborate then today's recipe, his dastardly sous chef Ivan Ivanov tried to steal the recipe and created a version of his own called Stolichny so sometimes the salad is also known as this.

This salad is served at nearly all special occasions in Russia – I have eaten it at weddings, birthdays, New Year and Orthodox Christmas! Today most versions of "Salat Olivier" contains boiled potatoes, pickled gherkins, peas, eggs, carrots, and boiled beef/chicken or ham, dressed with Smetana (a sort of Russian soured cream mixed with natural yoghurt!). Here is my favourite recipe.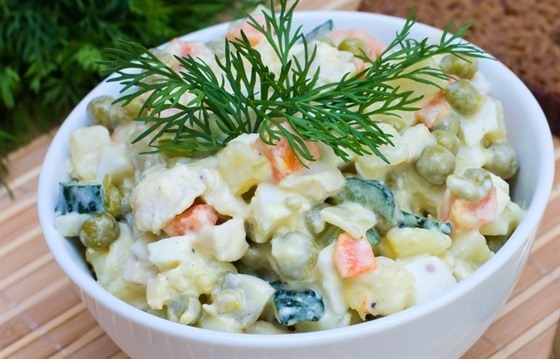 Serves 10 -12 people (for best results chill overnight)
For the salad
2 large tins of new potatoes (cut into chunks)
2-3 large carrots (boiled until tender and cut into rounds)
175g frozen peas (cooked)
4 large spring onions (chopped)
1 large orange (peeled with pith/membrane removed and cut into small chunks)
1 granny smith and red skinned apple (cored and cut into chunks)
300g of cooked chicken breast cut into chunks (optional)

For the Dressing
4 hard boiled egg yolks
3 tablespoons of olive oil
2 tablespoons of white wine vinegar
250ml Smetana (mix equally soured cream with natural yoghurt)
250ml mayonnaise
1 bunch of fresh dill
salt & pepper

To Garnish
Sprigs of dill
2 hard boiled eggs (quartered )

Mix all the vegetables, fruit and chicken (if making a non-vegetarian version) into large bowl and mix well. In a smaller bowl crush the egg yolks, add the olive oil and make a paste. Add the white wine vinegar and half the Smetana mixture and half the mayonnaise. Season and mix thoroughly. Adjust to your taste i.e. if you want more soured cream or mayonnaise etc. Cover bowl and chill.

Just before serving mix salad again and pour the remaining Smetana and mayonnaise over the salad (reserving above four tablespoons for the garnish). Chop the dill and add to salad. Serve in small dishes and garnish with the remaining dressing, sprigs of dill and hard-boiled eggs.

Have you discovered any delicious recipes on your travels? Share them with us below!