As part of our commitment to Borneo and the important work being done at Sepilok Rehabilitation Centre, Regent Holidays are proud to work with Orangutan Appeal UK, a registered charity based in the south of England dedicated to the rehabilitation and preservation of orangutans and the conservation of their habitat.
The Appeal strives to protect the remaining few wild populations of orangutans by providing support and funding for projects across Malaysian and Indonesian Borneo and by raising awareness of the plight of this great ape across the globe. The Appeal is also authorised to work on behalf of the famous Sepilok Orangutan Rehabilitation Centre.
As an important part of the ongoing work being done by Orangutan Appeal UK in conjunction with Sepilok Orangutan Rehabilitation Centre, for every booking to Borneo Regent Holidays will sponsor Archie, a male juvenile orangutan who has been a resident of the centre since 2014. Read on to learn about Archie's story…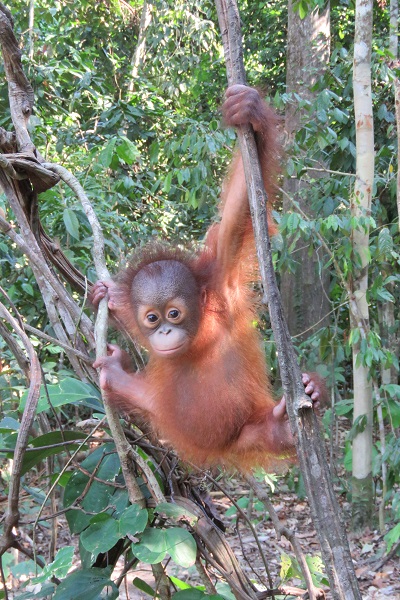 Meet Archie:
Date arrived at Sepilok Rehabilitation Centre: July 2014
Age on Arrival: 0 months old
Gender: male
Female orangutans are wonderful mothers and are very protective of their babies. This was especially true of a striking, wild female orangutan in her twenties who lived in the Kabili rainforest reserve, which surrounds Sepilok Rehabilitation Centre in Sabah, North Borneo. In the summer of 2014, this female gave birth to a baby boy.
The baby was named Archie and his mother was very proud of her new son. She often bought him to the feeding platform at Sepilok to show off her new addition to the rangers and the visitors. The rangers keep a very close eye on the orangutans at the platform to make sure all is well and it was on one of these visits that they noticed Archie was very lethargic and appeared jaundiced. This condition needs to be treated urgently as it can be fatal.
Sepilok's vet made the decision to bring the mother and her baby into the clinic for close examination as quick action was crucial for Archie's safety. Orangutan mothers will defend their babies vehemently in an effort to protect them from any harm so after they arrived at the clinic it was necessary to separate Archie from his mum. Archie was very poorly and required extensive treatment. Archie's mother was returned to the reserve as her son's treatment would take considerable time and effort and as a large, wild female, it would not have been fair to keep her captive.
After a short period of adjustment, Archie's mum returned to her normal pattern of behaviour as a free and independent orangutan. The incredibly hard choice made by the veterinary staff at Sepilok to hand-rear Archie in order to save his life turned out to be the right one. The constant care and attention given to Archie through his illness ensured he made a full recovery.
Archie is now living in the indoor nursery where he is being taught the skills he needs to survive in the rainforest when he is ready to be released when he's older. He has made lots of friends including one very special friend, the actor and comedian Paul O'Grady, who was filming at the centre and fell in love with Archie at first sight. Paul was the first person to adopt Archie and still does. Ospie and Koko are Archie's nursery friends, who he snuggles up to at night for comfort and he is now a happy and healthy little boy.
We will be keeping a watchful eye on this special little orangutan. We hope you will too….
Find more inspiration on our social media #MyRegentMoment