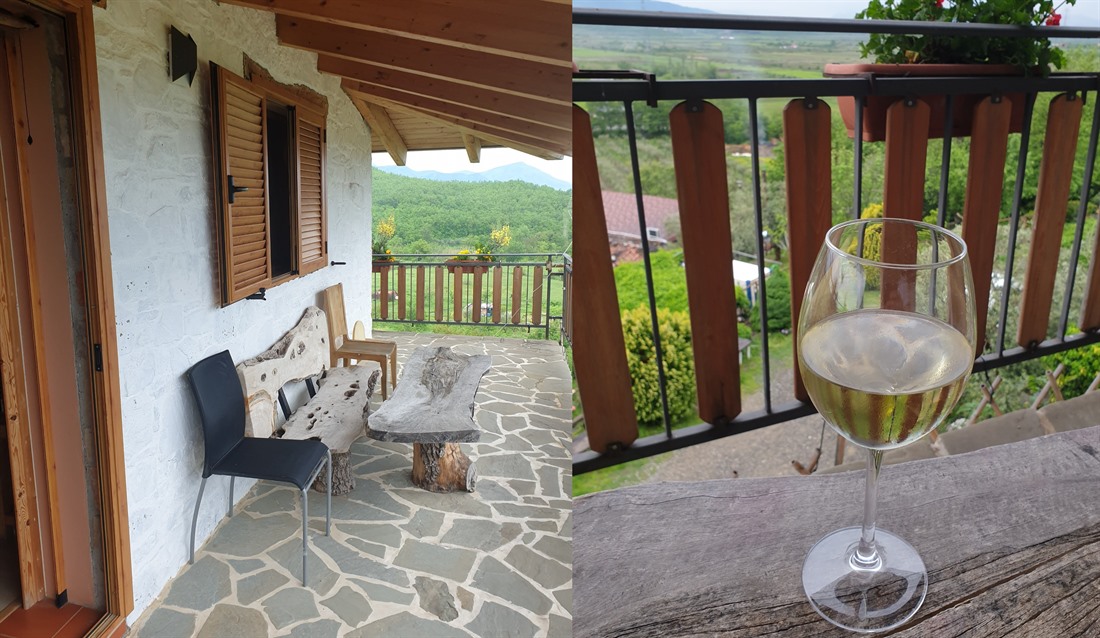 Our small group tours to Albania have been enjoying farm to table meals at the restaurant here for quite some time now, so when Ellie, our Balkans Product Executive suggested that I stay overnight to check it out, how could I refuse?
There is a big growth in agritourism in Albania. Stunning landscapes, the long-standing tradition of hospitality, rich cuisine with many traditional cooking techniques and products accompanied by super-friendly, welcoming people make Albania the perfect place for a wonderful agritourism experience.
So it was on a sunny May afternoon our lovely Albanian guide Genti drove us along country lanes past olive groves and orderly rows of vines to drop us off at this rural retreat.
There were quite a few late stragglers departing who looked like they had enjoyed a leisurely lunch. The restaurant here gets very busy, as it is very popular with Albanians who really appreciate good quality cuisine.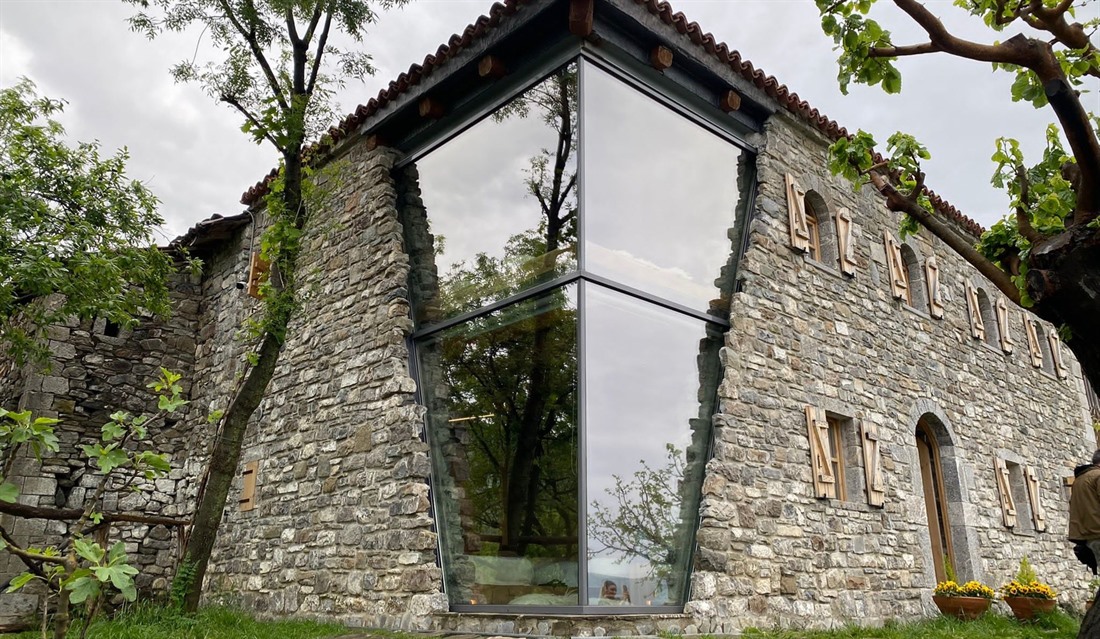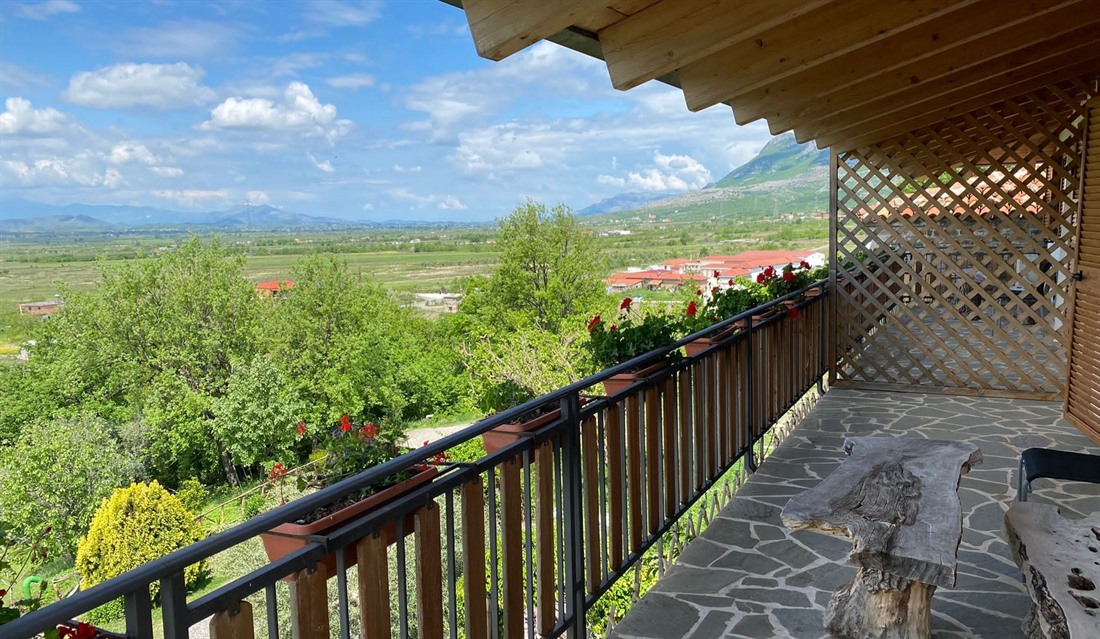 Wine with a view
Perched on a hill, there are steep climbs to the hotel and a few steps to the restaurant, but Genti was on hand to make sure our luggage was taken up to our room and to ensure our room was up to his impeccable standard – it certainly was. Rooms are named after farm animals and the rooms with the floor to ceiling glass windows looked incredible, although busy with the Insta-generation snapping away in various pouty poses. So, we were relieved as we were guided up the stairs to a more private area.
Ours was a spacious family room that had been converted to a twin with a bunk bed in the corner. Our room was "Turkey", but it certainly wasn't. The mattresses and pillows were the most comfortable I've experienced in a long while. Our small bathroom was stacked with toiletries and some lovely handmade soap. Fling open the wooden shutters to enjoy a beautiful view of the green valley, wooded hills and the ever-present mountains. "This is a lovely place to enjoy a glass of wine" said Genti, still with us and well, we didn't need telling twice.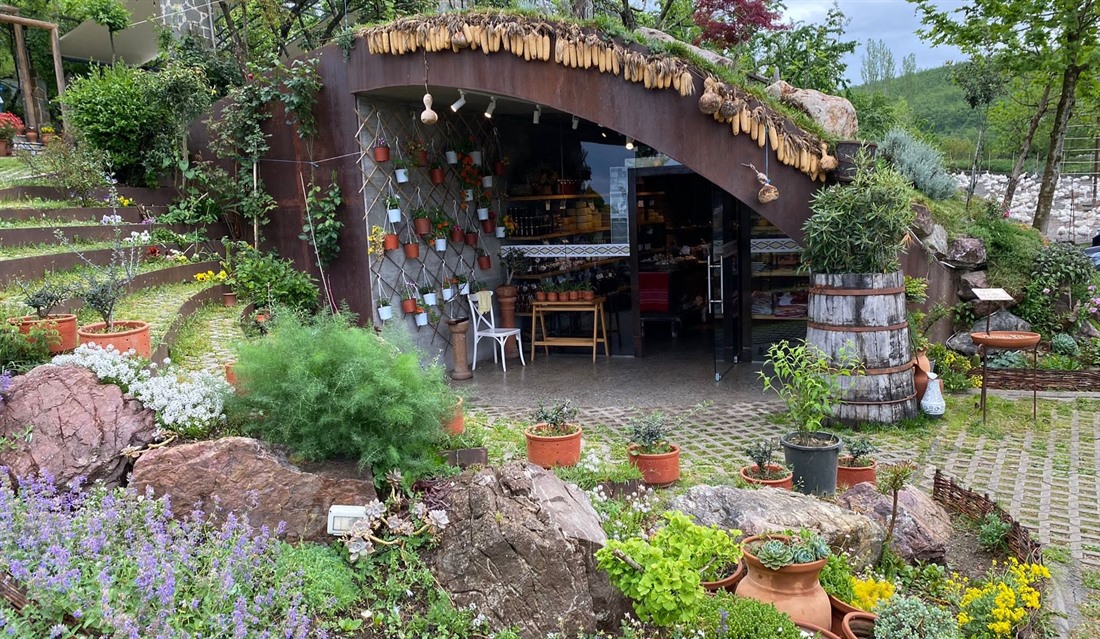 With a few hours to kill before our dinner reservation at 8pm, we visited the livestock, fed some goats, sheep, horses and listened to a gaggle of geese honking away. On site there is a shop open till 11pm selling cheeses, dried sausages, wine and jam all made on the farm nearby. There are handmade soaps, textiles, pottery and other souvenirs to buy as well. Money duly spent, we wandered up to our room to enjoy the views of the evening sun once more.
The restaurant was packed at 8pm with hardly any free tables as it was the end of Eid as well as quite a few birthdays judging from the balloons festooning the tables.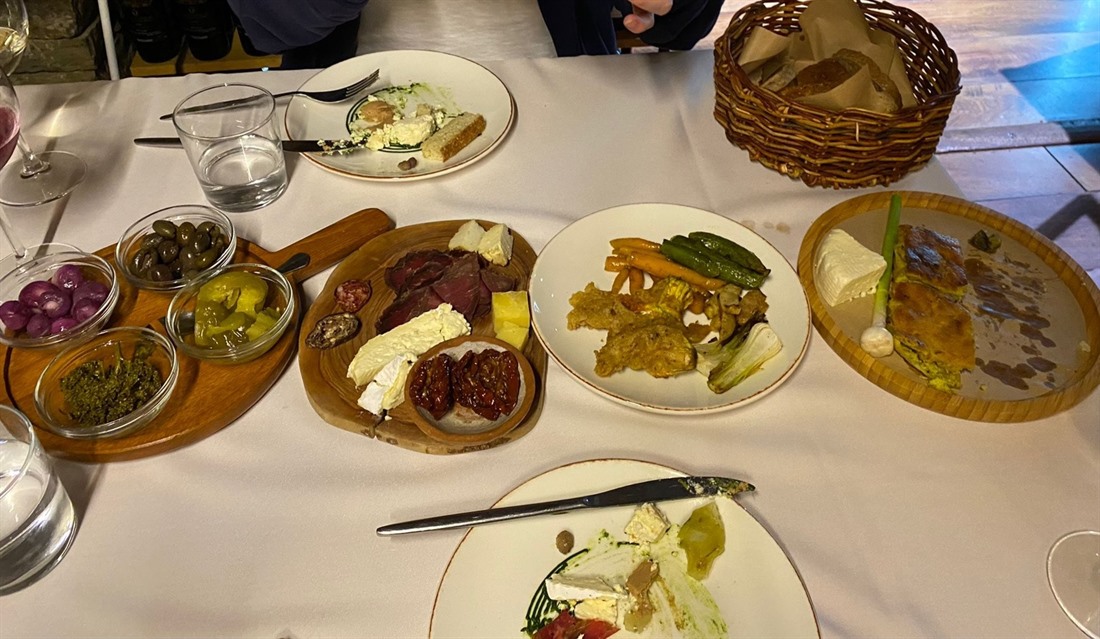 Wearing a smart apron emblazoned "Think Globally, Eat Locally" a lovely English-speaking waitress Dafina came to explain the menu to us. There are no printed menus as it all depends on what is available on the day. She kindly explained their tasting menu with a selection of Albanian starters - cheese, meats and vegetables with some pickles was the way to go. There was a good choice of mains - most including meat which pleased my carnivore travelling companion, so tender pork cooked on skewers served with a delicious yoghurt sauce and some chicken with wild rice was ordered. All we had to do is sit back and relax. The food just kept coming, plates of delicious cheeses (goats, sheep and smoked, aged in red wine) and beautifully cooked vegetables, zucchini flowers stuffed with yes you guessed it - cheese and yet more cheese accompanied by course crumbly cornbread.
Everything was so delicious, fresh and unusual too – sharp pickled tomatoes, briny black olives and creamy goats cheese topped with a rich liver pate ticked all the boxes. The deliciously crisp white wine accompanied everything perfectly. My friend looking at the size of the mains coming out, asked Dafina if we could cancel one of the mains. "Of course, not a problem" She smiled "In Albania we like a lot of food on the table – we like it covered in dishes and we love to eat a lot." We had to admit defeat and Dafina looked a little disappointed when we refused dessert! The bill came to £26 for the two of us! We could scarcely believe it – fresh, organic farm to table Albanian slow-food complemented by their own wine. Even the noise of the geese during the night did not hinder a restful slumber after all that good food.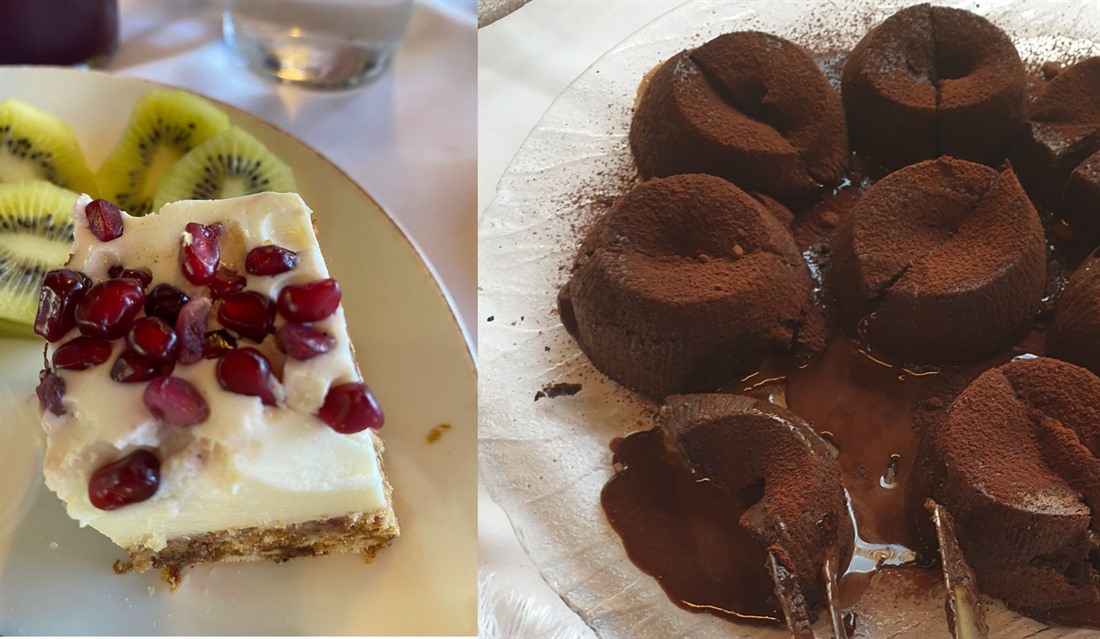 Chocolate pudding for breakfast?
It was certainly one of our more unusual breakfasts, the pomegranate cheesecake was delicious, but even I had to draw the line at chocolate pudding for breakfast. My favourite dish was the traditional spinach pie with the freshest, most delicious eggs.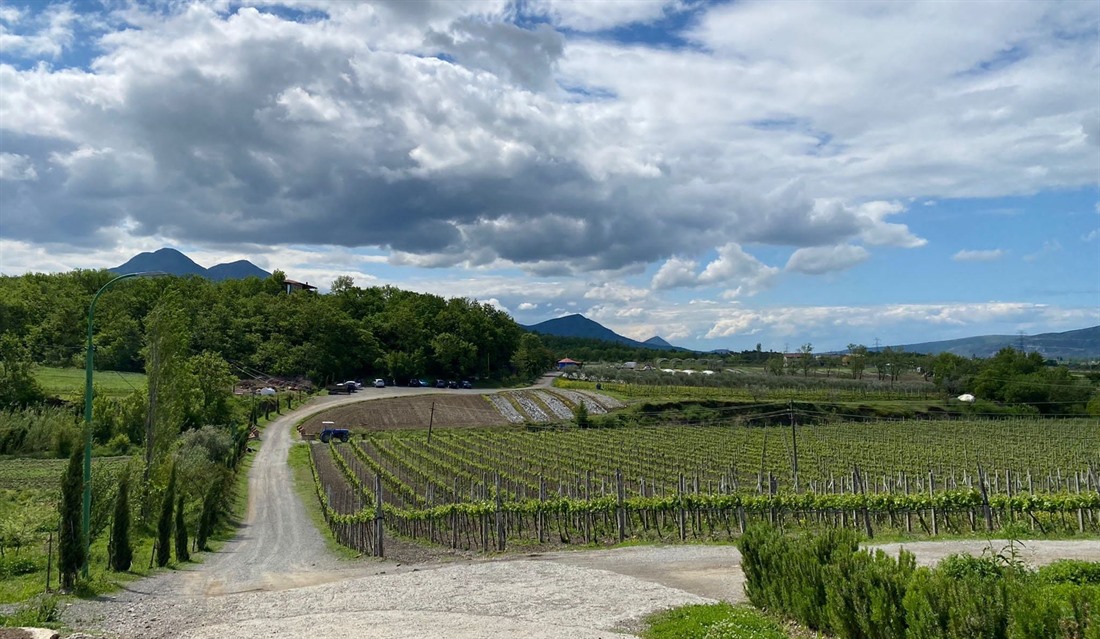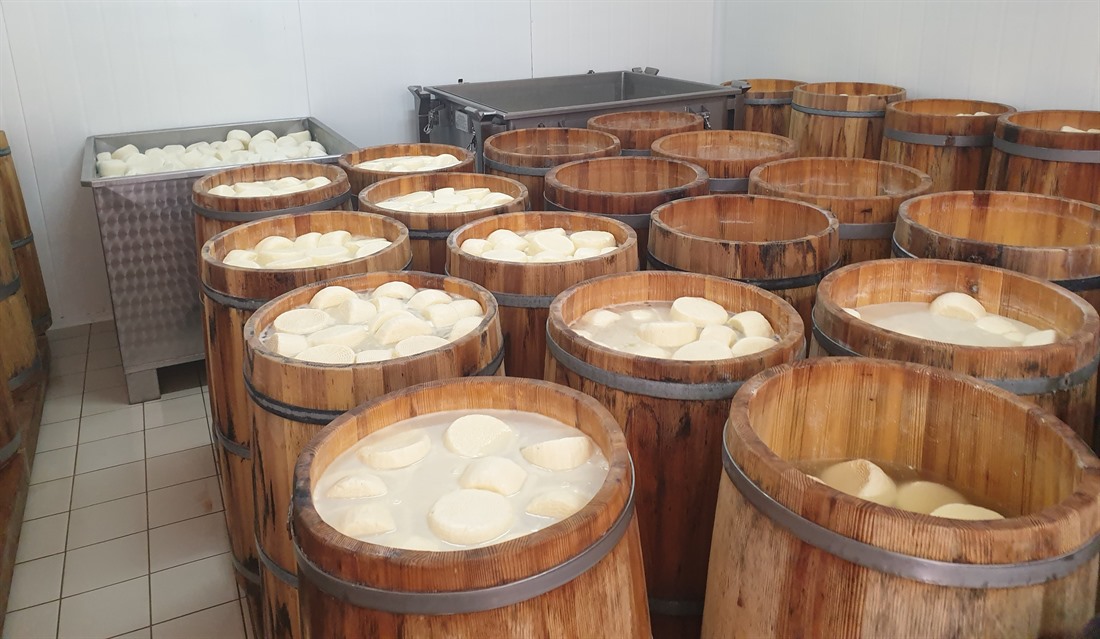 Wine, Jam & Cheese making
On the advice of Dafina the night before we set out on a tour of the farm by ourselves as there were no English-speaking guides available. It was a lovely walk up to the former prison that houses the winery, cheese and jam-making enterprises. We glimpsed into rooms until a lovely lady who spoke no English took it upon herself to take a break from peeling thousands of garlic bulbs to show us around. Rooms full of rounds of cheeses ageing, barrels holding pungent cheese soaking in red wine and rows of hanging sausages drying. In one room, smiling women were busy making fig jam and in another a man was washing out tall metal wine racks. We were shown a rather elegant wine cellar full of oak caskets and in the centre of the courtyard there were a few large demi-johns filled with fruit and sugar which will eventually become Rakia.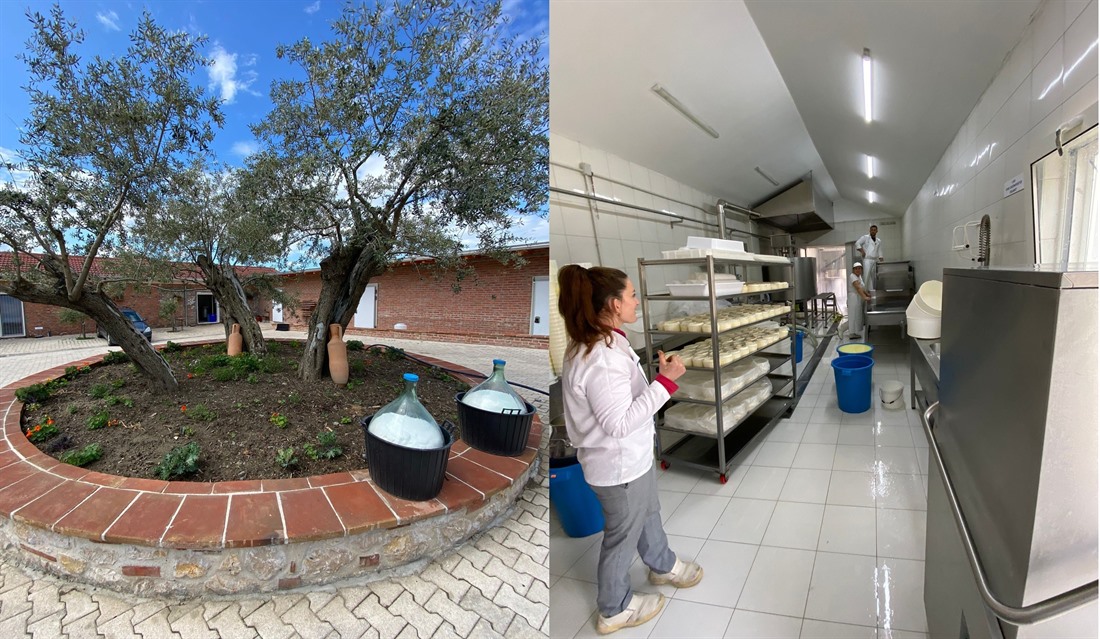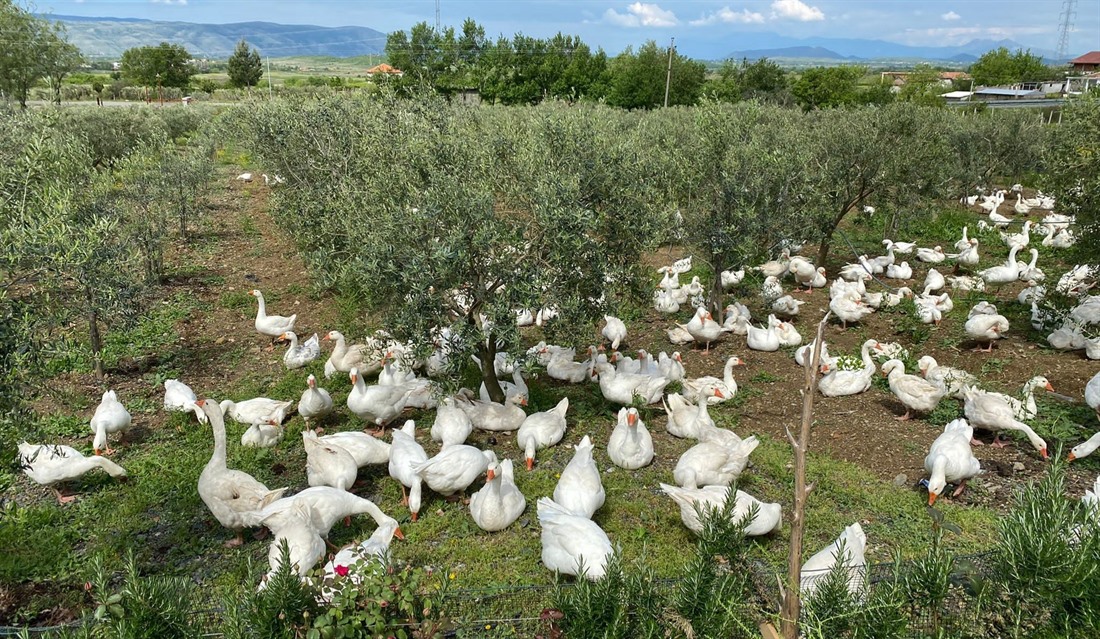 Wandering past the geese now out in the olive groves, past the now colourful concrete bunkers full of flowering plants in the warm Albanian sun and the smiling gardener who gave me a small bouquet of sage, we both agreed this stay had surpassed all expectations and we were sad to leave.