Lviv's Restaurant Kryivka is never going to win any awards for fine dining, but what do you need fine dining for when you can order horilka (Ukrainian Vodka) by the 50, 100 or 150 gram!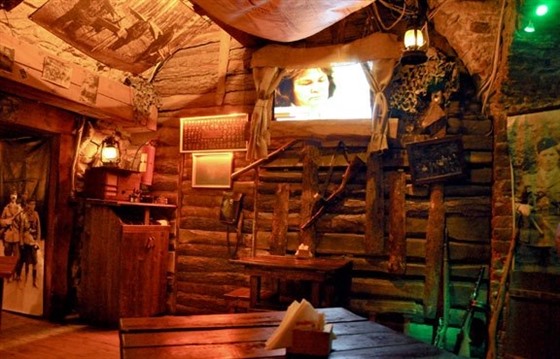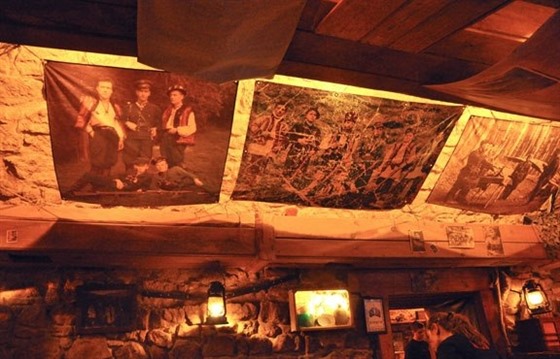 Images courtesy of Anosmia

This restaurant was created in the theme of the Ukrainian Insurgent Army – a partisan group that fought the Soviet Red Army for almost ten years from 1944. It's not an easy place to find as there are no signs for this secret bunker restaurant whose name means 'clandestine shelter'. Head half way up Market Square (Rynok Square), past the Tourist Information Centre, close to where the train stops and you may be lucky enough to find it.

If you find the anonymous wooden door and knock loudly, an 'armed' guard will shout "Slava Ukraina", to which you reply "Heroyam Slava!" – meaning "hail to our heroes" – and access will be granted to the red brick vaulted cellars.

In the dark you can peer at the cellar walls, which are adorned with authentic photos of UPA partisans, embroidered military clothing, copies of Ukrainian language posters and pamphlets from underground presses. There is also a shooting gallery and a real machine gun which you can pose for photos with, should you so desire!

On the night that I visited, the restaurant was packed with local students and what looked like work nights out. My Ukrainian friend ordered us 100 grams of horilka and our evening got underway. I tried ordering in Russian but was naturally rebuked with "only Ukrainian here please!" After much consideration of the largely meat-based menu, we opted for nibbles and light bites. The meat board was ordered complete with salo; raw pork fat which proved helpful for coating the stomachs for the next 100 gram shot of horilka! The meat board arrived complete with an axe stuck into the board, with ketchup dribbled around – a delightful artistic touch…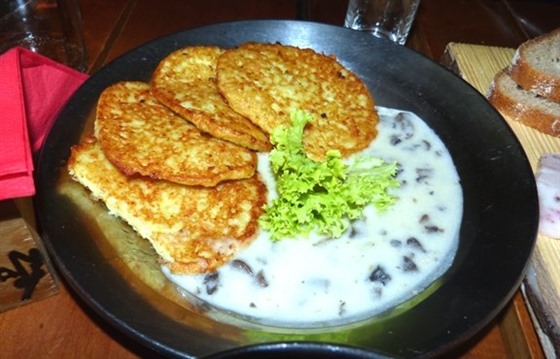 Delicious hot potato pancakes with mushrooms cooked in cream followed, as well as my personal favourite, pickled herring. I stopped short of ordering the Ковбаска куряча Польот Туполева, which translates as Chicken Sausage Tupolev Flight – I can't even imagine what that would be but perhaps I'll find out on my next trip to Lviv and the fabulous, secretive Kryivka Resturant.
Find more inspiration on our social media #MyRegentMoment