Having visited Finnish Lapland in the winter where temperatures dropped to minus 15 degrees, trees in the forest stood like icy pinnacles and there were all kinds of northern lights' activities to choose from as soon as the skies darkened, I was intrigued to see what was on offer during summer months, where the sun can shine all night long!
As I arrived in Ivalo, some 700 miles north of Helsinki, it was fascinating to see the same forests without its winter coat and blue lakes sparkling through birch and pine trees under a hot summer sun. The evening time is especially magical as in Lapland, the sun does not set for 2 months, so this endless forest landscape and fells are bathed under a pinkish golden hue all night. It's great that you can pack so much more into the day – I enjoyed forest hikes, fat bike riding, kayaking and even gold panning.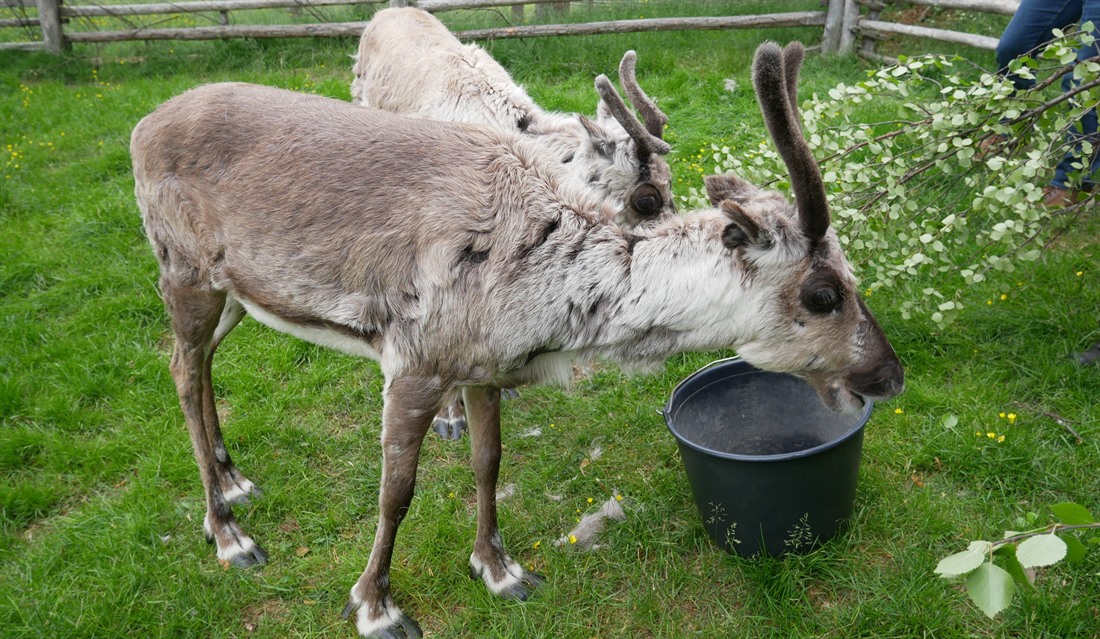 I visited Lemmenjoki National Park and spent time as a guest of the Paltto Saami family. Mama Kaija is also a well-known Sami artist. Inspired by Sami mythology, her family's history of reindeer herding and the views of River Lemmenjoki, outside her kitchen window she creates the most beautiful felt wall hangings and art work. It was a pleasure to hang out in her studio over a cup of coffee and the most delicious coconut cake. We met some of their reindeers, took a boat trip along the river to Ravadas falls and listened to her son sing a traditional Sami joik, a word, which so aptly describes this vocal styling.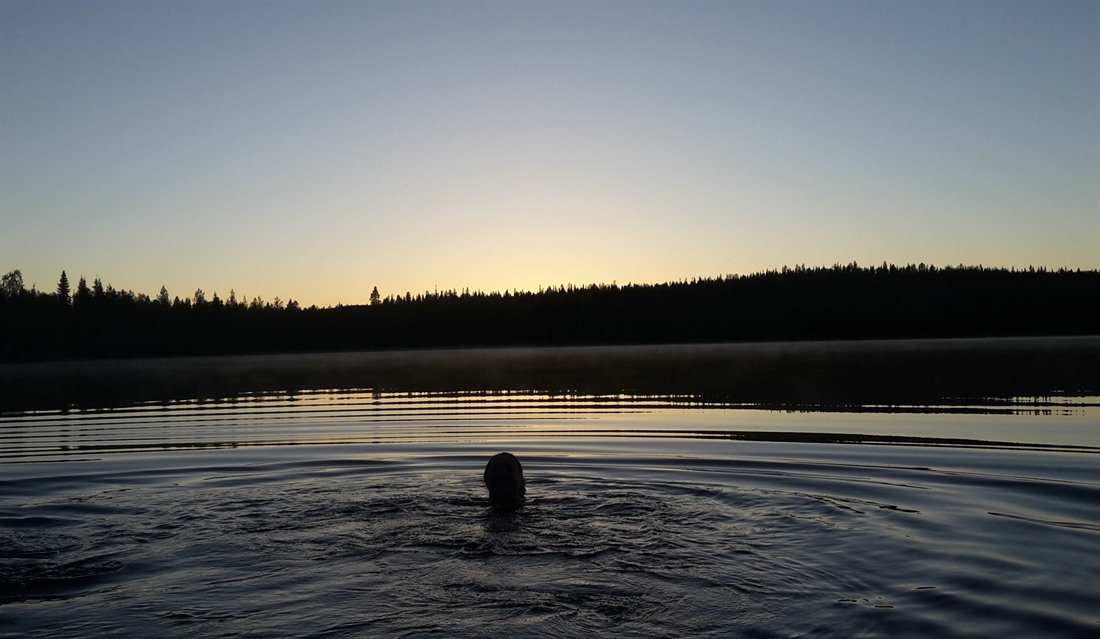 Do not overlook a Finnish sauna experience – believe me, you never get tired of them and it's a totally different experience from the typical gym sauna here in the UK. In Finland saunas are an integral part of Finnish culture and there are over 3.3 million saunas for a country with a population of 5.5 million so more than enough to go around. I experienced a wood burning, an electrically heated and a smoke sauna; I gently flailed myself with birch twigs, juniper branches and donned the most ridiculous head-wear. I cooled off by wading into a river, jumped into a lake at midnight, and gingerly climbed into an ice-cold lake, which earned myself some admiration from our Finnish host. My gym sauna just doesn't cut it anymore!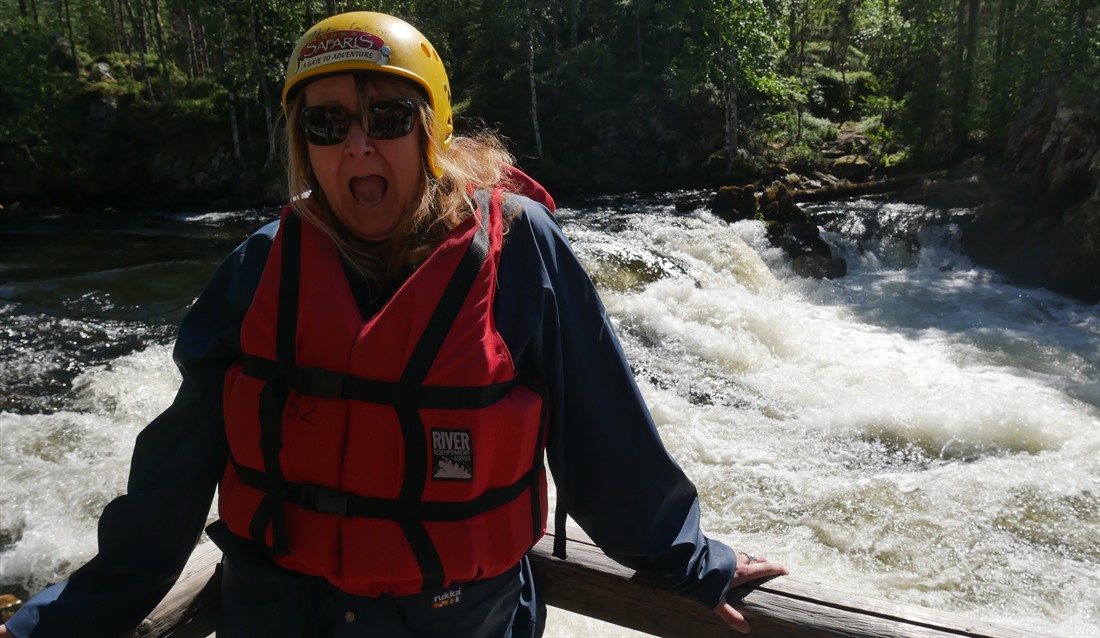 I travelled down from Ivalo to Ruka-Kuusamo on the Russian border – an area more synonymous with skiing as I learnt there were more direct charter flights coming in from Birmingham, Manchester and Gatwick for 2019 skiing season. Impressive, but we were here to check out the summer offering and I was not disappointed! The most adrenaline-packed activity I have ever experienced and hailed as the best thing you can do with rubber boots on was a white-water rafting excursion. After the usual and necessary safety briefing and I donned an attractive set of waterproof trousers (they did not do their job!), jacket and said rubber boots and we were off!
I got to experience some of the most challenging rapids in the Kitkajoki river canyon – a level 3 and a level 4, which went on for around 900 metres. I am sure we could barely hear the instructions shouted to us by Sergey over our screams and the noise of the rapids as we hit the first rapid. At the finish, we saw the magnificent Jyrävä waterfall from the shore. My legs were still shaking some 40 minutes later when we tucked into the most delicious hot and creamy salmon soup next to the river - what an experience!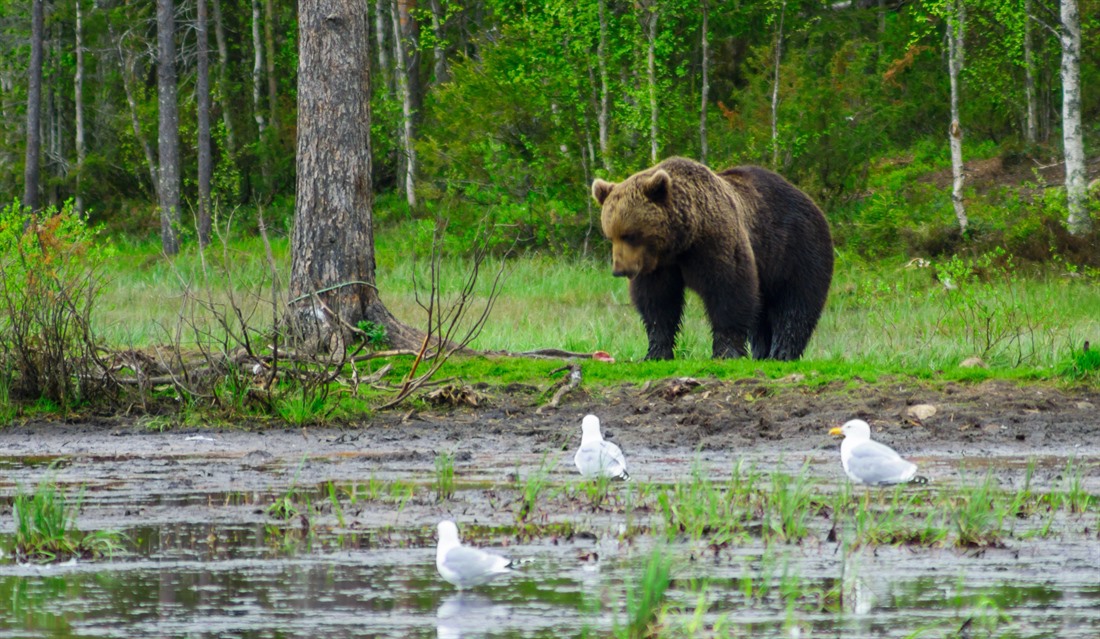 If this wasn't enough after a delicious supper at an enchanting guesthouse Isokenkäisten Klubi – I headed out for a bear watching excursion. As we silently made our way to the hide, our specialist bear guide pointed out that we could already see a bear within 200 metres of our path – we moved very quickly into the hide. The hide was comfortable with lots of seats, beds for the overnight tours and a dry toilet – which was good as we spent four hours here watching 9 or so bears come in turn to feast on the food carefully placed around the area. First up was a mother and her three cubs, who approached very nervously and upon hearing a sound one of the cubs scooted quickly up a tree. They swiftly moved off and several large males took turns in feeding on the fish left out for them. Rather "beared out" we headed back to the guesthouse for another midnight sauna and lake session.
So if you think Lapland is just for Father Christmas, husky and reindeer rides, think again – enjoy endless days, forest hikes, bear watching, wild swimming, gold panning and river rafting!
Find more inspiration on our social media #MyRegentMoment