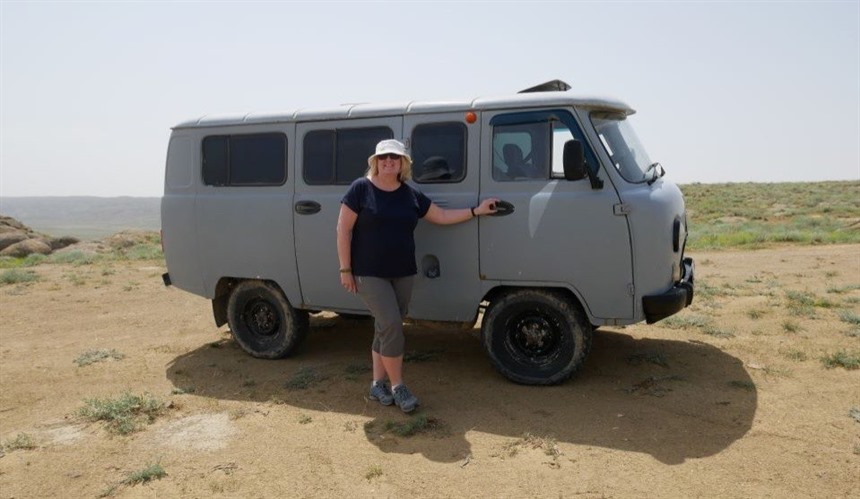 I was delighted to be invited on a short educational trip to Kazakhstan's hidden gem, Mangystau Province. This area of Kazakhstan was completely new to me, and it did not disappoint!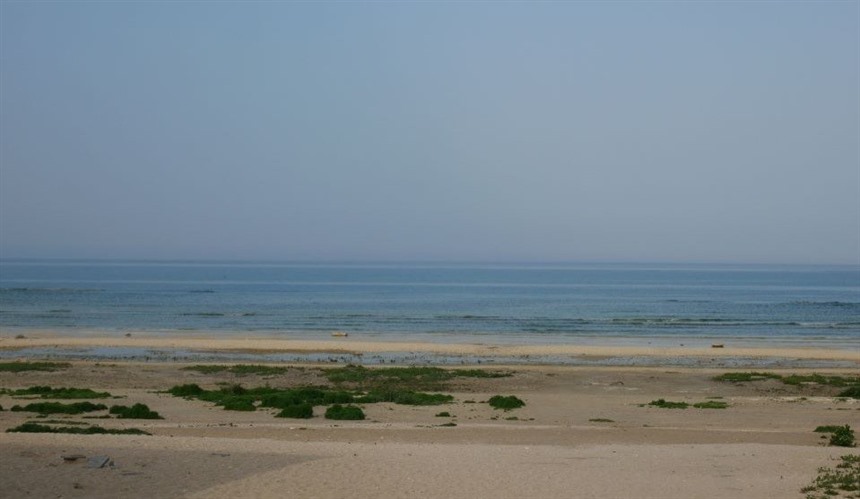 Aktau, A Soviet Planned City
Aktau, situated on the western Caspian coastline of Kazakhstan, bears a fascinating history as a Soviet planned city. Once a closed city shrouded in secrecy, it served as a hub for nuclear energy production, housing a massive nuclear power plant and uranium mine.
These closed cities, born during the Stalin era, were concealed from maps, and surrounded by barbed wire. Aktau, akin to a giant work camp, remained inaccessible to outsiders, with residents requiring special passes and facing strict restrictions on disclosing their location. The region originally bore the name of Shevchenko in honour of the Ukrainian poet Taras Hryhorovych Shevchenko, but following Kazakhstan's independence, it was renamed Aktau, which means "White Mountain" in Kazak.
Having visited a few of these planned cities, I did wonder where all the green spaces and parks were hiding. The Soviets were usually pretty good at providing their toiling workers with places to relax. However, in Aktau, respite from the concrete can be found in the colourful murals at the end of many apartment buildings, and of course views of the Caspian Sea shimmering under the May sun. The city appears to be reinventing itself as a seaside resort, and it's now very popular with Kazakhs heading in from landlocked cities like Astana and Almaty.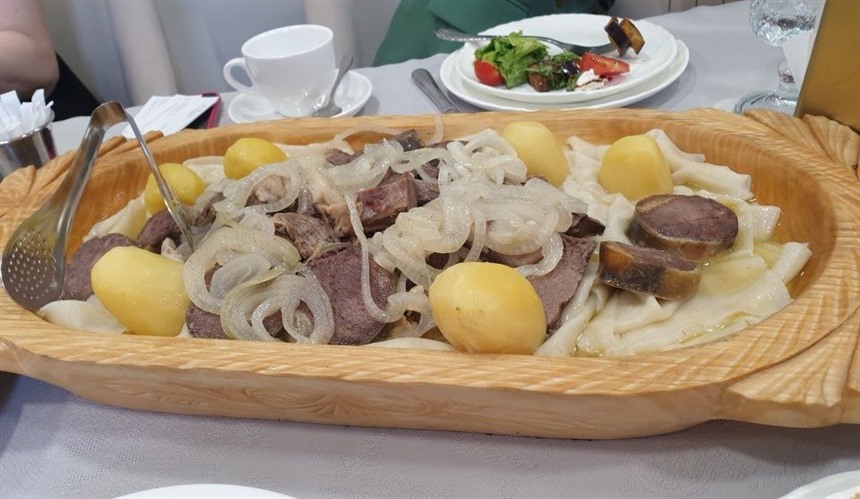 Caspian Sea & The Caspian Riviera Grand Palace in Aktau
We enjoyed sun-drenched strolls along the board walk of Aktau Rock Trail, which is nestled into the rocky cliffs of the city. Afterwards, we boarded a catamaran for a cruise out onto the Caspian Sea, the largest enclosed body of water on earth. Some believe it's a lake but given the sheer magnitude of this body of salt water, I think the title of sea is deserved.
After our refreshing dip, our rumbling bellies lead us to "Aidyn" restaurant, where our taste buds were about to be introduced to Beshbarmak. It's an interesting dish, one that defied the norms of cutlery, and is quite possibly not for those with a delicate palate! The dish is called Beshbarmak or "five-Fingers" because you're supposed to use all five of your fingers to pick up the huge chunks of horse meat that rest on silky sheets of oily pasta. It was delicious but as filling as it sounds!
For a delightful post-dinner experience, we ventured to the Caspian Riviera Grand Palace. Many five-star hotels offer luxurious spas and attentive concierge services. However, only a few can claim a fully-fledged Sturgeon Farm with vast aquariums and an expert Caviar Master to explain the life cycle of these huge prehistoric-looking fish.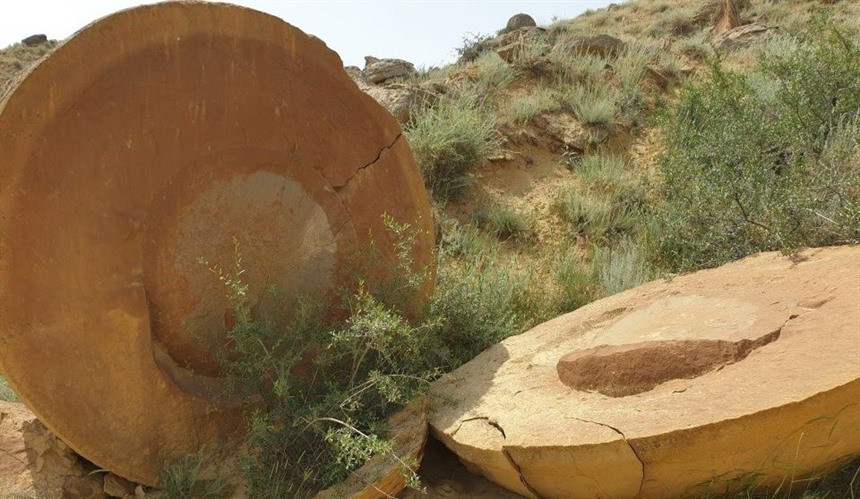 Torysh Valley & Sherkala
On our second day in Kazakhstan, we headed out in a convoy of 4x4s to explore the wilderness.
After a 90-minute journey out of the city (some of it off-road) we arrived in the Torysh Valley, which is also known as the Valley of Balls – a title which made sense as we meandered through the peculiar spherical rock formations. We met some camels and even a tortoise or two along the way, which was unexpected. The landscape evoked scenes from a science fiction novel.
Our journey continued to Sherkala, an impressive rock formation bearing a striking resemblance to a majestic lion. While the mysteries of the hidden city within remained unsolved, the sheer beauty of this natural wonder was impressive, and enough for me. The culinary highlight of the day was Baursaki, fried savoury donuts that often accompany main dishes in Kazakhstan. They were very moreish!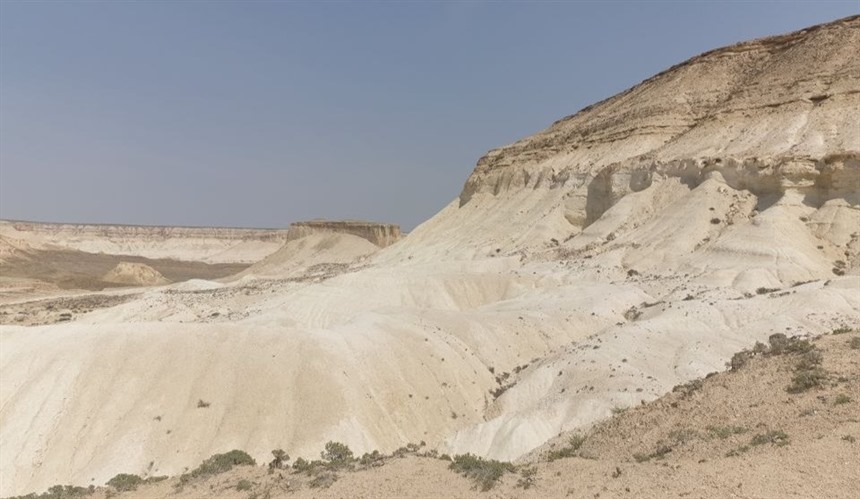 Bozjyra & Kyzylkup
We then enjoyed some more off-roading travel to our primary destination of Bozjyra, a geological wonder that's been shaped over centuries by the forces of weathering and erosion. Its limestone mountains and clay deserts, remnants of the ancient Tethys Ocean, held a captivating collection of fossilized shells and prehistoric shark teeth. Undeterred by the scorching 39-degree heat, we ventured forth, scrambling up rocky hills for breathtaking panoramic vistas. In the distance, the vibrant hues of Kyzylkup, lovingly nicknamed "Tiramisu" by the locals, painted a surreal landscape that seemed to be from another planet.
We stopped off in the town of Zhanaozen for sustenance at the Rich Café, joining locals enjoying birthday celebrations. After this, we drove past hazy fields of nodding donkeys and tracksuit-clad fuel vendors back to the night lights of Aktau.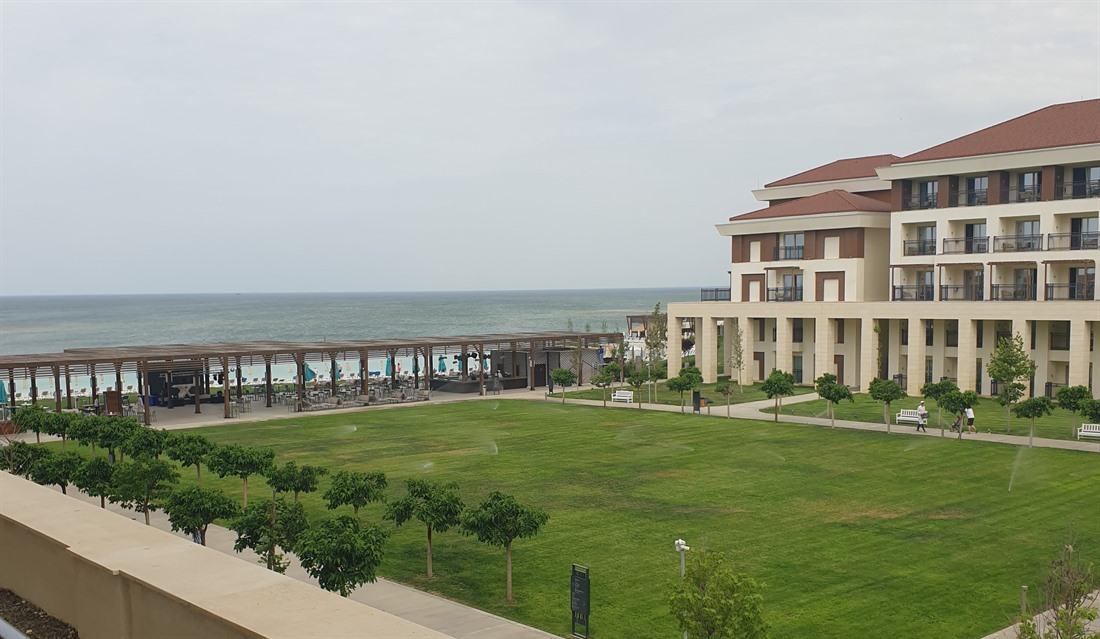 Rixos Water World Aktau: All-Inclusive Delights
We made a last-minute visit to the Rixos Water World Aktau as an impromptu addition to our itinerary. This enormous five-star hotel, part of the renowned Turkish brand, boasts an impressive water park that attracts visitors from Kazakhstan, Uzbekistan, and even Iran. Rumour has it that several upmarket hotels, including Hilton and Bayan Tree, are also set to grace the shores of the Caspian Sea.
While the scorching summer temperatures and freezing winters prevent Kazakhstan from becoming the next Dubai, the water park provides a cool oasis for families seeking a unique holiday experience. I concluded our final day in Kazakhstan with a few hours of relaxation in their inviting spa, an experience I highly recommend!
Keen to explore the culture and cuisine of Aktau?
Mangystau Province reveals a world of wonder and adventure. From the soaring heights of Aktau's cliffs to the hidden valleys and enchanting rock formations, this region offers adventures of untamed beauty, warm hospitality, and surreal landscapes! If you seek a journey off the beaten path, then a trip to Mangystau Province should be on your list. Contact us today to plan your next adventure.