Finland might be best known for its winter wonderland in the north. But Lapland, home of Santa Claus and sleighs, has a whole other side to it before the snow takes over. In autumn, the landscape is blanketed in falling leaves, with the endless swathes of forest creating a breathtaking backdrop.
Discover more about why spending autumn in Finland should be firmly in your travel calendar.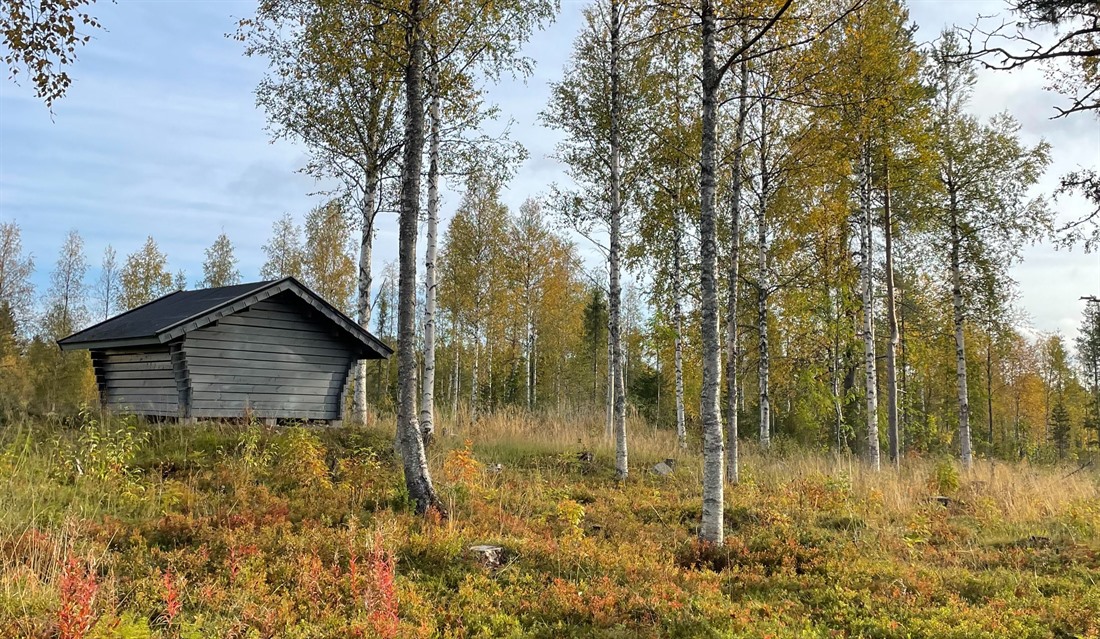 Why go to Finland in the Autumn?
In autumn, Finland is irresistible if you love being close to nature.
If you visit from late August through to the end of September, you'll catch the breathtaking 'ruska'. These golden months are the autumn foliage season, when leaves begin to turn, making for a stunning landscape to explore. The daytime temperature in Finland in September is ideal for outdoor activities, remaining delightfully mild at around 14°C during the day, and just starting to get crisp at night, with averages around 7°C once the sun sets.
To experience ruska at its best, head to areas in northern Finland such as Kuusamo. Sat just on the Lappish border, this rural region is entirely unspoiled, from it's sprawling lakes to its rolling forests. While here, it's all about taking in the remarkably fresh air while making the most of the great outdoors. Even better, with slightly cooler temperatures, you can unwind after a day's activities in a traditional sauna - what better way to relax in the evening before wrapping up to go in search of the northern lights?
Then there's the food. Wholesome, homecooked and freshly sourced, it's perfectly suited to autumn afternoons and evenings. Fuel up in the morning with oats and wild berries, recharge at lunchtime with steaming soup and rye bread, then sit back in the evening with vegetable stews or sauteed reindeer. Be sure to round off every meal with a helping of Finnish blueberry pie!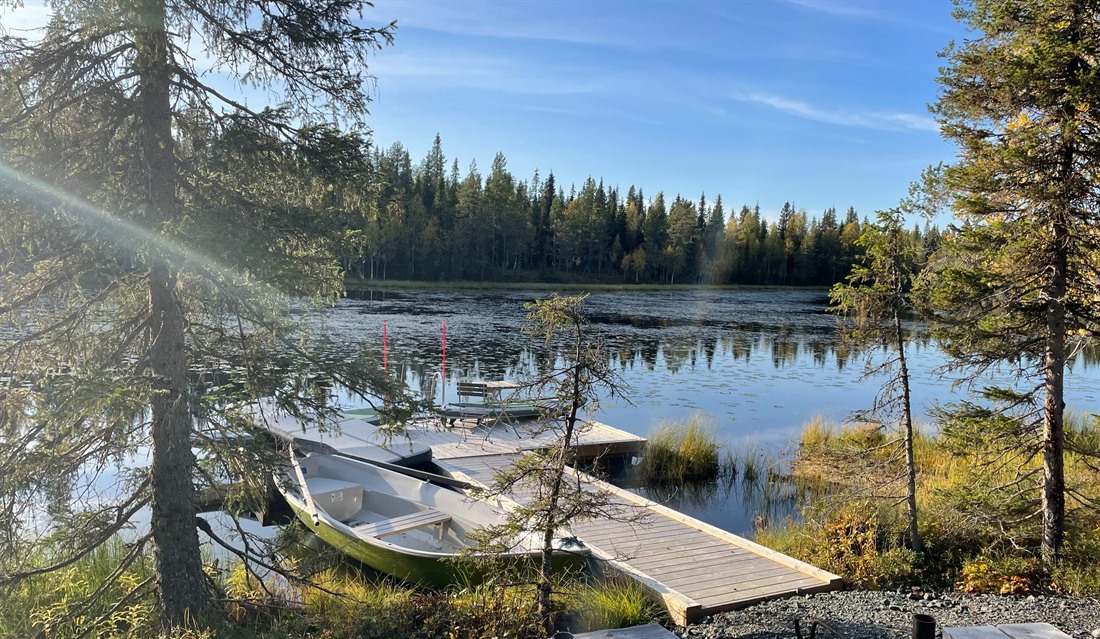 Where & When to see the Northern Lights in Finland
It doesn't have to be the depths of winter to see the northern lights in Finland. As autumn draws in from the end of August, the night sky becomes dark enough for the aurora to be visible. In the northern aurora zone, ideally above the Arctic circle, conditions are best for sightings as light pollution is minimal, particularly along lake shores and hilltops. You'll also find plenty of aurora cabins to stay at.
Tip: There are a number of excellent apps that now show you the chances of seeing the northern lights in your location, in real time.
Fun Finnish Activities in Autumn
National Parks
With over 70% of the country covered in forest, Finland has an incredible 41 national parks and nature reserves - and, autumn is one of the best times to see them!
During the ruska season, the scenery is outstanding - earthy hues of gold, red and brown light up the landscape. Hike your way through the trails and admire the swathes of pine, birch, spruce and juniper trees, only broken by glassy lake surfaces.
In Kuusamo, you'll have Oulanka National Park on your doorstep, where you can hike, bike and canoe below the rippling canopies of leaves.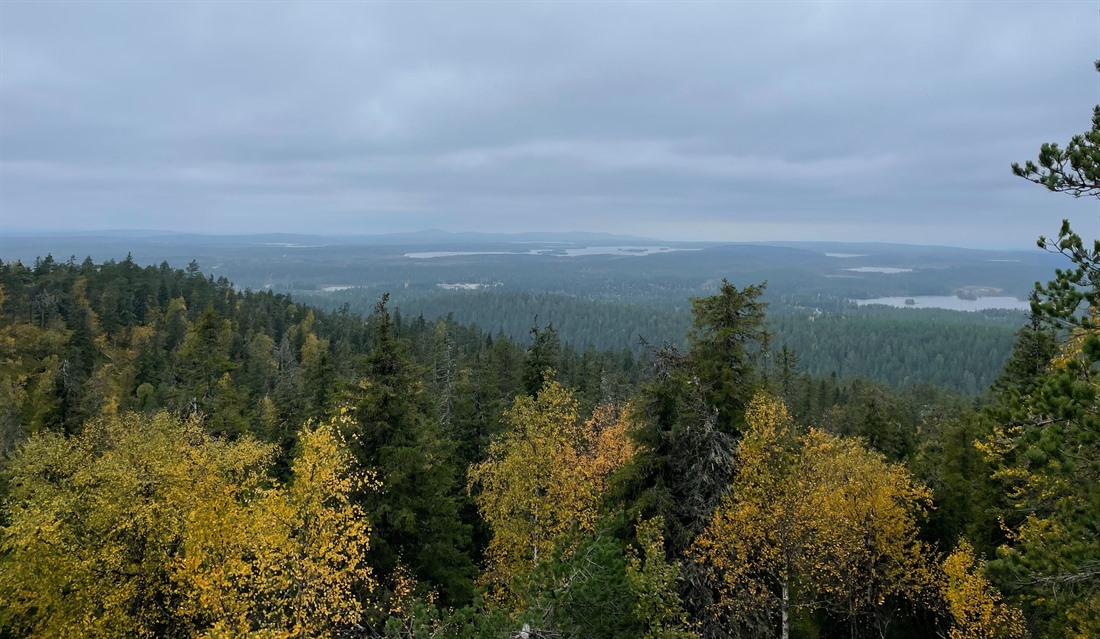 Water activities
Finland is known for its crystal clear waters. They're so clean and pure, you can take a drink straight from the lake.
Like with its National Parks, Finland is far from limited when it comes to lakes. There are 188,000 of them across the country, and they're considered a public right by the local people, meaning anyone can enjoy them without limitation.
In autumn, the freezing temperatures are yet to kick in, so the waters can still be explored before they turn to ice. Under the bright skies, you can choose from white water rafting, canoeing, stand-up paddle boarding and kayaking in Finland's wild surroundings.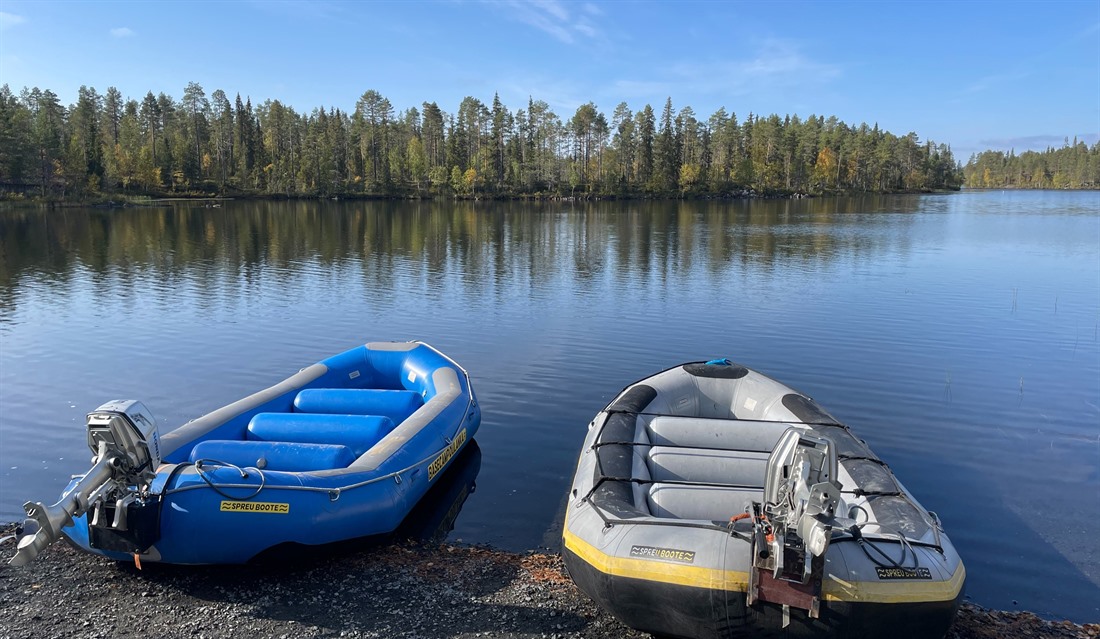 Foraging
Summer is the season most associated with Finland's berry picking. But, in early autumn, there is still a bounty of fruits to forage out, from blueberries to red currents and bilberries. Like with the lakes, every member of the public is free pick berries from forest trails, so long as they do so respectfully of the environment. And, as the trails are so clean and pristine, you won't be able to resist sampling these sweet yet tart treasures.
Autumn in Finland also brings another treat - wild mushrooms. Keep an eye out for an array of intriguing species on the forest floors, from the edible Chanterelle to the less appealing (and non-edible) 'brain mushroom'.
When foraging, always take care before you eat anything you pick as there are a number of poisonous mushrooms. It's best to join an expert guide to accompany you - or, you're sure to taste some fresh ingredients in the local restaurants.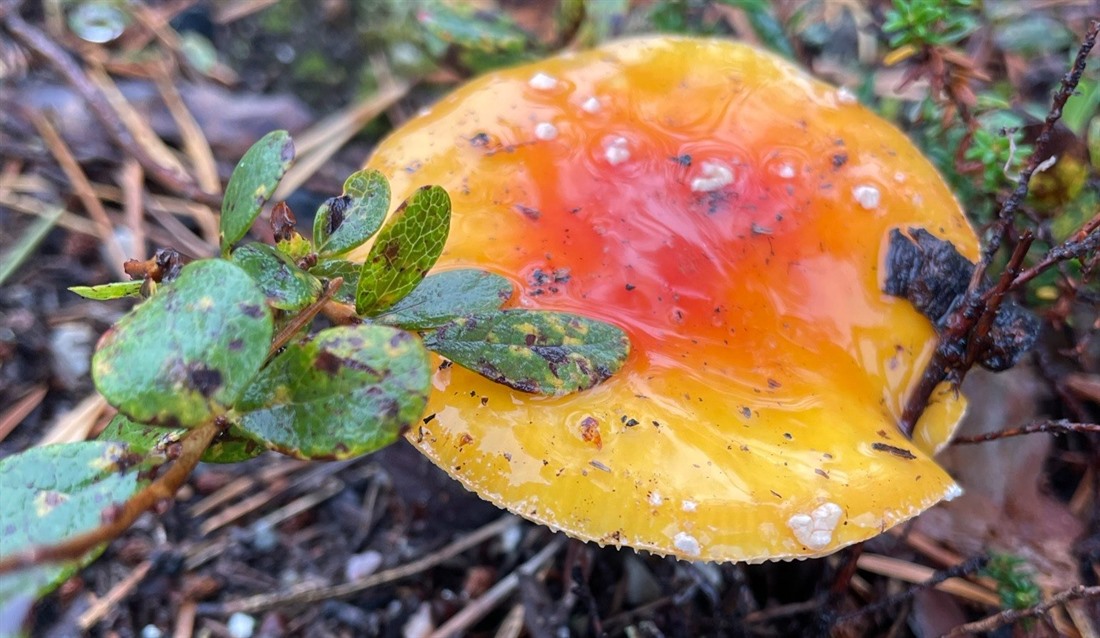 Saunas & wild swimming
No trip to Finland is complete without a visit to the sauna.
The autumn months are ideal for making the most of the benefits of this age-old tradition. Saunas are integral to life and culture in Finland, with most local people having their own sauna within their home. Saunas are not just about wellness here; they're also a social hub, with some people even spending their Friday nights in a sauna with some beers! Finns even take to the sauna on Christmas eve, getting together with family to celebrate.
Most hotels and lodges will have a sauna for you to try during your visit. The cooler air outside makes them all the more welcoming and - for the full Finnish autumn experience - the slightly chilled waters of the lake are great for jumping into afterwards! Traditionally, the heat of the sauna is contrasted with a cold dip or roll in the snow, and it even has some proven health benefits.
While electric saunas are commonplace recently, you can still find traditional smoke saunas in Finland, too. Every sauna is said to have it's own unique essence, plus you can feel even closer to nature by gently whipping your skin with a bundle of birch tree twigs from the forest. Paired with a day soaking in the colours of autumn foliage, a cosy evening spent in the sauna as the starry sky darkens is always unforgettable.
Tip: Be sure to wear your 'sauna elf' hat when going from the hot to the cold water - it will help your body retain heat and fight off colds!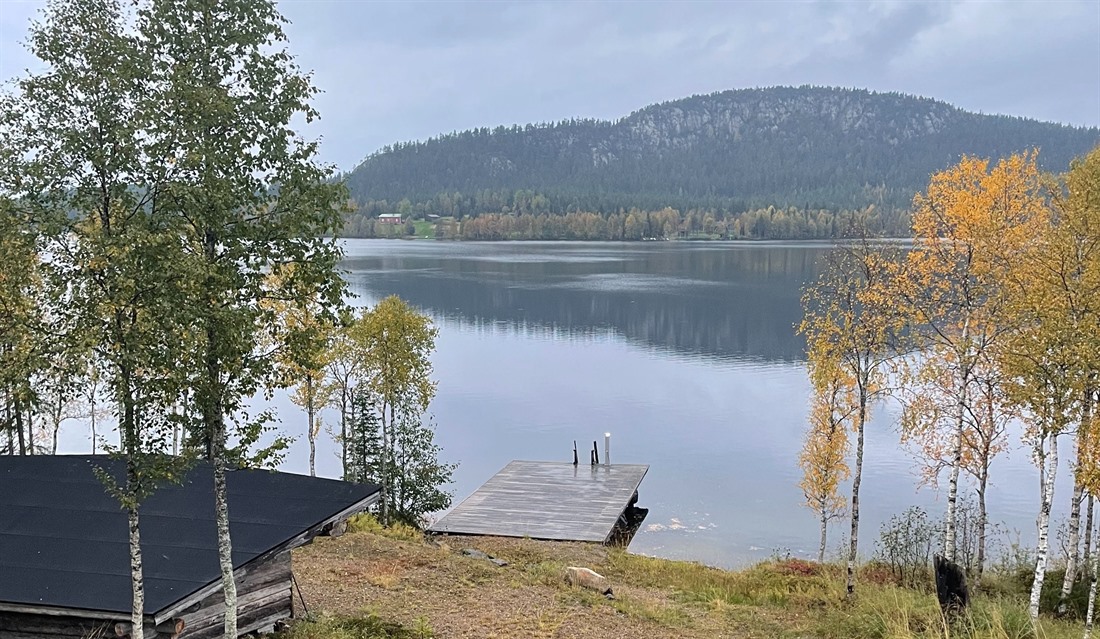 Photography & birdwatching
Kuusamo is home to eastern Finland's taiga forests which, with their pine, spruce and birch trees, offers excellent wildlife photograph opportunities for nature lovers.
Keep an eye out through the colourful autumn foliage and you might spot the Siberian jay, black woodpecker or a golden eagle. If you want to capture some of the breathtaking scenery, there are photography tours you can take with an expert. Whether it's getting a snap of the birds against the golden leaves, or a sprawling landscape shot over the tree tops, there are some incredible autumn images to be taken.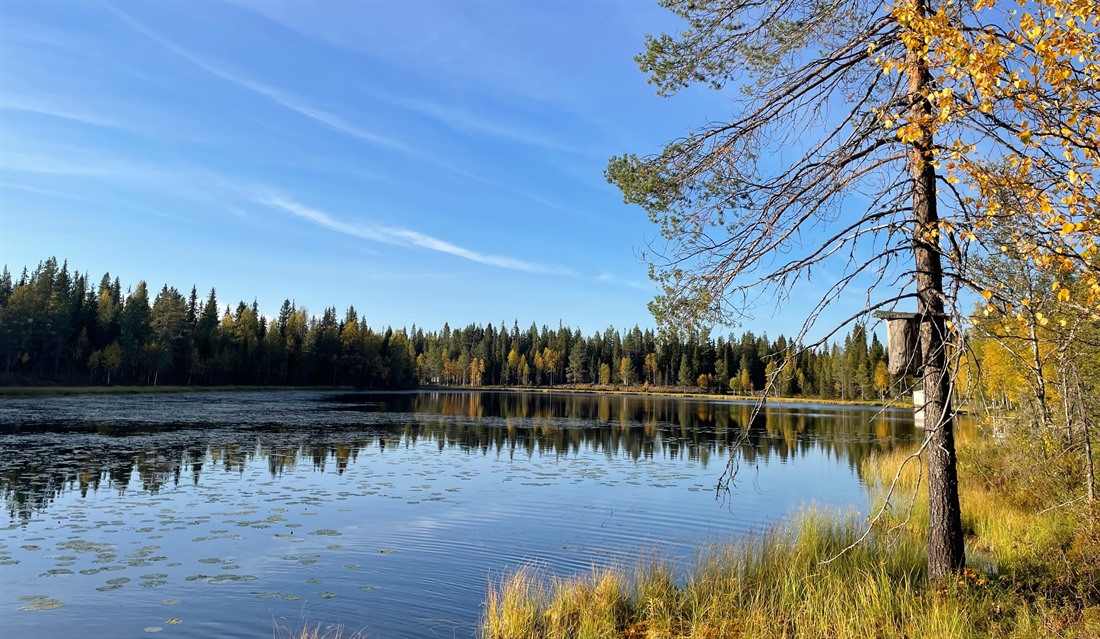 Husky and reindeer visits
The autumn season offers a quiet window during which you can visit the husky and reindeer farms. Free from the crowds of the Christmas season, you can spend time talking to animals' keepers and how they prepare for the arrival of winter.
Reindeer are another huge part of Lappish culture. For the Sámi people, reindeer were a means of survival, either as transport, providing warmth through their hides or as a staple of their diet.
In autumn, you can visit reindeer and husky farms under the bright sunshine, learning more about how traditions have been handed down for generations. Afterwards, you can warm up in a laavu around the campfire, where you can taste some traditionally prepared Souvas with some lingonberry jam and a hot cup of coffee.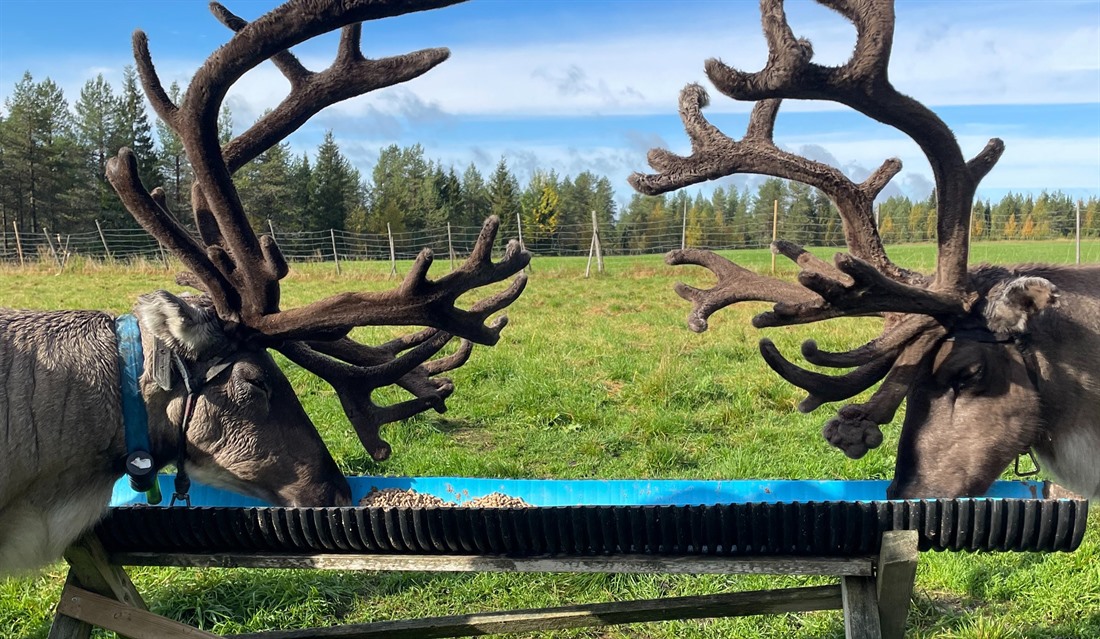 Stay in an aurora cabin
If you're planning an autumn experience in Finland, be sure to factor in a stay in an aurora cabin.
There a number to choose from that offer large windows and skylights for panoramic views of the polar night from the comfort of your bed.
At Regent, we recommend the unique Magical Pond glass igloo village in Kuusamo. These stylishly designed pods are nestled in the heart of nature, offering undisturbed views of the night sky. After a day of autumn hikes, sauna visits and a hearty Lappish meal, cosy up around the campfire to watch out for the aurora. When you retire to bed, you can fall asleep as the stars twinkle away above.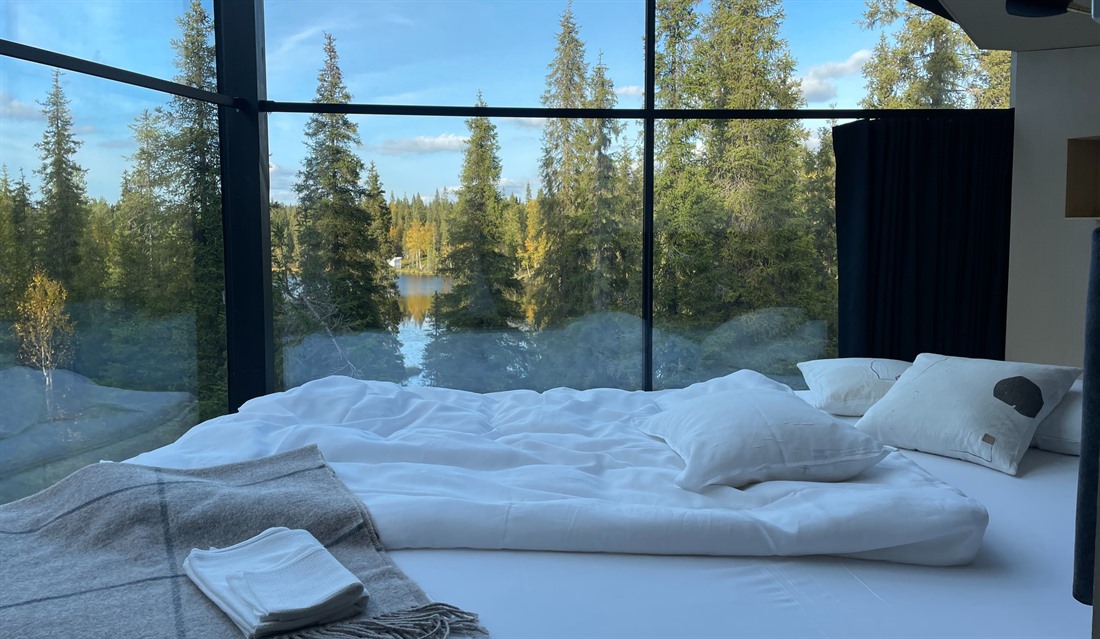 Ready to see Finland in autumn?
Speak to our Travel Specialist today to plan your autumn aurora experience. As experts in the unusual, they'll share their unique insights with you and tailor your experience with the most insightful things to do and see.