Having only fully reopened to UK visitors very recently, a holiday to Iran certainly counts as an 'off the beaten track' destination choice for your holiday.
But in true Regent Holidays style, we've set off in search of alternative, pioneering locations and found somewhere even more hidden.
Take advantage of relaxed travel restrictions and visit remote Iran with us before the crowds cotton on. Leave Tehran behind and tavel south to stunning Qeshm Island in the Persian Gulf. Here you'll spend six days exploring salt domes and hiking up to viewpoints that overlook vast plateaus and craggy coastlines. Spot green turtles and watch for wild dolphin pods as you take to the water and visit the tiny, wild island of Hengam nearby, traverse canyons in search of a small oasis and meet friendlylocals who rarely see tourists.
This itinerary visits locations typically only visited in autumn, winter and early spring. Speak to an Asia Travel Expert about tailor-making this tour and find out which accomodaiton options will suit you; with this trip you can opt to stay in hotels, local home stays or even camp.
Tour Itinerary
Your flight to Qeshm Island will depart in the early afternoon, there will be time to do a little sightseeing in the morning on your transfer to the airport. On arrival to Qeshm Island you will transfer the short distance to Shib Deraz, a village on the southern cost which sees turtles visiting each year to lay their eggs. (D)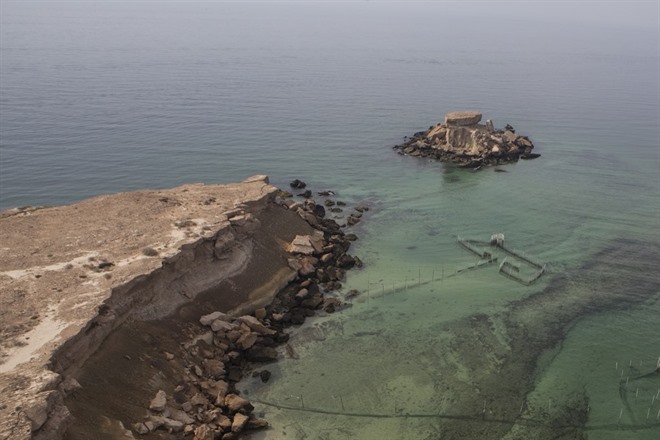 An early morning sees you heading out on the Persian Gulf to Hengam Island, a small and wild island 1km away. On arrival you will explore the island, climb up to one of the small plateaux and look out over the Persian Gulf, there are many wild gazelles living on the island and you may see some of them. Descending back towards the sea keep an eye out for the turtles that often frequent the rocky coast. Enjoy a picnic lunch in a fishing village or perhaps in a small traditional restaurant. After lunch take a walk along the west coast or spend some time resting on the beach and swimming. Later on you will head back on the sea to Qeshm Island. (3-4 hours walking) (B,L,D)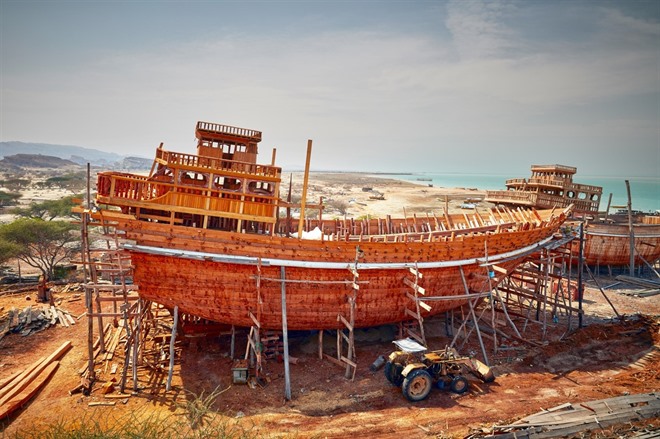 Heading to the north of the island you will visit the Harra Sea Forest, the largest mangrove forest in the Persian Gulf, the area sees over 150 bird species at various time of year and dolphins and green turtles are often spotted as well. Further down the coast is the village of Guran, known for its ship building, stop here to see the ships and the craftsmen at work. Heading further in to the centre you reach Chahkooh Canyon and have a picnic lunch then spend the afternoon walking in the rocky landscape before watching the sunset over the canyon. (3-4 hours walking) (B,L,D)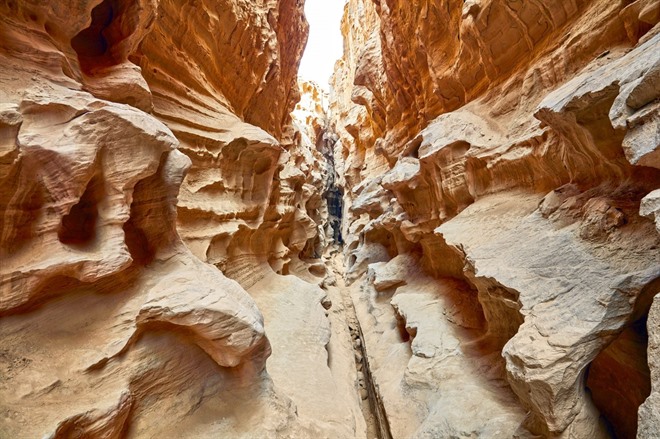 Today you will cross the island to the south coast through the geopark, the route takes you over a collapsed salt dome set on a vast plateau. After a picnic lunch in a small oasis you then take a walk through a canyon bringing you down to the south side of the island to Namak Cave – a huge network of salt caves. (6-7 hours walking) (B,L,D)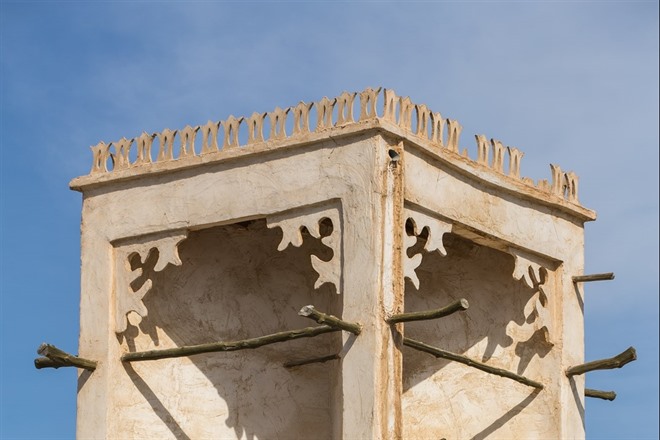 This morning you will drive east towards the village of Salakh, stopping to walk along the coast the last few kilometres before picnicking on the beach. Continue on by vehicle to Qeshm City stopping by the gates to the city to see Kharbas Cave – ancient troglodyte caves. (2-3 hours walking) (B,L,D)
Take an early boat this morning to the Island of Hormuz, this small island has just a small town with a Portugese fort. Head to the interior to see Rainbow Valley, an area of volcanic rock of various different colours with the rock rising up in different formations. Returning to the beach take a walk or perhaps visit the fort before returning to Qeshm Island by boat. ( 4 hours walking) (B,L,D)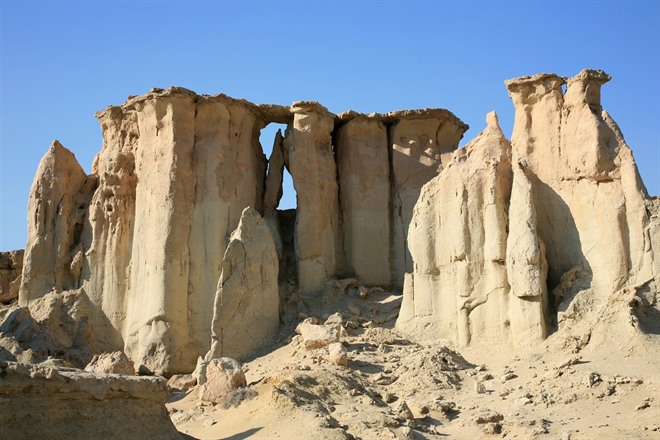 Before your flight back to Tehran drive through the island to visit Star Valley, a valley of fairy chimneys and sculpted rock which legend says was caused by a fall of meteorites. Explore the formations of rock before heading back to Shib Deraz and the airport. On arrival in Tehran you will be met and transferred to your hotel. (2 hours walking) (B,L)
Image Gallery
Click on images to enlarge