Uzbekistan and Turkmenistan: Into the Silk Road Empires
15 Day Tour, from £3350 per person
Explore the ancient cities and remote desert towns of two of the most prominent countries along the Silk Road, following in the footsteps of the empires that built – and destroyed – the civilisations of the region.
From the madrassahs of old town Tashkent and the minarets of Bukhara to the flaming Darvaza Crater and the marble town of Ashgabat, this tour unearths Uzbekistan and Turkmenistan.
Tour Itinerary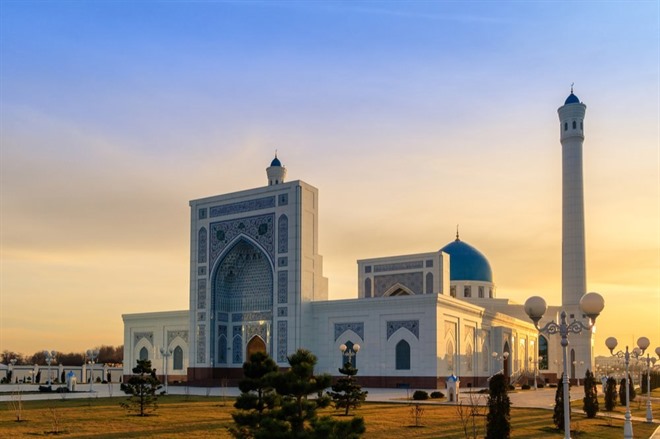 Depart London Heathrow on your direct flight to Tashkent.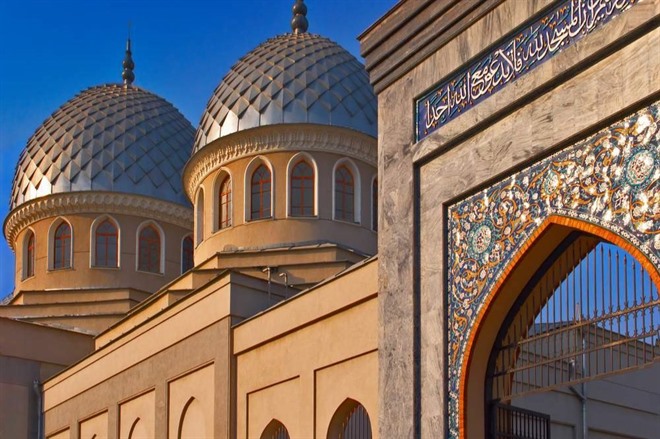 Arrive in Tashkent this morning and transfer to your city centre hotel. Have a rest this morning and in the afternoon join your guide for a tour of Tashkent visiting the old town with its collection of mosques and madrassahs, one of which houses a library of ancient Korans. (BLD)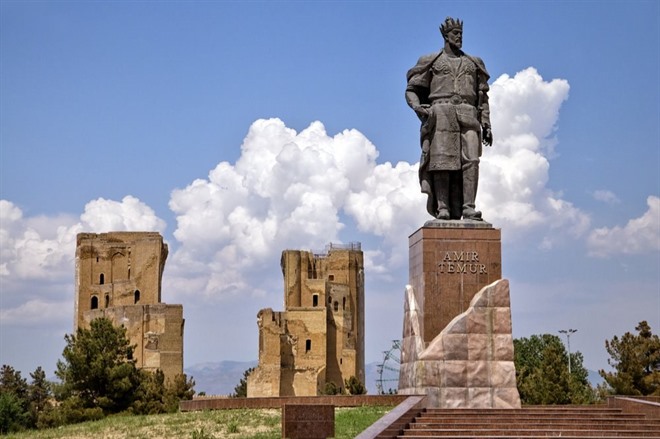 Take an early train to Samarkand this morning. On arrival head out to the town of Urgut near the Tajik border which hosts a lively Sunday market, after browsing the stalls and watching the tin workers and blacksmiths at work return to Samarkand. In the afternoon visit Tamerlane's jade tomb lying beneath the fluted turquoise dome of his mausoleum. (BLD)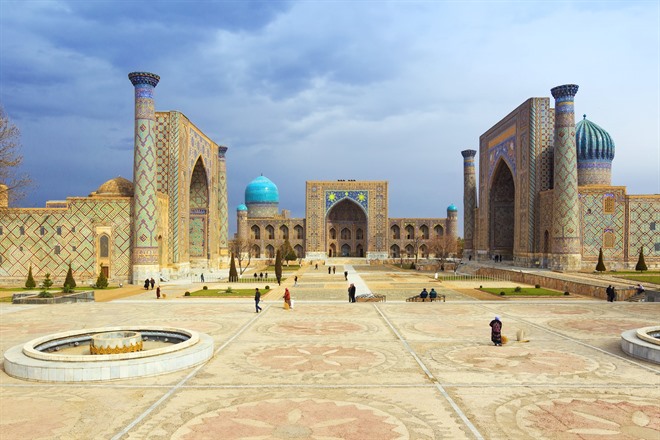 Embark on a sightseeing tour of Samarkand, Tamerlane's capital and showpiece today. Visit Samarkand's Registan Square – surrounded by 3 imposing madrassahs, some of the world's oldest preserved madrasahs with their fine blue tile work and dating from the 15th century before heading to the Shah I Zinda necropolis where his family and friends were buried, walk the narrow lane lined with tombs of various sizes. Nearby is the Bibi Khanum Mosque built for his favourite wife and showing the effects of the seismic activity the area is known for. The remaining structure has a desolate beauty to it compared to all the repaired monuments. Visit the bazaar close by where the locals come for the various produce. (BLD)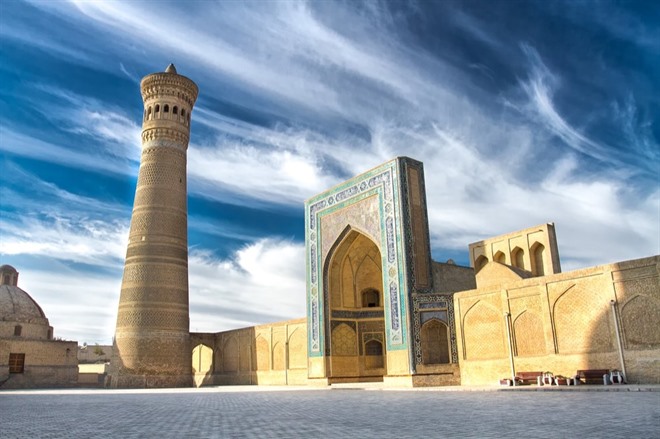 Head to the station this morning to take the train to Bukhara, Central Asia's holiest city, this afternoon visit the old city; a showcase of Islamic architecture. Your walking tour will take you to the Lyabi Hauz ensemble – the modern centre of traditional Uzbekistan with its three madrassahs and mosque. Also visit the Poi Kalon Minaret and mosque as well as stopping at workshops producing traditional crafts. (BLD)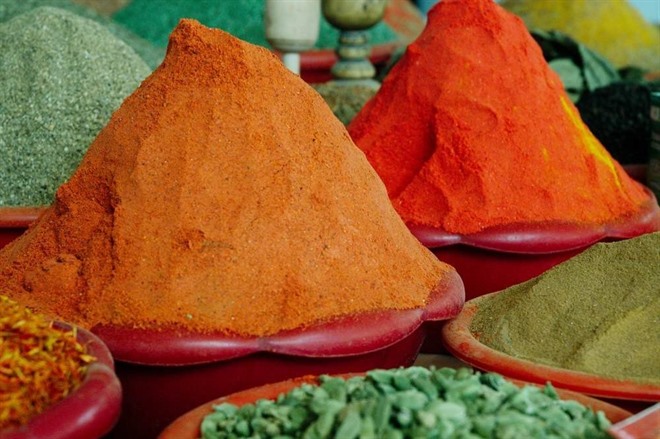 This morning visit the famous fortress where prisoners of the Great Game were kept as well as the Mausoleum of Ishmail Samanid and the Balakhauz Mosque before heading out of the city to the emir's summer palace, a unique blend of traditional Russian and oriental architecture with its hall not unlike those found in St Petersburg. (BLD)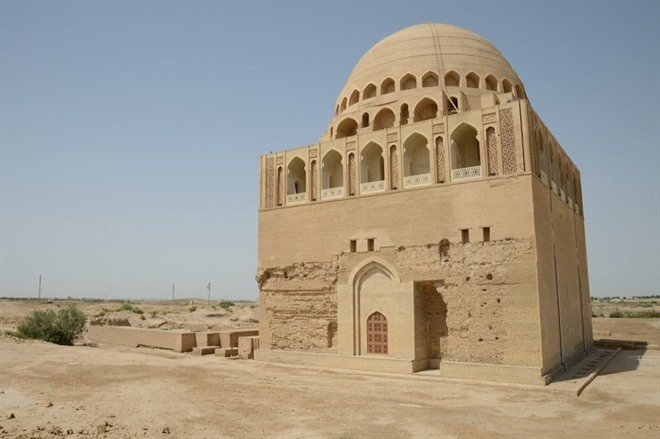 This morning transfer to the Farab border and cross in to Turkmenistan, from here head to the ancient city of Merv. Sprawling across the desert landscape Merv has seen empires come and go over the centuries from Alexander, the Persians and the Seljuk Turks all building cities here. Explore the ruins of the mausoleums where still standing and admire the size of the ancient city walls stretching out in front of you. After your visit transfer on to the city of Mary. (BLD)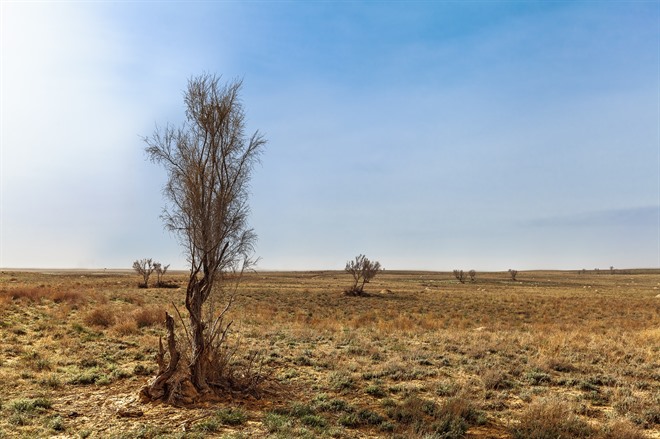 A drive through the desert takes us to Ashgabat with stops made along the way at two ancient cities, one an old garrison and the other a network of mud brick walls. Also stop at Anau at the remains of a crumbling mosque before arriving in to the capital city of Ashgabat. (BLD)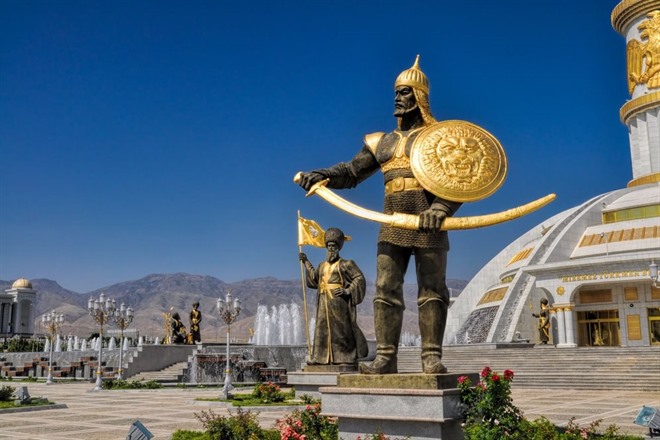 Spend the day in the nation's capital, a bizarre city sculpted from white marble. Tour the city seeing some of the highlights including the Independence Park with its statue of the Rahnama Book, the National Museum introducing you to the country's history, the Arch of Neutrality atop which a gold statue of the president stands and the Golustan Bazaar where it is possible to buy almost anything you can think of. (BLD)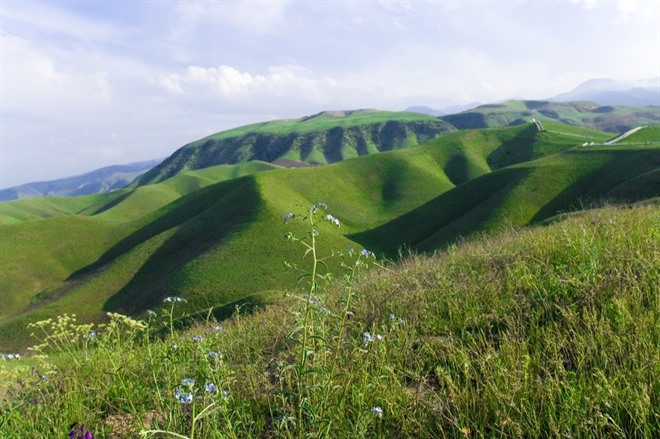 Visit rural Turkmenistan today with a trip to some of the villages in the Kopet Dag mountains at Nokhur. Learn about some of the ancient ways of living before heading for the underground lake at Kow ATa on the way back to Ashgabat. (BLD)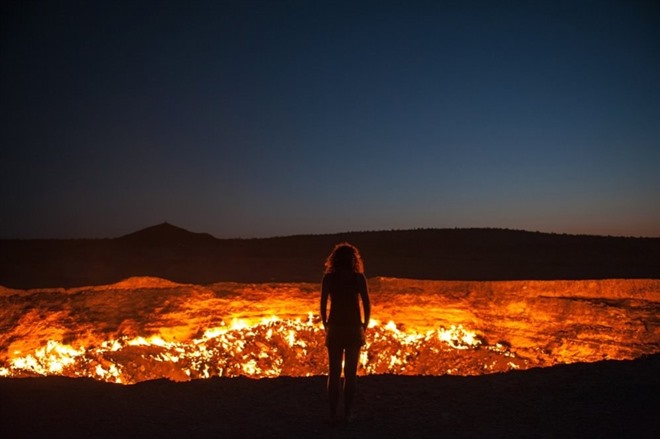 Head out of the city this morning to Old Nissa, originally a Parthian city taken over by each empire as they swept through the region until the Mongols razed it to the ground. The plateau still shows evidence of this once grand city. After lunch you will head north in to the desert to the engineering hick-up that is the Darvaza Crater. In the 50s the drilling platform collapsed releasing gas in to the air, the engineers set fire to it to burn it off and the crater is still burning. Best seen at night you will camp nearby. (Facilities are very basic with dome tents and just a toilet). (BLD)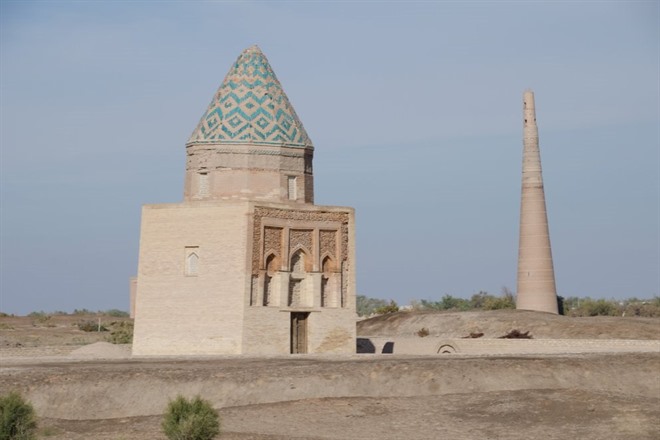 Waking up in the desert this morning you will head to Konye Urgench, once an important city in the Silk Road and the ancient state of Khorezm. The mausoleums still standing take visitors on a journey through its history and the Gutlug Timur Minaret is one of Central Asia's tallest despite not being complete. After your visit return south to the city of Dashoguz, cross the border back in to Uzbekistan and transfer on to the city of Khiva. (BLD)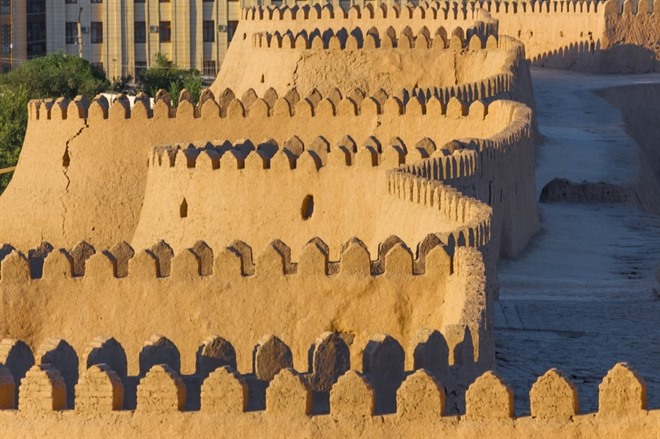 Dating back more than 2000 years, Khiva is layer after layer of history and a beautiful city for a walking tour. Ringed by thick mud brick walls the old city has beautiful madrassahs, mosques, palaces and minarets connected by cobbled paths and all a beautiful example of the fine turquoise tile work of the region. After a relaxing day taking in the sights transfer to the airport for your evening flight back to Tashkent. (BLD)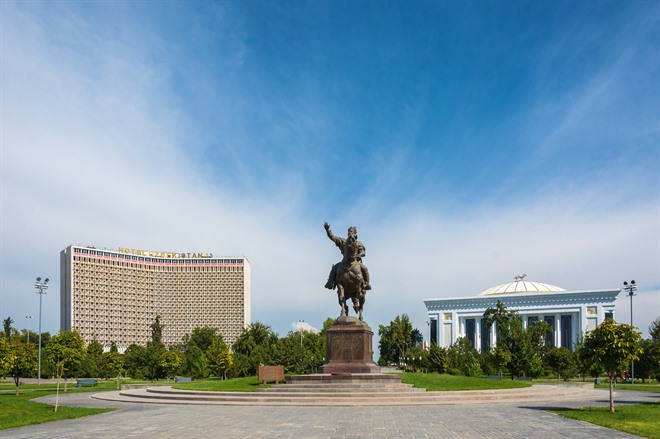 Take a late morning flight to Tashkent to enjoy an afternoon at leisure before a final group dinner. (BLD)
This morning is at leisure until you transfer to the airport for your return flight to London. (BLD)
Pricing Information
15
day tour, from
£3350
per person
(Single person supplement + £370)
Price Includes
Return flights in economy class with Uzbekistan Airlines from London Heathrow

Internal flight in economy class with Uzbekistan Airlines

All airport taxes & security charges

Accommodation in a range of hotels with breakfast

Meals as specified (B= Breakfast, L = Lunch, D = Dinner)

All transfers and transportation

Sightseeing with English-speaking guide/driver

Entrance fees on sightseeing tours
Price Excludes
Travel Insurance
Tips and gratuities
Turkmenistan visa
Itinerary Dates
From Price
Single Room Supp.

07 Apr 2023

-

21 Apr 2023

£3350
£370
Tour Route Map
Uzbekistan, Tashkent
Uzbekistan, Samarkand
Uzbekistan, Bukhara
Turkmenistan, Mary
Turkmenistan, Ashgabat
Turkmenistan, Darvaza
Turkmenistan, Konye Urgench
Uzbekistan, Nukus
Uzbekistan, Khiva
Uzbekistan, Tashkent
Image Gallery
Click on images to enlarge