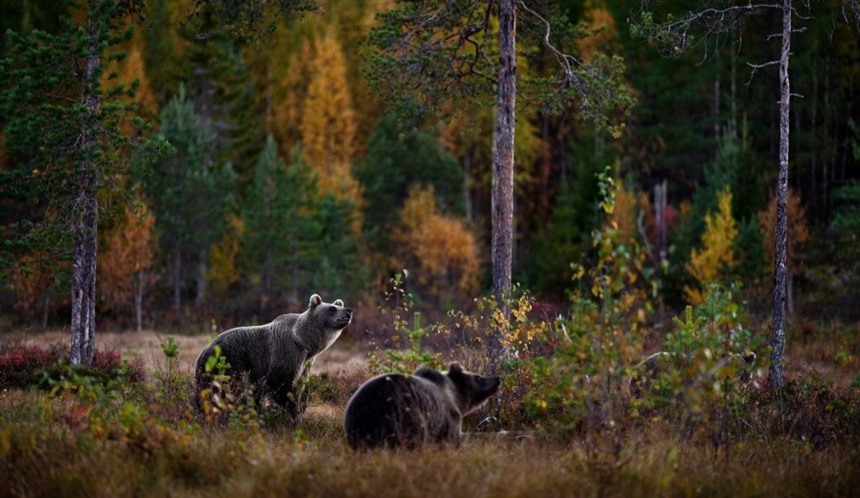 Nestled in the heart of the Nordic wilderness, Finland offers a truly enchanting experience for nature enthusiasts and wildlife lovers. Our Travel Specialists have discovered the best wild bear-watching locations in Finland and want to spread the word. Read on to find all our expert tips for spotting these amazing animals, and some insight into one of our recent bear watching trips.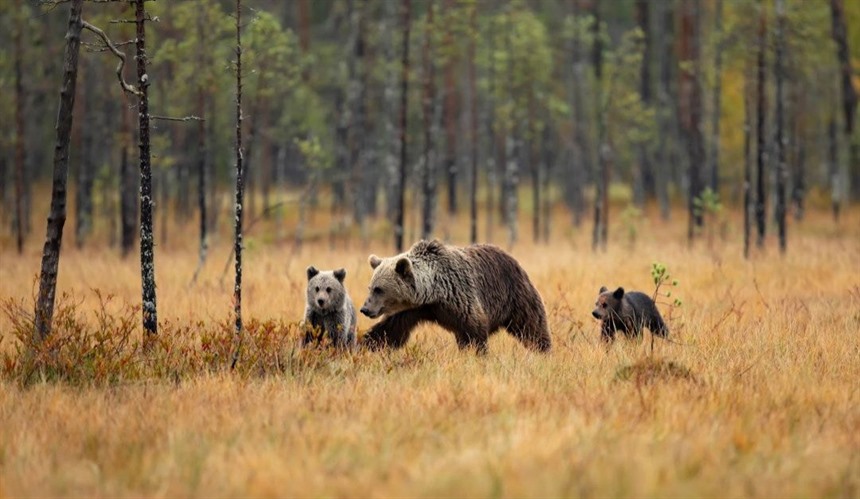 Which bears are in Finland?
Eurasian brown bears are the only bear species prowling through Finland, earning them the title of the "King of the Forest" among the locals. These thick-furred, round-eared beasts are the world's largest predators, though they're shy in their nature and graceful in their movement, and luckily there are super safe ways to see them in action.
Where can I see brown bears in Finland?
The Wild Taiga area of northeastern Finland, near the Russian border, contains the highest concentration of bears, and is therefore the best place to spot them. It's fairly rare to encounter bears in the forest by chance. Instead, you can visit Petola Nature Centre in Kuhmo, which offers an interesting exhibition presenting Finland's large carnivores, or the renowned Bear Centre in Lentiira (Kuhmo), which specialises in bear, wolverine and wolf photography and watching. Bear safaris have taken place at the Bear Centre since 1999, and the bears don't seem to care about the presence of people so much anymore, as they can come just a few metres away from cabins!
These hideouts are surrounded by charming landscapes of cloaking forests, punctuated by glistening lakes, streams, and rivers – a distinctly Finnish setting that adds extra delight to your bear watching experience.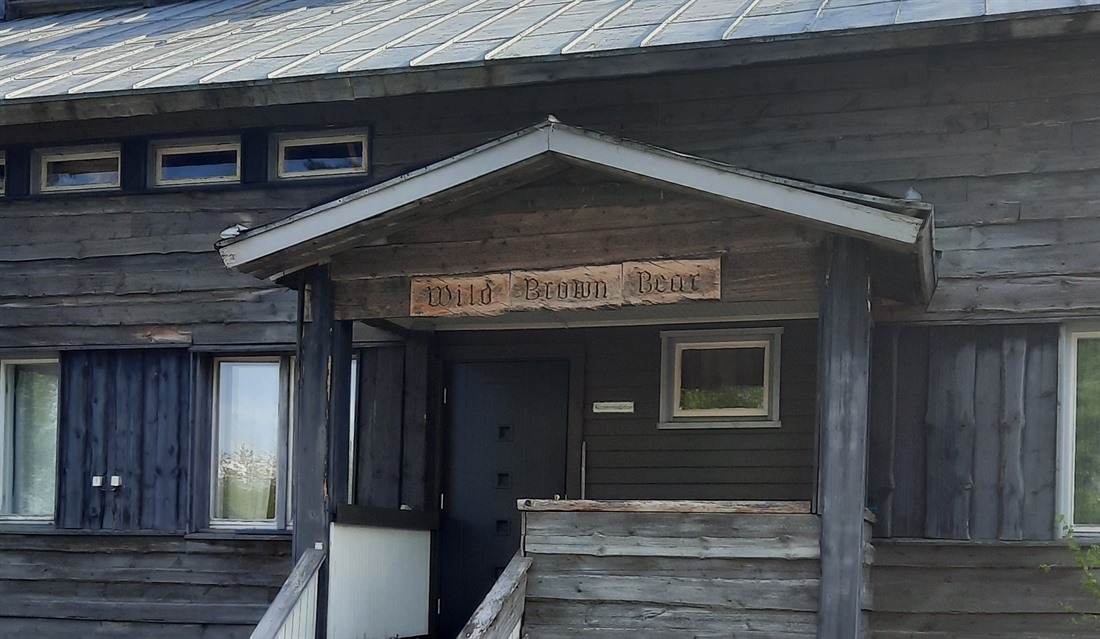 At the Bear Centre, you'll be allocated a viewing cabin to spend the evening, or night, either in 'luxury' cabins with small kitchenette, flush toilet and shower, or in more basic photography 'bear hide' cabins! These hides are specially designed to get up close and personal with the bears. You'll have room to spread out and relax as you keep an eye out for bears through the 'bear hides' narrow windows or 'luxury' cabins large windows. Lures may be placed nearby the cabins to attract the bears towards the cabins and increase your chances of getting a glance. In Finland, leaving food for bears is not purely for the benefit of tourists, there are conservation benefits too. The presence of tourism protects wildlife from hunting, which is widespread in many parts of Finland, and generates an income that will hopefully lead to more protection of natural habitats in the future.
In the Kuhmo hideouts, you can potentially see wolves at the same time as the bears – the only place in the world where you'll see this duo! International nature documentary filmmakers fly from far and wide to Kuhmo to film bears and wolves interacting.
Our Finnish Wildlife & Wilderness Adventure tour takes you to the Bear Centre to experience bear watching for yourself. On arrival, you'll enjoy an early dinner served at the Bear Centre, then transfer to your private 'bear hide' cabin or 'luxury' cabin for an invigorating night in the wilderness.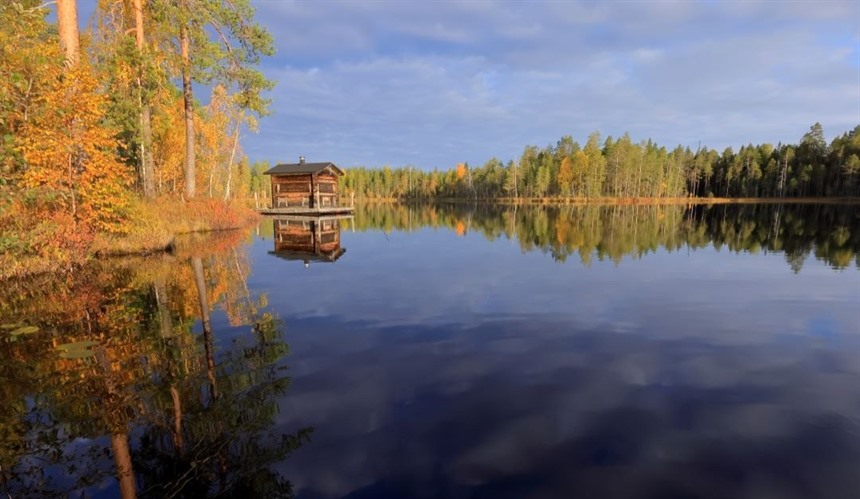 When is the best time to see bears in Finland?
Finland's brown bears arise from hibernation in April to begin their hunting and feeding season. So, the summer months are the best time for bear watching, from April to October. You may find thin layers of snow still coating the ground in April, but come May, June, July and August, Finland's greenery begins to bloom, and the rich colours of the landscapes reach full clarity. From mid-June onwards, the bears are ravenous, and more prone to exploring, so it's much more likely you'll see them, especially in the evening and at night. You might see males hunting alone, or females with their endearing cubs in tow.
Our equipment tips for your bear watching trip to Finland
You'll be spending a fair few hours in an enclosed space while waiting for some action, so we suggest you pack the following bear necessities:
• Warm, comfortable clothing that you can take a nap in
• Wet wipes for an evening wash
• Binoculars
• A power bank to charge your phone for those incredible nature photographs!
• You'll be given a complimentary lunchbox upon arrival, but you're welcome to bring your own snacks – as long as they're not too crunchy, or contained in crinkly packages!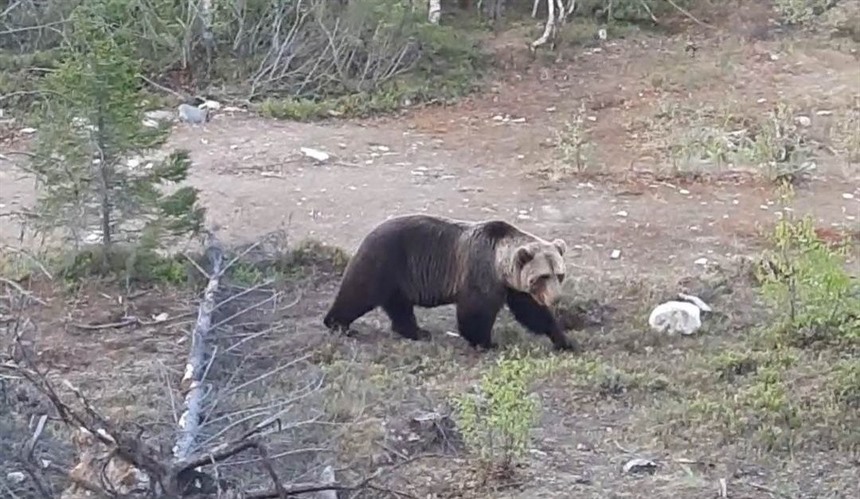 Our Latest Bear Watching Adventure in Kuhmo
Our team travelled to Kuhmo earlier this year to embark on a bear watching adventure. After exploring the Visitor Centre in Petola, which geared them up for the bears with lots of wildlife facts and stories, they headed out to the Bear Centre, just 45 minutes away from central Kuhmo.
Upon arrival, they gathered in the main bear hide, which offered a modern interior, bunk beds and plenty of space for the team. You can choose to set up camp in this main cabin, in a private basic 'bear hide' cabin, or in a 'luxury' cabin, which offers much more sophisticated facilities.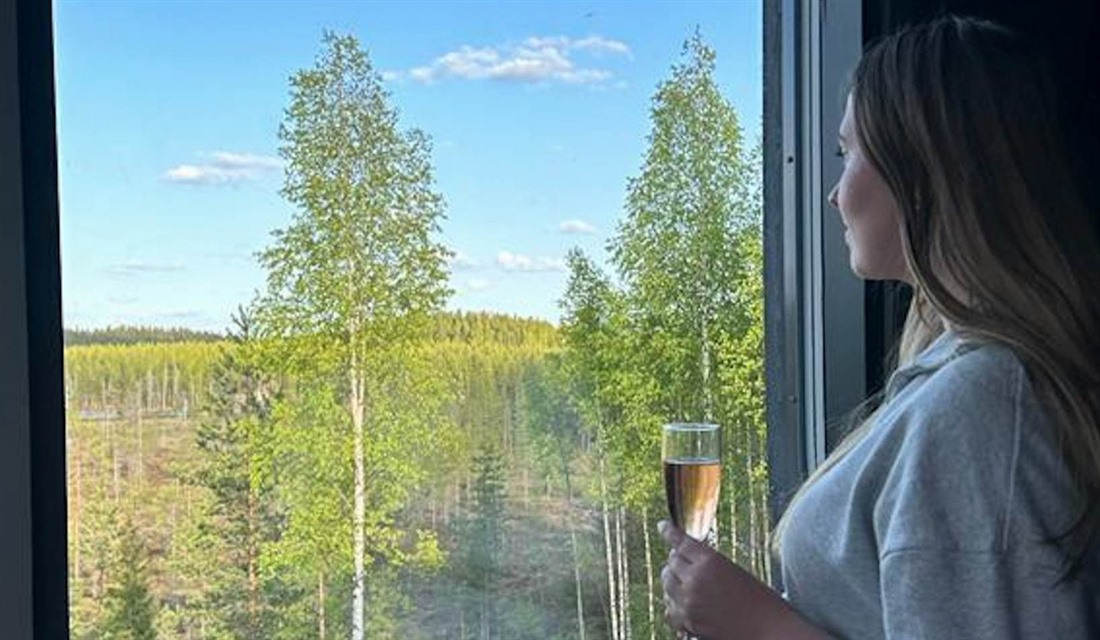 They waited patiently for three and a half hours until a small, "teenage" brown bear appeared, swiftly followed by its parents! The team anticipated the bear's arrival, as they could communicate with other bear-watchers in surrounding hideouts via WhatsApp, tracking the bears' every move. The team felt safe in their cabins as the young bear approached, and fully relaxed in the wonder of the experience, watching in awe as the bear inspected the outside of the cabin.
Afterwards, the team retreated to Hotel Kalevala for an overnight stay with beautiful lake views. They were met with a generous buffet of food and local wine at the panoramic restaurant, followed by a bubbling Jacuzzi that overlooked the crystal-clear water. The Midnight Sun illuminated their evening, offering endless time to reflect on the exciting sights they'd seen earlier that day. This hotel adds something extra special to your trip, with the opportunity to try canoeing, paddle boarding, wild swimming, fishing or an elk safari when you're not relaxing.
Book your bear watching holiday in Finland with Regent
If you'd like an idyllic bear watching experience like this, now's the time to start planning. Our dedicated Travel Specialists are ready to help you find the best bear watching experience in Finland for you. Contact us today to kickstart your adventure.