Surprised and delighted by the varied (and delicious) culinary scene to be found in Taiwan, Regent Holidays' Travel Expert, Stef Studley, shares her pick of some of the tastiest places to visit.
Before visiting Taiwan earlier this year I found myself conjuring up images of bright lights, soaring skyscrapers and technological gadgetry. I did not think too much about what kind of food I could expect to encounter and boy was I in for a surprise. What a country unexpectedly full of culinary delights! Our hosts on the trip kindly arranged for us to enjoy some of the tastiest dishes I've ever had in Asia. Here are just some of the highlights: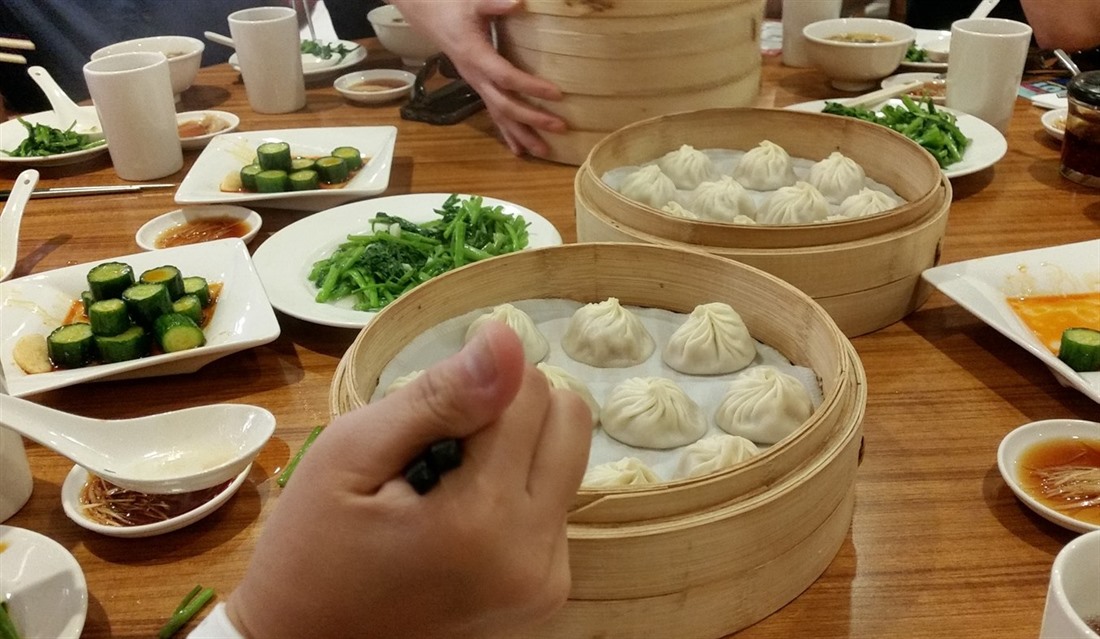 Din Tai Fung
Sitting on the ground floor of towering Taipei 101 sits the fabulous Din Tai Fung Restaurant. Founded in 1958 as a cooking oil shop and transformed into a restaurant in the early 1970's, this steamed dumpling and noodle restaurant has fast become famous citywide but also internationally with their Hong Kong restaurant receiving a Michelin star in 2010. The restaurant even attracted the attention of actor Tom Cruise who, during a visit to Taipei to promote his film 'Oblivion' in 2013 took time from his busy schedule to attempt to make dumplings of his very own.
The restaurant commands an almost constant stream of patrons keen to partake of their tasty steamed dumplings, soups and buns while watching the experienced dumpling chefs creating them by hand (and by the 1000's) on-site. My favourite was definitely the pork XiaoLongBao, a soup dumpling which originally originated in China. These are generally eaten by holding them in a soup spoon before piercing the light dumpling skin to allow the tasty soupy liquid within to escape into the spoon. Once seasoned with ginger and soy sauce they were demolished fairly quickly! Scarily moreish. We also enjoyed their spicy pickled cucumber, a variety of steamed dumplings including mushroom, shrimp and pork and a range of buns including sesame and vegetable with ground pork. The meal was truly delicious and we all left (reluctantly) while the team of experienced waiters quickly turned our table around to accommodate the ever-expanding queue of diners eager to take our place.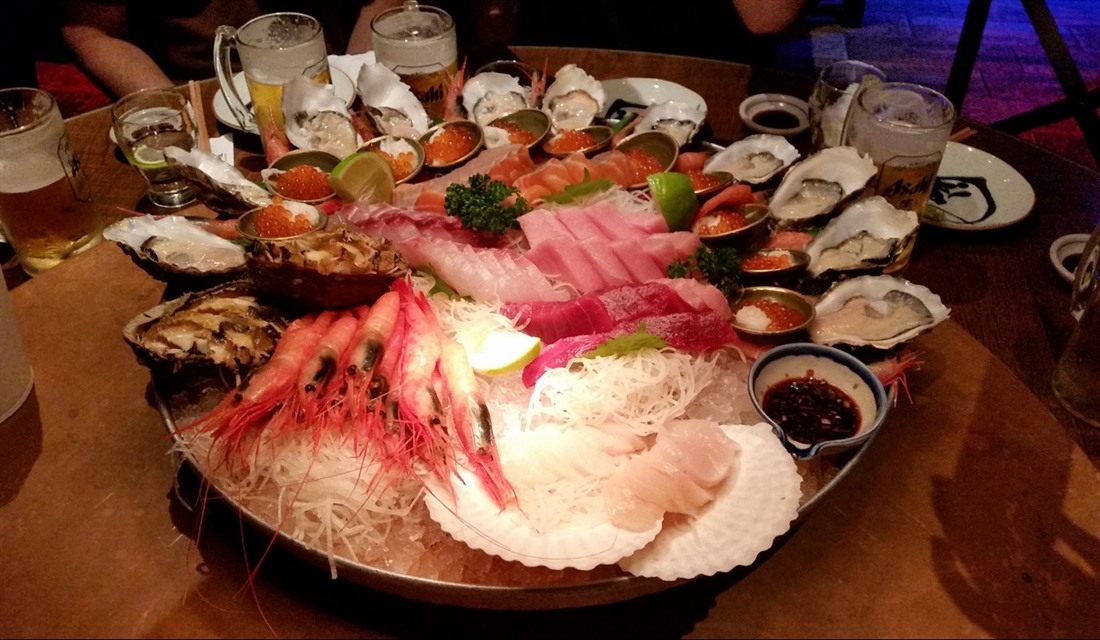 Addiction Aquatic Development
What on earth is that I hear you say? Is that really the name of a restaurant? Well, kind of. A combination of restaurant and super fresh seafood market, often compared to Tsukiji in Tokyo, Addiction Aquatic Development is THE place to head in Taipei for seafood and all things aquatic. Popular with locals and tourists alike, stroll the bustling avenues of seafood tanks and settle down to sample a range of sushi, sashimi and seafood.
As part of the development we ate at Tresors De La Mar, a funky 2nd floor restaurant offering views of the action below with friendly staff and a great ambience. It was here that we were treated to a truly exceptional range of seafood which was possibly the freshest I have ever eaten. We ate salmon, abalone, tuna sashimi, oysters, scallops, fish roe, prawns, the list seemed to go on, all accompanied by soy sauce, fresh wasabi ( ground ourselves at the table from a fresh wasabi root) and washed down with tankards of local beer. This was followed by a giant plate of crab to wrestle with and then a seafood soup course before a plate of fresh fruit to end what was a truly spectacular meal.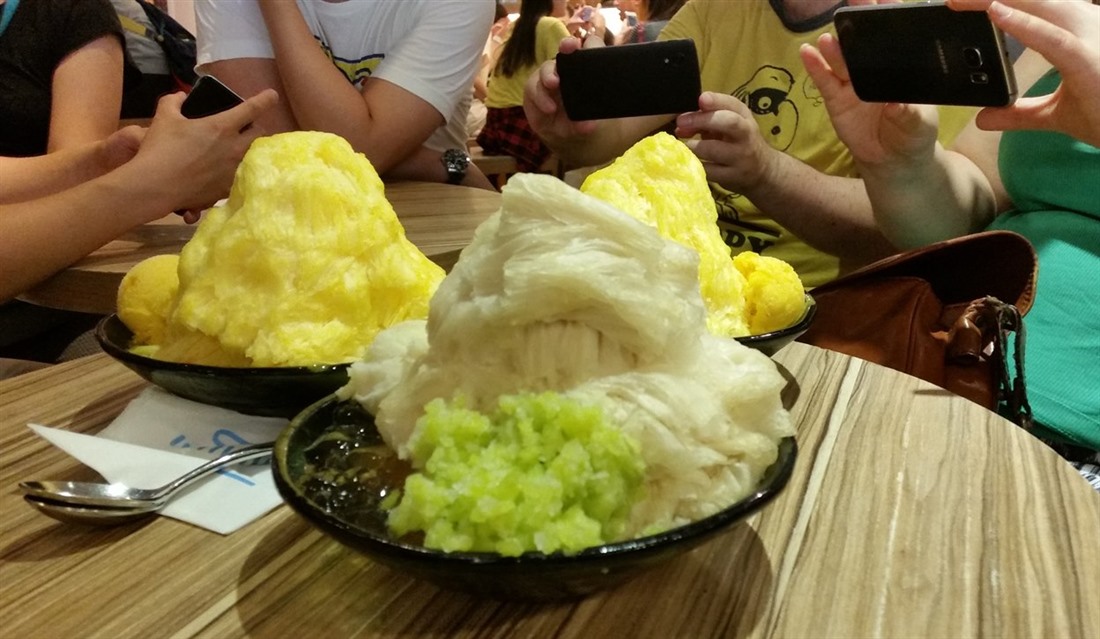 Ice Monster
Well known throughout Taipei as a purveyor of the shaved ice dessert found throughout the country. Especially popular with the younger generation of Taiwanese, Ice Monster and its square yellow figurehead, er, the Ice Monster, commands a loyal fanbase. The stores are light, bright and a fun place to hang out to see and be seen: on hot days the queues can stretch down the street as people wait for a table (or take away) of this cooling sweet treat. We sampled a range of flavours including Mango Avalanche, their most popular served with cubed mango, condensed milk and mango sorbet, and the Bubble Milk Tea Sensation which comes with a side of sweet tapioca balls, a play on the bubble tea drink found countrywide in Taiwan. It was a welcome treat on a hot Taiwanese day in the city.
The above are just a sample of the delicious dishes we were lucky enough to enjoy during our stay. We ate at a host of other local restaurants during our travels where the food was equally fresh and tasty and I left Taiwan a very happy (and well fed) lady! If you want to head out to this culinary gem of a nation then call a Regent Taiwan Specialist to discuss booking onto either one of our set departure group tours or to arrange your very own private Taiwanese adventure.
Our express Taiwan Group Tour costs from £670 per person. Click to find out more.
Find more inspiration or connect with us
#MyRegentMoment