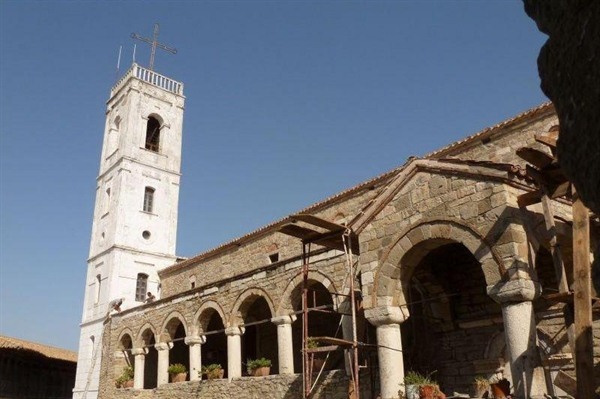 After breakfast, you will be picked up at the Hotel Rogner and driven towards Gjrokastra. First stop will be the city of Durres where you will visit the ancient city walls, the Roman amphitheatre and the byzantine forum of the city. Durres is the main port and the second biggest city in the country. Some important archeological monuments that bear witness to the city's glorious past during different periods of history are: The ancient city walls, the Roman amphitheatre and baths, the Byzantine forum, the Venetian tower and the Ottoman hamam. The city offers visitors a range of interesting buildings and museums such as: the Archeological Museum, the Exhibition of Folk Culture (hosted in a very elegant Ottoman style house), The museum of History etc.
Next stop will be in Ardenica, where you will visit its monastery.
The Ardenica Monastery of Theotokos Mary was built by Byzantine Emperor, Andronikos II Palaiologos in 1282 after the victory against the Angevins in the Siege of Berat. The monastery is famed as being the place where, in 1451, the marriage of Albania's national hero, Skanderbeg to Andronika Arianiti was celebrated. In 1780 the Monastery started a theological school, teaching Greek Orthodoxy. It had an important library with 32,000 volumes that got completely burned by a fire in 1932. The Church of Saint Mary, situated within the monastery contains frescoes from brothers Kostandin and Athanas Zografi, notable is one of Saint John Kukuzelis, who was born in Durrës.
Continue to Girokastra and check in to the Kalemi Hotel, located in a converted Ottoman house in the UNESCO quarter. In the late afternoon, enjoy a city tour of Girokastra.
Gjirokastra, an UNESCO World Heritage Site, is known by many as the City of Stone, comprises of hundreds of Ottoman-style tower houses with distinctive stone roofs, wooden balconies and white-washed stone walls. Dominated by the sheer flanks of its vast castle, Gjirokastra is a magical city with a tumultuous past. From feudal stronghold to Ottoman jewel to Italian colony, the city has known many rulers and has inspired poets, authors and artists. A walk around the network of cobbled streets will transport you back in time. A visit to the vast 13th-century Castle brings the adventurous tales of medieval rulers and communist atrocities alive. (B,L,D)