One of our shortest tours of 2020, this four-night whirlwind trip bases you in Pyongyang and includes as many of the must-see sights & high­lights of the country as we can possibly squeeze into three full days of sightseeing. This itinerary coincides with May Day, a national holiday where locals tend to flock to Pyongyang's parks for a spot of well earned downtime - a great time to see North Koreans let their hair down as they celebrate this worker's holiday and the arrival, in ear­nest, of spring.
This small group tour will operate for a minimum of 2 and a maximum of 16 persons. For those of you interested in a more in-depth tour at this time of year, our May Day Extended Tour will run from the 28th April to the 7th May-please contact us for further details
Tour Itinerary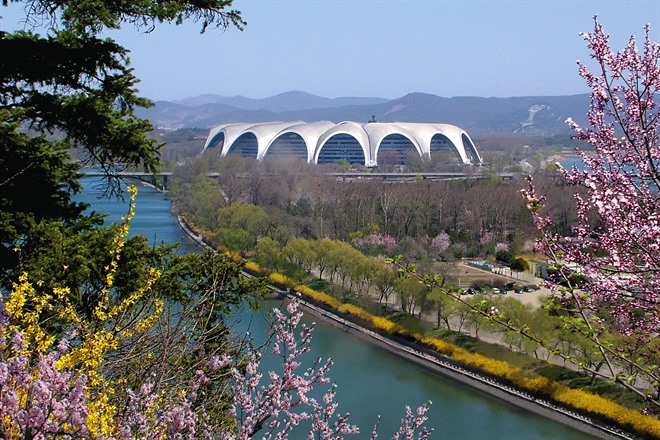 This morning make your own way to Beijing Capital Airport, Terminal 2, to depart at approximately 1305 on the Air Koryo flight to Pyongyang (schedules TBC). The short flight will bring you into Pyongyang at approximately 1605 local time. On arrival, meet with your Korean guides and driver. After passing through immi­gration and customs head into the city centre to visit the Benevolence Bar (or similar) for a drink or two (at your own expense), giving the op­portunity to chat with your guides and get a quick insight into plans for the next few days. After a welcome dinner in the Arirang Restaurant, transfer to the Yanggakdo Hotel and here check in for a four night stay. (Snack On Flight/D)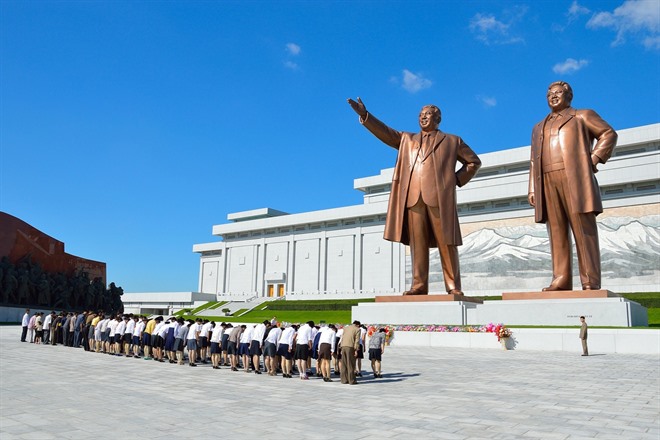 Enjoy a full day of sightseeing in the capital, starting with a walk in the city centre from the exterior of the Pyongyang Grand Theatre to Kim II Sung Square and then onto the Foreign Language Bookshop, a good spot to pick up a wide range of publications, postcards, souvenirs and the like. From here pop into the Vienna Coffee Shop to relax over a hot drink (at your own expense). From the coffee shop head to the Mansudae Fountain Park and ascend Mansu Hill to visit the Mansudae Grand Monument, the centre pieces of which are the spectacular 20-metre tall bronze statues of Kim II Sung and Kim Jong II. Here, millions of Koreans visit annually to pay their respects to the leaders, and the group will be expected to lay a wreath of flowers at the foot of the monument before bowing in unison before it (flowers purchased locally for a small fee). You will also see the near­by Chollima Monument.
After lunch in the Ansan Restaurant, visit the Mansudae Art Studio before heading underground for a journey on the impressive Pyongyang Metro, travelling one stop from Puhung to Yonggwang (arguably the two most impressive stations) before travel­ling on four stops to Kaeson. At Kaeson station, surface beside the Arch of Triumph, 10 metres higher than its Parisian counterpart. For a small fee it is possible to ascend (by lift and then foot) to a viewing platform near the top of the arch, from where you will have a good view over north central Pyongyang, including a number of buildings such as the TV Tower & Kim II Sung Stadium. End the day with a walk in Ryomyong New Town, a new high-rise residential district, and have dinner in Ry­omyong also before returning to your hotel after a busy first full day of sightseeing. (B/L/D)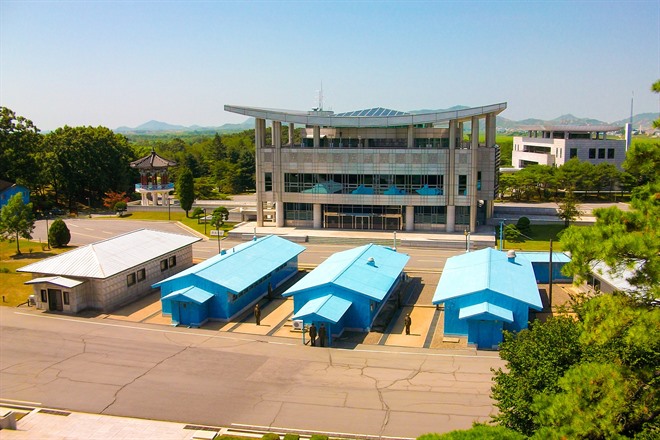 Departing the capital, head south along the Reunification Highway towards and through Kaesong to Panmunjom, the DMZ and border with South Korea. Upon arrival at Panmun­jom, which is often the highlight of any visit to North Korea, you will meet with an army escort who will explain the background of the histo­ry of the DMZ, before you move on to the Armistice Talks' Hall and the building (and attached small museum) where the Armistice was signed. From here, head right down to the border itself, where you will be (local conditions permitting) escorted, possibly under the watchful eye of South Korean soldiers, into one of the huts which straddle the North-South Korean border. Enjoy lunch at the Panmunjomkwan Restaurant inside the DMZ.
This afternoon, head to Kaesong itself to visit the Koryo History Museum and Stamp Shop before taking in our favourite royal tomb in the country, the UNESCO world heritage listed Tomb of King Kongmin. En route back to Pyongyang make a short detour to Sa­riwon, provincial capital of North Hwanghae, and here visit the Sariwon Migok Cooperative Farm, a model farm where your tour will likely take in a farmer's home - as good a place as any to try and get a glimpse into and understanding of rural life in the country. Departing Sariwon, arrive back in Pyongyang, making a quick photo stop at the Monument to the Three-Point Charter for National Reunification upon entering the capital. After a long day trip enjoy dinner this evening in your hotel. (B/ L/D)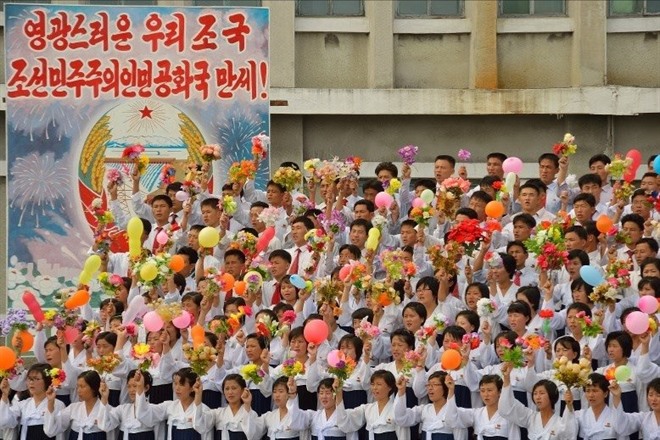 Start the day with a visit to the Monument to the Foundation of the Workers' Party of Korea and the Juche Tower. The Juche Tower is a symbol of the Juche Idea (national self reliance, literally "Master of one's self") penned by Kim II Sung. Those who wish can pay a small fee (5 Euros at current) and be whisked via a lift to the top of the tower for spectacular views over the city and Taedong River. Heading into the eastern suburbs of Pyongyang, visit Mt. Taesong, a popular park, funfair and recreational ground which is nor­ mally packed on May Day-full of locals celebrating, picnicking and par­ taking in traditional games and pastimes. Returning to central Pyong­yang enjoy a lunch in the Okryu Restaurant, one of the most famous restaurants in the country, where you may sample Pyongyang Cold Noodles - a highly coveted dish.
This afternoon, head to Moranbong, the main city park, a pleasant spot in the heart of the city; sprinkled with old city walls, gates and pavilions, and an ideal spot for people­ watching and attempting to mingle with locals. The route through the park is flexible, but will certainly take in the Liberation Tower, a Soviet era monument built to commemorate the USSR's involvement in Ko­ rea's liberation from Japan in 1945. Moving on, enjoy a walk along Mi­rae Science Street, a new and impressive high-rise residential district on the north bank of the Taedong River. We have factored in a little flexibility this afternoon to strive to take in any sights missed from earlier in the tour, or to visit any areas the group may be keen to visit. After some time to freshen up back at the hotel head out for a farewell dinner aboard the Taedonggang Restaurant Boat. (B/L/D)
Today is a national holiday, and as such we anticipate various special events and celebrations, and a general jovial atmosphere across the country. Celebration events in Korea are normally not known until the 11th hour, and we have thus today factored some flexible tine in Pyong­yang, allowing the group the best chance of seeing any events and getting the most out of the day. All meals will of course be included, and your guides will do their utmost to ensure you will see as much as is permitted on this special day. Local fees will be payable to attend any special events
This morning you will be transferred to the airport to depart Pyongyang at 0830 on the JS151 flight to Beijing. On arriving in Beijing at 1000 your arrangements will end (times TBC). (B)
OPTION TO DEPART BY RAIL
Day 5, Saturday 2nd May: This morning transfer to the train station and depart Pyongyang on the 1025 train to Bei­ jing via Dandong, which takes approximately 24 hours to make the 1349km journey. The train will head north and reach the border in the late afternoon, and after border formalities on the Korean and Chinese side continue through the night towards Beijing. For the overnight section of the journey you will normally be accommodated shar­ing in four-berth sleeping compartments. Meals are not provided on the train, but a restaurant car serves reasonably priced meals if required. Toilets are locked at the border. (B)
Day 6, Sunday 3rd May: You will this morning arrive into the Chinese capital at 0840. All arrangements will end with your arrival into Beijing.
Pricing Information
5
day tour, from
£1430
per person
(Single person supplement + £160)
Price Includes
Air Koryo flight Beijing–Pyongyang—Beijing
Accommodation throughout
Meals in North Korea as specified (B=Breakfast, L=Lunch, D=Dinner)
All transfers, transport and sightseeing, with two local guides, including main entrance fees to sites
North Korean Visa Fee and North Korean Visa*
(*If issued for you in the UK via Regent Holidays)
Price Excludes
Return international flights from your country of residence to Beijing
Meals / services / accommodation in China and any other items other than those clearly specified
Supplement (if required) to depart Pyongyang by train to Beijing
Chinese Visa (if required)
Entrance fees to certain sites in Korea, as specified
Price Notes
We can arrange your international flights to Beijing at an additional cost if desired, please speak to Carl Meadows for further information.
Itinerary Dates
From Price
Single Room Supp.

28 Apr 2020

-

02 May 2020

£1430
£160
Image Gallery
Click on images to enlarge