It's no secret that at Regent Holidays we like to do things a little differently. When it comes to exploring the world, it's the off-the-beaten-track destinations that catch our eye. In fact, it doesn't even have to be a country. Some of our most intriguing destinations are the breakaway-states; regions that have declared independence but aren't yet formally recognised as a country. Our brand new Pioneering Abkhazia Group Tour introduces curious travellers to Abkhazia.
This 12-day tour is a complete package from the UK, and spends 8 nights in Abkhazia. We will access Abkhazia via Georgia, and include a little time in Georgia at the beginning/end of the trip. Departing the UK from London Gatwick we will fly to Tbilisi on the new direct overnight service from Georgian Airways. After one night in Kutaisi (Georgia), we will head to the frontier and enter Abkhazia on day 3 of the tour. Once in Abkhazia we will tour the country in detail, spending nights in the capital Sokhumi, the second city of Gagra as well as in the lesser city of Novy Athon. This itinerary will strive to include as much variety as possible—giving the visitor an understanding of Abkhazia's past, present and future, together with an insight into the culture and cuisine of the country. We will also strive to get off the beaten track to take in the incredible scenery of Abkhazia, with visits to remote settlements and mountain areas. After exploring the country we will return to Georgia for a final night in Tbilisi before flying back to London Gatwick, once more with Georgian Airways.
This varied itinerary has been crafted to give the visitor an understanding of Abkhazia's past, present and future, whilst also exploring the remote scenery, culture and cuisine of the country.
Our Discover Abkhazia video has been created with footage taken on our 2017 group tour.
Tour Itinerary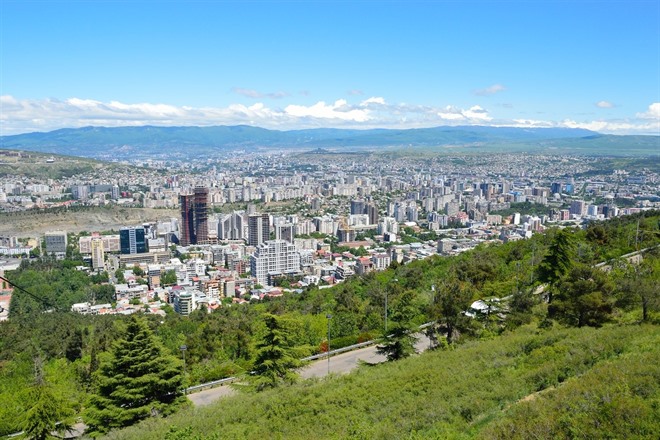 Depart London Gatwick this evening on the new direct service Georgian Airways flight to Tbilisi, scheduled to depart at 2255.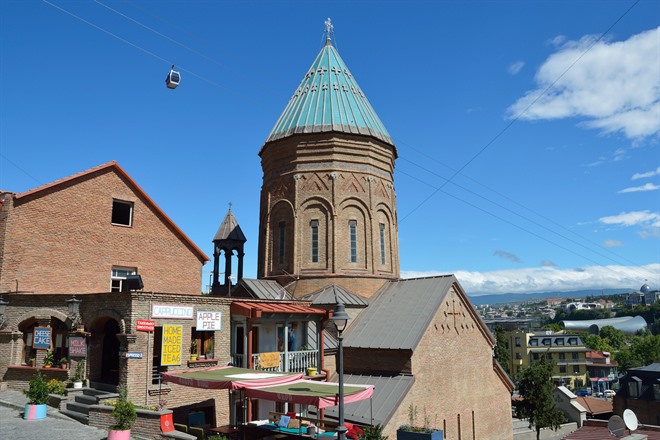 This morning arrive into Tbilisi after your flight of just under 4 hours. Upon arrival (scheduled for 0635), we will be met by our Georgian guide and driver. From Tbilisi airport immediately set off to Kutaisi, a drive of around 250km (155 miles). We will break the journey en-route for a coffee/snack/toilet stop (at your expense), and visit Bagrati Cathedral in Kutaisi before enjoying a welcome lunch in the city. After your long journey from London check into the centrally located Best Western Kutaisi Hotel for a one night stay, and enjoy the rest of the afternoon and all evening free at your leisure. (L)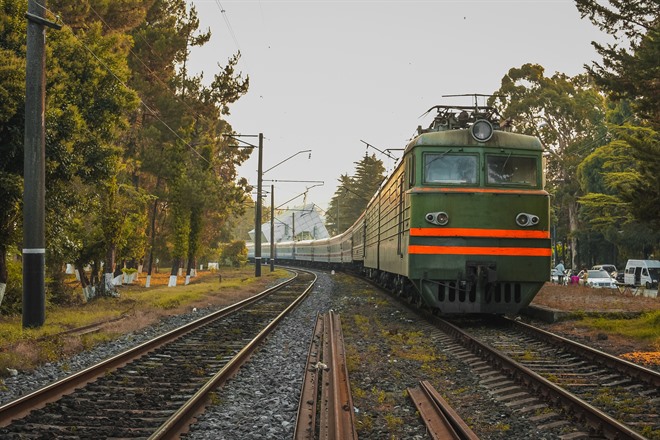 This morning we will depart Kutaisi at around 0800 and head towards the Abkhazian border. After a journey of around 90 minutes we will arrive in Rukhi, the last settlement before the frontier. We will stop in Rukhi for a brief drink/toilet break (at your own expense) before driving the final few kilometres to the Enguri Bridge. After registering at the Georgian check-point (with the help of our Georgian guide) we will part with our Georgian guide and set off on foot over the Enguri Bridge (as mentioned, a horse and cart may be available for a small fee for those who wish, but this cannot be guaranteed.) After going through all Georgian exit and Abkhazian entry formalities (which can take some time) we will meet with our escort guide who will be with is for our entire time in Abkhazia. Whilst we are getting ourselves all sorted after the border crossing we will take a break at the border in a basic café (if open) for a quick welcome drink before we set off to the town of Tkvarcheli. Tkvarcheli was one of the worst affected towns of the war, with the population today around 1/4 of what it was in the 1980s. We will enjoy a welcome lunch before enjoying a brief tour of this "Hero City." We will also, road conditions permitting, strive to visit the small settlement of Akarmara, a few kilometres further up the valley above Tkvarcheli. After time in the area we will drive to the Abkhazian capital of Sokhumi. On arri-val check into our hotel, the Leon Hotel (or similar) for a three night stay. This evening we will head out on foot for a welcome dinner in the Akyafur-ta Restaurant in central Sokhumi, where we will be able to enjoy traditional Abkhazian cuisine. (B,L,D)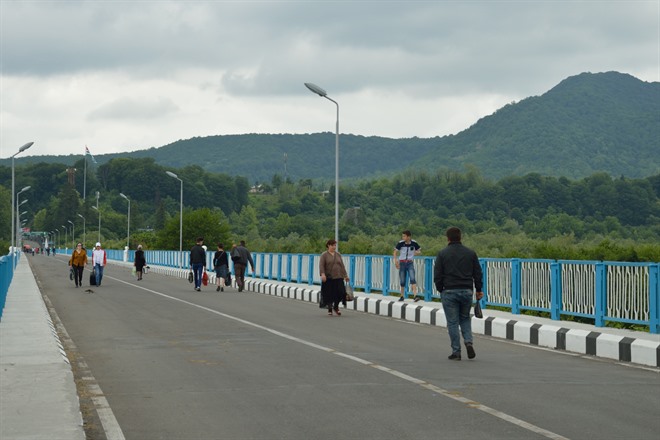 Today we will spend the full day exploring in and around Sokhumi. Departing the hotel after breakfast we will enjoy all morning exploring the city on foot, taking in as many of the major sights and landmarks that we can possibly squeeze in. The route will be confirmed locally, but is expected to be Leon Hotel—Scotland Street— Gulia Street—Sokhumi Botanical Garden (entrance only) - Baratshvili Railway Station (disused) - Former Building Of The Council Of Ministers —Freedom Park— Sukhumi Central Post Office—Promenade. This will be over 5km of walking, but taken at a leisurely pace as we explore. We plan to have lunch at the Apra Restaurant on the main city pier. This afternoon (subject to reconfirmation locally) we hope to meet with the Vice Minister of Foreign Affairs, giving the chance for the group to learn about Abkhazia's chequered history, and to learn about the government's position on the Republic of Abkhazia. Enjoy the rest of the day and evening completely free at your leisure to explore the small city of Sokhumi—all the central areas and hotel are very walkable. (B,L)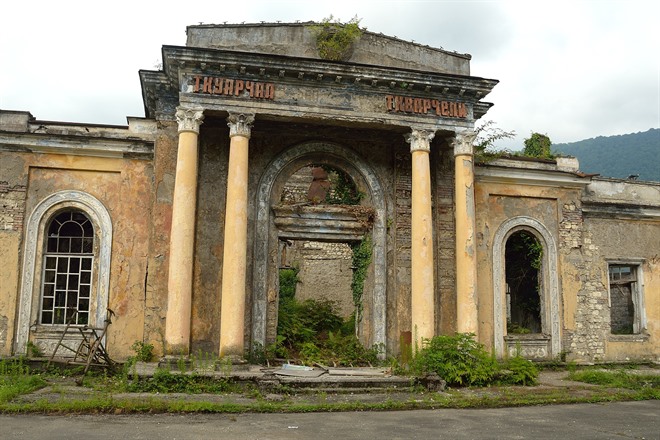 This morning we will depart the hotel at around 0800 and drive to Sokhumi Babushara Airport, about a 30 minute drive east of the capital. From here we will travel by a privately chartered aircraft to the small settlement of Pskhu. Today's trip is as much about the journey as it is the destination—our aircraft will depend on the final size of the group, but will likely be a Soviet era AN-2 biplane. The short flight to Pskhu only takes around 30 minutes and on arrival we will enjoy a walk through the central street of this village of around 150 persons. When flights arrive in Pskhu it is normally an event of note in this sleepy corner of Abkhazia—locals will likely come out to say hello and we will mingle and chat with them as we walk up to the main church. From the village we will travel to the home of Nikolai, a local resident. Nikolai lives around 5km from Pskhu, and we can split into smaller groups to travel to Nikolai's home on horseback, foot or vehicle, dependent on the preference of group members. We will enjoy lunch prepared by Nikolai's family before enjoying some leisure time to relax or walk/hike in the beautiful area. In the mid-afternoon we will return back to Pskhu (again, by horseback, foot or vehicle). On arriving back into Pskhu we will return to our aircraft and fly back to Sokhumi. Return to the hotel and enjoy the evening free at your leisure. (B,L)
PLEASE NOTE: If horse riding on this day riding helmets cannot be provided. The road to Nikolai's home is on a very rough dirt track that is not always passable. As a minimum therefore there may be some walking involved in order to reach Nikolai's home. Also, as today is a lesser public holiday in Abkhazia, Day of the Holy Apostle Simon The Zealot, it is possible that some small services will be taking place in Pskhu's small church or in Sokhumi - if possible we will try and witness any events that may take place.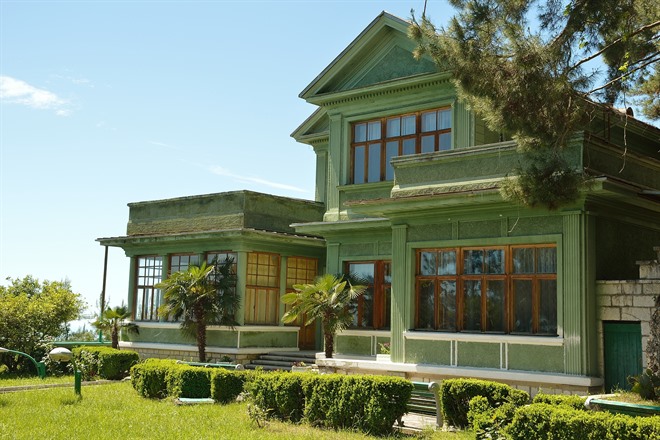 Checking out of our hotel we head into west Sokhumi and visit the capital's main Railway Station. We will have a few minutes to explore this attractive building and main platform before visiting the Halo Trust in the western suburbs of the city. The Halo Trust is a British organisation specialising in the removal of the debris of war, such as mine clearing. They have been very active in Abkhazia over the years, and we will receive a brief insight and explanation into their activities in Abkhazia over the years. Please note that donations cannot be given locally to the Halo Trust, but can be made online should you wish via www.halotrust.org/support-us/donate/ . From here we will visit a nearby vineyard; this vineyard is situated in a former minefield, now a cleared and thriving cottage industry thanks to the work of the HALO Trust. After a brief chance for late morning wine tasting we will head west, driving to Pitsunda, a Soviet era beach resort that caters for a large number of Russian tourists. Pitsunda, one time favourite resort of Nikita Khrushchev, is an interesting place to explore—it is all very walkable and the centre of the resort seems largely unchanged from its Soviet heyday. We will have lunch before enjoying free time to explore at leisure or bathe in the Black Sea. In the late afternoon head further west to Gagra. On arrival in Gagra we check into our hotel, the Abaata Hotel, or similar, for a two night stay. After a little time at leisure, this evening enjoy dinner near the hotel. (B,L,D)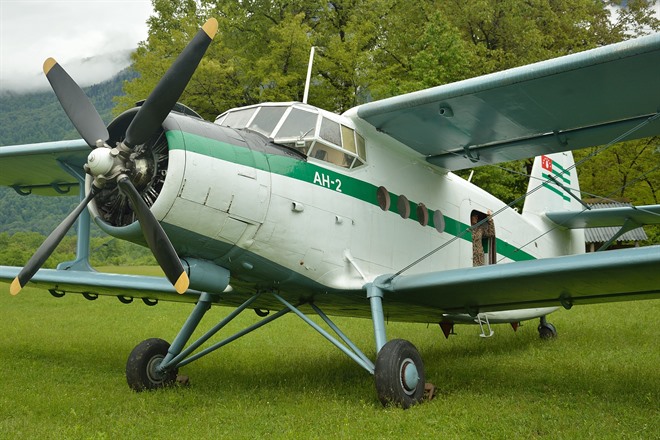 This morning we will enjoy a brief walking tour from our hotel of Old Gagra before we visit one of Stalin's impressive dachas, this one well situated with an impressive view down to the Black Sea—if the sky is clear we should just about be able to see Russia's Fisht Olympic Stadium in the distance, just a few kilometres away. After touring Stalin's somewhat chilling dacha spend a couple of hours driving north into the mountains to visit the beautiful Ritsa Relict National Park, breaking the journey at some sites en-route to stretch our legs. On arrival in Ritsa we will enjoy lunch before sightseeing in the area, including (weather permitting) a boat trip. There will be time in the mid afternoon to relax with a drink or two at a local café or to browse some of the souvenir/honey stalls before we descend back on the same road to Gagra. Arriving back at our hotel enjoy the evening free at your leisure. (B,L)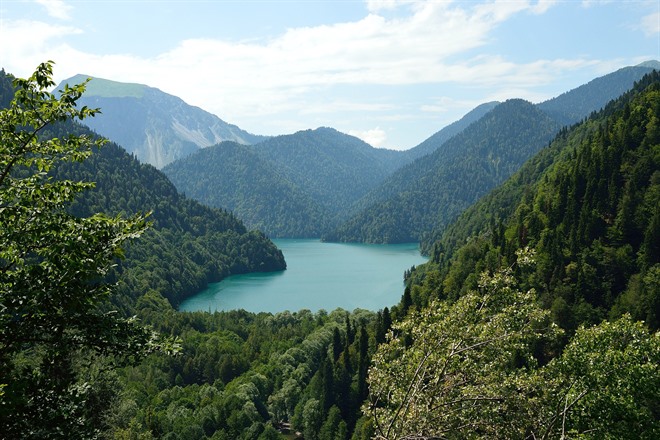 Checking out of the hotel at around 0730 we will drive to the train station and depart Gagra on a 38km train journey east to the small town of Guduata. Train times are subject to changes but current schedules have the train departing/arriving at 0815/0925. Upon arrival in Guduata we will drive north to the village of Achandara. Here enjoy brunch and wine tasting in the home of local resident Pavel, who lives a relatively traditional life and harvests grapes in a traditional Abkhaz method that is now almost obsolete. In the early afternoon drive to Novy Afon (New Athens) and check into our hotel, the Boutique Hotel Lime for an overnight stay. Please note that this hotel has a limited number of rooms—should the group be full the party may be split into a 2nd hotel nearby—TBC. After a little time to freshen up we will enjoy a walking tour of compact Novy Afon, which will include the Novy Afon Monastery. This afternoon those who wish can take an optional walk to Anacopia Fortress, an ancient citadel high above the town. Those who would prefer a more leisurely afternoon can relax at leisure—possibly visiting the Seaside Park or opting for another dip in the Black Sea. This evening enjoy dinner and wine tasting. (Brunch,D)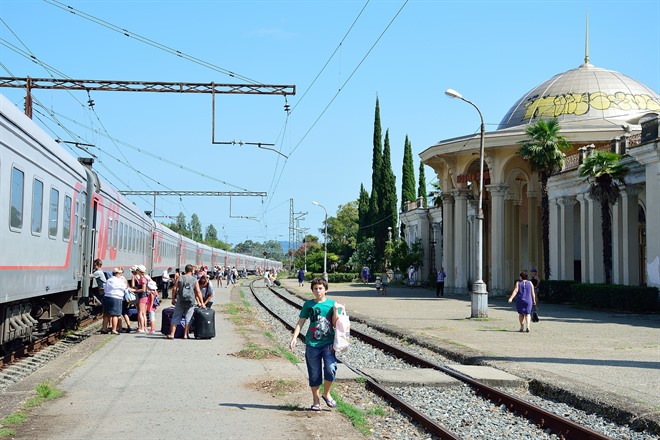 Checking out of our hotel visit Novy Afon's famous New Athens Cave, a karst cave and one of the largest cave systems in the world. The cave has its own 1.3 km subway line to ferry travellers from the cave entrance to the first cave chamber. Back above ground make the short drive to Sokhumi and en-oy lunch before checking back into the Leon Hotel for a two night stay. Enjoy the afternoon/evening free to explore Sokhumi at leisure—your local guide will be able to make suggestions / recommendations and, as mentioned, central Sokhumi is all very walkable from our hotel. (B,L)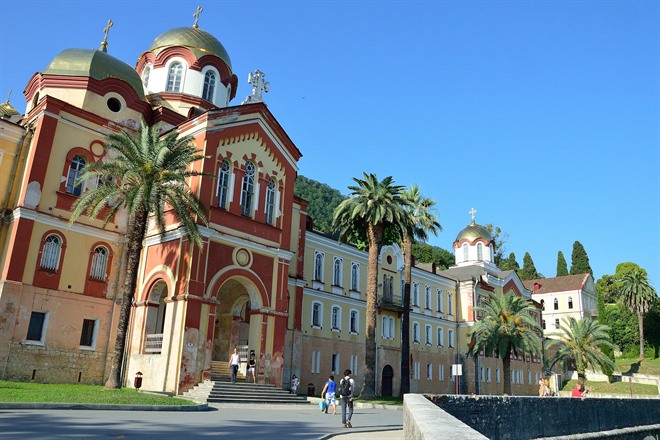 Departing the hotel after breakfast we will walk to a trolleybus station and enjoy a short ride by trolleybus to Sokhumi Bazaar. Entering the bazaar we will split into a couple of groups as we tour the bazaar, purchasing various items as we go in order to prepare a picnic lunch. Heading east we will spend around 90 minutes driving to the medieval Bedia Cathedral. Consecrated in 999 this small cathedral is now essentially a ruin, but situated at a most impressive spot. Enjoy at this lovely site a picnic lunch before we drive to the city of Ochamchire. We will enjoy a brief walk and tour of Ochamchire, which is now a drastically underpopulated settlement due to the high number of Georgians who lived here in the Soviet era—long since departed. Conditions permitting, we may, from a distance, be able to see the small Russian Naval base; essentially the only thing of note that has been built in Ochamchira in the past 30 years. Heading back towards Sokhumi we will visit the hot springs/natural mud baths of Kindgi. Here we will en-joy time at leisure to soak up the atmosphere, or indeed soak in the mud baths or hot pools. Drinks are available here at your own expense. On arriving back into Sokhumi enjoy a little free time at leisure before we head out for our final Abkhazian dinner. (B,L,D)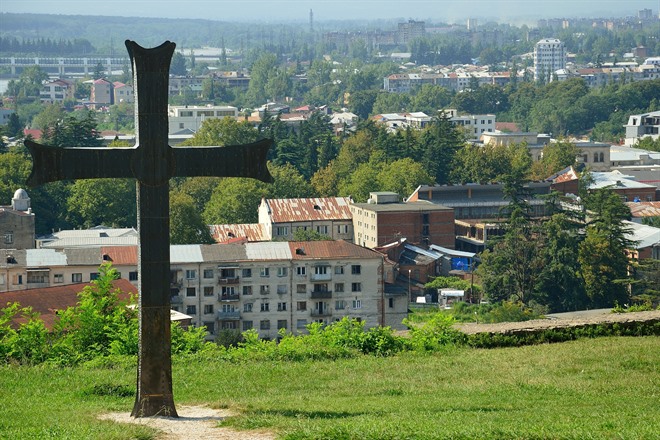 Departing the hotel after a quick breakfast we make the drive of around 95km (60 miles) back to the Abkhazian/Georgian frontier. At the frontier we will have a quick toilet/refreshment stop (at your own expense), before we part with our local guide and go through Abkhazian exit formalities before walking back to Georgia. All logistics will be as we experienced (albeit in re-verse) on the 21st May. On arriving back into Georgia we will meet with our Georgian guide and spend the day travelling back to Tbilisi, a journey of approximately 340km (210 miles). We will break the journey en-route as and when to stretch our legs, and also break the journey for lunch on the road. Upon arriving in Tbilisi after this long day of travelling check into the Kisi Ho-tel (or similar) for an overnight stay. Enjoy the rest of the evening at leisure. (B,L)
This morning enjoy some free time to explore Tbilisi's Old Town at lei-sure, or just relax in the comfort of the hotel. Upon checking out (at mid-day) meet your guide and driver and commence a 1/2 day of brief sight-seeing in the city, including a farewell lunch, before we transfer to the airport to depart Tbilisi at 1925 on the Georgian Airways flight home. On arrival back into the UK no further arrangements. (B,L)
Pricing Information
12
day tour, from
£3150
per person
(Single person supplement + £500)
Price Includes
Georgian Airways flights London Gatwick—Tbilisi— London Gatwick
Accommodation throughout
Meals as specified (B=Breakfast, L=Lunch, D=Dinner)
Regent Holidays escort for the duration of the tour
All transfers, transport and sightseeing, with local guides (local guides will change at border)
Domestic charter flight in Abkhazia
Main entrance fees to sites
Abkhazian Letter of Invitation (arranged in advance) & Abkhazian Visa (obtained locally)
Price Excludes
Meals / services other than specified
Porterage
Gratuities
Price Notes
May 2018 group tour now fully booked, waitlist open.
New tour date to follow, please contact one of our Abkhazia Travel Specialists for further details.
Image Gallery
Click on images to enlarge